Every since I discovered you can meal prep pancakes, these delicious banana oat pancakes with walnuts have been on repeat at our house! Normally, pancakes were relegated to lazy Sunday mornings. However, with my meal prep method of batch cooking and freezing, we can enjoy them on a busy weekday morning! You can try this method even with simple pancake box mix, so what are you waiting for?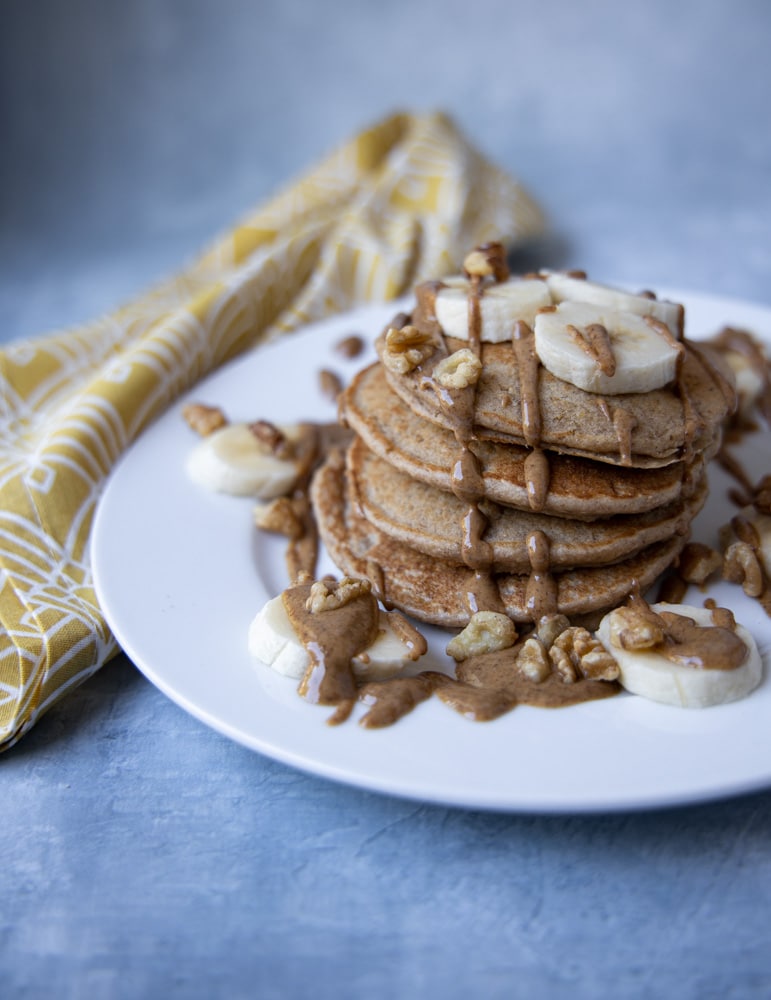 Why you should make these banana oat pancakes
I know it sounds weird. I too did a double take when I heard the term "meal prep pancakes," but let me tell you… I am a believer! As a bonus, my kids now think I'm super woman for feeding them pancakes on a Monday morning. If you're just starting out on your meal prep journey, I suggest starting with just one meal for the week that you can tackle ahead of time. For me, a quick and healthy breakfast used to be a daily struggle.
The best part about these tasty pancakes, is that you get to control the ingredients you're putting in your family's bodies. No more cardboard eggo waffles for a quick grab and go breakfast. By themselves, these hotcakes are deliciously nutty with a noticeable banana and oat flavor that is made even better with a drizzle of peanut butter (what isn't?).
Meal Prepping These Banana Oat Pancakes:
Pro tip: if you use a blender to mix your ingredients, it comes together in 30 seconds and you have a perfectly smooth batter without barely lifting a finger.
Using a 1/4 or 1/3 measuring cup, you'll be able to portion out perfectly equal pancakes so they cook at the same time, and will reheat evenly as well.
This is one of those times when an electric griddle is your best friend! I love mine because I can easily cook 8-10 pancakes at a time, and they cook super evenly. Unlike my frying pan which has hot spots and can only fit 4 at a time.
Once you're pancakes are golden brown on both sides, you'll set them onto a cookie tray lined with parchment paper in a single layer. If you have too many pancakes, add another layer of parchment in between.
Put the cookie tray in freezer for 1 hour, or until pancakes are fully cooled.
Then, you can stack pancakes on top of one another, separated by a square of parchment paper, in freezer ziplock bags or a glass container.
How to reheat frozen pancakes
There are two distinct methods for reheating the pancakes that you've prepped. Luckily, both methods involve taking them directly out of the freezer without any thawing. Here's your choices:
For soft fluffy pancakes, take three pancakes straight out of the freezer and onto a plate. Microwave for about 1 minute and 30 seconds (depending on the strength of your microwave) or until they are full heated through. From there, you can drench them in as much maple syrup as your sugar-loving heart desires. This method is my personal preference.
For pancakes with a more crisp exterior, you can put them from the freezer straight into your toaster oven. Cooking times will vary depending on your model, but I cooked mine for about 3 minutes so it didn't get too crunchy, yet was completely warmed through.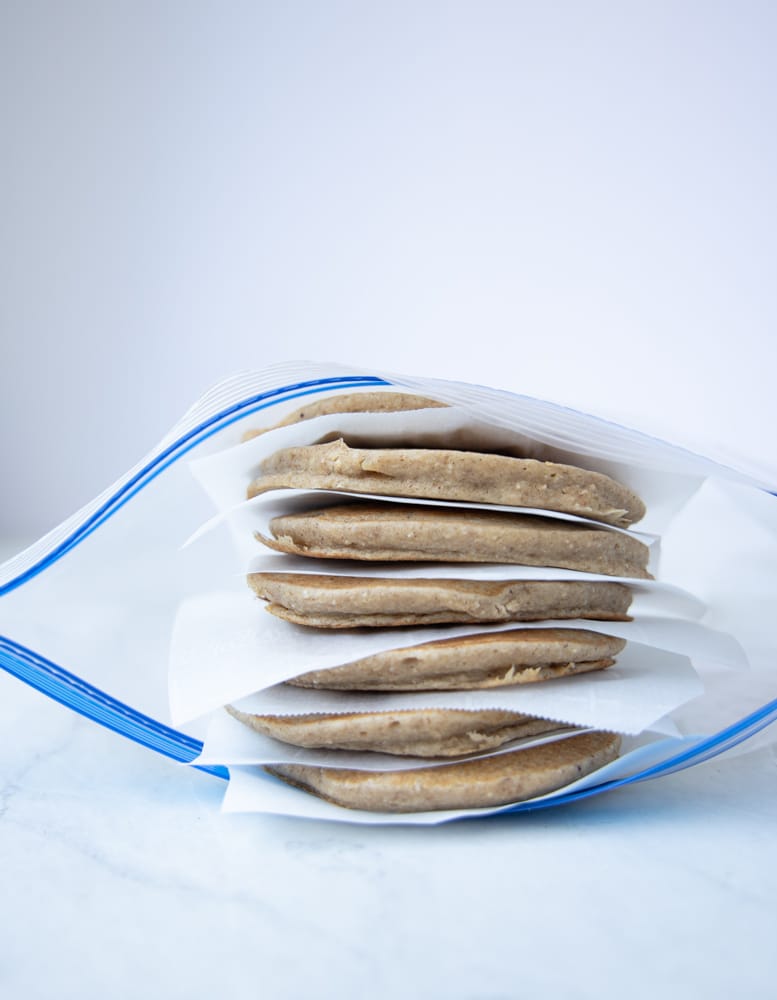 ingredients and substitutions
For these banana oat pancakes, I didn't cut any corners with the oat flavor! You can buy oat flour at the store, but it's much cheaper to purchase rolled oats. Plus that way, you have rolled oats that you can use in granola, oatmeal, or as a topping for my insanely good nectarine crisp. To make your own oat flour, you'll add the oats directly to your blender first and blitz them up until they are finely ground. After that, you can add the rest of the ingredients before blending.
I also used oat milk, which is widely available these days. Can you use regular milk or any other milk alternative? Absolutely! I was just going for that super oaty and nutty flavor.
After the ingredients were blended up and fully smooth, I added a half cup of chopped walnuts and pulsed a few more times. You don't want them completely incorporated into the batter. The goal here is to just break them down a little so the chunks aren't too big. If you don't have walnuts, pecans would also be delicious. Or you know, skip the nuts all together and sprinkle in some chocolate chips. I won't judge.
Can you use box pancake mix for this recipe? Definitely!
Other delicious add ins would be: blueberries, coconut, flax seeds, protein powder, peanut butter powder, raspberries or chocolate chips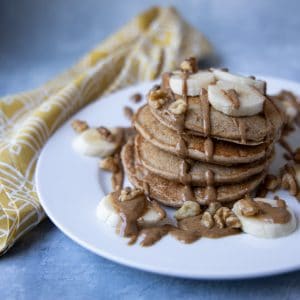 Banana Oat Pancakes with Walnuts
These pancakes are so delicious you won't even realize they're good for you too! They are deliciously nutty with a noticeable banana and oat flavor that is even better with a drizzle of peanut butter.
Ingredients
2

cups

rolled oats

1

egg

2

bananas

1

cup

oat milk

1

tsp

vanilla extract

1

tbsp

maple syrup

2

tsp

baking powder

1

pinch

salt

1/2

tsp

ground cinnamon

1/2

cup

chopped walnuts

(optional)
Instructions
Add the 2 cups of rolled oats to a blender. Pulse until finely ground like flour, but not clumping together.

Then add the 2 whole bananas, 1 egg, 1 cup oat milk, 1/2 tsp vanilla extract, 1 tbsp maple syrup, 2 tsp baking powder, pinch of salt and 1/2 tsp of ground cinnamon to the blender. Blend for about 30 seconds or until smooth.

Add 1/2 cup of chopped walnuts to blender and pulse until walnuts are finely chopped, but not completely smooth.

Heat a griddle or frying pan to medium low heat. Spray pan with non stick spray, or add a tsp of unsalted butter to the pan. Using a 1/4 cup measuring cup, scoop out the batter into the pan. Once golden brown on the bottom flip and continue cooking on opposite side until golden brown.

If freezing, spread pancakes in an even layer on a cookie sheet that has been lined with parchment paper. Freeze for 1-2 hours and then place into glass container or freezer bag with a layer of parchment paper between each pancake so that they don't stick together. To reheat, pull directly from freezer and heat in microwave for 90 seconds, or put directly into toaster.
Notes
Instead of oat milk, you can substitute any dairy or dairy alternative milk
If you want to substitute the rolled oats for oat flour or all purpose flour, you will use 1 1/4 cups of flour
you can substitute pecans for the walnuts