If you're looking for a flavor packed dinner that's sure to wow your guests, this savory blood orange chicken recipe is a winner! The color of the blood oranges makes this dish *almost* too pretty to eat, but you'll have no problem devouring the whole batch.
The concept for this recipe struck me while walking through my local grocery store and seeing the most beautiful stack of winter citrus. I knew I HAD to come up with something to highlight the gorgeous seasonal blood oranges.
Mediterranean flavors are often my go-to because they are light and bright and leave you feeling satisfied and not weighed down. I highly recommend serving these blood orange chicken thighs over a bed of fluffy couscous that can soak up the delicious sweet and savory sauce. If you're looking for something special and pink to make for Valentine's Day, THIS is your dish!
Cooking with citrus
If you've been with me from the beginning, you know my obsession with cooking with citrus. It started when I had a client I cooked for who had an allergy to garlic and onions among many other key ingredients. I learned to lean heavily on the brightness of citrus juice and zest to add a punch of flavor so they didn't miss the aromatics.
When I'm cooking with citrus, I almost always include the zest as well. Why? Because who wouldn't want the extra flavor!? In general, if you want a bright citrus flavor, add a squeeze of juice at the end of cooking. For a sweeter flavor, add early on in the cooking process.
The other benefit of cooking with citrus is that a cup of fresh squeezed fruit juice is almost equivalent in nutritional value to a cup of the actual whole fruit. It's just one more way you can ensure your family is meeting their daily fruit intake and hitting those nutritional goals. I call that a win!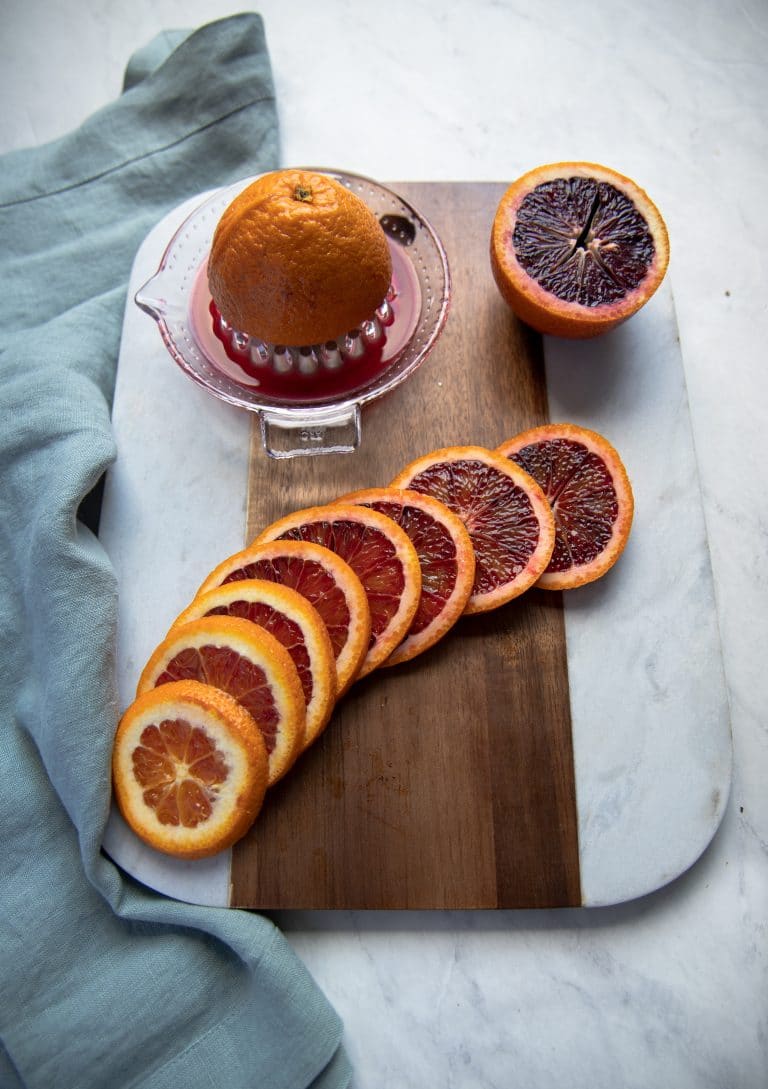 Ingredients
chicken thighs-bone in and skin on
red onion
blood oranges
garlic
chicken stock
dijon mustard
honey
green olives
couscous
fresh thyme
Substitutions
CHICKEN-I like to use a mix of chicken thighs, breasts and drumsticks so everyone in the family gets the light or dark meat that they prefer. Using bone in and skin on will yield the juiciest results and make sure they don't dry out. See the notes in the recipe card if you'd like to use skinless or boneless because the cook times will change.
BLOOD ORANGES-The blood oranges are really the star in the recipe so I wouldn't recommend swapping them out, however regular Navel or Cara Cara Oranges *would* totally work. I would leave out the honey in that case though because they are a touch sweeter than blood oranges.
RED ONION–If you don't have any red onion on hand, you can swap out for shallot or yellow onion.
COUSCOUS–I love the light fluffiness of couscous but you can also use quinoa, rice, or a delicious cauliflower mash! Anything to soak up the yummy sauce!
FRESH THYME–Thyme has a nice delicate flavor and the woody herb holds up well in the oven. However you could also swap out for rosemary. If you use parsley, just sprinkle on the chopped fresh parsley at the very end.
EXPERT TIPS FOR MAKING THIS RECIPE
I'm a sucker for a one pot meal and this cast iron blood orange chicken recipe is exactly that! If you want to make it like a pro, here are a few key pointers in addition to following the steps below.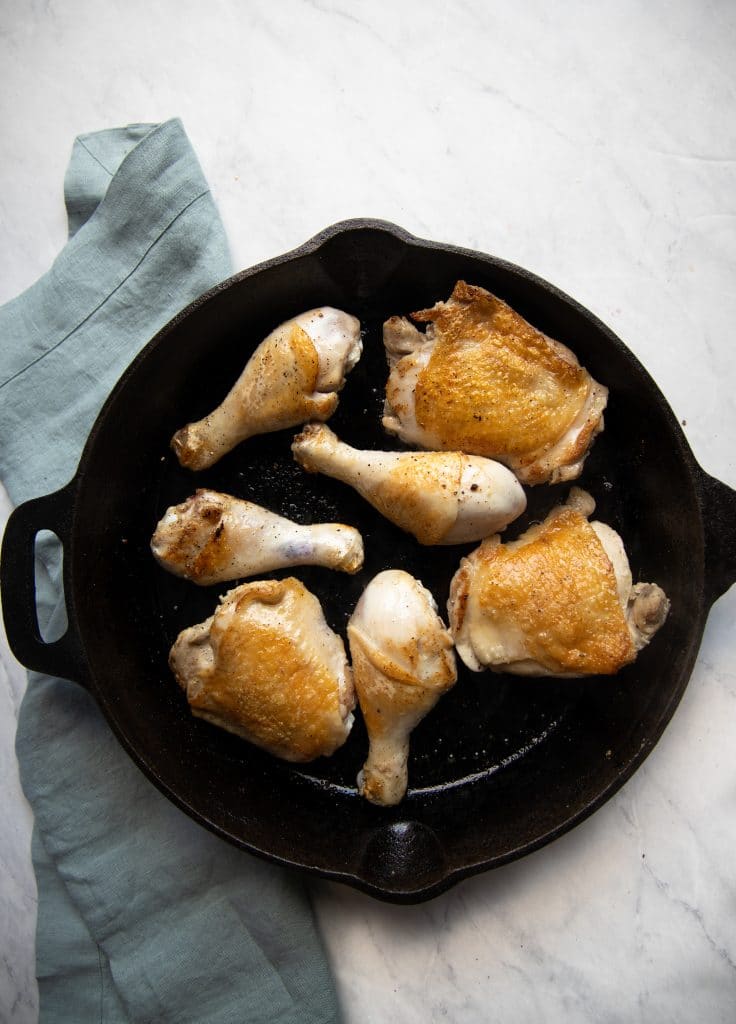 Make sure you pat the chicken dry with a paper towel before browning. The oil should sizzle when you add the chicken to the pan, otherwise it's not warm enough yet. Wait before flipping the chicken to brown the other side. If it doesn't release from the pan, it's not ready to flip yet and the skin will tear.
When it comes to caramelizing the onions, you aren't looking for a jammy consistency like you would get for a burger topping. You'll cook them at a medium heat to get them to brown. I like to slice them on the thick side, about 1/4″ so they hold their shape during the cooking process.
If you use chicken breasts, they will take 5-10 minutes longer to cook than chicken thighs or drumsticks. Once the chicken thighs reach an internal temperature of 160 degrees (165 degrees is safe for eating but the temperature will continue to climb even after) I pull them out of the cast iron skillet and let them rest on a plate covered in foil. That way the chicken breasts will keep cooking until they also reach 160 degrees. A digital meat thermometer is one of your greatest assets in the kitchen!
You don't need to worry about reducing the sauce on the stove because the heat of the oven will reduce the sauce to a nice thick consistency while the chicken cooks through.
Frequently Asked Questions
What are blood oranges? Blood oranges are a Mediterranean variety of oranges known for their distinct deeply reddish-purple color. Their exact hue is dependent on the growing conditions so it's always a fun surprise when you cut into one to see what color you get! From the outside, they will vary from having tiny red spots on the skin to just looking like a regular old orange. There are three main types of blood oranges you'll find in the store: Tarocco, Moro and Sanguinello.
What do blood oranges taste like? Blood oranges vary in flavor but have very nice floral and tart notes to them. They are less sweet than their cousins, the Navel orange. They can even have a hint of fruit punch or raspberry to their flavor profile.
Do I have to use a cast iron pan? Nope! I often use an enamel pan as well. You just need a pan that is safe to transfer to the oven.
Other recipes you will love
If you love this recipe, please leave me a rating and comment below. It would mean the world to me! And if these blood orange chicken thighs are calling your name, you'd also love these one pot or skillet recipes.
Sausage and Mushroom Baked Gnocchi-a delicious weeknight Italian-inspired meal my whole family loves!
Healthy Chicken Lettuce Wraps-with just one pan, you can layer the flavors of these delicious and veggie packed lettuce wraps.
Orange Skillet Chicken-If you don't have blood oranges on hand, this recipe from Chrissy Teigen is a great alternative.
Cast Iron Blood Orange Chicken Recipe
If you're looking for a flavor packed dinner that's sure to wow your guests, this savory blood orange recipe made with chicken thighs is a winner! The color of the blood oranges makes this dish *almost* too pretty to eat, but you'll have no problem devouring the whole batch.
Equipment
cast iron or enamel skillet
Ingredients
2.5

lb

chicken thighs or breasts, bone in and skin on

2

tbsp

avocado oil or any high heat oil

3/4

tsp

kosher salt

1/2

tsp

black pepper

2

cups

1/4" thick sliced red onion

2

cloves

minced garlic

1 1/2

cups

100% blood orange fruit juice (about 4-5 blood oranges)

1

tbsp

blood orange zest

1

whole

blood orange, sliced

3/4

cup

chicken stock

1

tsp

dijon mustard

1

tbsp

honey

2/3

cup

pitted green olives

6-8

sprigs

fresh thyme
Instructions
Preheat oven to 425 degrees.

Heat a cast iron or enamel skillet over medium heat. Add 2 tbsp oil. Pat the chicken dry with a paper towel and season with salt and pepper. Add to the pan, skin side down first. After about 5 minutes, when the chicken releases from the pan without tearing, flip to the other side and cook an additional 3-5 minutes.

Remove chicken from the pan and let rest on a platter. Using a dry paper towel, blot any excess fat from the pan. Add another tablespoon of oil and the sliced red onion to the pan.

Cook the onion until lightly caramelized and soft, stirring often, about 10 minutes. Then add the minced garlic and saute for 1-2 minutes until fragrant.

Add the blood orange juice and zest, chicken stock, dijon and honey to the pan. Stir until all incorporated. Add the chicken back to the pan along with any juices on the platter. Scatter the green olives and thyme around the pan and top the chicken pieces with sliced blood orange.

Place the cast iron skillet in the preheated oven. Cook until chicken thighs reach 160, checking with a meat thermometer, or until the juices run clear if pierced, roughly 15 minutes. If using chicken breasts as well, remove the chicken thighs from the pan while the chicken breasts continue cooking to reach 160 degrees. Remove from oven and cover with foil while the chicken temperature continues to climb to 165 degrees.

Serve over couscous and garnish with blood orange segments!
Notes
If using boneless or skinless chicken breasts or thighs, the cooking time will be less.  You'll want to check the temperature sooner.  
If you don't have blood oranges, the next best alternative are cara cara oranges.  If substituting with navel oranges, leave the honey out of the sauce mixture.