If you're like me and prefer a salad that is less about the leafy greens and more about an entire orchestra of flavors and textures, then this lentil salad recipe is for you! Lentils bulk up this dish with lots of healthy protein and nutrients while summer fresh cherries add a sweetness that take this salad to the next level. The delicious honey balsamic dressing is something you'll want to have in your fridge at all times!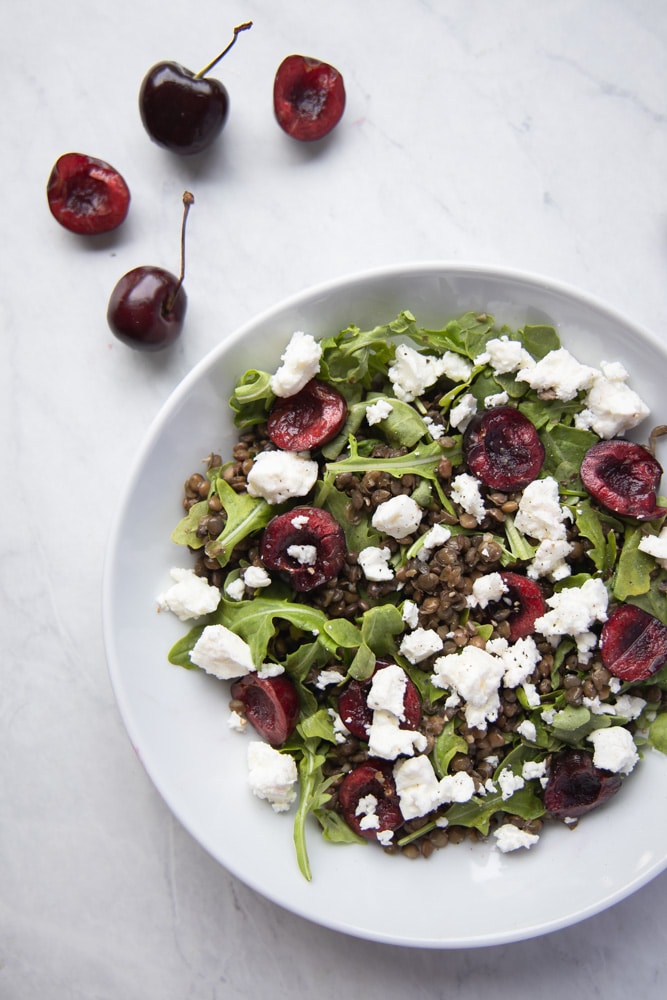 A LENTIL SALAD RECIPE YOU CAN MEAL PREP
I need to get on my soap box here and say: lentils are the most underrated item in your pantry. They are so good! I don't understand why the aren't on the front of people's minds when it comes to meal prepping. For my weekly meals, I focus on batch cooking one carb. I usually rotate between: quinoa, brown rice, barley, couscous, and LENTILS!
Lentils are perfect for meal prep because they hold their shape and texture really well without getting mushy, and they soak up vinaigrettes beautifully. I also like to prep at least a double batch of the honey balsamic dressing because it's THAT good! I love tossing it with a green salad or drizzling over chicken breast. You'll want to keep it on hand in your fridge at all times!
I used a few shortcuts in this recipe in order to pull it together in just 10 minutes! Using rotisserie chicken meant I could add a lean protein, but it's equally as good vegetarian style. I opted for the Trader Joe's pre-steamed lentils because all I had to do was take them out of the package and give them a quick rinse in a colander. I kept them cold for this salad but you could also warm them up in the microwave for a minute and a half.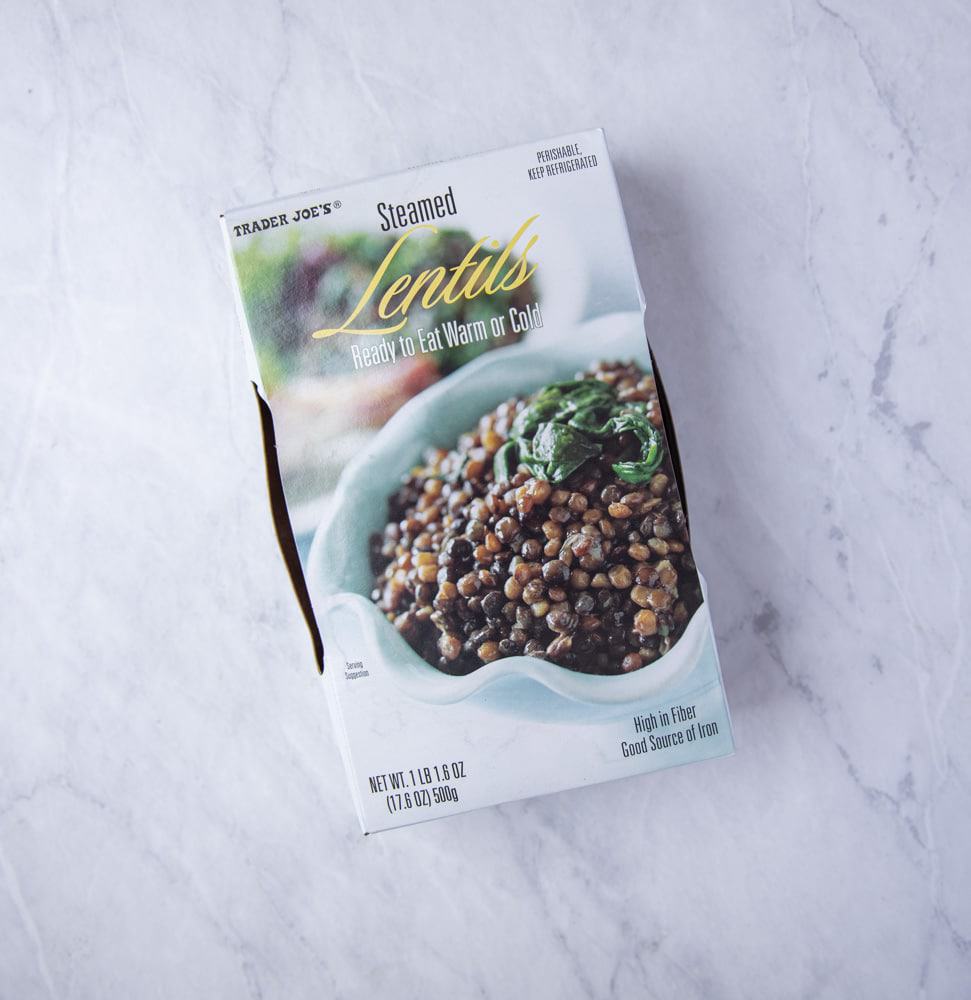 From there, just assemble your meal prep containers with lentils, leafy greens like arugula or kale, pitted and halved cherries, sautéed asparagus and goat cheese. Top with chicken for extra protein and drizzle with the honey balsamic dressing when you're ready to eat!
NUTRITIONAL BENEFITS OF LENTILS
Aside from being delicious, lentils are a nutritional powerhouse! Check out some health benefits of these legumes:
They are a heart healthy source of folic acid, fiber and potassium
They contain the highest amount of protein originating from any plant. It's roughly the same as red meat, chicken, fish and dairy.
They are packed with vitamin B, magnesium, and zinc
They are a great source of iron, which is of importance for those on a purely plant-based diet
Because they are high in fiber, they support healthy bacteria in your gut while keeping you regular
Because of the phytochemical they contain, they help protect against heart disease and type 2 diabetes
Ingredients and substitutions
I try to make sure that all of my recipes are incredibly versatile and flexible to meet your dietary and taste preferences. This lentil salad recipe is no exception! Here are some ideas on how you can customize it to make it yours!
Lentils-This recipe calls for pre cooked lentils but if you are to cook your own, I highly recommend black beluga lentils or French (puy) lentils because they hold their shape the best without breaking down and getting mushy.
Chicken-I added shredded chicken to this recipe to add extra protein and bulk, but you better believe it's still great without it! Rotisserie chicken makes for a quick fix but I also find it to be great with a high quality canned tuna in olive oil or crumbled bacon.
Arugula-Any fresh green works well in this lentil salad, such as spinach, kale or even spring mix. I opted for arugula because I like it's peppery flavor and it's sturdy enough to hold up to the honey balsamic dressing
Cherries-I really like bing cherries in this recipe for their sweetness and their deep burgundy color. You could also swap out for rainier cherries, red grapes, or even dried cherries or cranberries in a pinch.
Asparagus-I love the addition of earthy asparagus in this salad but if you don't have any on hand, I've also had great success with sautéed mushrooms.
Goat cheese-You know I'm a big fan of goat cheese but feta makes an excellent stand in as well.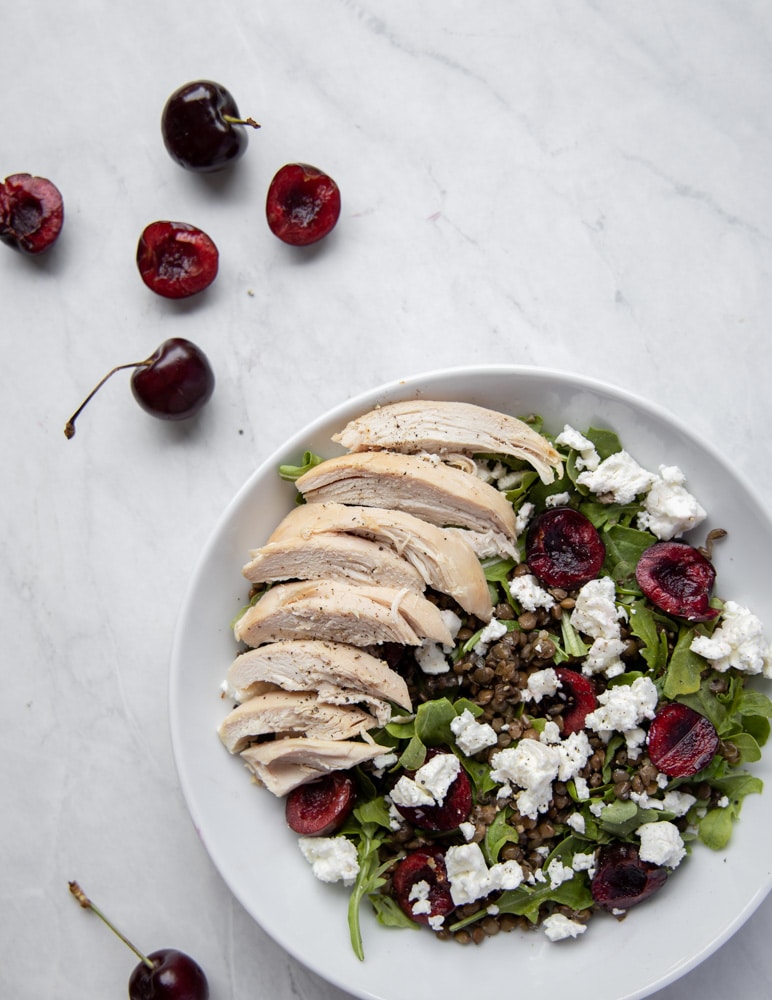 Cherry Lentil Salad with Honey Balsamic Dressing
Lentils bulk up this dish with lots of healthy protein and nutrients while summer fresh cherries add a sweetness that take this salad to a whole new level. 
Ingredients
Lentil Salad
2

cups

cooked lentils

2

cups

fresh arugula

3/4

cup

halved and pitted bing cherries

1 1/2

cups

asparagus, cut into 1" lengths

1 1/2

cups

shredded chicken (optional)

1/2

cup

goat cheese

1

tbsp

avocado oil

1

pinch

sea salt
Honey Balsamic Dressing
1/3

cup

balsamic vinegar

1/2

cup

olive oil

1

tbsp

honey

1

tsp

dijon mustard

1/2

tsp

salt

1/4

tsp

pepper
Instructions
In a skillet over medium heat, add 1 tbsp avocado oil. Once the skillet is warm, add the prepped asparagus and sautee until al dente. You want to take the raw edge off without making it mushy. Season with a pinch of sea salt.

In the meantime, prep lentils as per the directions on the package. I recommend rinsing under cold water in a colander. If you're starting with dried lentils, rinse them first. Bring 3 cups of vegetable or chicken stock and 1 cup of dried lentils to a boil in a saucepan. Once water is boiling, reduce heat to a simmer and cook until lentils are no longer crunchy, and are tender but not mushy. About 15-20 minutes depending on the variety of lentils you have. Drain excess water and let cool.

In a small tupperware container, add all the ingredients for the honey balsamic vinegar. Shake vigorously to emulsify the dressing and combine everything together.

In a large bowl, add the lentils, arugula, cherries, asparagus, and chicken if using. Dress lightly with the vinaigrette to taste. Add goat cheese just before serving and gently toss.
Notes
The best lentil varieties for a salad like this are French, black, brown or green.  
Buying a rotisserie chicken at the store and shredding it makes this recipe come together in a pinch!  Other great protein options are tuna and bacon.
If you don't have cherries, other good substitutes include red grapes or dried cherries.