The Instant Pot is your secret weapon in the kitchen when it comes to preparing a batch of quinoa. For meal prep, it frees up your hands, and your stove, so you can multitask like a boss. This fool proof method makes perfectly fluffy quinoa every time!
Why cook your quinoa in an instant pot?
Using your Instant Pot, or pressure cooker, for making quinoa isn't a new concept. I worked my way through a number of different recipes, like this one from Detoxinista. However, I just kept running into the same problem: mushy quinoa. I made adjustments to the cooking time, water ratio, and took the opportunity to add in extra flavor. This way, your quinoa will turn out perfectly "al dente" every time so it can still soak up dressing or sauce without getting soggy.
When it comes to meal prepping, I always wish for an extra set of hands to maximize my efficiency. So anytime I can have something basically do the cooking for me, I'm sold! That's where the instant pot comes into play. You just toss all your ingredients into the pot, set the time, close the seal and tell Alexa to set a timer. Best of all, you can easily double or triple the recipe to batch cook it for use in a variety of meals throughout the week.
Tips for making instant pot quinoa like a pro
There are a few key tricks to making sure your quinoa turns out perfectly fluffy and delicious every time.
Rinse the quinoa super well in a colander. This will help to eliminate some of the inherent bitterness of quinoa.
Hit your instant pot with a little cooking spray before adding your ingredients in order to make sure you don't get any stickage.
As with any instant pot recipe, make sure you set the pressure release knob to "SEAL" (not vent) so that the pressure can build up to cook the quinoa.
Release the pressure from your Instant Pot or pressure cooker 7 minutes. If you let it go longer, you'll end up with mushy quinoa and nobody wants that.
Stop the quinoa from overcooking by spreading it into a thin layer on a cookie sheet. If you can fit it in a fridge, great. If not, just the act of spreading it out like that will still help it cool quickly.
Don't be afraid to flavor your grains! I like to add aromatics like shallot and garlic but you could also throw in fresh herbs like rosemary or thyme. Or if you really want to take it the extra mile, use chicken or veggie stock instead of water.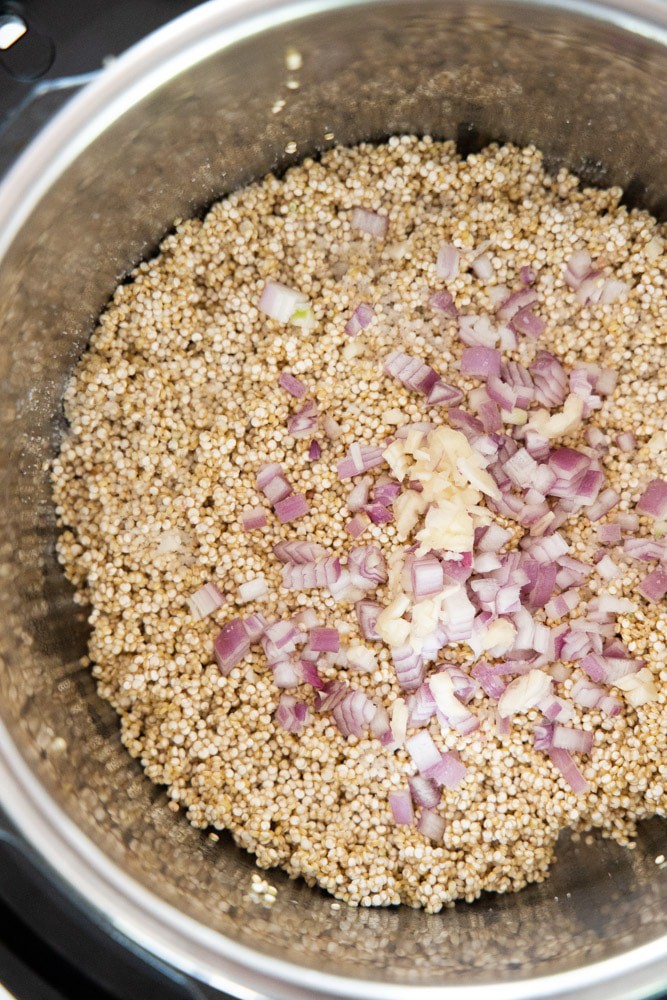 HOW LONG DOES IT *REALLY* TAKE TO COOK?
Okay, okay, calling it 1 minute Instant Pot quinoa is a bit of a stretch. While the "cook" time is really 1 minute, with any pressure cooker you have to allow for the extra time to build up the pressure and then subsequently release the pressure. So *technically* it would be more like 15 minute quinoa from start to finish.
UNDERSTANDING HOW TO USE THE INSTANT POT
Once you've plugged it in, you will hit the "pressure cook" button and then adjust the cook time to 1 minute. The most important step is to turn the knob on your lid to the "Seal" setting, not "Vent", otherwise you won't create any pressure. Once the 1 minute timer is up, you'll hear it start beeping. At this point, the red light on the pressure cook button will turn off and it will switch to the "keep warm" mode. The timer will count UP to 7 minutes, and that my friends is when you'll manually release the pressure. CAREFULLY turn the knob on top from "seal" to "vent". It will sputter and spray crazy hot steam out the top. NOTE: The lid won't open until the pressure is fully released.
PRO TIP: In order to avoid mushy quinoa, spread the hot grains out on a sheet pan or plate so they can cool quickly and not overcook. This will help keep it from clumping together too.
Quinoa recipes to enjoy
These are some of my favorite recipes to enjoy with quinoa! I love how versatile it is to use in soups, salads, stuffings, and even baked goods!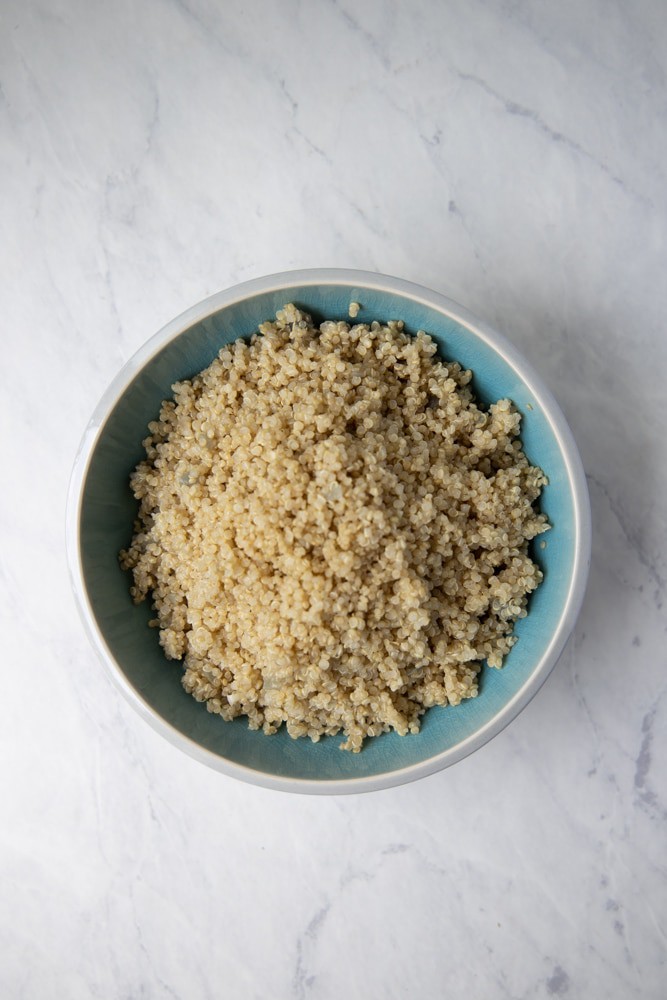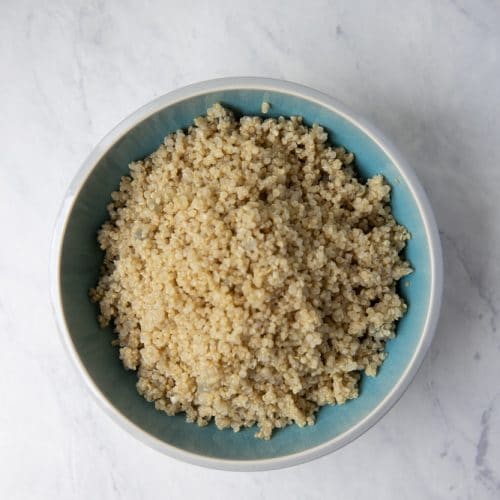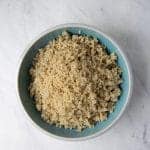 Print Recipe
Easy 1 Minute Instant Pot Quinoa
With just one minute on the pressure cook cycle, you can enjoy delicious, fluffy quinoa from your Instant Pot!
Ingredients
1

cup

quinoa

2

tbsp

minced shallot

2

cloves

minced garlic

1

tsp

kosher salt

1/4

tsp

black pepper

1

cup

water

nonstick spray
Instructions
Rinse the quinoa thoroughly in a colander, drain well.

Spray the inside of the pressure cooker lightly with nonstick spray.

Add the quinoa, shallot, garlic, salt and pepper to pressure cooker.

Add 1 cup of filtered water to the quinoa mixture in the pressure cooker.

Secure lid, making sure to turn the pressure dial on the top to "SEAL".

Select the "Pressure Cook button" and set timer to 1 minute.

Once the 1 minute timer has elapsed, wait for an additional 7 minutes. Then manually release the pressure by turning the knob on the lid from "SEAL" to "VENT", by using a hot pad or dish towel to protect your skin from the hot steam that will be released.

Fluff the quinoa with a fork and then spread out on a cookie sheet to cool before storing.
Notes
I can't stress enough how careful you need to be when releasing the pressure from your cooker.  I usually throw a dish towel over the entire unit and turn the knob so that the steam stays trapped underneath, and my kitchen windows don't fog up.
You can easily double or triple all the ingredients and you'll still get great results.  Just don't use less than the 1 cup of quinoa and 1 cup of water, otherwise there won't be enough liquid to cover the bottom of the pot to cook evenly.
I include aromatics like shallot and garlic in this recipe, but that's totally optional.  You can also add fresh thyme or rosemary for a pop of flavor.  For extra richness, swap out the water for chicken stock.