This air fryer halibut is the easiest and most tender halibut recipe you'll ever try! The air fryer does all the work to ensure a crisp exterior and juicy interior. As a bonus, a vibrant and flavorful citrus salsa with fresh basil adds a burst of flavor and gorgeous presentation to wow your friends.
Why You'll Love This Recipe
Who doesn't love an easy weeknight meal that is impossibly easy to make yet blows you away with that wow factor? This air fryer halibut is:
Gluten free and dairy free!
Easy enough for even the most beginner cook
Let's the air fryer do all the heavy lifting
So colorful and beautiful thanks to the variety of citrus
Uses seasonal winter citrus & halibut
A healthy fish dinner to incorporate more seafood into your diet
Pretty enough for a special occasion, but easy enough for a weeknight dinner
Tasty enough your picky eaters will ditch their fish sticks and tartar sauce for real, fresh halibut the whole family will love
Uses simple ingredients that are easy to find
Halibut is a great source of lean protein!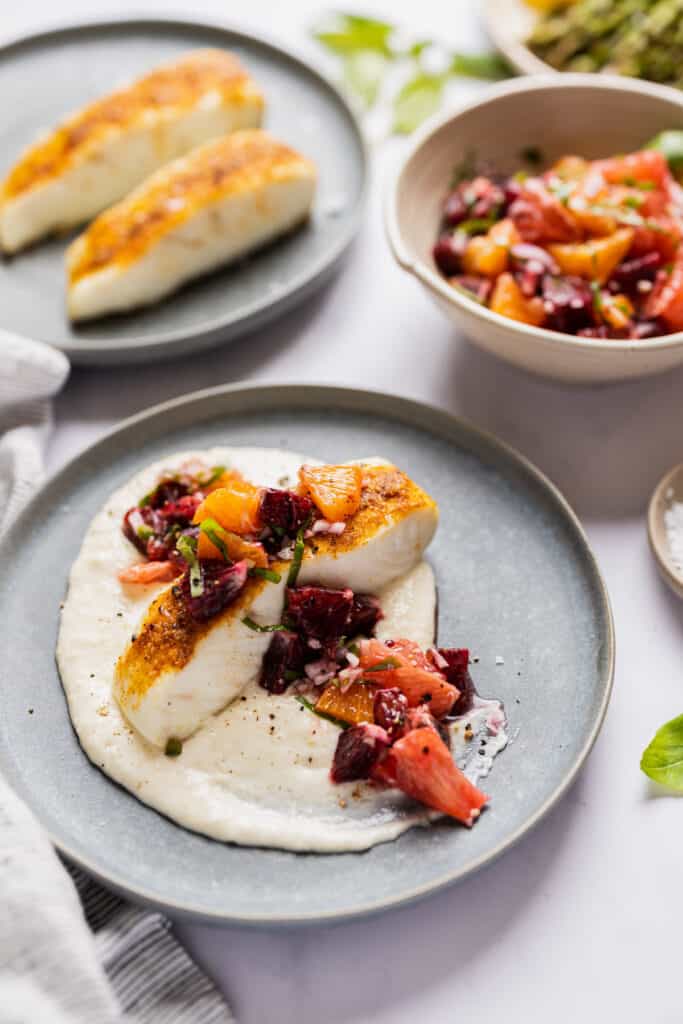 Ingredients & Substitutions
Halibut–Any other firm white fish will make a good substitute for halibut such as cod, lingcod, tilapia, or hake
Blood Oranges–Because of their inherent sweetness, navel oranges work well if you can't find blood oranges but the color of blood oranges are difficult to replicate! You can also just use extra cara cara oranges.
Cara Cara Oranges–I love the pink hue of cara cara oranges but if they aren't available, just use extra blood oranges, tangelos, minneolas or navel oranges.
Grapefruit–Ruby grapefruit is my favorite for this citrus salsa, but a pommelo makes a delicious and less bitter stand in.
Jalapeno–Jalapeno is the most readily available hot pepper and isn't overly spicy making it a great addition to this salsa. You could also use an anaheim, serrano or fresno pepper instead. If spice isn't your thing, make sure you scrape the seeds out first since that's where most of the heat is found.
Shallot–I love shallots for their delicate flavor but red onion is the perfect substitute in a pinch.
Basil–Using basil is a fun floral twist on traditional salsa but cilantro makes a great alternative if that's what you have on hand.
How to Make Air Fryer Halibut
I love what an easy recipe this beginner friendly halibut is! For someone who's never cooked halibut before, rest assured that the air fryer will do the work for you so you can relax. Halibut is a mild white fish that is fairly forgiving as far as fish go.
**The most important thing is to check the fish often, around the 5 minute mark, to make sure it's doesn't get overcooked.
Brush your halibut filets lightly with avocado, olive oil, or olive oil spray and scatter the spice blend over the top. Once preheated air fryer is hot, place in the cook basket and cook for 6-8 minutes. The cook time depends heavily on the height and thickness of your filets so you just have to keep a watchful eye.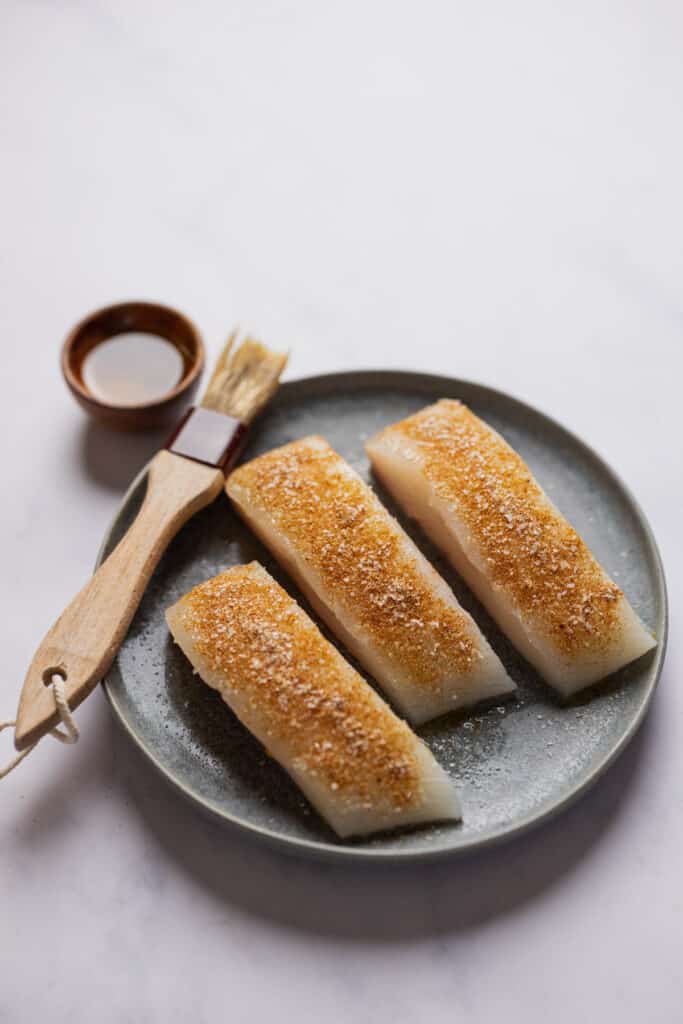 How Do You Know When the Halibut is Done Cooking?
When halibut is raw, it has a pinkish, translucent hue to it. As it cooks, that translucency turns opaque so that it's consistently white throughout. A fork should be able to flake the fish filet easily and the color should be uniform.
A tender fish like halibut can dry out easily so it's super important to check it early and often so that you don't overcook it. The thickness of the fish filet will determine the cook time.
You can either try flaking it with a fork to check for doneness, or if you want to preserve the filets for presentation, you can use a meat thermometer. For medium doneness, aim for a 130-135 degree internal temp.
Make sure that when the filet is cooked through, you don't let it sit inside the air fryer with it turned off. The residual heat will dry it out. Move the halibut from the fry basket to a plate as soon as it's reached your preferred doneness.
How to Make Citrus Salsa
This citrus salsa is a fun spin on your traditional salsa but subbing in fresh winter citrus and fresh basil for the cilantro. It still includes onion, garlic and jalapeno but you will love this sweet and juicy alternative. In addition to this air fried halibut, this salsa would be insanely good with the smokiness of any grilled white fish recipe, or fish tacos.
Start by removing the bitter skin and white pith from the exterior of all your citrus. Then you can either segment the citrus using this method, or you can cut it in horizontal slices and then again into small triangles for nice bite sized pieces.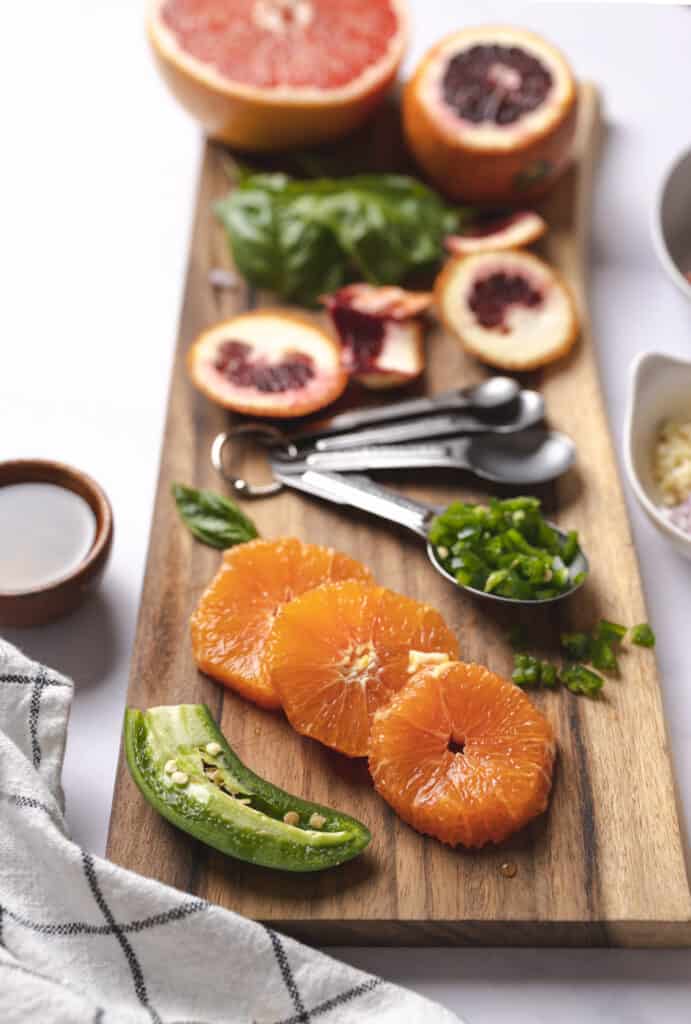 Finely dice your jalapeno, garlic and shallot so that you don't get a large chunk of those when you take a bite, thus overwhelming the other flavors. Gently stir it all together in a small mixing bowl. Store in an airtight container until you're ready to serve and then add the fresh basil in at the last moment before serving.
*Note: If you add your basil too soon, it will turn brown and lose that vibrant green pop of color.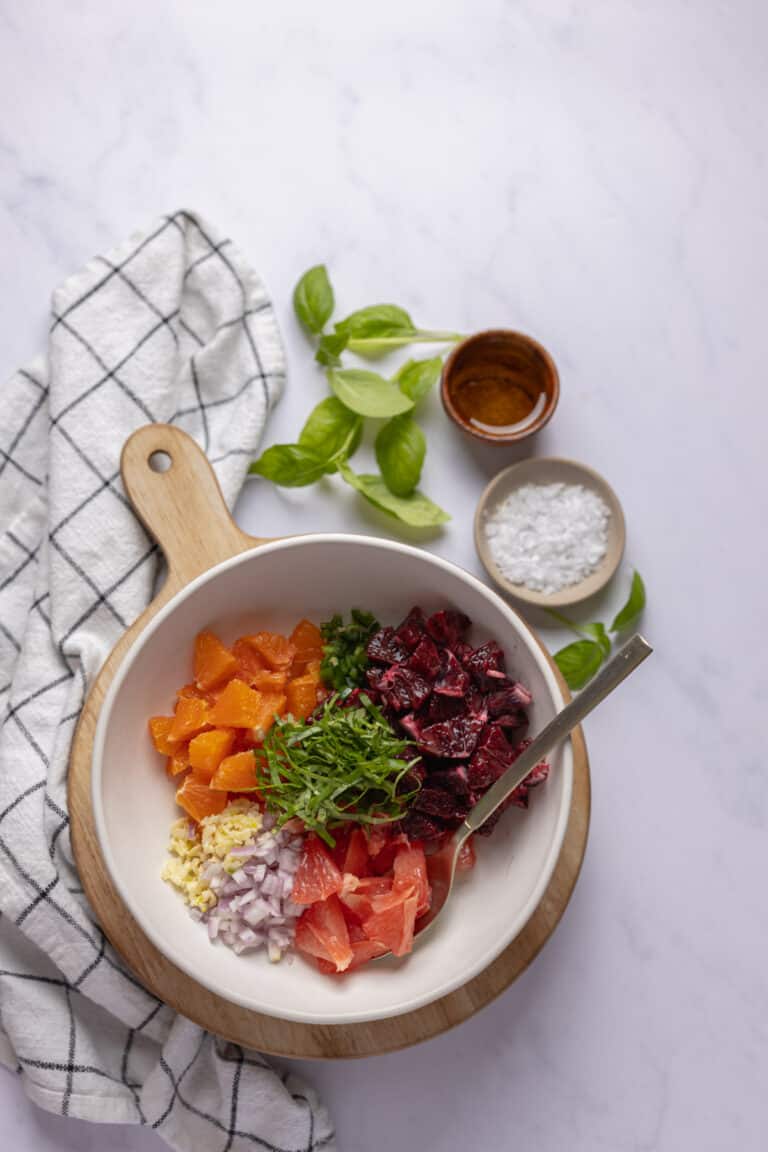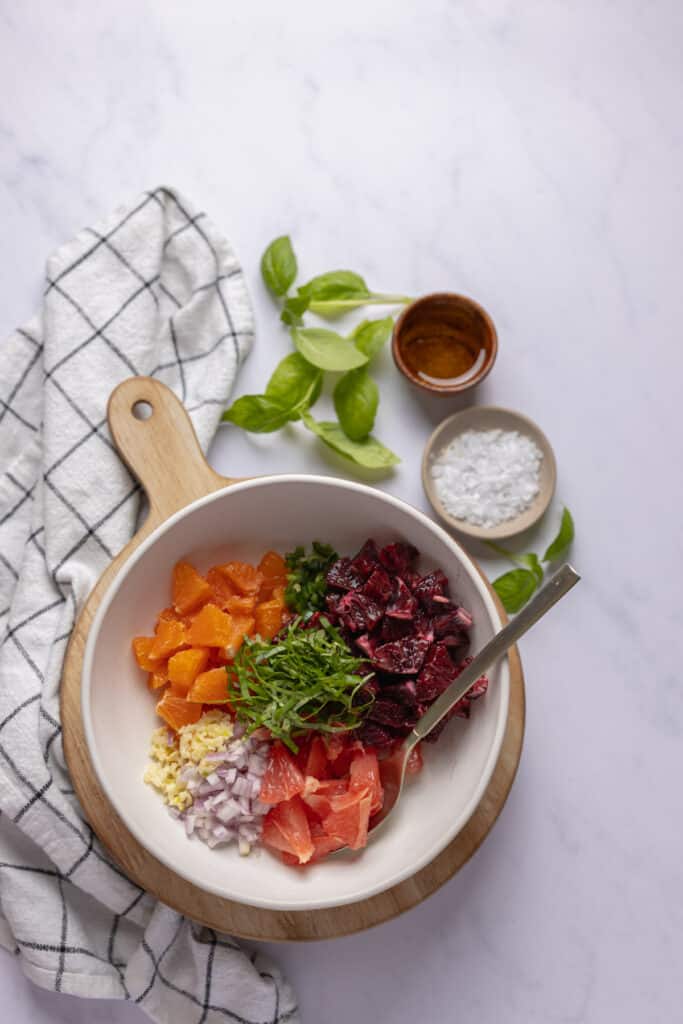 Do You Cook Halibut With The Skin On?
It's incredibly difficult to remove the tough skin on halibut while it's still raw. Bake it with the skin on and you will find it slides off easily once cooked. While technically you CAN eat the skin, you probably wouldn't want to. In my opinion, crispy salmon skin is much tastier than halibut skin!
Can You Use Frozen Halibut Filets?
Yes! No need to defrost the halibut first. Season the frozen filets with olive oil and the spice blend as normal and heat the air fryer to 390. The frozen filets will take 12-14 minutes of cooking time in the air fryer depending on the thickness of the filets.
Benefits of Cooking With an Air fryer
There's a lot to love about the hottest kitchen appliance to hit the market since the Instant Pot. Using an air fryer is the best way to mimic the crunch factor of deep fried foods without the fat of frying in oil. In addition, they're an awesome appliance to have in your kitchen arsenal because they're:
Small and heat up quickly (for this reason, I rarely turn on my convection oven anymore unless I'm cooking a large volume of food)
Easy to clean and user friendly
Super fast cooking! Much faster than a traditional oven
Energy efficient thanks to their small size and quicker cook times
Great way to help frozen foods achieve a delicious, crunchy texture similar to frying
Known for using much less oil than traditional deep frying or even pan frying, thus it's healthier
Frequently Asked Questions
What does halibut taste like? Halibut is a white fish with a delicate and mild taste similar to cod.
What could I substitute for halibut? If you can't find halibut or it's not in season (aka, super pricey!) you can substitute other white delicate fish like cod, tilapia, rockfish, or lingcod and they would all be delicious!
Is Halibut a Sustainable Fish? Halibut is considered a smart and sustainable seafood option thanks to federal regulations on halibut fishing, according to NOAA. Just make sure to look for U.S. wild-caught Pacific halibut which means it's responsibly harvested under those regulations.
How to get the fish smell out of your air fryer afterwards? Whenever you cook something stinky in your air fryer, this trick works wonders! Place a tablespoon each of distilled white vinegar and lemon juice in a small glass bowl. Place the bowl in your air fryer basket and leave at 400 degrees for three minutes. Then let it sit in the unheated air fryer for an additional 15 minutes once the timer has gone off. Remove the bowl carefully with a hot pad and then clean the basket out with soapy water.
If I don't have an air fryer, how can I cook this halibut? If you don't have the equipment to make this air fryer fish recipe, you can keep all the steps the same, but cook the halibut on a sheet pan at 400 degrees for 12-14 minutes, depending on the thickness of your filets.
When is halibut in season? Technically, wild caught halibut is in season from mid March-mid November, and that's when you'll find the best prices at the market, particularly in early spring.
What's the best air fryer on the market? I haven't tried them all personally, but luckily consumer reports made a roundup of the top air fryers of 2022 that you can check out.
What to Serve With This Air Fryer Halibut
Since the citrus salsa is bright and acidic, I like to balance it out with a smooth and creamy base for the halibut. I've had great success with making a celery root puree or cauliflower puree since the flavor doesn't overpower the delicate halibut.
Other tasty sides for this air fryer halibut recipe would be a a bed of coconut rice, or just a simple side of roasted asparagus, green beans with lemon zest or broccolini to sneak even more veggies into your diet. My kids love it with tater tots or french fries of all things!
Instead of the citrus basil salsa, you could top the air fried halibut with a fresh mango salsa and green onion.
If you want to incorporate more fish and seafood into your diet, you'll love this pistachio crusted salmon recipe, kale caesar salad with salmon and fresh lemon, and healthy Mediterranean tuna salad.
For other air fryer halibut recipes, give this air fryer parmesan crusted halibut a try!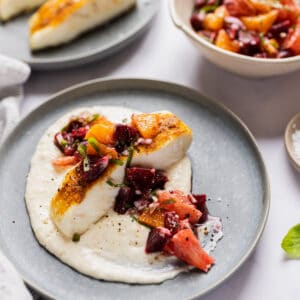 Air Fryer Halibut
This air fryer halibut is the easiest and most tender halibut recipe you'll ever try! The air fryer does all the work to ensure a crisp exterior and juicy interior. As a bonus, a vibrant and flavorful citrus salsa with fresh basil adds a burst of flavor and gorgeous presentation to wow your friends.
Ingredients
Air Fryer Halibut
1

pound

fresh halibut filets

1

tbsp

extra virgin olive oil or avocado oil

1/2

tsp

kosher salt

1/2

tsp

granulated garlic powder

1/2

tsp

smoked paprika

1/2

tsp

ground cumin

1/4

tsp

cracked black pepper
Citrus Basil Salsa
1

cup

cara cara or navel orange, segmented

1

cup

blood orange, segmented

1/3

cup

ruby grapefruit, segmented

3

tbsp

minced shallot

2

cloves

garlic, minced

1

tbsp

minced jalapeno

2

tbsp

extra virgin olive oil

3

tbsp

julienned fresh basil
Instructions
Air Fryer Halibut
Preheat your air fryer to 390 degrees, or conventional oven to 400 degrees.

Cut your halibut into 3 or 4 equally sized filets. Skin on is ok.

Brush your filets with olive oil. Mix together all the spices in a small bowl to combine and then sprinkle liberally over the halibut.

Add fish filets to your air fryer basket and bake for 6-8 minutes. You'll know the fish is done because when you flake it with a fork, it's uniformly white and opaque and no longer pinkish and translucent. Or use a meat thermometer to check the internal temperature is 130-135 degrees F. Cook time depends on the thickness of your halibut filets.
Citrus Basil Salsa
Segment the citrus by cutting a sliver off the top and bottom of the citrus. Place the flat side down on a cutting board and run your knife down between the skin and fruit to remove the skin. Using a paring knife, cut between the membranes until you reach the middle of the orange, but not cutting all the way through. Slide a paring knife between the membrane and segment, then pop the segment out.

In a mixing bowl, gently combine your citrus segments with the minced shallot, garlic, jalapeno, olive oil and season with salt and pepper.

Add in the fresh basil just before serving.
Notes
Other white fish you can use in this recipe include cod, lingcod, tilapia and hake.
If you only have frozen halibut, you can place your frozen filets directly into the air fryer at 390 but it will take 12-14 minutes to cook them through.
If you don't have an air fryer, you can replicate this recipe in a convection oven at 400 degrees for approximate 12-14 minutes.