This oven-baked Furikake Salmon is flavor packed with Japanese mayonnaise and furikake seasoning. Have dinner ready to serve in 20 minutes or less with a side of fluffy rice and roasted vegetables for the ultimate healthy dinner.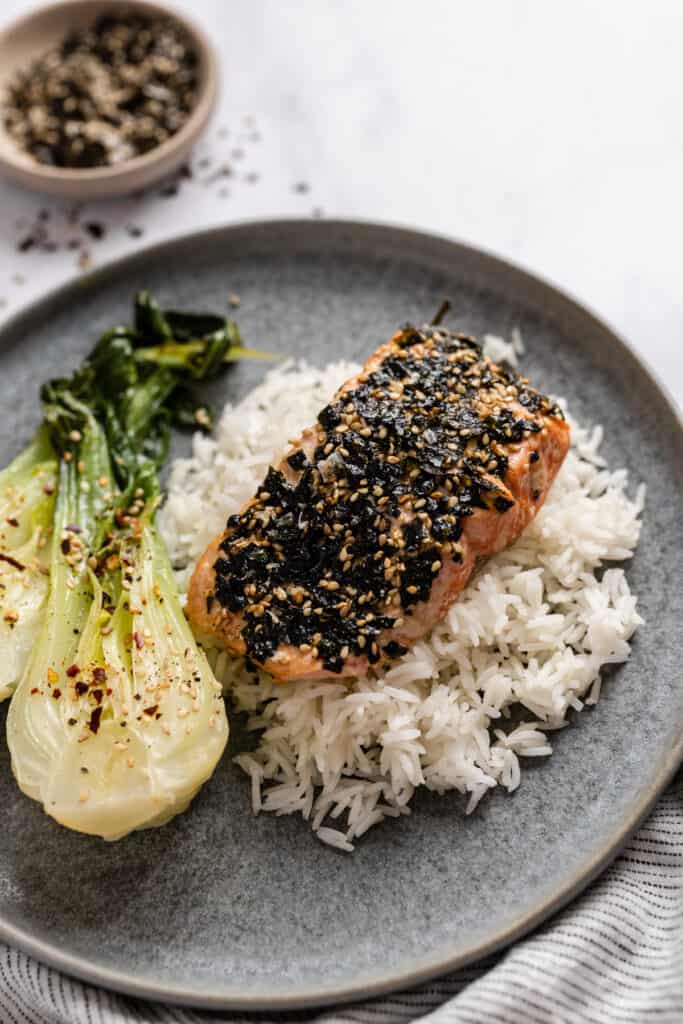 Jump to:
Why You'll Love this Salmon
Quick and easy. It's not often you come across a protein recipe that is ready start to finish in less than 20 minutes. Furikake salmon is one of our favorite go-to recipes for busy weeknights or easy lunches.
Best sushi-style salmon. We prefer to cook Furikake salmon medium rare for the best flavor and texture. If you enjoy salmon sushi rolls or poke, you'll love this style of fish.
Pairs well with multiple sides. We love serving this salmon sushi bake with fluffy white or brown rice, quinoa or roasted vegetables like bok choy, broccolini, cabbage and more. You can also serve with creamy avocado for an additional serving of healthy fats.
Moist and tender. Brushing the salmon filets with a generous layer of Japanese mayonnaise helps to create a barrier and seals in the moisture. This ensures your salmon won't dry out during baking. If you love baked salmon, try our equally tender and juicy Pistachio Crusted Salmon.
Ingredients You'll Need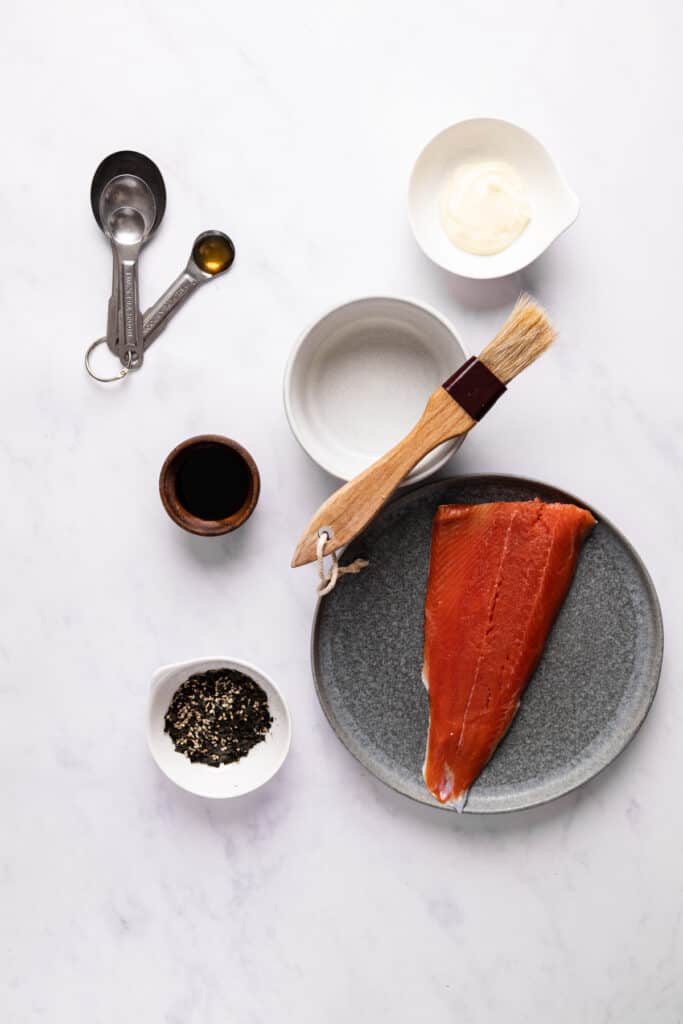 Salmon – We used a 1 lb boneless filet of wild-caught, sustainable salmon. Most salmon filets sold in stores have been deboned, however, if your filet contains bones, learn how to debone salmon at home. You can use either fresh or frozen filets, but avoid farmed fish if at all possible.
Furikake seasoning – This seasoning is a blend of white sesame seeds, black sesame seeds, nori, salt and kelp powder. We purchase our furikake seasoning at our local Trader Joe's, but you can also purchase it from brands like Mishima. Any brand will do.
Kewpie Mayonnaise – Kewpie Mayonnaise is a Japanese-style mayonnaise that is made with egg yolks instead of a full egg to make it richer and creamier. It typically tastes less tangy than traditional American mayonnaise. With that being said, regular mayonnaise is a good substitute or make your own Japanese mayonnaise at home.
Soy sauce – We like to mix a bit of soy sauce into the kewpie mayonnaise to add both saltiness and an umami-rich flavor.
Sesame oil – Sesame oil adds a boost of toasty sesame flavor but you can omit if you don't have any on hand.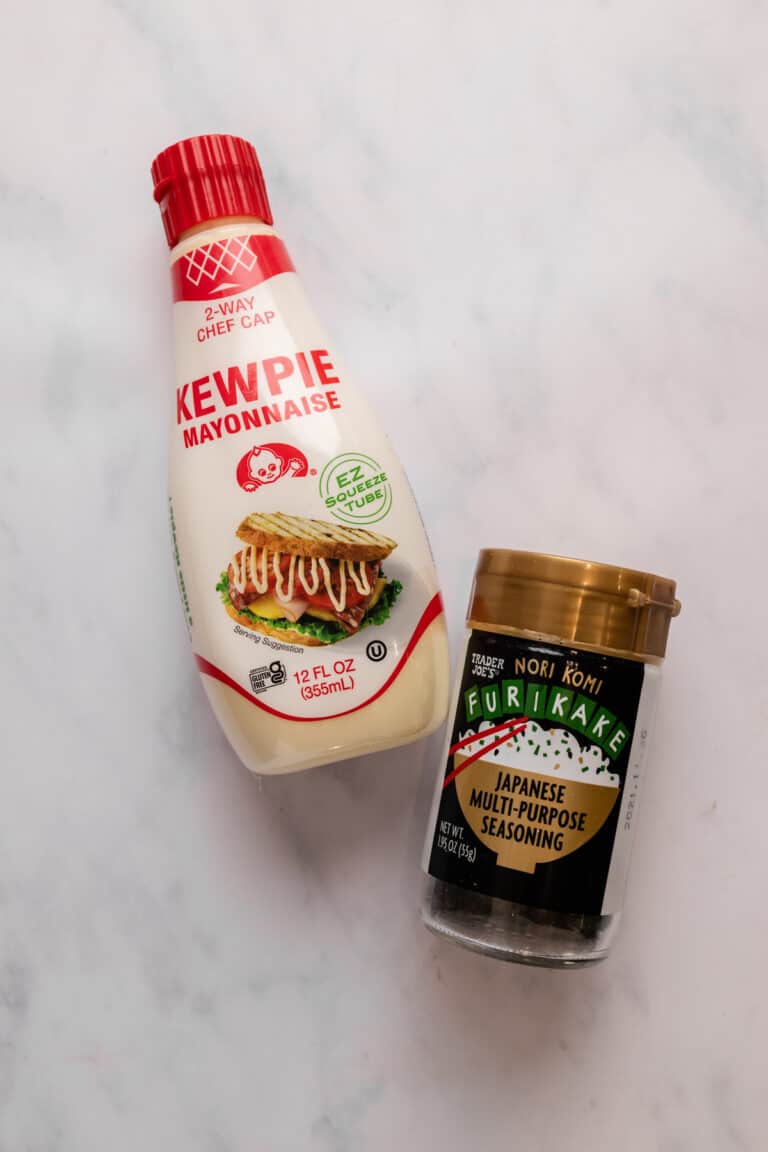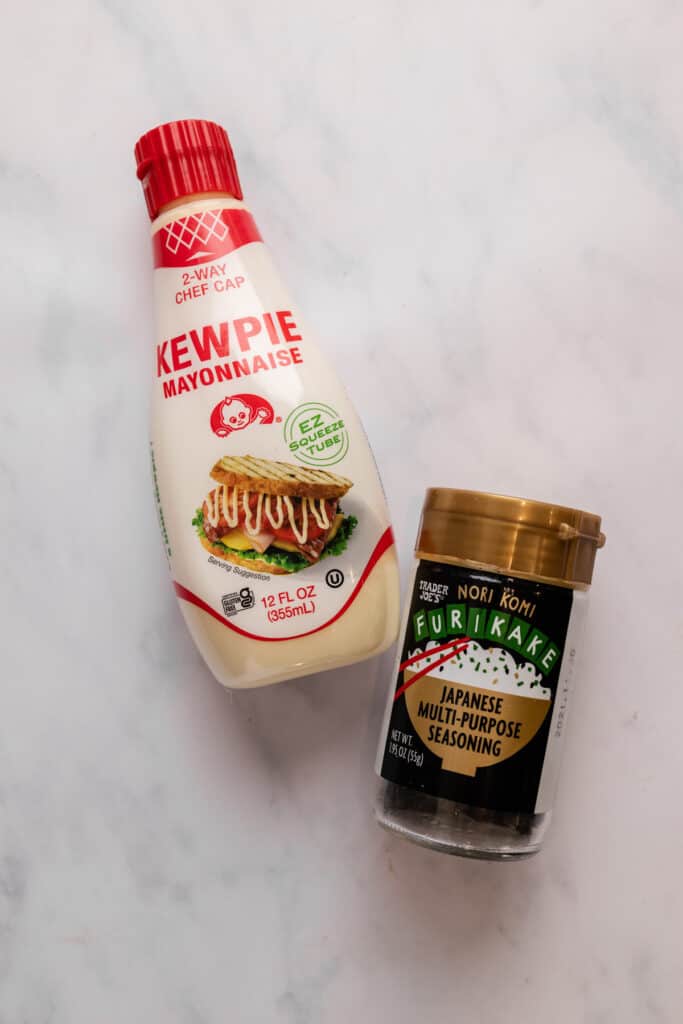 How to Make Salmon with Furikake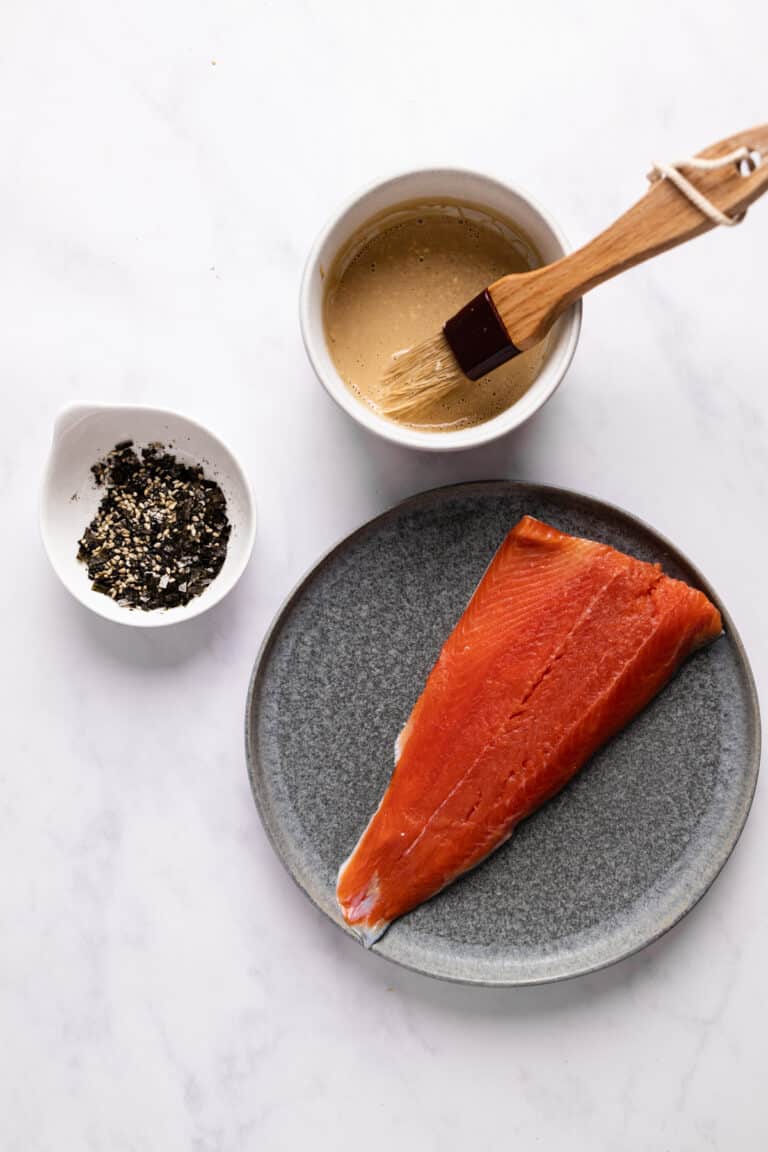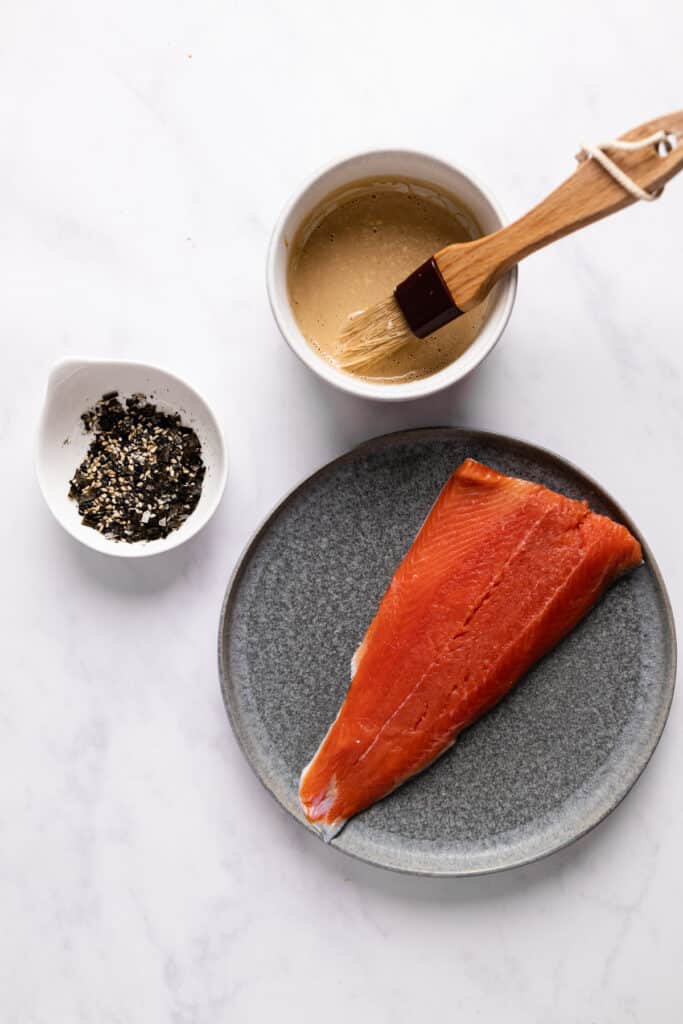 Combine Kewpie mayonnaise, soy sauce, and sesame oil in a bowl and stir until smooth.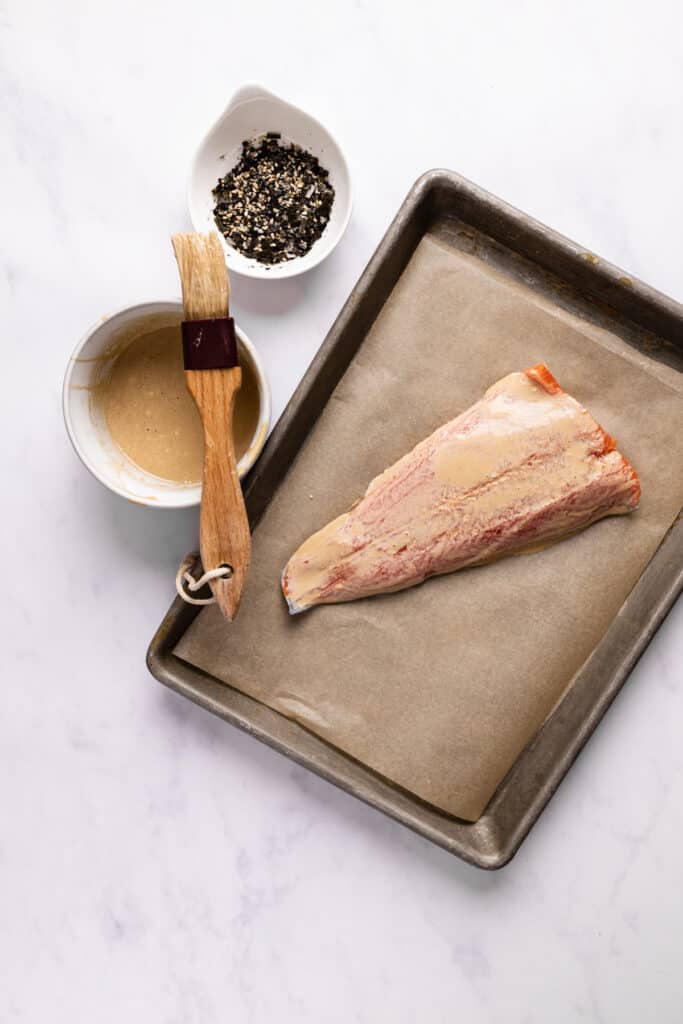 Pat your salmon filet dry and then brush with the mayonnaise mixture so it's well coated.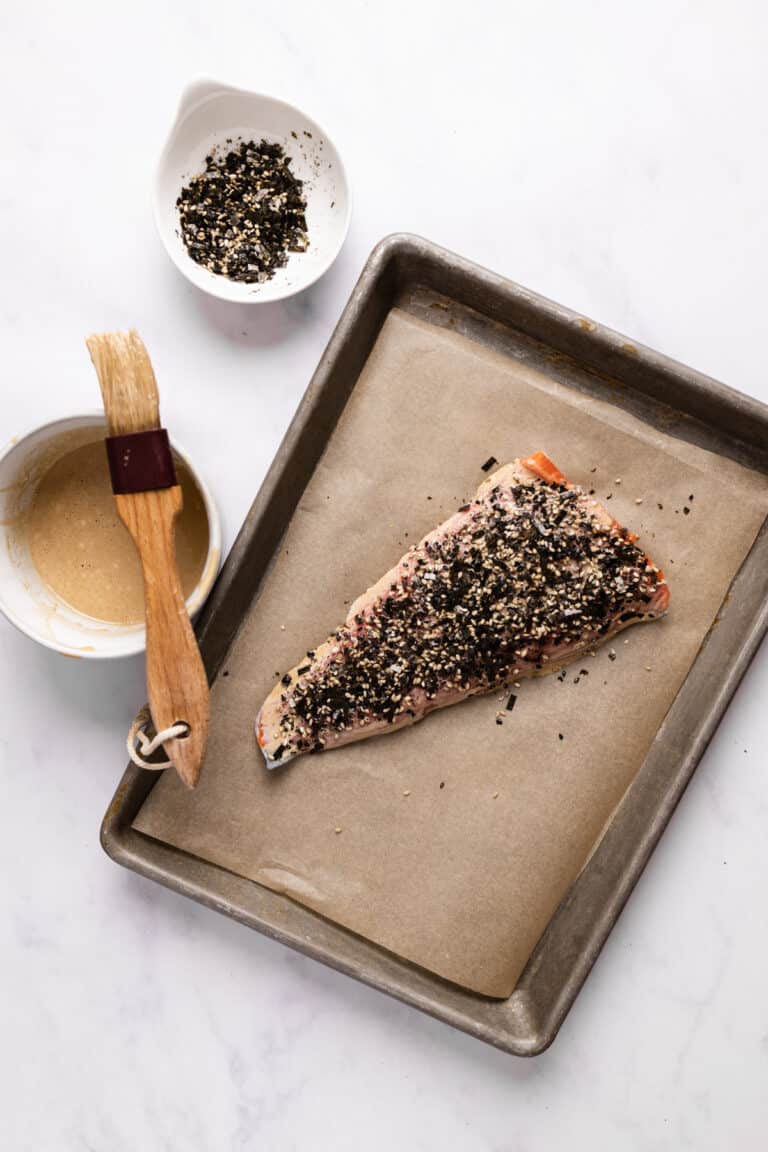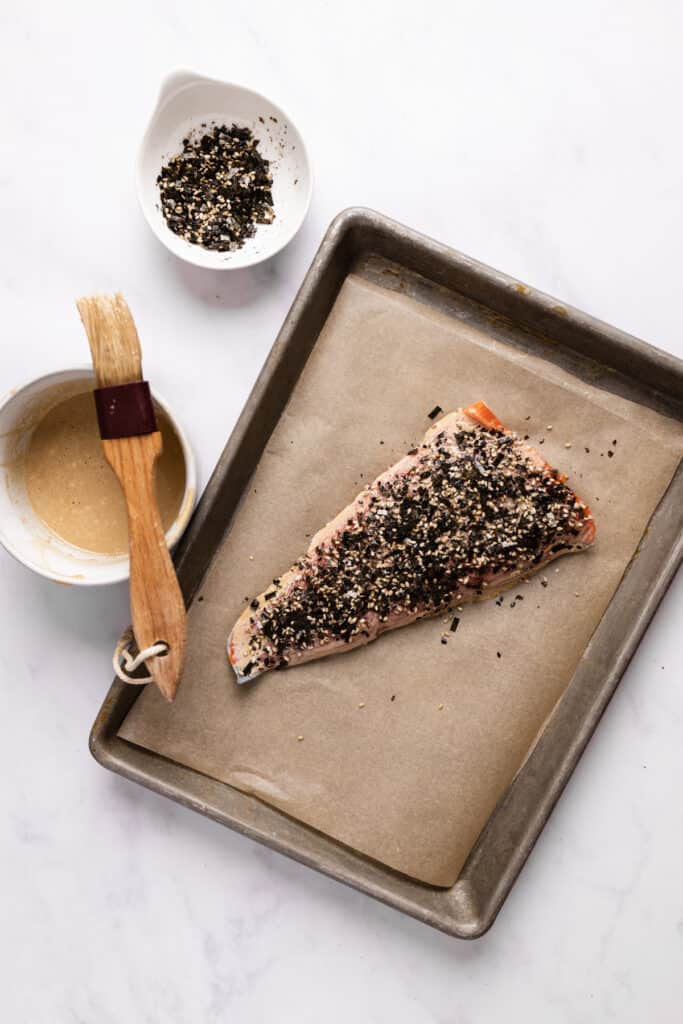 Sprinkle furikake seasoning liberally over the salmon filet and pat down lightly to get it to stick well.
Bake at 400 degrees F for 6-8 minutes for medium rare salmon. Thicker, center cut filets of salmon may take closer to 8-10 minutes.
Recipe FAQs
What else can I eat furikake seasoning with?
Add furikake seasoning to anything that could use a salty, umami flavor. We especially love adding furikake to things like avocado toast or on a hardboiled egg for a delicious snack.
You can really jazz up simple white rice by sprinkling some furikake over the top!
Is it okay to eat salmon with a little pink in the middle?
Yes, in our opinion, salmon that is medium rare or medium is better than salmon that is cooked well done because it has a buttery, yet flaky texture.
Should you wash salmon before cooking?
No need. The USDA actually cautions against washing fish and poultry because this can spread bacteria from the raw meat.
Is fresh salmon better than frozen?
Frozen salmon can be just as nutritious and high quality as a fresh filet. Frozen salmon can often be more affordable and less likely to go to waste, so feel free to purchase frozen filets and thaw them before making baked salmon with mayo.
Do I need to take the skin off the salmon before baking?
No need to! In fact, it's much easier to remove the skin after the salmon has cooked through. It should peel right off with ease. Salmon skin is completely edible but the texture is better in recipes where you pan fry the skin to crisp it up first.
Tips for Success
Pat the salmon filet dry. This will help ensure the mayo Furikake topping sticks well to the salmon and creates the best crisp and flaky baked salmon texture.
Adjust the cook time depending on the thickness of your filet. Each filet of salmon is going to be a slightly different size and thickness. As a general rule of thumb, cook a tail piece for 6-8 minutes and a center cut of salmon for 8-10 minutes.
No need to flip the salmon. Leave the salmon as is on the baking sheet.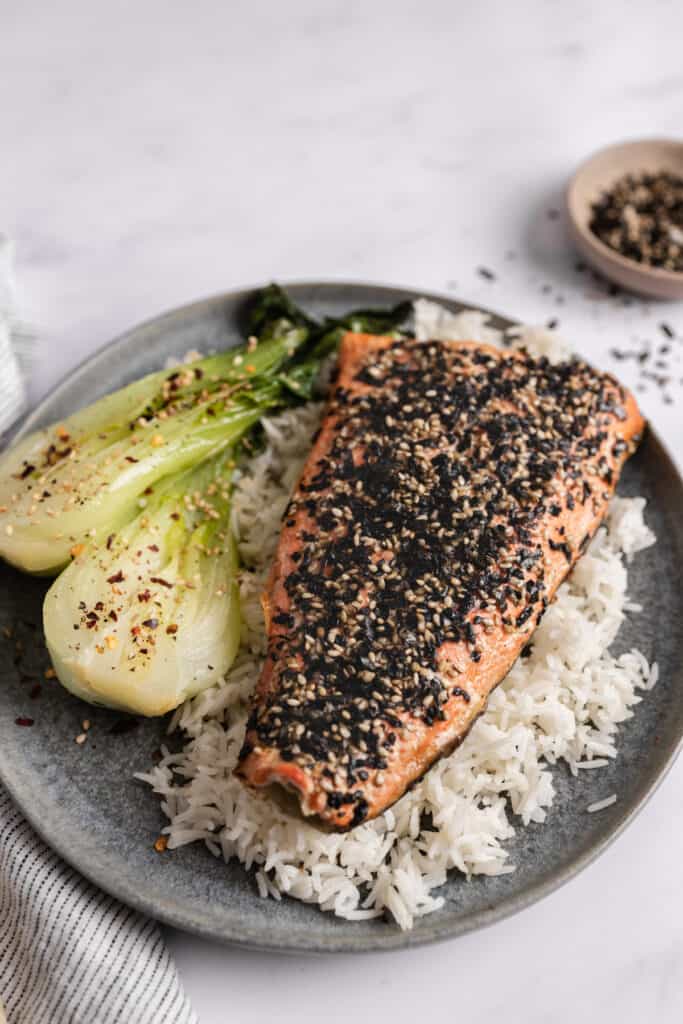 More Easy Fish Recipes You Will Love
Furikake Salmon
This oven-baked Furikake Salmon is flavor packed with Japanese mayonnaise and furikake seasoning. Have dinner ready to serve in 20 minutes or less with a side of fluffy rice and roasted vegetables for the ultimate healthy dinner.
Ingredients
1

lb

filet of wild salmon, deboned

2

tablespoons

furikake seasoning

3

tablespoons

kewpie mayonnaise (see notes if using standard mayo)

1

teaspoon

soy sauce

1/2

teaspoon

sesame oil
Instructions
Preheat your oven to 400 degrees F.

In a small bowl, whisk together the mayonnaise, soy sauce, and sesame oil.

Brush the mayonnaise mix over the salmon to thoroughly coat it. You will have extra that you can drizzle over the fish or rice after cooking.

Sprinkle the salmon liberally with furikake seasoning and pat gently to get it to stick to the mayonnaise mix.

Place salmon filet on a cookie sheet lined with parchment or foil and bake for 6-8 minutes for a tail piece, or 8-10 minutes for center cut salmon for medium doneness.

Enjoy!
Notes
If you can't find Japanese kewpie mayonnaise or don't have it on hand, regular mayonnaise works just fine. Use 3 tablespoons of standard mayonnaise mixed with 1 1/2 teaspoons of rice vinegar and 1/4 teaspoon of white sugar.

Use a meat thermometer to keep an eye on the doneness of your salmon.  Keep in mind it will still cook to an additional 10 degrees even after it's removed from the oven.