If you are on the hunt for a recipe to enjoy copycat PF Chang's lettuce wraps made healthier so you can enjoy them guilt free, look no further! I like to pack them full of flavorful veggies like eggplant, mushrooms, peppers and carrot to lighten up the chicken mixture and add a rainbow of colors and textures. A deliciously sweet and salty sauce glazes the mix while crunchy cashews and green onion add the perfect finishing touch.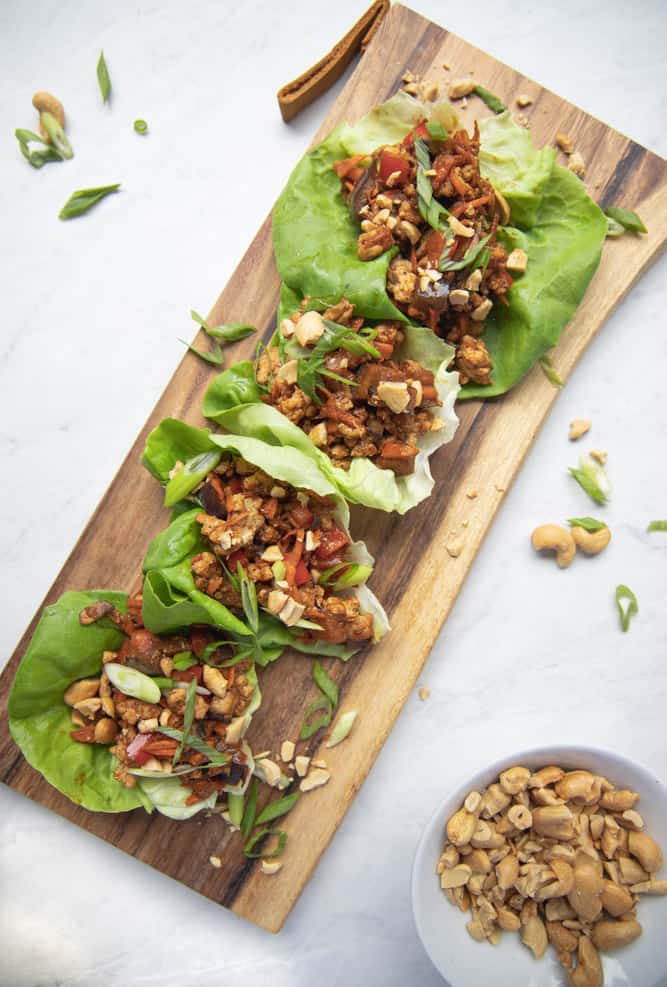 I'm not here to knock PF Chang's lettuce wraps, they ARE delicious after all! However, with any recipe I always look for ways to lighten them up. So in order to make these copycat PF Chang's lettuce wraps healthier, I like to cut the chicken mixture and load it up with eggplant, bell pepper, carrot and mushrooms. You'll love my version and can enjoy it guilt free!
Why you'll love these healthier pf chang's lettuce wraps
They have incredible texture
They have a rainbow of colors
These wraps just so happen to be gluten free!
You can make them in one pot
You can meal prep them so your lunches are covered
ingredients and substitutions
Like everything I make, I wanted to make sure this recipe was endlessly customizable for you. Here are some ideas on how you could switch things up based with what you have on hand and make it your own!
Ground Chicken-I opt for ground chicken thighs because they don't dry out as much but feel free to use ground chicken breast or ground turkey in this recipe. If you want to keep it vegetarian, just swap out the meat for crumbled tofu!
Butter Lettuce– I love buying the butter lettuce that comes with the roots in tact since I can keep it fresher for longer. Romaine also works extremely well and you could also go crazy with some Swiss chard leaves too. I like to double up on the lettuce leaves because butter lettuce is pretty tender and can rip easily. Plus, you get extra greens in your diet that way!
Ginger and Garlic-I always opt for mincing fresh garlic and ginger but if you're in a pinch you can buy the kind in a jar. You can also substitute with 1 tsp of ground ginger or garlic each if you don't have fresh on hand.
Eggplant and Mushrooms-I love the meatiness that these two veggies add here,, just like they do in my harissa eggplant skillet recipe. Plus it helps sneak some veggies in so your kids (or partner!) eat healthier without even realizing it! If you're not a fan of these veggies you could easily use zucchini or yellow squash instead.
Plum Sauce-As I said above, you should be able to easily find plum sauce in any grocery store. If for some reason you can't, or just don't have it on hand, you can try substituting with mango chutney, plum preserves, or a tablespoon of brown sugar. You can also just use extra hoisin sauce to make up for it.
Sambal Oelek-I love the little bit of heat that this chili sauce adds, and I usually make mine with almost a tablespoon. If you're wary of the heat, start with one teaspoon and give it a taste before adding more.
Cashews-I prefer unsalted cashews in this recipe but peanuts are an excellent second choice! If you have a nut allergy you can just leave them out all together.
how to make these lettuce wraps healthier
Lucky for you this is a one pot meal! Your dishwasher will thank you. However since it makes such a large amount and you don't want to overcrowd the pan and inadvertently steam the chicken or veggies rather than brown them, so I suggest working in batches.
First you will brown the chicken in 1 tbsp of high heat oil in a deep skillet. While that is cooking until no longer pink, you can prep your veggies on the side.
Once the chicken is cooked through, you can remove it from the pan and add your ginger, garlic, eggplant, mushrooms and peppers.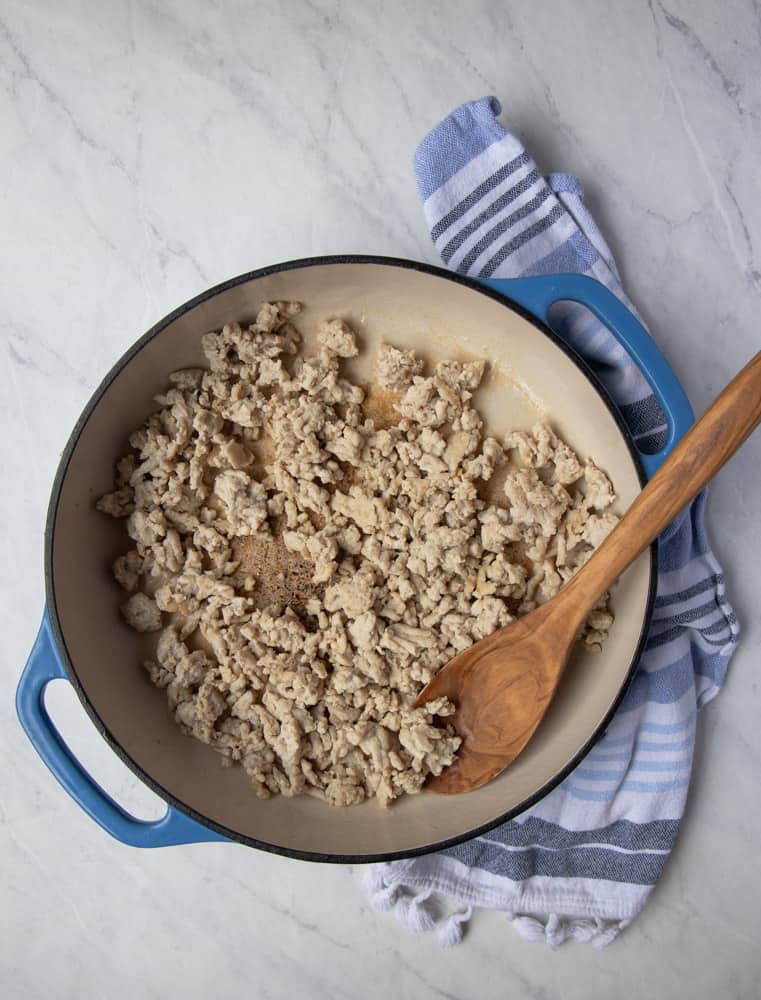 Once these are soft, you add the chicken back to the skillet and start adding the components of the sauce.
Stir to combine well and let the sauce get nice and sticky, about 3 minutes on low heat.
At this point I add the shredded carrots to the mix. If you add them at the same time as the eggplant mix, you run the risk of the carrots getting too soft and losing their bright orange color. By waiting until the end, they retain not only their crispness but their vibrancy, ensuring a delicious texture.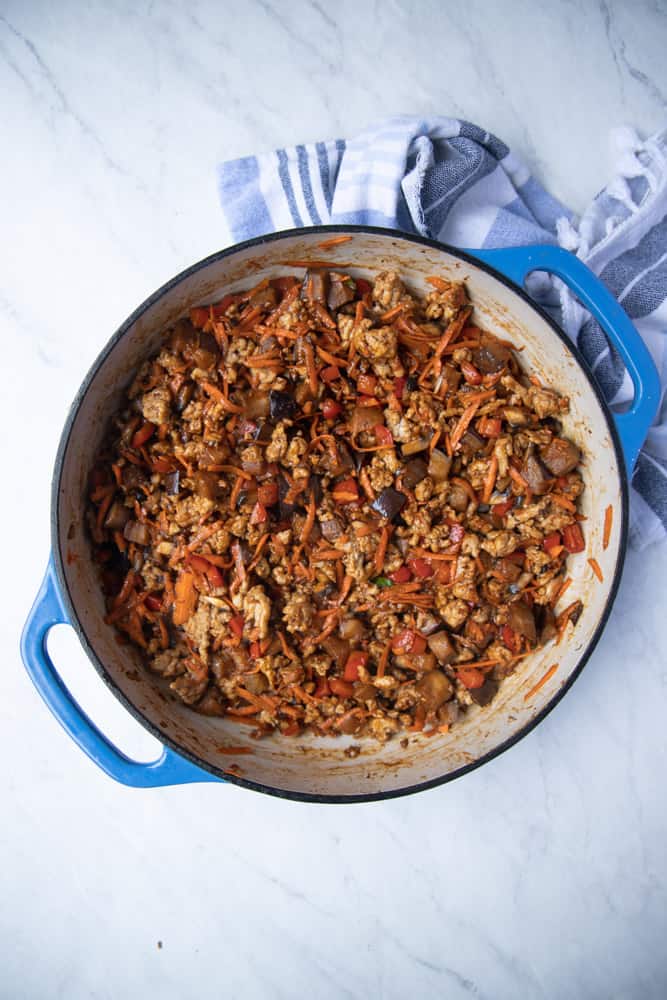 How to prepare lettuce wrap sauce
The ingredient list for the sauce is not for the faint of heart! However, if you make Asian inspired dishes often, chances are you already have all of these on hand. With the exception of the plum sauce, I always keep these ingredients at my fingertips because you will see them over and over again in Asian cooking. Here's what you'll need:
Soy Sauce or Tamari
Sesame Oil
Sambal Oelek chili sauce
Rice Vinegar
Hoisin Sauce
Plum Sauce
You should be able to find these in the Asian section of any supermarket, not just specialty stores. If for some reason you can't find the plum sauce, you can use solely hoisin, but it won't have as sweet of a flavor. In that case, I would supplement with a little plum preserves, mango chutney, or even a tablespoon of brown sugar.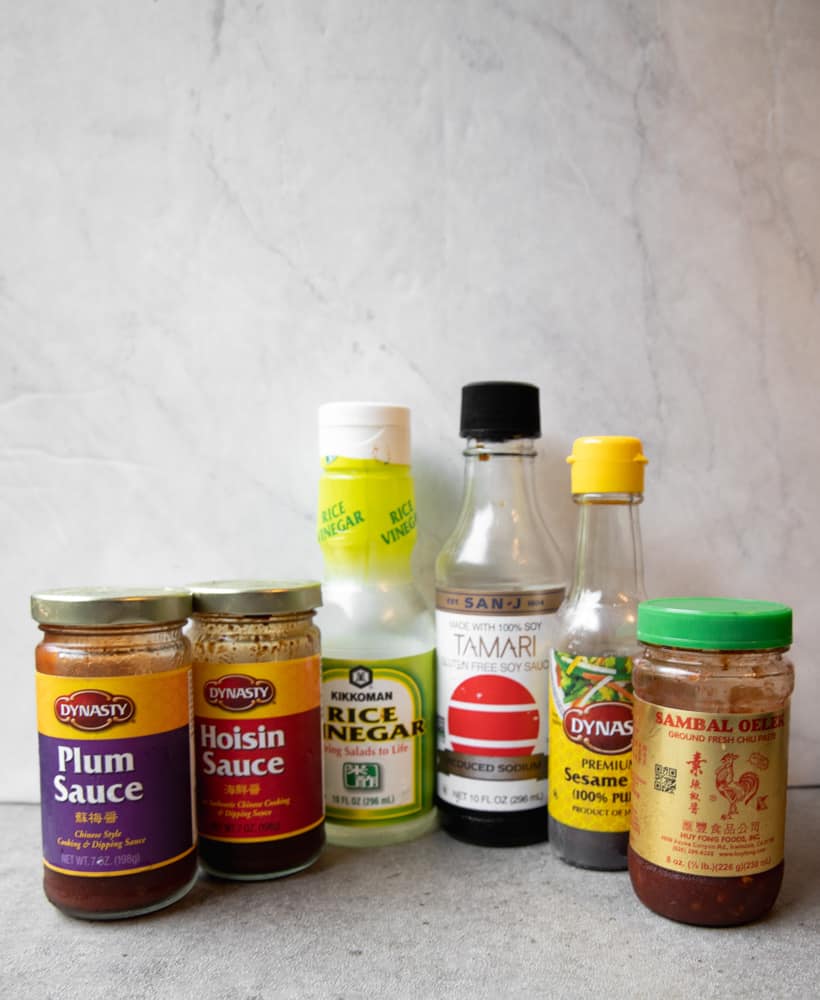 Can you meal prep these lettuce wraps?
The best thing about this recipe is that it makes enough for leftovers and the flavors improve over a day or so! I love to meal prep these healthy chicken lettuce wraps in a compartmentalized container that can keep the saucy chicken separate from the crisp lettuce leaves.
This container I found on amazon has been a lifesaver. I recommend eating these wraps within 3-4 days.
Can you make this recipe vegan or vegetarian?
Of course! I would recommend doubling up on all of the veggies in this list, or adding in some of your favorites like zucchini and squash. You can also substitute tofu for the chicken in this recipe which I have done many times with great success! Luckily, if you swap out the chicken, this recipe also becomes vegan!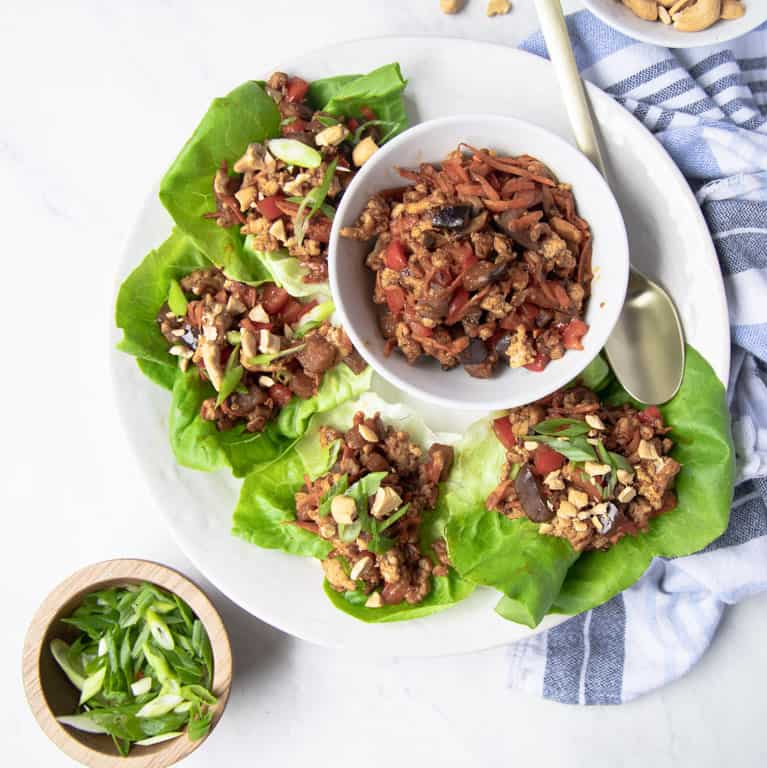 PF Chang's Lettuce Wraps Made Healthier
If you love PF Chang's lettuce wraps but want a healthier option, then you'll love this veggie packed version!
Ingredients
1

lb

ground chicken or turkey

1

tbsp

avocado or grapeseed oil

2

cups

cubed eggplant (no need to peel)

1

cup

chopped cremini mushrooms, stems removed

1

cup

diced bell pepper

1

cup

shredded carrot

3

cloves

garlic, minced

1

inch

fresh ginger, peeled and minced

1

head

butter lettuce

1

cup

chopped cashews

2

green onions, sliced diagonally
Sauce
1/3

cup

hoisin sauce

1/3

cup

plum sauce

1

tsp

sambal oelek (add more to taste)

2

tbsp

Tamari

1.5

tbsp

rice vinegar

1

tbsp

sesame oil
Instructions
In a deep skillet, heat 1 tbsp of high heat oil over medium high heat. Add ground chicken and cook until browned and no more pink is showing, about 5-7 minutes. Remove chicken from skillet.

Add 1 tbsp of sesame oil to pan and lower heat to medium. Add eggplant, mushroom, bell pepper and ginger to the skillet and saute until vegetables start to soften, about 5 minutes. Add garlic and cook for 1-2 more minutes, taking care not to let it burn.

Add chicken back to the pan along with the vegetables. Reduce heat to medium low. Add in 1/3 cup hoisin sauce, 1/3 cup plum sauce, 2 tbsp soy sauce, 1.5 tbsp rice vinegar, and 1 to 2 teaspoons of sambal oelek. Stir well to combine and cook until mixture is sticky and coats the mixture well, about 2-3 minutes.

Stir fresh grated carrot into the mixture.

Serve by scooping mixture into butter lettuce leaves and top with crushed cashews and fresh green onion.
Notes
Mix will keep for 3-4 days.
You can substitute ground turkey for ground chicken.
You can freeze mixture for up to three months. 
If you don't have plum sauce, you can use extra hoisin, or substitute with plum preserves, mango chutney, or 1 tbsp brown sugar.
If you don't have fresh garlic or ginger, you can substitute with 1 teaspoon of ground garlic or ginger each.