This healthy fall meal prep plan is full of new seasonal ingredients to celebrate! For this light and healthy plan, you'll prepare butternut squash two different ways, and rely on a few store bought staples to cut down on time and energy! Let's get cookin!
INGREDIENTS TO PREP
For this fall batch cooking meal plan we'll be making the most of seasonal fall produce with warm and comforting hearty flavors. Here's the ingredients we will be prepping:
Butternut squash two ways-spiralized and roasted
Crispy bacon strips
Caramelized onions and peppers
Honey balsamic dressing
Hardboiled eggs
Roasted potatoes
Steamed or blanched green beans
Shredded chicken
Brown lentils
Estimated prep and cook time: 1.5 hours
Estimated weeknight cooking and/or assembling time: 5-10 minutes
Feeds: 2 adults
I'm going to share a little secret with you that will totally transform the way you approach meal prepping. Here's the truth: you don't actually have to make everything from scratch. For this plan, we will use store-bought rotisserie chicken and pre-steamed brown lentils to save time and energy.
If you don't have a spiralizer, I have found most grocery stores now a days sell pre packaged spiralized zucchini zoodles and butternut squash. You can also purchase chopped fruits and veggies if cutting those yourself sounds like a total pain. You get to decide how you spend your time so use it wisely, and don't get burned out cooking when you can utilize some short cuts!
SHOPPING LIST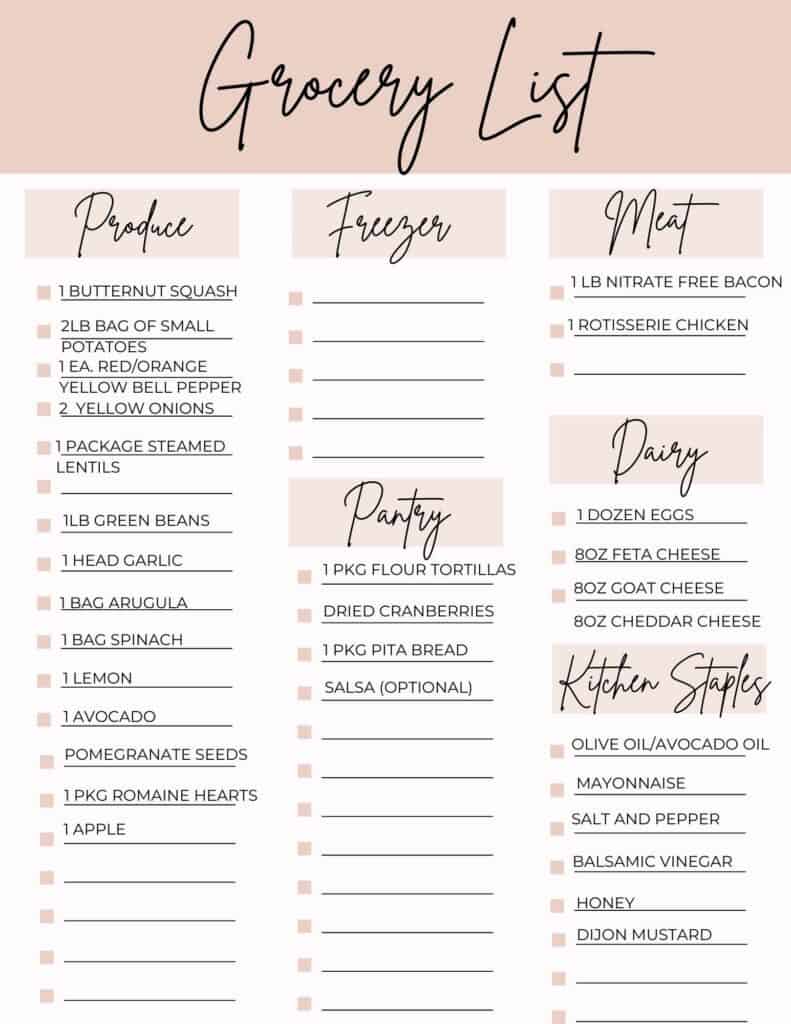 MIX & MATCH FALL MEAL PREP MENU
Here's just a few ideas I came up with for ways you can mix and match these different batch cooked ingredients to make a breakfast, 2 different lunch options, and 5 dinner ideas! Best of all, they all take just 5 (or 10 at most) minutes to assemble with some light cooking during the week.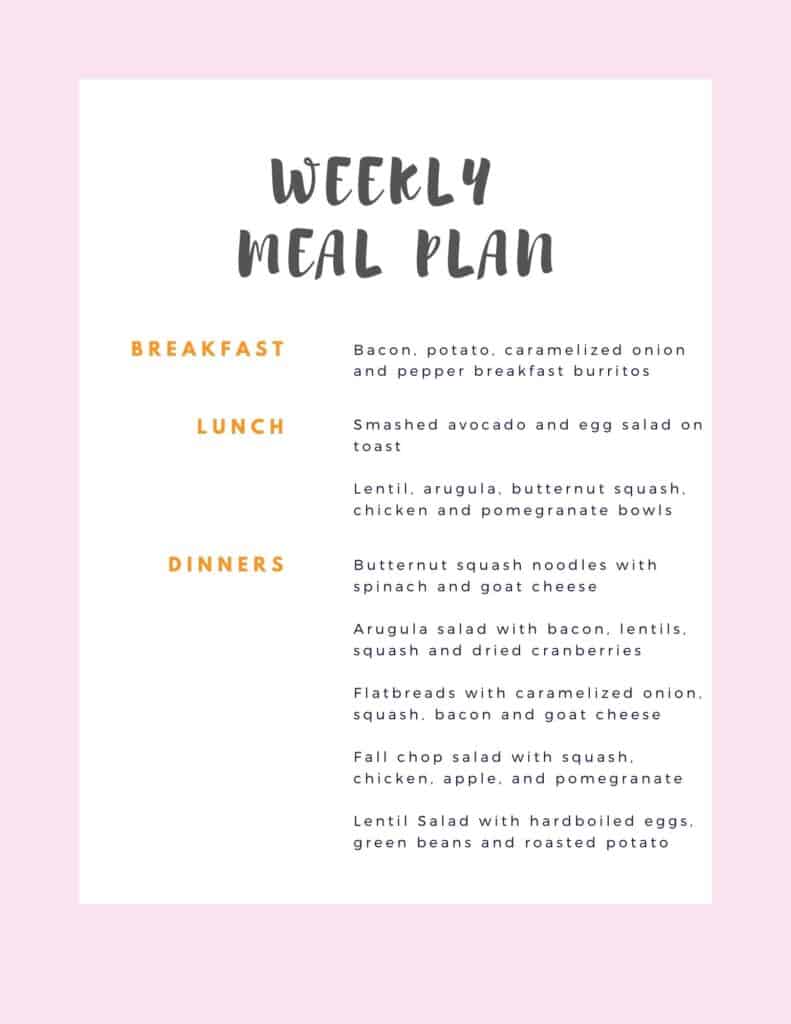 LET'S BATCH COOK!
When it comes to meal prepping, you always want to start with the ingredients that take the longest. I also try to pick things that don't need too much babysitting so that it's easier to multitask and cook multiple things at once. This is where equipment like an instant pot or slow cooker really come in handy.
Butternut Squash
One of my favorite meal prepping tricks is to take one ingredient and prepare it two different ways to keep things interesting, but still super efficient. This week we will use a butternut squash and roast half and spiralize the other half.
To prep your squash, cut the top and bottom off for starters. Then use a sharp vegetable peeler to remove all the tough outer skin. Cut it in half width wise at the neck, or just before it starts to get bulbous at the bottom.
For the bottom half, then cut it again lengthwise, or top to bottom, and scoop out any seeds in the cavity. Dice this portion into small cubes, toss with olive oil, salt and pepper and place on a cookie sheet.
For the skinny neck part of the butternut squash, place that in a spiralizer to make long thick strands known as "boodles." If you end up with too many boodles, you can also dice up part of the neck. Each squash varies in size and some have longer necks than others, but this isn't an exact science so don't worry about it too much.
Place the boodles in a glass container with a paper towel to absorb any excess moisture and you're good to go.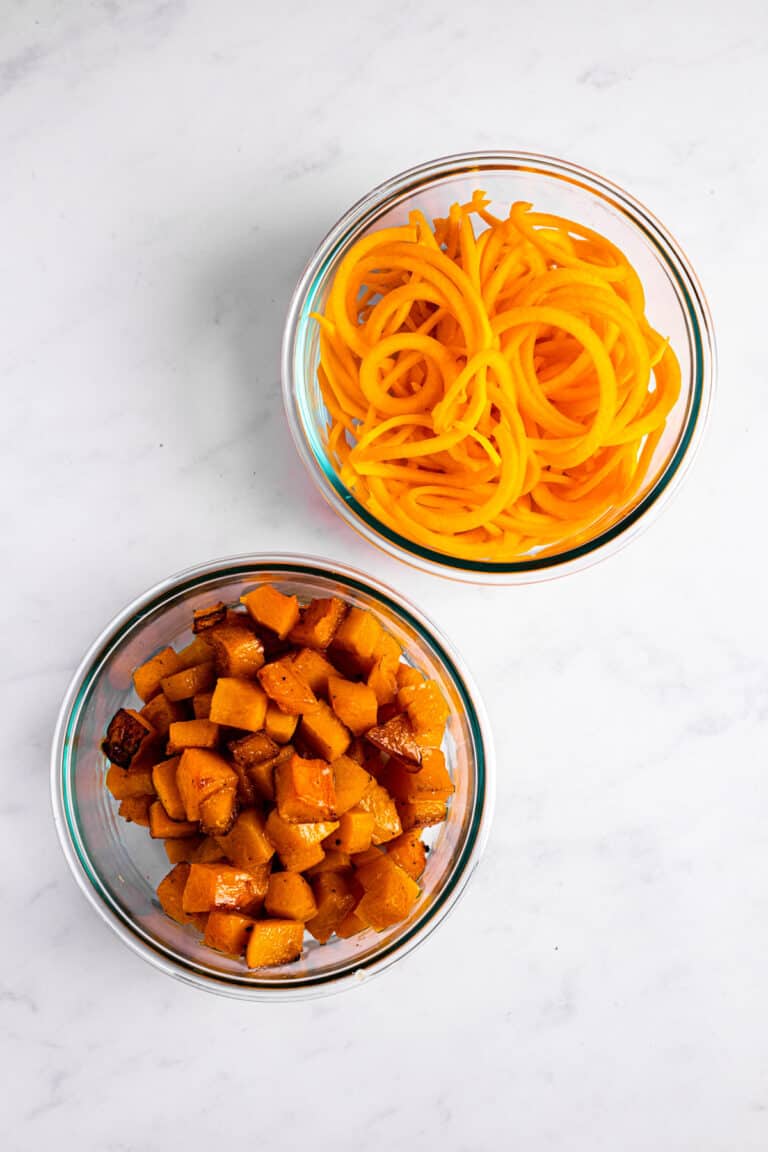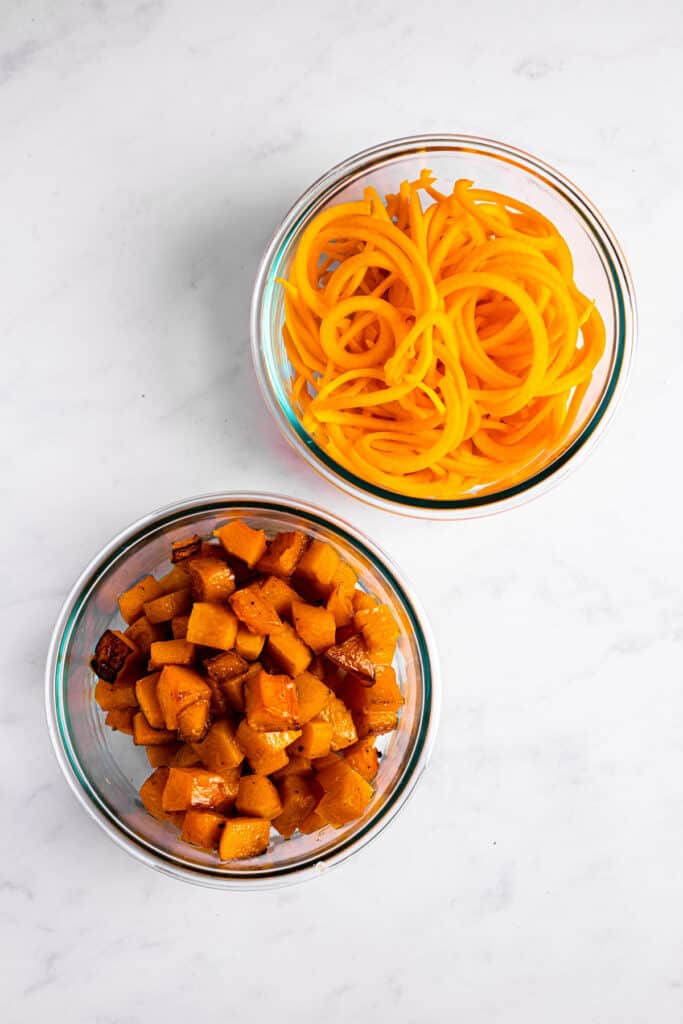 Roasted Potatoes
We're going to roast our potatoes and butternut squash at the same time so that you only have to keep an eye on one thing, and luckily they should take about the same amount of time to cook. Preheat your oven to 400.
Lots of potatoes work well for roasting but I prefer yukon golds because they're not too starchy and will brown nicely with the high heat. Personally, I like to buy the mini potatoes and cut them in half for ease.
You can put them on the same cookie sheet as the butternut squash if you have room, or roast them separately like I do just in case one is ready before the other. Toss with olive oil, salt and pepper and roast both the potatoes and squash at 400 degrees for about 25 minutes, tossing half way through.
Crispy Bacon Strips
Is there anything better than perfectly crispy bacon? Not that I know of! I preheat my oven to 400 degrees F and cover a rimmed cookie sheet with foil. Spread out your bacon strips taking care to keep them from overlapping, otherwise those spots won't crisp up.
Bake for 10 minutes, then rotate the pan 180 degrees. Drain off excess grease. Cook another ~ 5 minutes, or until bacon is crispy. Depending on your oven, it may take anywhere from 2 minutes to 7 minutes more to achieve perfect crunch factor.
Drain any remaining grease. Place bacon on paper towels to soak up any grease and let cool before storing in an airtight container.
Caramelized Onions & Peppers
I like to caramelize my onions and peppers separately so that I can use them in different meals. You may want peppers in a frittata but caramelized onions on top of a burger. If they're mixed together you don't have that flexibility.
Preheat a large skillet to medium low heat with two tablespoons of high heat oil, like avocado oil. Cut your onions into 1/4″ slices and place in the pan. If you cut them too thin then they are more likely to burn.
Add a pinch of salt and stir often. Beware they will take 35-45 minutes to actually caramelize. If you see that they are starting to burn or stick to the bottom of the pan, add two tablespoons of water and lower the temp.
For the peppers, cut into thin strips and cook in a separate skillet over medium heat with 2 tbsp high heat oil. These won't fully caramelize like the onions so they can be cooked at a higher heat. Add a pinch of salt and pepper and stir often. Once softened you can remove from the pan to cool.
Green Beans
Blanching is the method I prefer for meal prepping green beans because it's the fastest. The goal is to take the raw crunch out of them without cooking fully. That way when you reheat the beans, they will be perfectly cooked instead of overdone and mushy.
For blanching, bring a pot of salted water to a boil. Trim the ends off your green beans and add to the boiling water. While they blanch, prepare a large bowl of ice water nearby. Boil for 3-5 minutes, testing often, until bright green and crisp tender. Use a slotted spoon to immediately move them to the ice water to stop cooking.
Once cooled, dry and store in an airtight container.
Hardboiled Eggs
My fool proof method for hard boiling eggs is to use my steamer basket! (You can also just steam your green beans if you find that to be easier). In a sauce pot, bring 2″ of water to a boil. Place your steamer basket in the pot and load up with 8 eggs.
Cover with a lid so the steam can't escape and cook for 10 minutes. After 10 minutes, immediately take your eggs out and place into a bowl of ice water, just like we did with the green beans. This keeps them from cooking any further so they're perfectly cooked without dry and chalky yolks.
Honey Balsamic Vinaigrette
This is one of my absolute favorite dressings! In a small container with a lid, like a mason jar, combine these ingredients and shake vigorously to combine:
1/3 cup balsamic vinegar
1/2 cup olive oil
1 tbsp honey
1 tsp dijon mustard
1/2 tsp salt
1/4 tsp pepper
BREAKFAST MEAL PREP
Having a portable breakfast you can hold in your hands as you're rushing out the door on a hectic Monday morning is a must! Breakfast burritos are a favorite of mine because they travel so well and can also be frozen and reheated on the fly. It's up to you if you want to scramble your eggs ahead of time and prepare them fully, or wait until the morning of.
For me personally, the decision just depends on how busy my upcoming mornings that week will be. If you choose to prepare them ahead of time, they will last 3-4 days in the fridge in an airtight container. Then, just reheat in a microwave for 1.5-2 minutes, wrap in foil, and you're out the door!
The prep we will utilize for these burritos is:
crispy bacon
roasted potatoes
caramelized onions
rainbow peppers
Finishing touches:
scrambled eggs
cheddar cheese
salsa, avocado and cilantro *optional*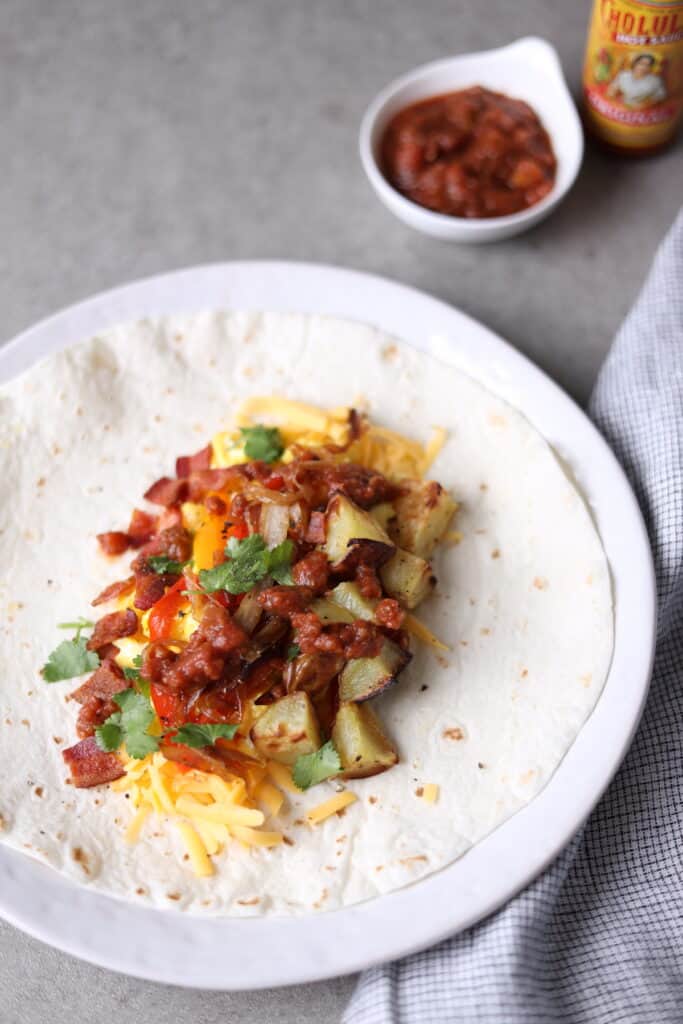 LUNCH MEAL PREP
With everything that was prepped ahead, the lunch options are endless, but here's two of my favorites that have become staples in my life. Hardboiled eggs are a must in my fridge at all times. Not only do they make a perfect healthy snack-on-the-go, but it means I can make a delicious egg salad on avocado toast!
EGG SALAD SANDWICHES WITH MASHED AVOCADO
In a bowl, add two peeled and chopped hardboiled eggs. Mix in a 1/2 tsp of dijon mustard, 2 tbsp of mayonnaise, and a pinch of salt and cracked black pepper. While your crusty bread is toasting, mash up a ripe avocado in a bowl with more salt and pepper.
Spead the avocado mash onto the toast and top with the egg salad. You can top the egg salad with fresh chives or spring greens if you have them on hand.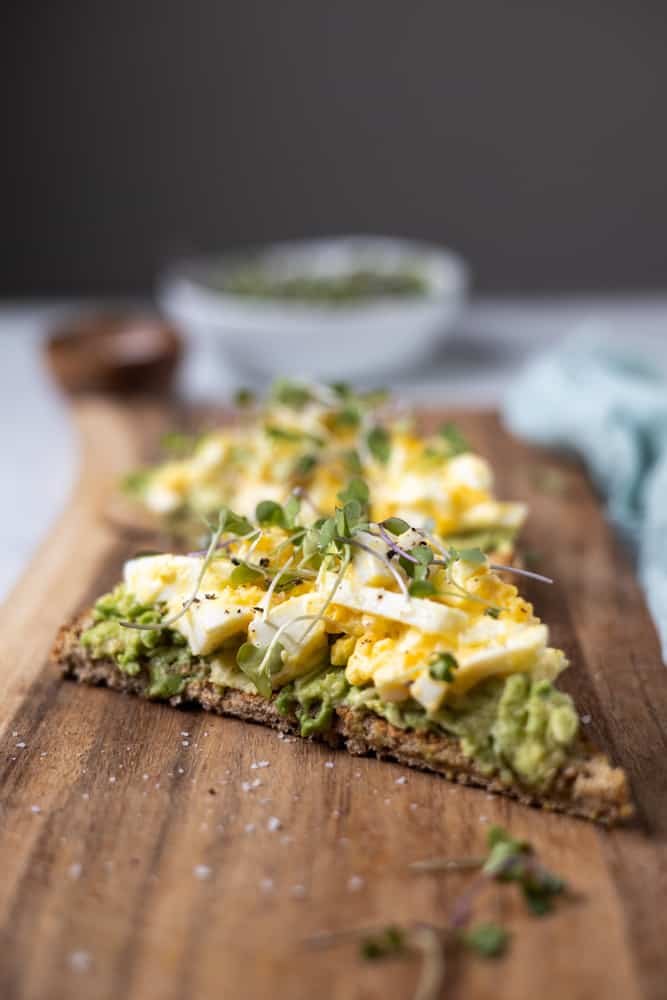 LENTIL, SQUASH, & POMEGRANATE LUNCH BOWLS
This is the kind of take-to-work lunch you will be counting down the minutes to devour! Every single bite has a burst of flavor! Bitter arugula, toothsome lentils, creamy butternut squash, and tart pomegranate seeds get dressed in a sweet honey balsamic vinaigrette.
This is exactly the kind of lunch that won't weigh you down. It will fill you up and keep you fueled until dinner!
The prep we will use is:
lentils
roasted butternut squash
shredded chicken
honey balsamic dressing
Fresh additions:
fresh arugula
pomegranate seeds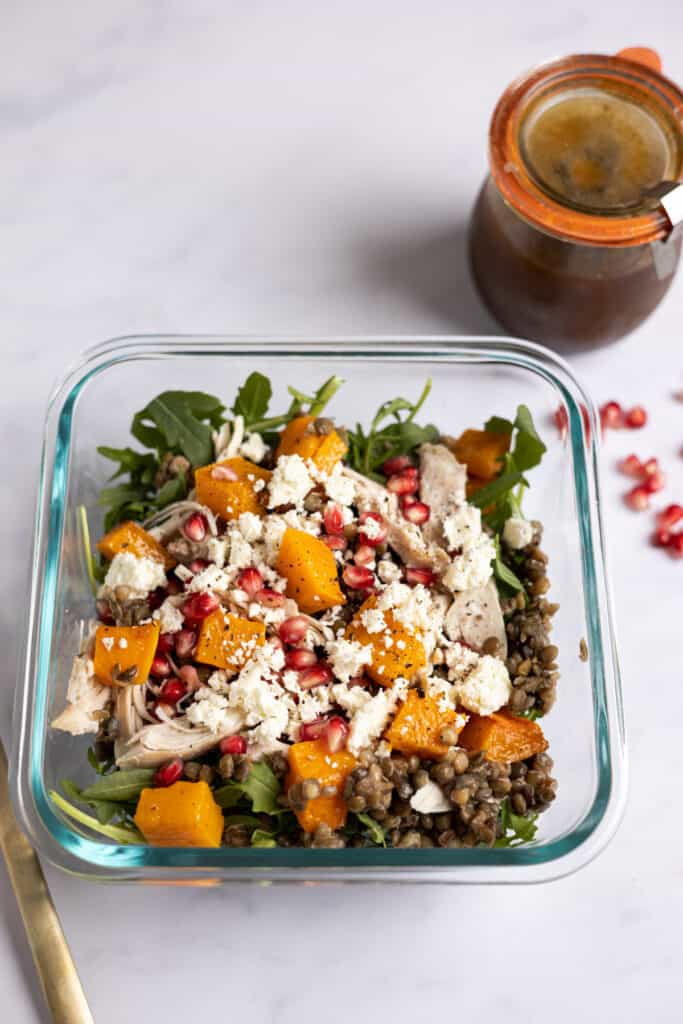 DINNER MEAL PREP
BUTTERNUT SQUASH "NOODLES" WITH SPINACH & GOAT CHEESE
If you've never tried boodles, aka spiraled butternut squash noodles, you are in for a treat! Best of all, if you don't own a Spiralizer, most grocery stores sell them already prepped and ready to go. Here's how to make this simple, yet elegant dinner.
Squash Noodles with Spinach and Goat Cheese
1/2 yellow onions or 1 shallot, sliced thin
1/2 large butternut squash spiralized, about 8 cups worth
4 cloves of garlic, minced
4 cups of baby spinach
1/2 cup of crumbled goat cheese
1 lemon, zested
1/4 tsp red pepper flakes
salt and pepper
In a large frying pan over medium heat, warm 2 tbsp avocado or high heat oil. Add your sliced onions and saute until starting to soften, about 4 minutes. Add the spiralized butternut squash and saute for another ~4 minutes to soften the boodles. Then add the minced garlic and baby spinach and stir it all together. Cook until the spinach is soft.
Add a healthy pinch (about 1/2 tsp) of kosher salt, 1/4 tsp of red pepper flakes, cracked black pepper and the zest of 1 lemon. Remove from the heat and plate the boodles. Top with crumbled goat cheese and enjoy!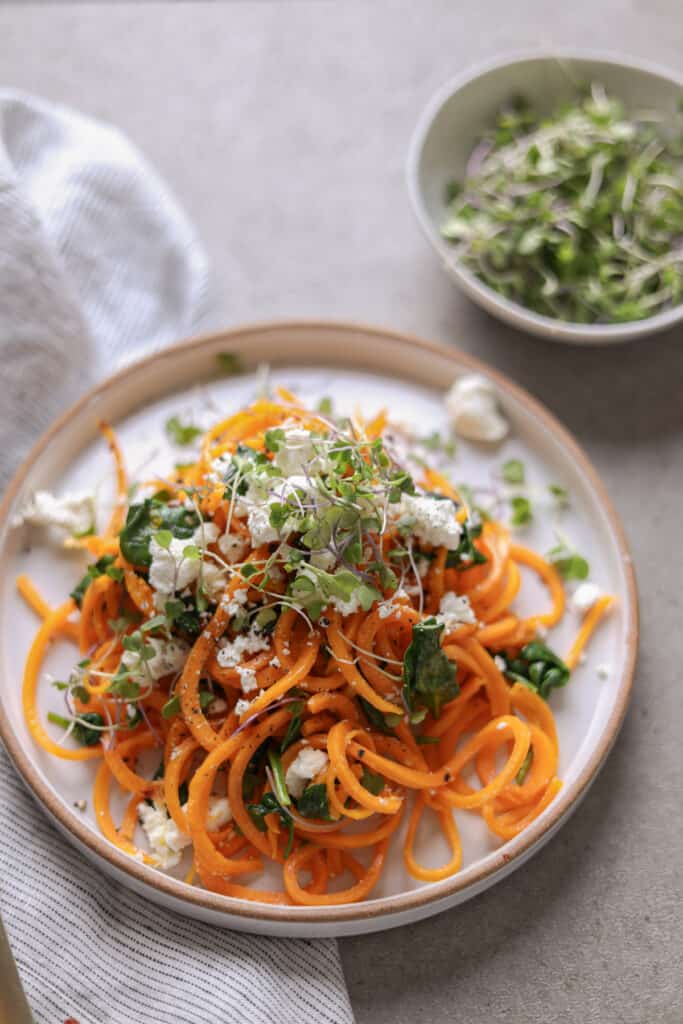 FALL ARUGULA SALAD WITH BACON, SQUASH AND CRANBERRIES
This hearty fall salad comes together in a pinch thanks to the work we did ahead of time. The cranberries add a chewy sweetness while crumbled bacon lends a salty bite. Petite lentils bulk this salad up to make sure it's extra filling but if lentils aren't your favorite, you can leave them out all together and still have a crave-worthy salad.
The prep we will use is:
roasted butternut squash
crispy crumbled bacon
lentils
honey balsamic vinaigrette
Finishing Touches
fresh arugula
dried cranberries or cherries
crumbled goat cheese
Toss all the ingredients together in a big salad bowl and top with crumbled goat cheese for a creamy, tangy finishing touch!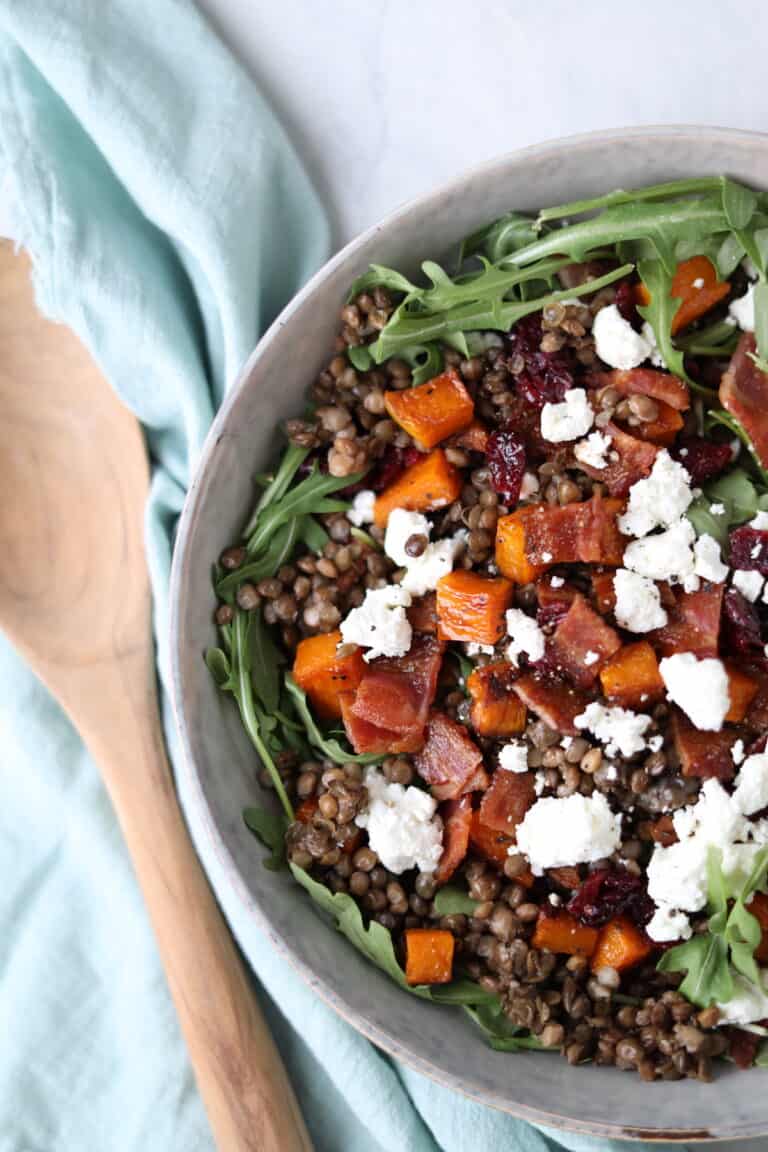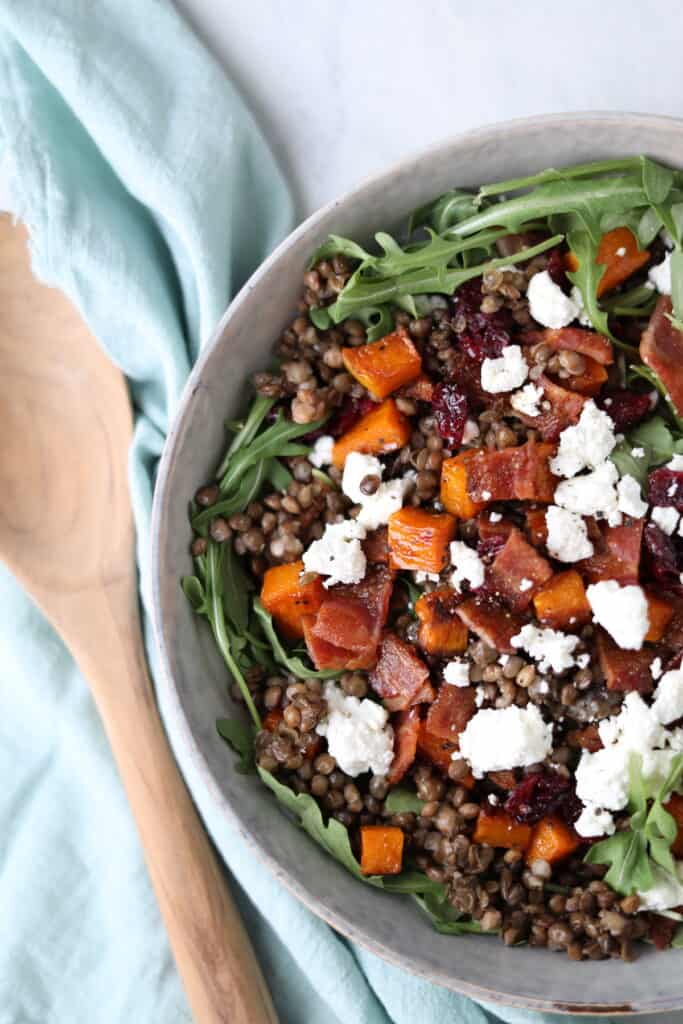 BACON, CARAMELIZED ONION, AND SQUASH FLATBREAD
Flatbreads are one of the best vehicles for using your prepped ingredients since they require minimal effort, are endlessly versatile and cook in just 10 minutes.
On a flatbread, like pita bread, naan or prepared pizza crust, brush with olive oil. Top with caramelized onions, the crumbled bacon and roasted butternut squash. I like to also top it with crumbled goat cheese or mozzarella but you can keep it dairy free and it's still delicious.
After bake, I like to top with a few fresh arugula leaves for some freshness. BONUS: A drizzle of balsamic reduction will elevate the flavors with a sweet, vinegary edge.
The prep we will use is:
crumbled bacon
caramelized onions
roasted butternut squash
Finishing touches:
arugula
goat cheese
balsamic reduction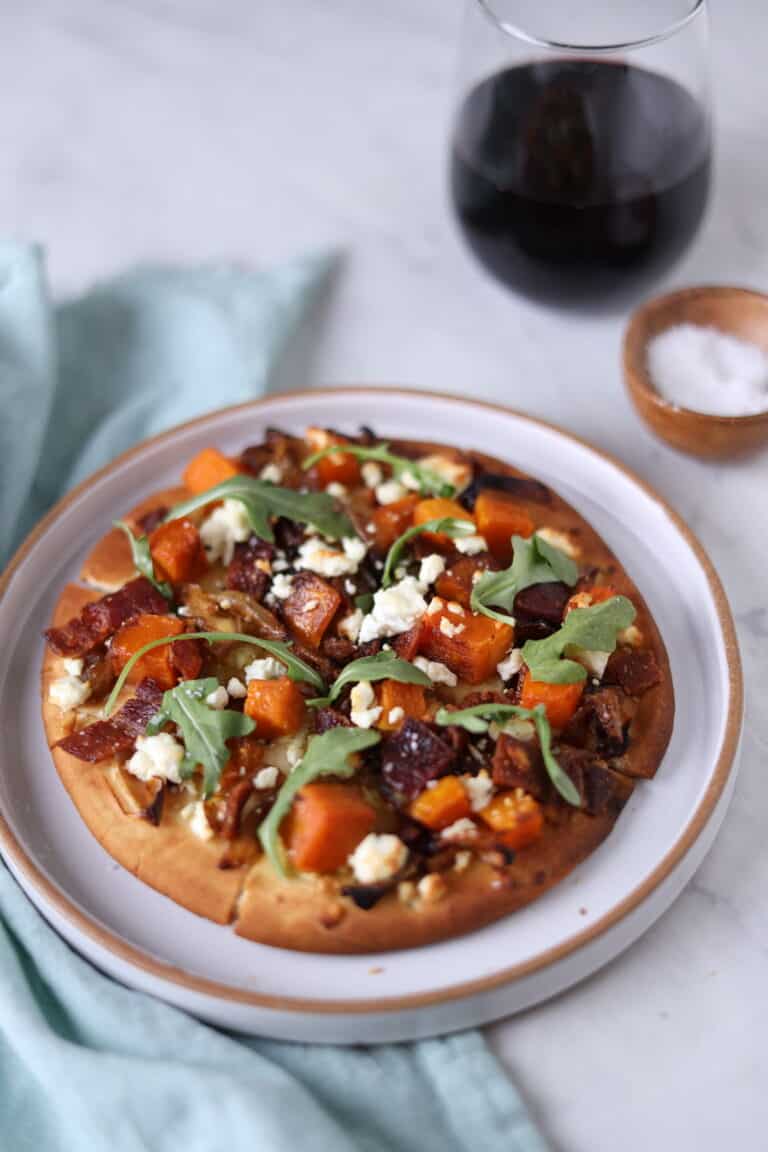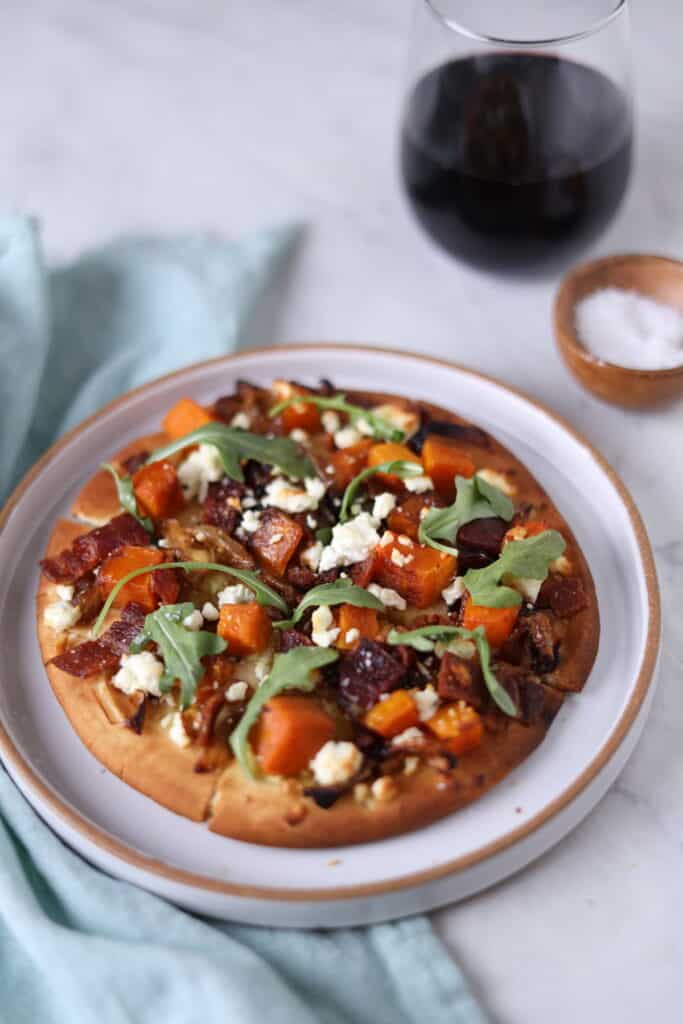 FALL CHOP SALAD WITH CHICKEN, APPLE, AND POMEGRANTE
Here's another healthy fall salad to round out this week's menu ideas. If you're tired of squash at this point, try subbing out for roasted sweet potatoes. They lend a subtle sweetness to balance our the tart pomegranates, tangy green apple, and bitter raddichio.
I like to use a blend of romaine and raddichio because I love the beautiful red ribbons dotted throughout the salad adding a bright punch of bitterness to counter the sweet romaine. If you have any bacon leftover from your prep, I highly recommend sprinkling some on here too!
You can dress this beautiful rainbow salad with either the honey balsamic dressing or a tangy apple cider dressing.
The prep we will use:
shredded chicken
honey balsamic dressing
roasted butternut squash
Finishing touches:
blend of romaine and raddichio
pomegranate seeds
fresh diced apple
feta cheese (optional)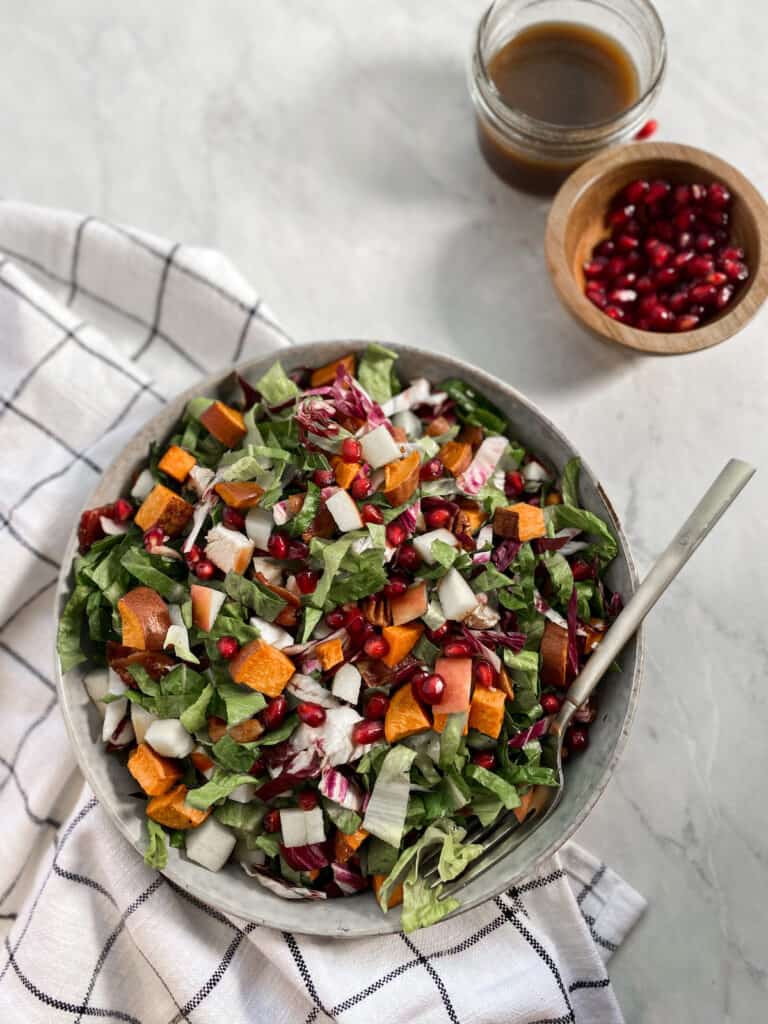 FRENCH LENTIL SALAD WITH BACON AND GREEN BEANS
Consider this another lentil masterpiece recipe! Inspired by French cooking, this dish combines warm roasted potatoes, hardboiled egg, impossibly crispy bacon and vibrant green beans. You can dress it with honey balsamic dressing, or keep it simple with olive oil, a squeeze of fresh lemon, and fresh dill.
I like to warm the green beans, potatoes and bacon up in a hot skillet which will help them get nice and crispy. If you opt to microwave them they will be on the softer side.
The prep we will use:
hardboiled eggs
bacon
roasted potatoes
green beans
honey balsamic dressing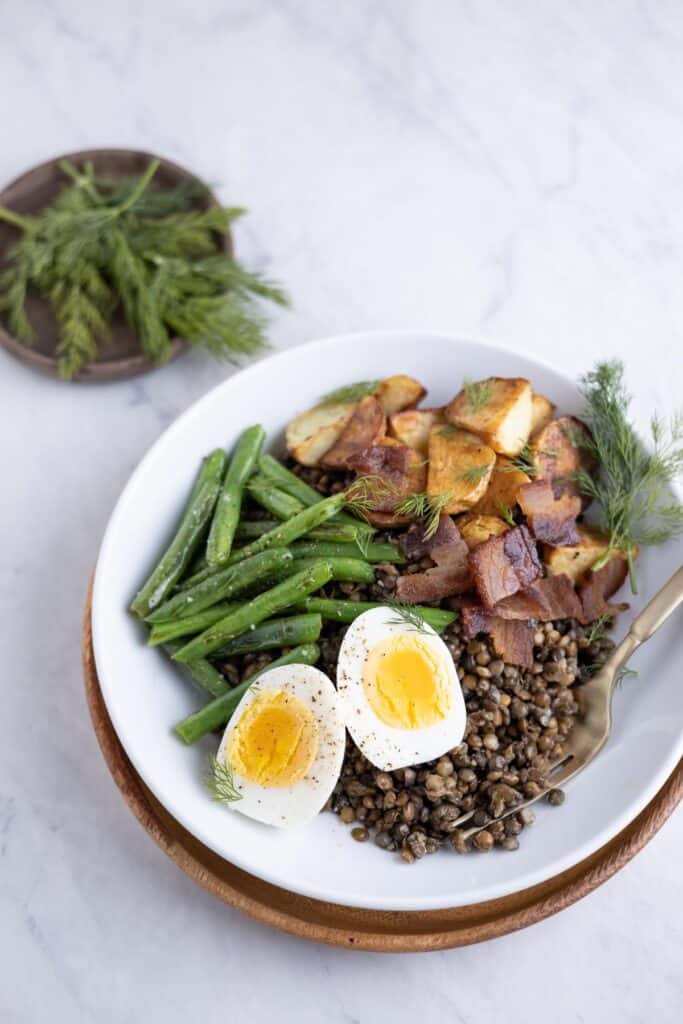 SUMMARY
I hope you love this healthy fall meal prep plan and find new ways to customize these meals with your own favorite ingredients. Every meal comes together in less than 10 minutes thanks to your hard work batch cooking your ingredients ahead of time. 

Just remember, you don't have to make this entire meal plan. You can just pick a few key things that sound good to you and start with that! For more inspiration on meal prepping, check out my other healthy batch cooking plans!
Please leave a comment and let me know which meal was your favorite!