Summer is here and so is a fresh and healthy meal prep menu! I have a video for you to follow along with so you can see just how easy it is to prep these ingredients. At the end, you'll have seven different meals to look forward to this week!
INGREDIENTS TO PREP
Here are the ingredients we will be prepping in advance for this week's healthy summer meal prep plan. For some meals we will wait to prepare some key things until it's time to assemble in order to keep them super fresh, such as the mashed avocado for the chipotle shrimp tostadas.
By doing this prep work ahead of time, it means all of the meals will take less than 10 minutes to assemble come meal time!
mango salsa
grilled lemongrass chicken
blackened salmon
coconut lime cauliflower rice
chipotle shrimp
shredded cabbage
raw and roasted broccoli
citrus vinaigrette
For the freshest possible results, you can also choose to wait to cook your proteins until you're ready to eat.
SHOPPING LIST
Here's a little shopping list I put together to make life easier for you! Just cross off any items that you already have on hand.
MIX AND MATCH MENU
Here are some ideas I have for ways you can assemble our batch cooked ingredients into different lunches and dinners throughout the week. Feel free to get creative with your own ideas though. The sky is the limit!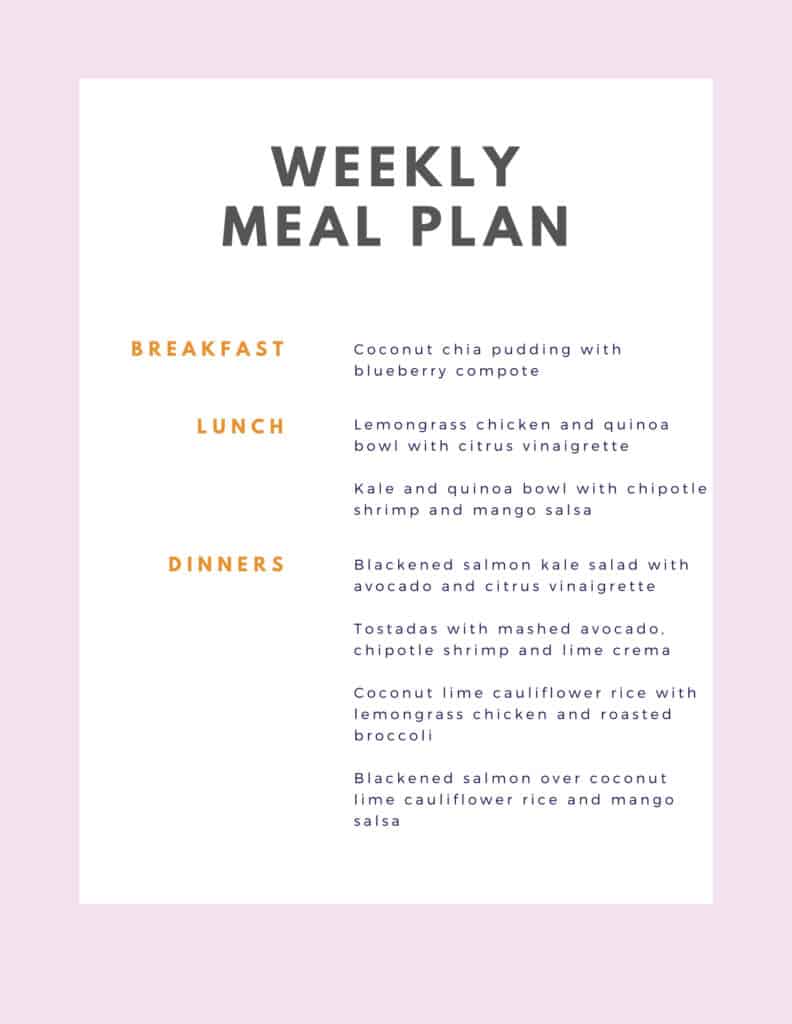 LET'S BATCH COOK!
Anytime we are meal prepping seafood, I always suggest eating them as early in the week as possible. In this case, since we are using frozen shrimp, I recommend cooking and enjoying the salmon in the beginning of the week and waiting until the later part of the week for the shrimp. Here's how I would tackle cooking the proteins:
Sunday: Prep and cook off blackened salmon. Marinate and grill lemongrass chicken.
Monday: Eat lemongrass chicken and quinoa bowl for Lunch. Eat blackened salmon over coconut cauliflower rice for dinner.
Tuesday: Eat lemongrass chicken and quinoa bowl for lunch again. Eat blackened salmon kale salad for dinner.
Wednesday: Marinate shrimp for 20 minutes in spices and saute or bake until cooked through. For lunch eat shrimp and kale bowls with mango salsa. For dinner eat lemongrass chicken over coconut cauliflower rice.
Thursday: For lunch eat shrimp and kale bowls (or sub shrimp for any remaining chicken, or just keep it vegetarian by adding extra veggies and some avocado). For dinner eat shrimp tostadas.
Of course you can always choose to cook everything on Sunday to make life easier. If that's the case, enjoy your seafood early in the week and save the chicken for Wednesday and Thursday.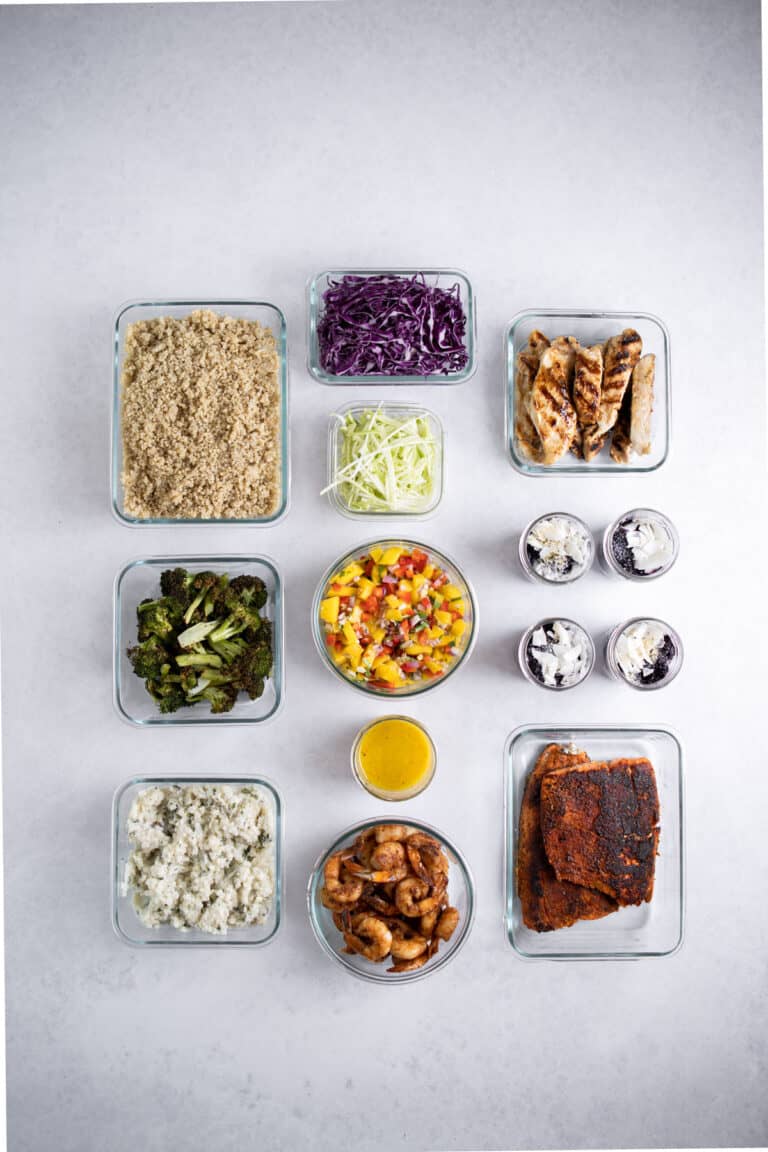 Blueberry Coconut Chia Pudding
For breakfast this week we will be prepping my absolute favorite coconut chia pudding! Since fresh berries are in season, we will also be preparing a yummy blueberry compote to amp up the flavor. These will last all week in the fridge so you can grab and go on your way to work or school in the morning for the easiest breakfast ever!
You can find the full recipe here. The instructions are for a keto version but if you're not on the keto diet, follow the instructions in the recipe notes for substituting the monk fruit sweetener with regular white sugar.
You'll start by reducing down two cups of fresh (or frozen works fine) blueberries in a small saucepan with the zest and juice of 1 lemon, and 2 tbsp raw sugar. Mash up about half of the berries and boil it down until it coats the back of a spoon.
While the blueberry compote is reducing, you can assemble the coconut chia pudding base. In a container, combine the 1 14oz can of coconut milk, 3/4 cup of coconut beverage (or sub dairy milk), 1/2 tsp vanilla extract and 6 tbsp chia seeds. Stir to combine and cover. Refrigerate for 2-3 hours so it can thicken up.
Quinoa
I love using the instant pot to meal prep my quinoa because it's so hands free! Plus, it frees up a burner on my stove to prep other things while it's cooking away. I have full instructions on how to cook quinoa in an instant pot here!

If you prefer to cook it on the stove top, it's also quite simple!
Start with 2 cups of quinoa, rinse under cold water, and drain well.
Add quinoa to a saucepan with 4 cups of water and bring to a boil.
Keep uncovered and lower the heat to low to maintain a simmer.
Simmer for 10-15 minutes or until the quinoa has absorbed all of the water.
Remove from the head and cover with a lid to steam for 5 minutes in orderer it to pop open and get super fluffy.
Fluff with a fork and transfer to a cookie sheet to cool.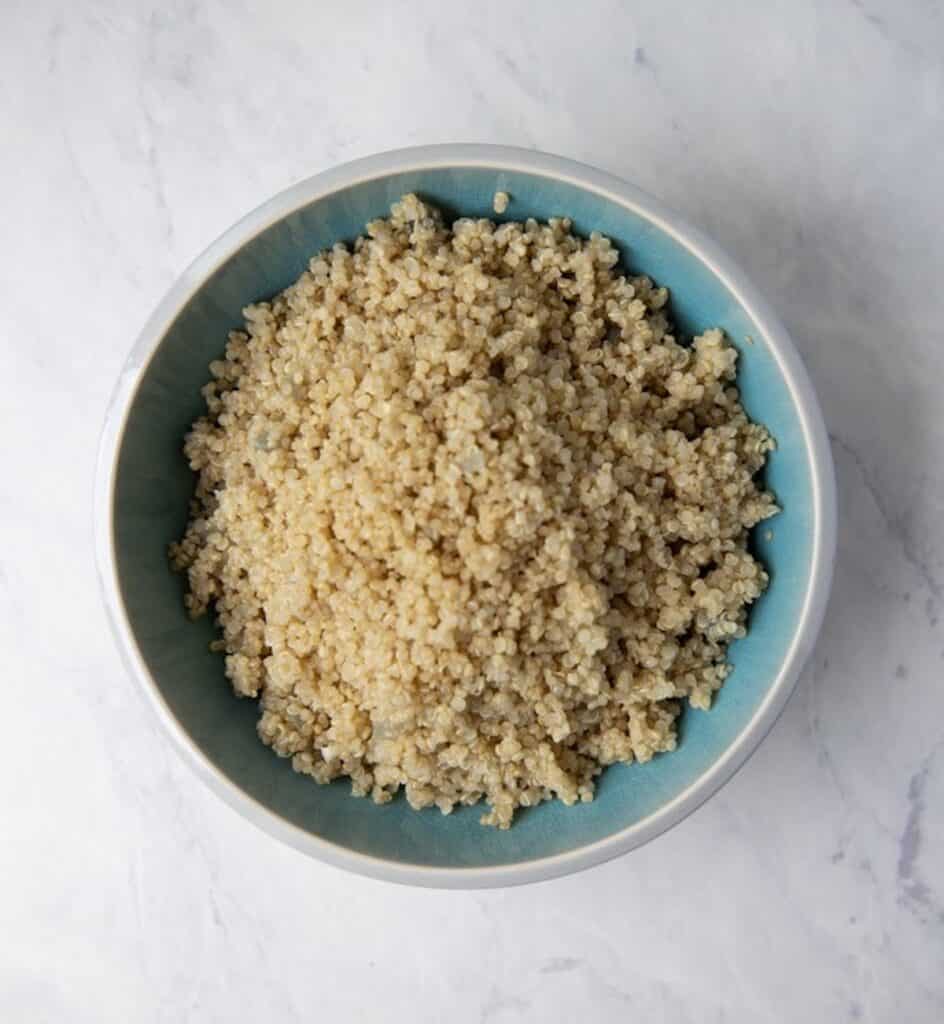 Lemongrass Grilled Chicken
We've been crushing hard on this lemongrass chicken lately! I originally found this recipe from GimmeSomeOven and made a few simple tweaks. To make the marinade combine:
1/2 red onion, diced
4 cloves minced garlic
2 tbsp soy sauce
2 tbsp fish sauce
2 tbsp maple syrup
2 tbsp lemongrass paste (in the produce section by the fresh herbs, or just use fresh lemongrass)
2 limes, juiced
2 tbsp avocado oil
Add 2 pounds of chicken breast or chicken tenders and marinate for 30-60 minutes. Grill on a bbq or grill pan for about 4-5 minutes on each side or until the thickest part of the chicken is no longer pink, 165 degrees.
Mango Salsa
Fun fact: Mango salsa is the recipe that inspired this entire meal plan! The mangos have been insanely sweet and delicious lately so I wanted to find a way to incorporate them into the plan, and I'm so glad I did! You can find a million mango recipe salsas online but the gist of it is you'll need to chop and combine all of these tasty ingredients together:
2 ripe mangos, diced
1 red bell pepper, small diced
1/2 red onion, small diced
1/2 jalapeno, seeded and minced
3 cloves of garlic, minced
2 limes, zested and juiced
1/3 cup fresh cilantro, chopped
1/2 tsp kosher salt
Once you start making your own mango salsa from scratch, you'll never buy another $7 tub of pre-made salsa from Whole Foods again! (*Sorry Whole Foods)!
Broccoli & Red Cabbage
For this week's plan we are going to make sure no part of our broccoli goes to waste! I LOVE finding ways to take one veggie and cook it two different ways to keep things interesting with my meal prepping.
For the stems, use a julienne peeler to cut long thin strips of broccoli stem. If you don't have a julienne peeler just use a sharp knife to cut as thin of strips as possible. This will make it easier to chew and digest.
For the florets, cut them off of the stem and into individual chunks. After tossing lightly with olive oil, salt and pepper, I used my air fryer at 375 for about 8 minutes to roast them up. You could also put them in an oven at 400 degrees for 8 minutes or until the stacks are soft and the florets are starting to brown lightly
For the red cabbage, slice in half and remove the tough core by making a V-shaped incision to cut it out. Then cut into quarters or eighths so it's more manageable. With a sharp knife, shave the cabbage as thinly as possible.
Chipotle Shrimp
For the shrimp, we are using frozen because it's most widely available. I like to buy the 16-20 count size that's already peeled. Then defrost in a bowl of cold water for 30 minutes. You'll likely still need to devein the shrimp by running a paring knife along the belly of the shrimp to remove the digestive tract. Here's some great instructions on how to do that if you've never done it before!
Once it's fully defrosted, place in a bowl and pat dry with a paper towel. Add:
1.5 lbs 16-20 count peeled and deveined shrimp
1 tsp kosher salt
1.5 tsp chipotle powder
1 tsp garlic powder
1 tbsp avocado oil
In a pan over medium high heat, add 2 tbsp avocado oil. Add shrimp to the hot pan making sure they aren't too crowded. I had to do mine in two batches. Once the shrimp turn pink on one side and start to curl up (about 2-3 minutes) then flip to the other side and cook for another 1-2 minutes or until fully cooked through. Immediately remove from the heat to cool.
Blackened Salmon
I'm a big proponent of using wild caught salmon over farmed, even if it means your buying frozen salmon. If you don't have blackening seasoning on hand, you can make your own by combining:
1 tbsp paprika
1 1/2 tsp cayenne pepper
1 tsp kosher salt
1 tsp cumin
1 tsp brown sugar
1/2 tsp garlic powder
1/2 tsp onion powder
1/2 tsp dried oregano
sprinkle the seasoning over the salmon
Brush the top of your salmon with avocado oil and generously sprinkle the blackening seasoning over the salmon. Pat to stick. In a heavy bottomed skillet, heat 1-2 tbsp avocado oil over medium heat. Once hot, place the salmon in the skillet, flesh side down first and cook for 3-4 minutes or until blackened.
Flip to the skin side and continue cooking until the salmon is cooked through, about 4-5 more minutes depending on the thickness of your cut.
Coconut Lime Cauliflower Rice
Cauliflower rice is one of my favorite ingredients to meal prep because you can flavor it in so many different ways! It's an easy, low carb way to add more vegetables into your diet.
For this cauliflower rice, you can use either frozen or fresh. If using frozen, the saute step will take an extra 3-5 minutes before you add the coconut milk. Here's what you're going to do:
In a large saute pan, heat 2 tbsp avocado oil over medium heat
Add 1/4 cup of red onion (leftover from the red onion you cut up for mango salsa!) and 3 cloves of garlic
After 2-3 minutes when they have softened, add your bag of cauliflower rice.
Saute for about 3 minutes until starting to soften, then add 1 can of coconut milk.
Simmer until the coconut milk has reduced down and thickened, about 5 minutes.
Then add the zest and juice of one lime, and kosher salt to taste (1/2 tsp-1 tsp depending on your preference)
Add 1/4 cup of roughly chopped cilantro and stir well.
Transfer to a sheet pan to cool down before transferring to a glass storage container.
Citrus Vinaigrette
I have added this citrus vinaigrette to my regular rotation of salad dressings because it's so darn good! You'll love it too, I'm sure of it. In a glass jar combine:
Zest and juice of 1 large lemon
Zest and juice of 1 navel orange
1 tsp dijon mustard
2 cloves of minced garlic
1 tbsp honey
generous pinch of kosher salt
black pepper
2 tbsp of olive oil
Shake it all together until emulsified and store in the fridge for up to 4-5 days.
BREAKFAST MEAL PREP
Blueberry Chia Puddings
Breakfast will be the easiest meal of the week since you can prep it from start to finish ahead of time. Mason jars are a great option for storing your chia puddings since they are nice and deep so you can get multiple layers of the yummy blueberry compote.
If you'd like to add some fun toppings to your chia puddings, I recommend toasted coconut shavings and some hemp hearts. You can find the full recipe here.
LUNCH MEAL PREP
Lemongrass Chicken Quinoa Power Bowls
The first lunch option is a quinoa bowl using ingredients we've prepped completely so all you have to do is assemble everything together! It's incredibly fresh and light, and the addition of raw veggies keep it super nutritious. The citrus vinaigrette is the perfect accompaniment to add a bright punch of flavor.
We will be using these ingredients we already prepped:
grilled lemongrass chicken
quinoa
shredded raw broccoli
shredded red cabbage
citrus vinaigrette
Of course you can add any other fun toppings you'd like such as fresh avocado or feta cheese, but I like to enjoy it just like this!
Chipotle Shrimp Quinoa and Kale Bowls
Just like the lemongrass chicken bowl, these chipotle shrimp quinoa bowls use ingredients that were already completely prepped so it's just a matter of assembling everything. This week's lunches couldn't be easier! The sweet mango salsa is an excellent contrast to the slightly spicy chipotle shrimp.
We will be using these ingredients we already prepped:
chipotle shrimp
quinoa
fresh kale
mango salsa
citrus vinaigrette (optional)
If you find that you want your quinoa and kale to have a little bit more sauce, then I recommend tossing it with some of the bright citrus vinaigrette. I strongly suggest adding some fresh avocado and cilantro on top to bring it all together!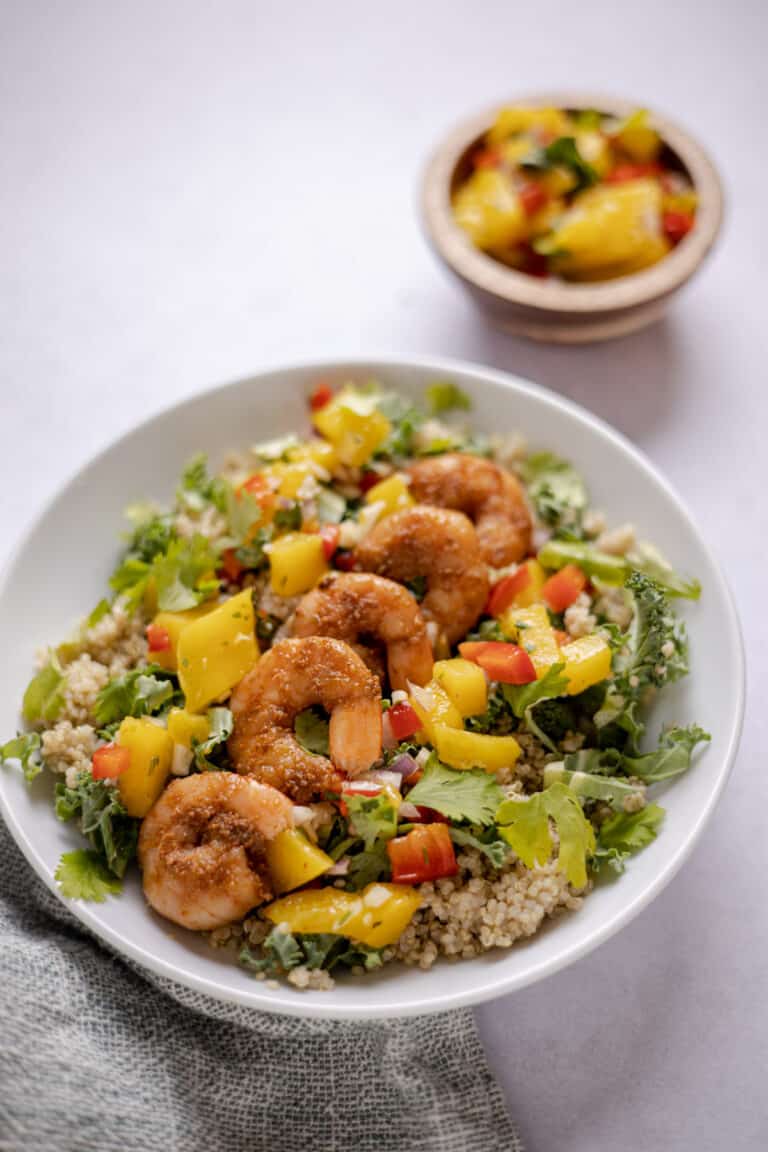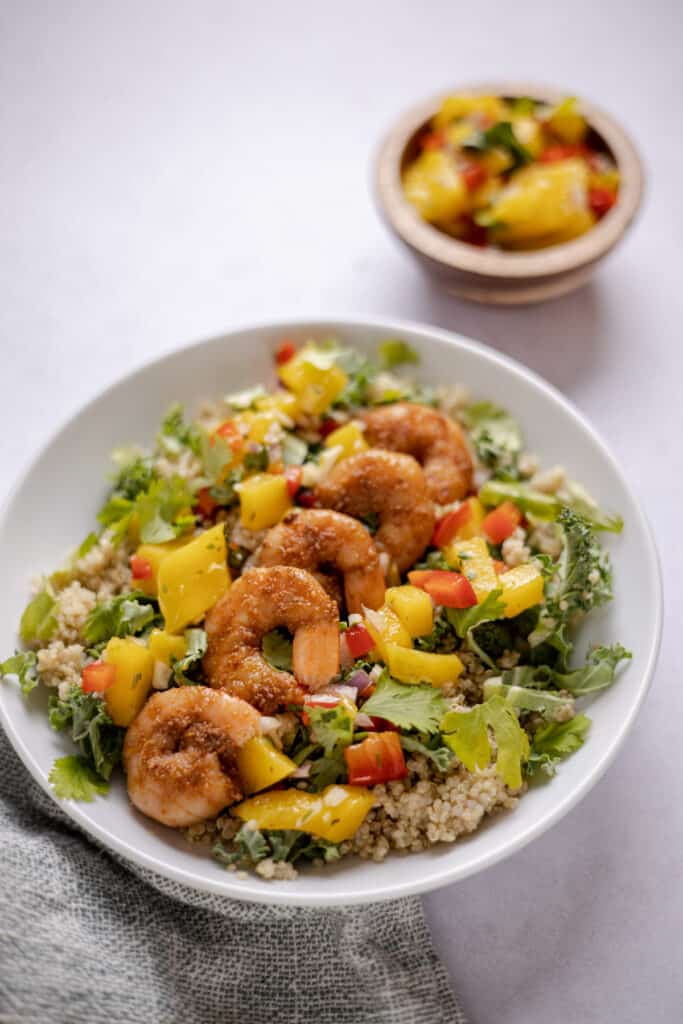 DINNER MEAL PREP
Blackened Salmon with Coconut Lime Cauliflower Rice
The slight spice from the blackened salmon and the creamy texture of the coconut lime cauliflower rice are a perfect pair. Sweet mango salsa spooned over the top adds a touch of sweetness to balance it all out.
We will be using these ingredients we already prepped:
blackened salmon
coconut lime cauliflower rice
mango salsa
Since you will want to warm up your salmon for this dish and the other salmon dinner, it's especially important to make sure you don't overcook your salmon when you prep it. With salmon, it's actually safe to eat it on the rare side so definitely undercook it a little bit knowing that it will cook further when you reheat it.
For ease, you can actually microwave the cauliflower rice and salmon and it will be ready in a pinch. If you don't have a microwave, both can be warmed up in separate skillets on medium low heat.
If you put a lid over the top of the skillet with the salmon, it will help to steam it so it heats up quicker and retains more moisture.
Then all you have to do is spoon the mango salsa over the top of the salmon.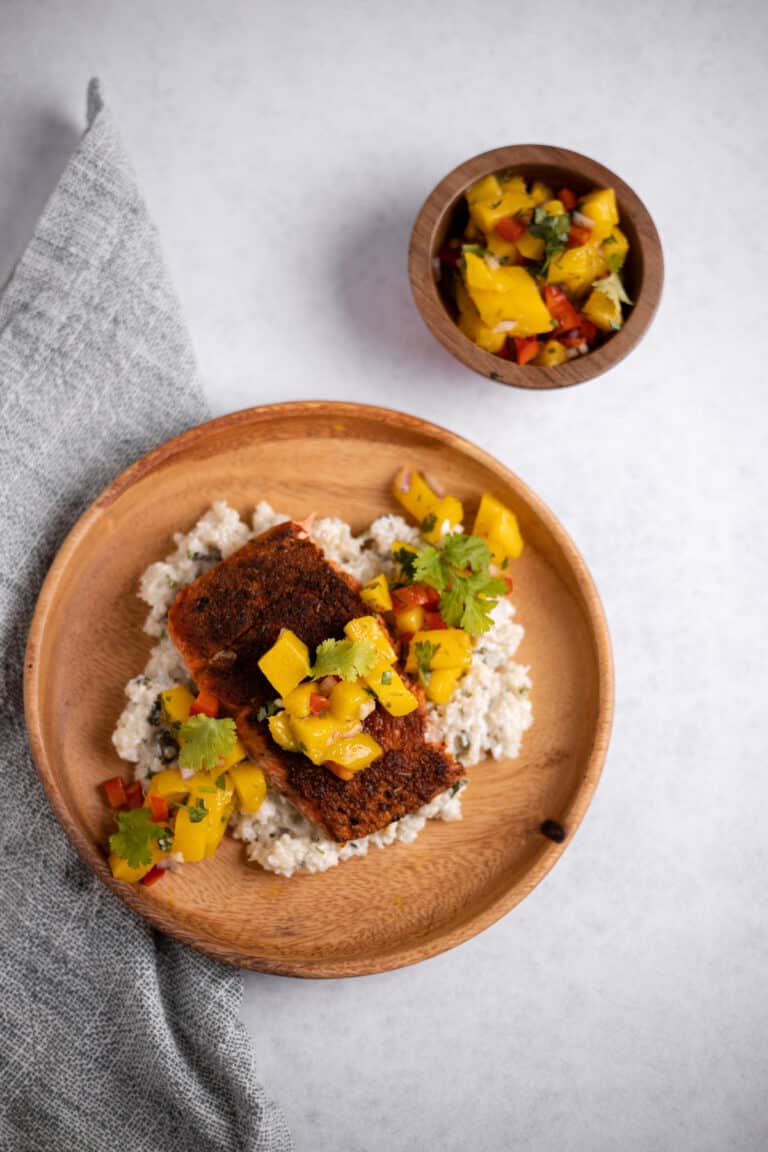 Chipotle Shrimp Tostadas with Mashed Avocado
The chipotle shrimp that we batch cooked on Sunday can now make an appearance for dinner! If you'd like the shrimp to be super fresh, you can wait to cook the shrimp until the day you'll be enjoying it.
Mashed avocado adds a creamy contrast to the crunchy corn tostada and red cabbage. A zingy lime cream helps cool down the slight heat of the chipotle shrimp.
We will be using these ingredients we already prepped:
chipotle shrimp
shredded red cabbage
We will need to make these ingredients fresh:
You can just pop the chipotle shrimp in a microwave or skillet to quickly heat up. In the meantime, halve 2 avocados. Scoop the flesh out of the avocado and mash in a bowl using a fork. It's ok if it's on the chunky side! Season with a pinch of salt.
In a separate bowl, add 1 cup of sour cream. Then zest and juice 1 lime into the bowl and stir together. If it's still too thick to drizzle, add a tablespoon of water to thin.
Spread your mashed avocado on the tostada and add the shredded red cabbage. Then top with 4-5 chipotle shrimp and drizzle with lime crema. I also love to add a few leaves of cilantro on top to add another layer of flavor.
Lemongrass Chicken with Coconut Lime Cauliflower Rice and Roasted Broccoli
The name of this one pretty much spells it all out! All of these items have been prepped to completion so this dinner couldn't be easier! I say that all of these recipes take less than 10 minutes, but the truth is, they often take less than 5!
We will be using these ingredients we already prepped:
lemongrass chicken
coconut lime cauliflower rice
roasted broccoli
For this dish, it's just a matter of reheating everything and putting it all together on a plate!
Citrus Avocado Kale Salad with Blackened Salmon
This no-cook salad is perfect for a hot summer night when you don't want to turn the stove on! You can eat the salmon cold, or quickly reheat to take the chill off of it. Citrus and avocado are a classic flavor pairing that help cut through the spices of the blackened salmon.
We will be using these ingredients we already prepped:
blackened salmon
shredded red cabbage
citrus vinaigrette
We will need to make these ingredients fresh:
sliced avocado
orange segments
In a large bowl, combine the kale and red cabbage and massage with the citrus vinaigrette in order to help soften the kale. Let sit for 5-10 minutes while you slice 1 avocado and segment an orange.
To segment the orange, cut the top and bottom off of the orange. Then run a pairing knife down the sides of the orange in order to remove the peel and any remaining bitter white pith. Then hold the orange in one hand. With a paring knife, cut v-shaped segments of orange in between the membrane layers. Alternately, you use canned mandarin oranges and keep life simple.
You can eat the salmon cold or reheat it in a microwave or a skillet on medium low heat with a lid covering. Add the orange slices, avocado, and salmon on top of the kale and cabbage mix and enjoy!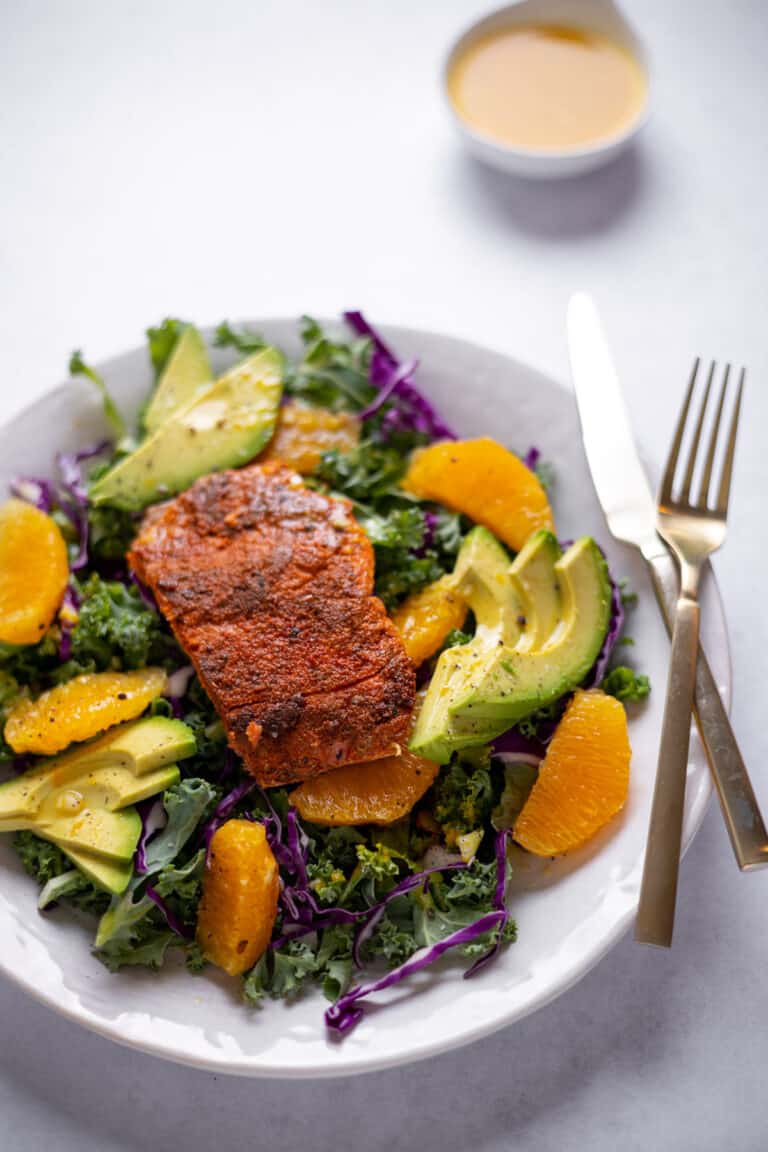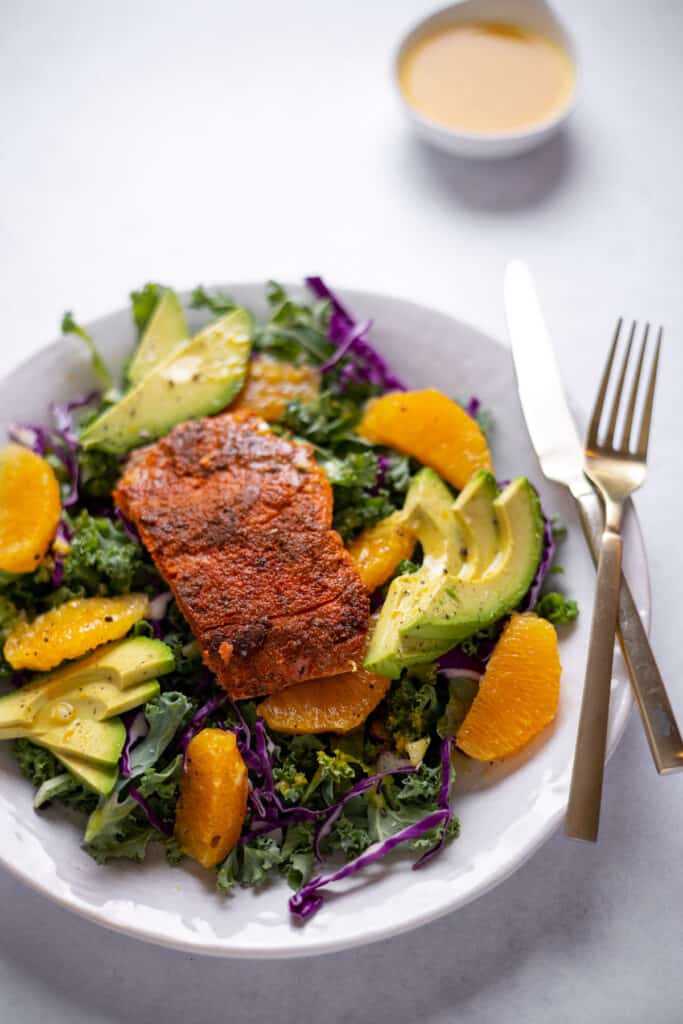 MEAL PREP WRAP UP
I hope you loved all the ideas in this healthy summer meal prep plan! I would love to know what recipes you tried and liked, and what fun ideas for mix and match meals you came up with yourself! Be sure and leave me a comment below and let me know what you made!
Happy meal prepping!
xoxo
Katie
P.S. Be sure and join my FREE meal prep Facebook Group where we talk all things healthy meal prepping and batch cooking: