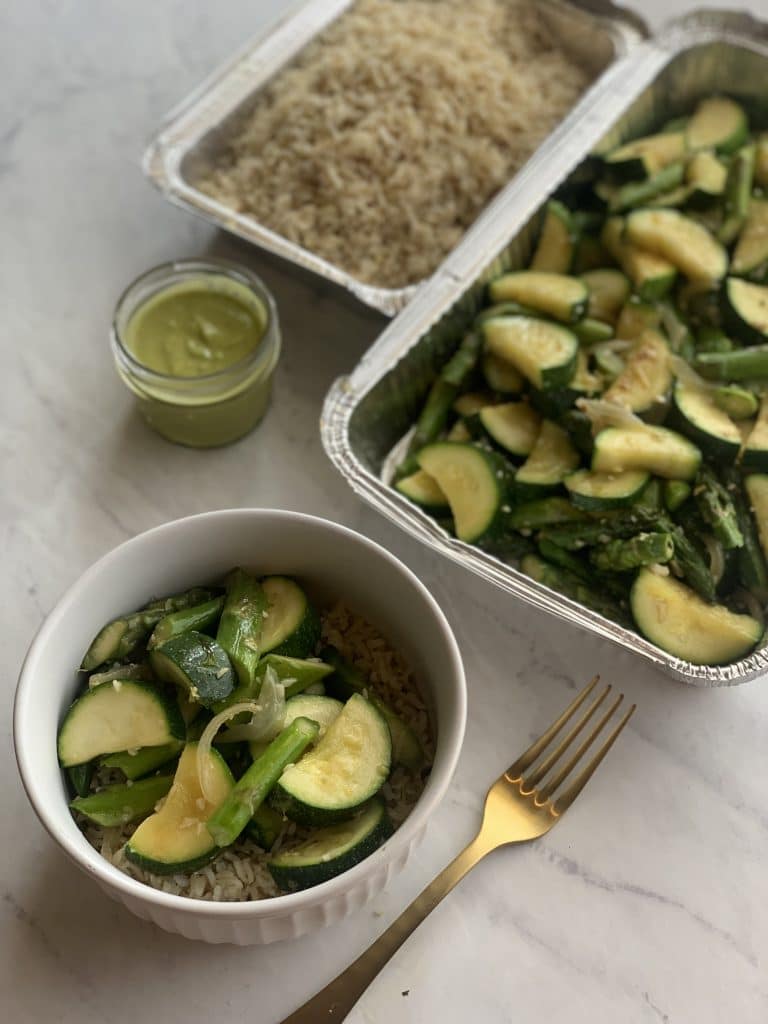 As a mom trying to juggle the long hours of running a business and taking care of my young children, I constantly felt exhausted and completely unmotivated to nourish my body with a healthy meal. Too frequently I found myself grabbing lunch to go, which got expensive quick. At dinner time, I'd eat scraps of chicken nuggets or sometimes nothing at all. Sound familiar?
I was running on fumes all the time because I wasn't fueling my body with the nutrients and calories it needed to sustain my busy schedule. For me, the solution was plain and simple: Meal Prep!
My approach to meal prep developed as I was working as a personal chef. A married couple that I worked for loved my cooking, but they did not love eating the same meals on repeat. Instead, they challenged me to come up with a program of semi-prepped ingredients that they could mix and match based on what they felt like eating. As it turned out, this same approach worked best for all the families I cook for, including my own!
Now, I focus on batch cooking a few key ingredients that I can mix and match into different meals for ultimate flexibility. This includes various grains, proteins, sauces, and veggies that are peeled, diced, and ready to roll. Follow along with me for weekly plans on what to cook and how to pull it all together. Your future self will thank you! Here are my 5 Rules for getting started with meal prepping:
Anything you can prep for the week is better than nothing. You don't have to make a complete meal. Anything you can chop, portion, or marinate will save you time. Don't have enough time to knock out a fancy quinoa salad for lunches? Try slicing up carrots and cucumber to portion into containers with pita bread and hummus for an easy grab-and-go snack that will save you when hunger strikes.
Start with one meal. It can be really intimidating to think about prepping every meal for your week in advance. Instead, start out small to get into the groove. Pick the meal you struggle with the most and focus on that first. Is it a challenge to get breakfast in your system every morning? Try prepping some overnight oats or freezer breakfast burritos you can easily grab on your way out the door. Is lunch your weakness? How about prepping pita pockets with chicken salad or mason jar pasta salads that keep beautifully all week. Repeat after me: "No more sad desk lunches!" Struggle with getting dinner on the table for your family each night? If you prep some freezer meals once a month that you can dump into the crockpot on your way out the door in the morning, your family will think you're a superhero come supper time.
Prep smarter not harder. It's so much more efficient to make a double batch of one thing than to cook two entirely different things. My weekly plans focus on ways to save you time (and money, bonus!) by cooking one ingredient that can do double duty for you throughout the week. Think shredded chicken you can use in enchiladas AND in smokey bbq pulled chicken sandwiches. Or a big batch of instant pot quinoa that you can have on hand for southwestern stuffed peppers AND a fresh strawberry tabouli salad. You get my drift.
Keep it fresh. I have a few tricks up my sleeve on how to keep the food you've prepped in advance tasting like it's super fresh. Fresh herbs, a squeeze of bright lemon juice, or a pop of peppery arugula work wonders to bring your pre-cooked chicken breast back to life. Learning the best way to store and reheat your ingredients so that they don't dry out which is a huge game changer. Stick with me and I'll teach you what you need to know!
I get by with a little help from my friends. You don't have to make every little thing from scratch. The sky is the limit when it comes to short cuts you can take with premade ingredients. If you don't enjoy chopping, take advantage of the pre cut veggies like diced carrots and onions that you can find at the grocery store. Did you make homemade falafel? Bravo! Congratulate yourself by buying a container of tzaziki so you can pull together weeknight gyros in a pinch. The point being, there's absolutely no shame in using some good quality store bought ingredients to help give you a leg up on your meal prep.
I hope these tips help you as you start, or restart, your meal prep journey! Baby steps are the key here. I challenge you to pick at least one thing to make ahead. My favorites are hard boiled eggs, brown rice, and pesto. From there, slowly build by adding another item to your weekly plan, like salad dressing or shredded chicken. I'm with you every step of the way so don't hesitate to reach out with questions! Happy meal prepping!
-Katie Clack