Whether you follow a keto diet or not, you'll love this lusciously creamy but not too sweet keto blueberry chia pudding! Coconut and blueberries are a total flavor match made in heaven. You'll definitely want to add this one to your breakfast meal prep rotation!
WHY YOU'LL LOVE THIS RECIPE
There's so many reasons to love this keto blueberry chia pudding laced with coconut. A simple swap of maple syrup or granulated white sugar for monk fruit sweetener is what keeps this recipe keto, but feel free to customize to your liking! Here's a few reasons this recipe is a winner:
Dairy free thanks to coconut milk
Keto thanks to the monk fruit
Vegan
Bursting with naturally sweet blueberries!
Blueberry+coconut=match made in heaven
Luciously creamy texture from the coconut milk
Perfect for breakfast meal prep
You'll find yourself putting the blueberry compote on everything from waffles to pork tenderloin
Not overly sweet
All it takes is about 10 minutes of prep time!
When you're rushing out the door with no time to scarf down breakfast, you'll be so thankful you prepped some jars of this keto blueberry chia pudding! Just toss in your purse and eat on the go!
INGREDIENTS AND SUBSTITUTIONS
This recipe has less than 10 ingredients, many of which you likely already have in your pantry. Here's what you need to get started:
Blueberries-fresh or frozen, both work well.
Coconut milk-unsweetened coconut milk you find in the dairy aisle, or any milk alternative.
Canned coconut milk-I prefer the creamy texture of the full fat version but you can absolutely sub lite coconut milk.
Monk fruit sweetener-This is my preferred keto sweetener but if you're not keto you can use maple syrup, honey, or white or raw sugar.
Chia seeds-these are crucial to the recipe! No subs here.
Vanilla extract-You can leave this out or use the seeds from an actual vanilla bean pod if you have one.
Lemon (not shown)-If you don't have a fresh lemon you can use an orange, or omit from the recipe.
Toasted coconut for topping-This is my favorite garnish, along with hemp seeds but you can play around with different toppings!
HOW TO MAKE BLUEBERRY COMPOTE
Lucky for you, this recipe couldn't be easier! You can start the blueberry compote first so that while it simmers down and reduces, you can prepare the coconut chia pudding. All in all, it should take you just about 10 minutes to assemble. Let's get cooking!
First, start your blueberry compote. In a small saucepan, add two cups of fresh or frozen blueberries and 2 tsp of monk fruit sweetener (keep scrolling to learn more about monk fruit).
Then, add the zest and juice from one lemon. If you don't have a lemon, you can alternatively use a fresh orange. Using BOTH the zest and juice from a lemon adds so much extra bright lemony flavor. My microplane zester is one of my most used kitchen tools! Just make sure not to zest into the bitter white pith. You only want the bright yellow skin.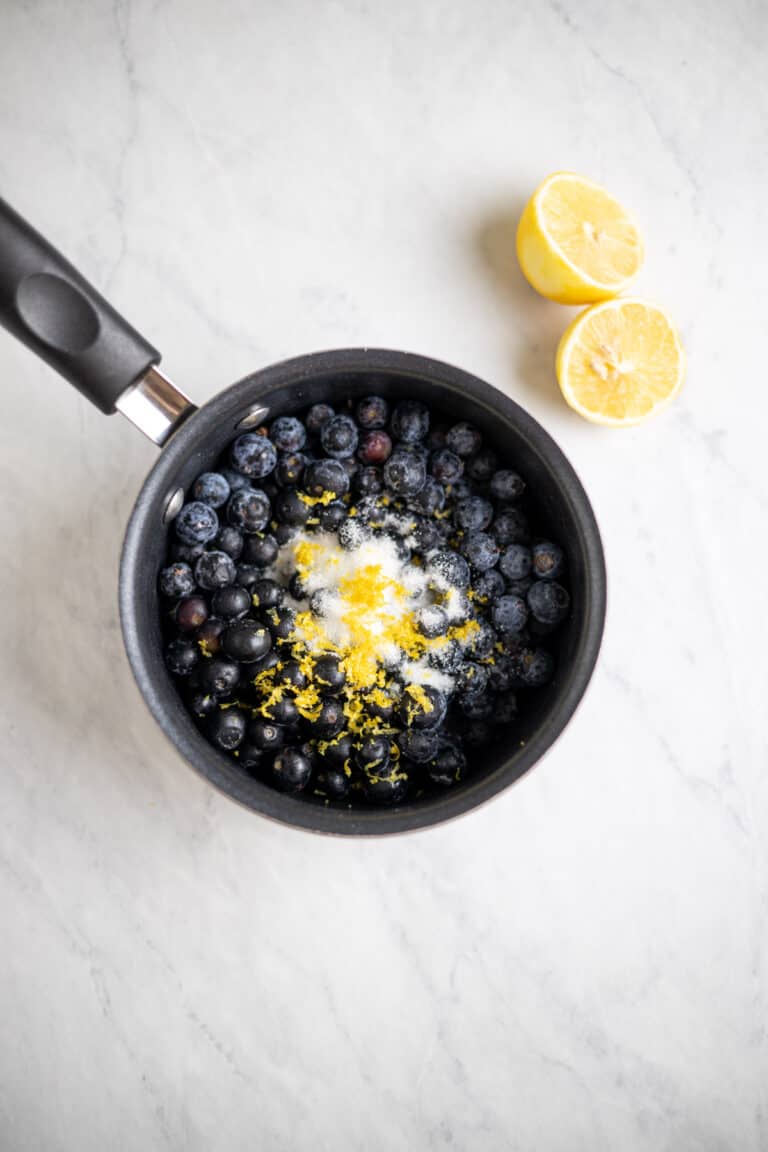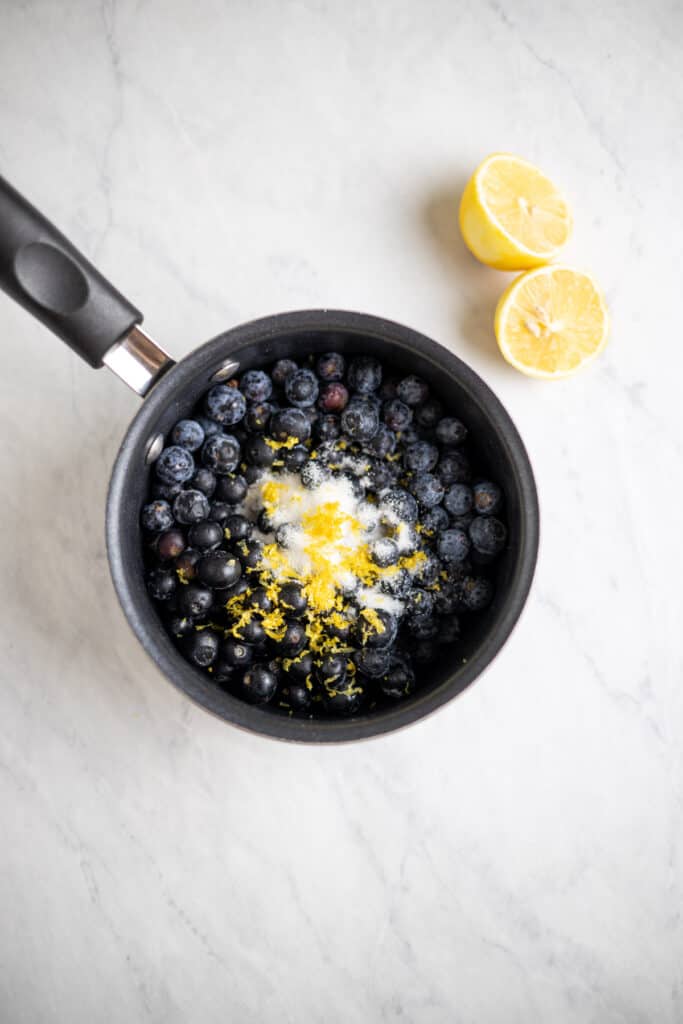 On medium heat, simmer the sauce until thickened to the point that it will coat the back of a spoon. This will take about 8 minutes. You can use the back of a spoon to mash some of the blueberries up. I like to have an even mix of whole blueberries and mashed blueberries so there's still a little chunky texture to the compote.
Once you have the desired thickness, remove from the heat and let cool. Transfer to a container but don't put the lid on until completely cooled in order to avoid any food borne illnesses (this is the case with any food such as rice, soup, proteins etc). You can learn more about food safety here.
I HIGHLY recommend making a double batch of this blueberry compote because it's so delicious and you'll want to put it on everything.
HOW TO MAKE THE COCONUT CHIA PUDDING
The creamy, dreamy coconut chia pudding base for this recipe is what I use for almost all of my chia puddings! In fact, I wasn't a chia pudding fan until my good friend turned me onto using canned coconut milk. Now I'm hooked, and you will be too!
Using canned coconut milk allows you to achieve a lusciously creamy texture you can't achieve with plain milk on it's own. I use a combo of both canned coconut milk and the kind of coconut beverage you can find by the soy and almond milk. It just makes sense to use coconut milk in both right?
If you don't have coconut beverage on hand, you can just sub regular dairy milk with the canned coconut milk and it's still delicious.
Technically you can use the lite coconut milk but it won't be quite as creamy as the full fat version.
In your storage container, combine your canned coconut milk, coconut beverage, vanilla extract and chia seeds. Stir well until the chia seeds are incorporated into the mixture. If you're eating the chia seed pudding plain without the blueberry compote, I suggest adding 1-2 tablespoons of maple syrup or monkfruit sweetener to sweeten the mixture.
Cover and store in the refrigerator for 2-3 hours before serving to allow the chia seeds time to absorb the liquid and thicken.
WHAT ARE CHIA SEEDS
Chia seeds come from the plant salvia hispanica, which is native to Mexico and Guatemala. It was a staple in Aztec and Mayan diets and has become popular over the last decade for it's incredible health benefits.
Since they can absorb liquid up to 10 times their dry weight, they're perfect in this chia pudding in order to create a tapioca-like texture.
Dubbed a superfood, chia seeds are high in fiber, protein, and omega-3 fatty acids. They contain all 9 essential amino acids and are high in calcium and magnesium. Making these chia puddings are an easy way to inject a boost of nutrients into your breakfast routine!
WHAT IS MONK FRUIT
Chances are, you've never heard of monk fruit before unless you're on the keto diet. Monk fruit is a small round fruit native to Southeast Asia. It's popularity as a sweetener comes from the fact that it contains zero calories, zero fat and zero carbohydrates. Safe for children and pregnant women, it's 150-200 times sweeter than sugar.
To date, there hasn't been any data published of any negative side effects or health concerns. Because it's been shown to have very little impact on blood sugar and insulin levels, it's been a popular sugar alternative for those following a keto diet.
Because it's considerably sweeter than regular sugar, you don't need as much quantity. In this recipe, you would normally use 2 tablespoons of sugar, maple syrup or honey so if using monk fruit, you only need 2 teaspoons. As always, it's much easier to add more sweetener if it's not sweet enough, than to correct it if your end product turns out too sweet.
FREQUENTLY ASKED QUESTIONS
What is the best coconut milk to use in this recipe?
I have found the best coconut milk to use is full fat canned coconut milk. You can use lite coconut milk but it won't be as creamy.
Should I use frozen blueberries or fresh blueberries?
The recipe works great with either one! I use fresh blueberries when I can find them readily (and affordably) available in the summertime, and frozen blueberries the rest of the year.
Can you substitute other berries for blueberries?
Absolutely! Raspberries, blackberries, huckleberries and strawberries are all delicious in this recipe.
How long will this keto blueberry chia pudding last in the fridge?
It's best to consume your chia puddings within 4 days for the best texture and taste.
Which milks are best to use as a substitute for coconut?
There's on substitute for the canned coconut but you can swap the coconut beverage for regular dairy milk, or oat, almond, soy, and hemp milk.
What else can you serve with the blueberry compote?
I love making a double batch of the blueberry compote so I have extra on hand. It's especially delicious with pork tenderloin, grilled chicken, or drizzled over pound cake or angel food cake.
If I don't have monk fruit sweetener what should I use?
If you don't have monk fruit, you can easily use maple syrup, honey, or sugar to sweeten your mixture. You will use two tablespoons of those instead of the two teaspoons of monk fruit sweetener.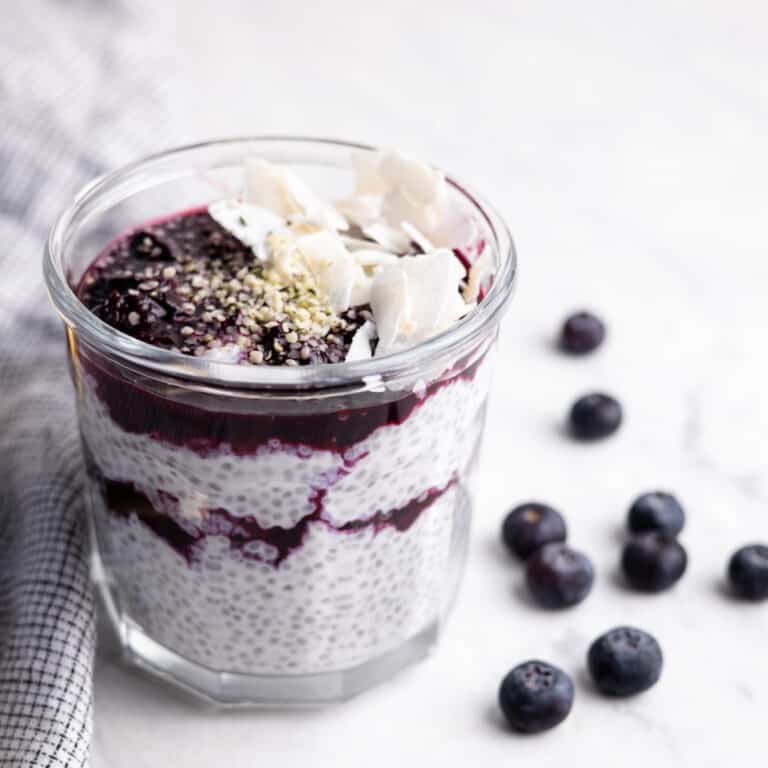 Keto Blueberry Chia Pudding Recipe
This keto blueberry chia pudding is lusciously creamy but not too sweet breakfast meal prep recipe! Coconut and blueberries are a match made in flavor heaven.
Ingredients
Blueberry Compote
2

cups

fresh or frozen blueberries

1

lemon, zested and juiced

2

tsp

monk fruit sweetener
Coconut Chia Pudding
1

14oz

canned coconut milk

3/4

cup

coconut beverage or other milk alternative

1/2

tsp

pure vanilla extract

6

tbsp

chia seeds
Instructions
Blueberry Compote
In a small saucepan, add the blueberries, lemon zest, and monk fruit sweetener. Bring to a strong simmer and simmer for 8 minutes to reduce until it coats the back of a spoon. Mash up about half of the blueberries in the compote so you still have some chunks of blueberries in the compote.
Coconut Chia Pudding
Combine the coconut milk, coconut beverage and vanilla extract in a bowl or container. Stir to mix.

Add your chia seeds to the mixture and stir well so the seeds are thoroughly combined.

Cover for 2-3 hours or overnight so the mixture thickens to a pudding like texture. Then you can portion out into mason jars with layers of the blueberry compote. They will keep for up to 4 days in the refrigerator.
Notes
The mixture is good for 4-5 days in the refrigerator
If you don't have monk fruit sweetener, you can use an other keto friendly sweetener
If you don't follow a keto diet, you can substitute the monk fruit for 2 tbsp of maple syrup, honey or white sugar