Looking for an easy five minute sauce to meal prep at the beginning of the week? This lemon basil vinaigrette has got your back! Not only can it dress up a salad like it's headed to the Oscars, this sauce can make a filet of salmon or simple chicken breast shine. The lemon juice and zest make this herbaceous vinaigrette extra zippy!
Meal prepping this basil vinaigrette
When it comes to meal prep, I try to make one or two sauces/marinades/vinaigrettes at the start of the week that can do doubly duty in different recipes. When it comes to buying sauces at the store, it can be a huge time saver when you're in a crunch. BUT if you want to save money and control the ingredients in your diet (ie. no weird preservatives and things you can't pronounce), it's always best to make your own. Luckily, it couldn't be any easier too!
When it comes to this sauce, its just a matter of adding all your ingredients to a food processor or blender and pulsing away. In less than 5 minutes, you'll have a beautiful, vibrant dressing that will keep for 4-6 days in the fridge.
Pro Tip: If you're looking for a smooth and silky sauce, a blender will typically give you the best results (assuming you have a good blender!). With a chunkier sauce, like a pesto, a food processor is often your best bet.
putting your vinaigrette to use
The versatility of this sauce it what makes it one of my top 5 go-to vinaigrettes. Here are some of my favorites ways to use it!
The sky is the limit! Have fun, experiment, and let me know your favorite dish to serve with this delicious vinaigrette!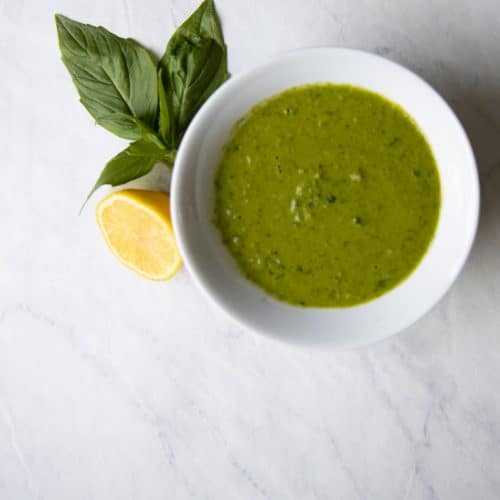 Lemon Basil Vinaigrette
This vibrant and zippy lemon basil vinaigrette is super versatile and can be used as a salad dressing or drizzled on top of chicken or seafood.
Equipment
food processor or blender
Ingredients
2

cup

fresh basil

1

whole

lemon, zested and juiced

2

whole

garlic cloves

1

tsp

kosher salt

1/4

tsp

black pepper

2

tbsp

red wine vinegar

1/2

cup

extra virgin olive oil
Instructions
Combine the fresh basil, lemon zest, lemon juice, garlic cloves, salt and pepper into food processor or blender. Pulse thoroughly to combine.

With the blender running, drizzle in the 1/2 cup of extra virgin olive oil until completely incorporated.
Notes
*This dressing will keep in the fridge for 4-6 days.  You'll notice the green color start to dull as it oxidizes so it's best to store in an airtight container.
*You can also add 2tbsp of minced shallot for some extra zing.