If you're looking for a delicious cold noodle salad that you can meal prep, this mango spring roll bowl packs major punch! You'll feast on all the colors of the rainbow with a variety of textures and flavors that are brought to life with a sweet and spicy chili lime sauce and perfectly crispy baked tofu.
How to make the crispiest baked tofu
Tofu is one of my favorite proteins to cook with because it's such a sponge for any flavor you throw at it. More often than not, I prefer crispy tofu for my bowls thanks to it's delicious crunch factor.
There's two methods for achieving the ultimate crispiness. 1. Patiently sautéing cubes of tofu in a hot skillet and flipping them with tongs to ensure each side is crispy. The downside is that the tofu absorbs tons of oil in the process negating it's healthiness, and it also takes babysitting to watch it on the stove top. OR 2. You can toss it in a cornstarch mix and bake on parchment paper, only flipping once.
These days, I tend to lean towards option number two simply because I prefer to be a multitasking Jedi and that method frees up my hands to prep the rest of the meal. Here's the key points you'll need to remember to master your baked tofu.
Start with firm or extra firm tofu.
Squish the life out of your tofu! I slice my tofu block in half and put thick layers of paper towel BOTH underneath and above. Then I layer a few cookbooks, or a sheet pan with some heavy canned goods on top. This will help squeeze out as much water as possible. I will swap out the soaked paper towels for dry ones at least once. I try to aim for a squish time of at least 30 minutes.
Cube and then toss together with cornstarch, soy sauce, and a touch of oil, just to help it get coated thoroughly.
Spread on a baking sheet that's been lined with parchment paper.
Bake at 400 degrees, flipping the tofu halfway through.
Once they're done cooking you'll be left with pillowy nuggets of goodness with a deliciously crunchy exterior!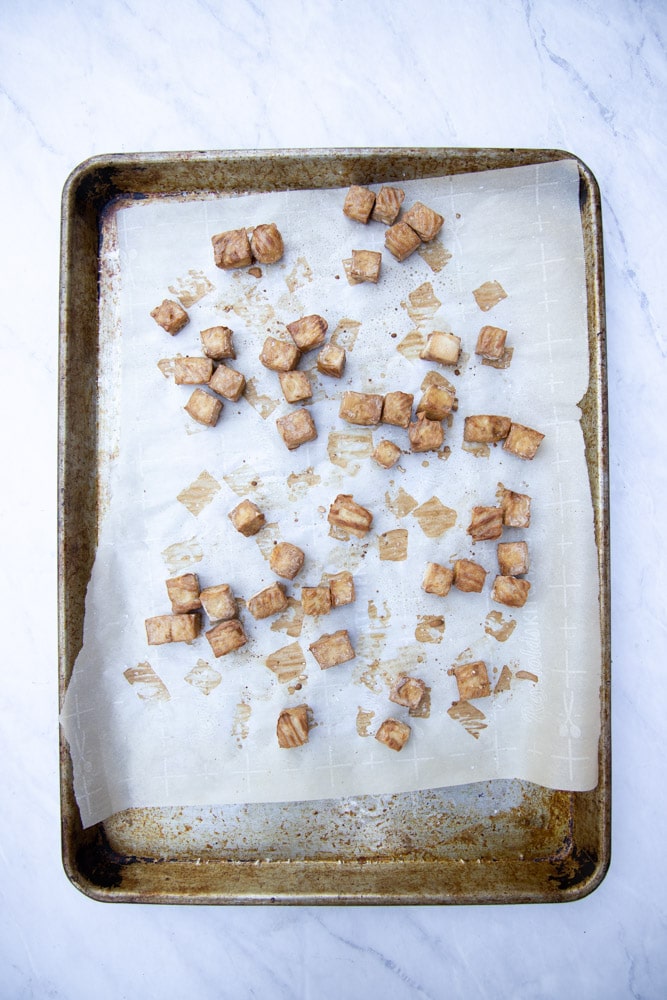 How to prep your ingredients
While the tofu is cooking in the oven, you'll have your hands free to prep the rest of your meal. For the noodles, I opt for either vermicelli or pad Thai style rice noodles. Hell you could even use linguine or spaghetti if that's all you have! You'll have to check the back of your package for specific instructions, but for the pad Thai noodles I used, the directions said to bring water to a boil, add the noodles and then turn off the heat. They were al dente in 8 minutes.
The most important thing is that you drain the noodles and run them under cold water for a solid minute to halt the cooking. It will also help keep them from sticking together.
For the vegetables, I opted to cut them into thin matchsticks that were roughly the same size. For the mango, I love the honey mangos which tend to be sweeter than their larger cousin. Since the carrots are harder, I thought it would be fun to use a vegetable peeler to shave them. This way they are easier to swirl up with the noodles and they didn't alter the texture of the bowl by being too crunchy.
For garnishes, I used cilantro and green onion cut on a deep bias. However, fresh mint and Thai basil are also delicious in this spring roll bowl!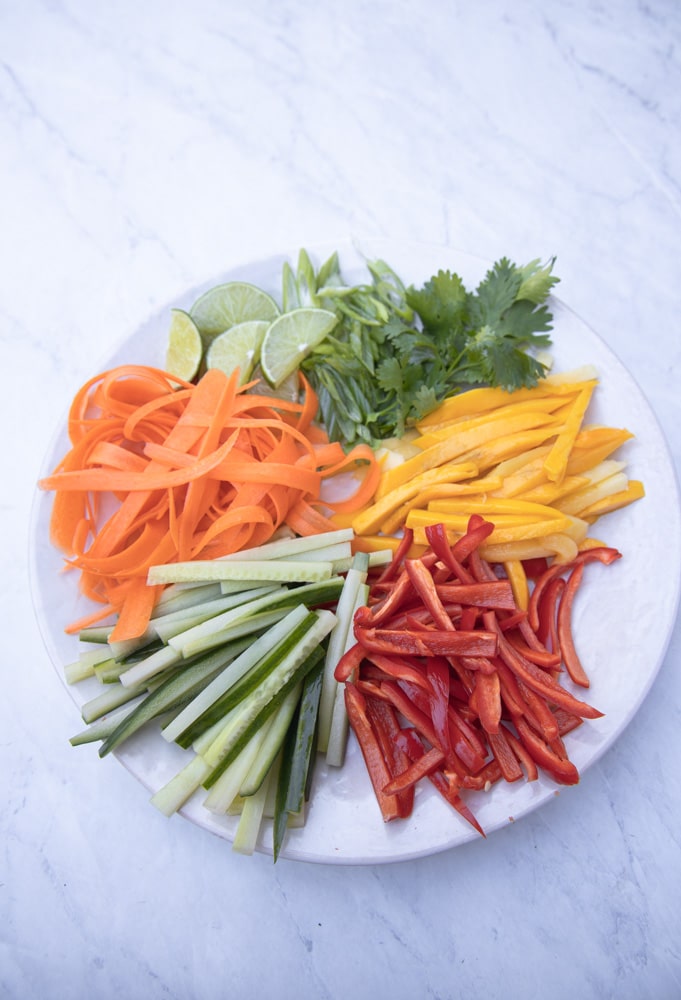 The sauce that makes this dish sing
In my previous life working as a professional chef, I earned the nickname "Sauce Boss," and for good reason! I believe that having a few dynamite sauce recipes in your repertoire is one of the most important foundations to good cooking. To me, a good sauce is all about balancing the flavors of sweet, salty, spicy, sour and umami, and I love tinkering around until you find that perfect harmony.
I tweaked this sauce until it had just the right amount of sweetness from the brown sugar, acidity from the lime juice, and heat from the chili sauce. Don't be afraid of the fish sauce either because it adds a salty umami bomb that isn't easily substituted. It may seem like a lot of brown sugar but it's essential to balancing out the other flavors.
Start with 1 tsp of chili sauce and check the heat level before adding more. I make it with 2 tsps but that's because I love the spice!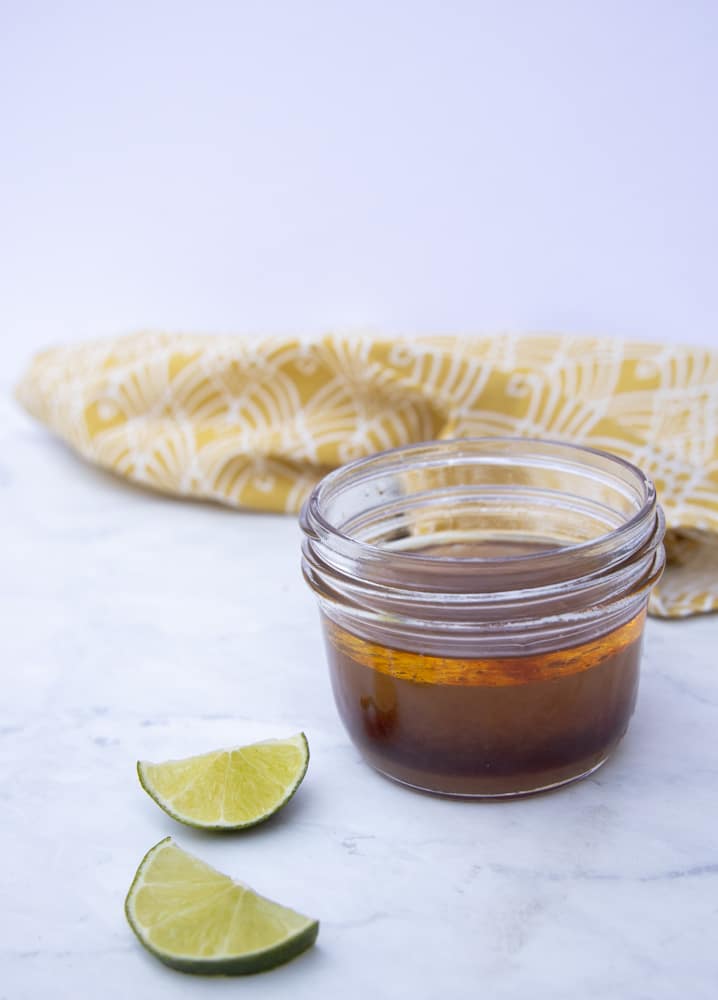 Meal prepping this spring roll bowl
I LOVE cold noodle salads for meal prepping because often times I'm on the run for lunch and don't have the ability to heat up my meal. The chili lime sauce will keep for 5-7 days in the fridge. The noodles, tofu, and cut veggies will only keep for 2-3 days when prepped ahead of time. I would wait and add the mango and herbs fresh on the day you will eat the bowl.
So far I'm a big fan of these metal bento boxes that I found on amazon for meal prepping! The lid clamps on securely so you don't have to worry about spills.
Here's three other bowls that you don't have to heat up!
Is this recipe vegan?
This recipe is packed with tons of veggies and the tofu. However, the sauce includes a delicious umami component called fish sauce that is not vegan. You can buy vegan fish sauce substitutes at the store, or you can make your own! Minimalist Baker has a great recipe if you'd like to tackle it yourself!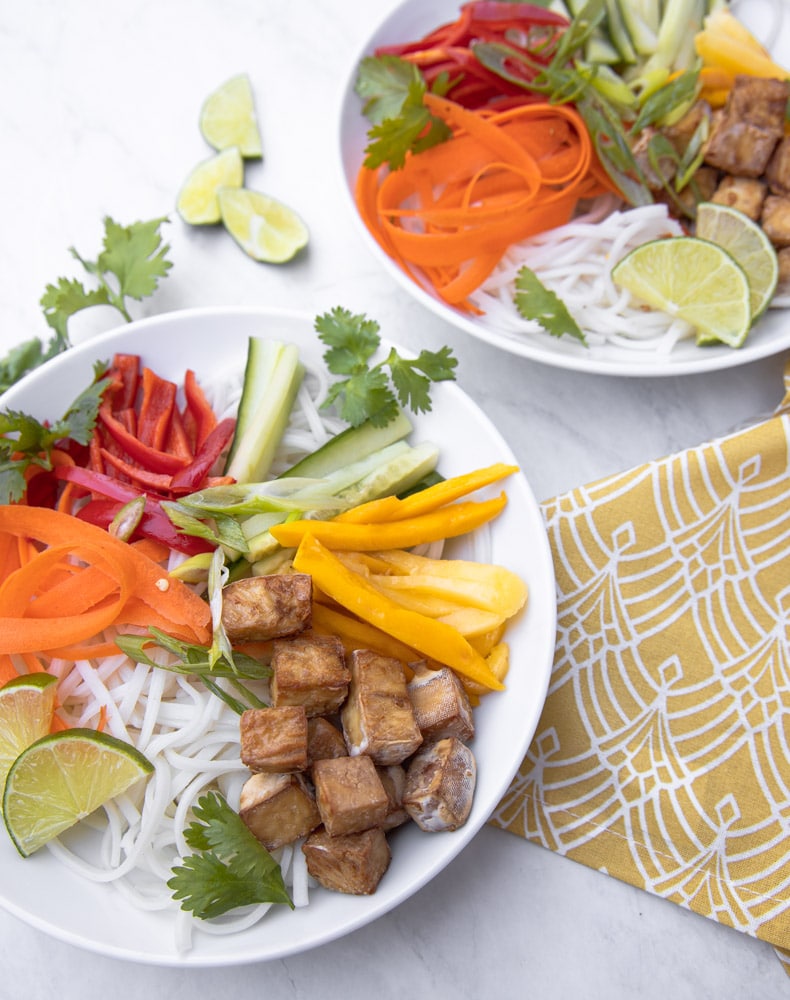 Mango Spring Roll Bowls with Crispy Tofu
This spring roll bowl is a perfect balance of flavors thanks to mango, a punchy sweet chili lime sauce and perfectly baked crispy tofu.
Ingredients
Crispy Baked Tofu
1

block

extra firm tofu

2

tsp

corn starch

1

tbsp

low sodium soy sauce

1

tbsp

vegetable oil
Mango Spring Roll Bowl
1

pkg

rice noodles

vermicelli or "pad thai" style

1

honey mango

1

red bell pepper

1/2

hot house cucumber

2

carrots

2

green onions

2

tbsp

chopped cilantro
Sweet Chili Lime Sauce
2

limes, juiced

1

tbsp

rice vinegar

1

tsp

low sodium soy sauce

1

tbsp

fish sauce or vegan fish sauce substitute

1

tbsp

sesame oil

2

tbsp

brown sugar

1-2

tsp

chili sauce

2

tbsp

vegetable oil
Instructions
Preheat oven to 400 degrees.

Cut the cube of tofu in half, width wise. Place multiple paper towels above and below the tofu. Place a sheet pan on top of the tofu with something heavy, like canned goods, on top in order to squish down the tofu. After 15 minutes, replace the damp paper towels with clean ones and continue to squish for another 15 minutes.

Cube the tofu into 1/2 inch cubes and toss with the 2 tsp cornstarch, 1 tbsp soy sauce and 1 tbsp vegetable oil. Toss to combine.

Line a sheet pan with parchment paper. Spread the tofu evenly and bake for 10 minutes. Flip the tofu and bake another 10-15 minutes, or until crispy.

Boil your rice noodles using the instructions on the package. Once al dente, drain in a colandar and rinse under cold water for 1 minute.

Cut the cucumber and red bell pepper into matchsticks. Peel the exterior skin off the carrot and then using a vegetable peeler, peel the remaining carrot into thin strips.

For the mango, you can use the vegetable peeler to remove the skin. Cut lengthwise around the pit is in the middle. Then cut the flesh into matchsticks.

For the dressing, in a glass jar or bowl combine the juice from 2 limes, 1 tbsp rice vinegar, 1 tsp soy, 1 tbsp fish sauce, 1 tbsp sesame oil, 2 tbsp brown sugar, 1 to 2 tsp of chili sauce (to taste) and 2 tbsp of vegetable oil. Stir or shake well to combine.

In your bowl, layer the noodles with the tofu, vegetables, mango, green onion and cilantro, and drizzle with the sweet chili dressing.
Notes
If you don't have rice noodles on hand, you can use spaghetti or linguine in a pinch!  
You can substitute Thai basil or mint for the green onion and cilantro.  Or use all four! 
Make sure to use firm or extra firm tofu.