This Mediterranean shrimp and bean salad recipe is loaded with fresh lemon, garlic and sundried tomatoes and then served over a bed of arugula. It's a beautiful melody of flavors that happens to be quick enough for a weeknight meal!
I know I'm biased but this really is a recipe you'll want to save. I'm a sucker for any recipe that comes together in a pinch, yet looks like a million bucks and will have your guests saying "ooooh" and "aaaah!" Here's why it's a keeper:
It comes together in just 15 minutes!
It's a one pan wonder! All you need is a skillet
It's bursting with flavor thanks to bright lemon, spicy garlic, and fresh parsley
It just so happens to be gluten-free and dairy-free, bonus!
You can make it as a salad or read below for my tips on making this recipe do double duty in your meal plan
The presentation is incredibly beautiful thanks to the rainbow of colors and textures
It pairs like a dream with a crisp glass of sauvignon blanc!
Need I say more? The list goes on and on!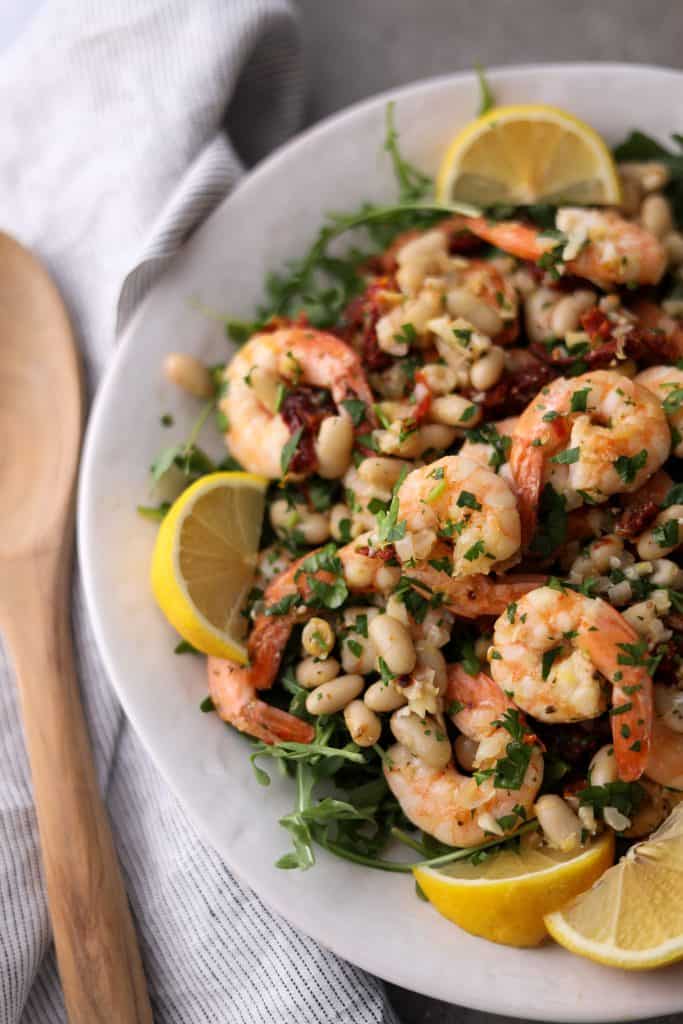 ingredients
Here's what you'll need to make this crazy delicious Mediterranean white bean salad. It's just 10 ingredients all together!
Frozen shrimp
Cannelini beans
Sundried tomatoes
Garlic
Shallot
Fresh parsley
Lemon zest and juice
Red pepper flakes
Salt and Pepper
Arugula
Easy Step by Step instructions
Follow the photos below to see how easy it is to layer this recipe in a large skillet.
You'll heat up your pan over medium heat with 3 tbsp olive oil. Once hot, add your shallot and saute for about three minutes before adding minced garlic and shrimp.
Once the shrimp turns pink, flip it over to the other side.
While the other side of the shrimp cooks, add the white beans, sun dried tomatoes, lemon zest, lemon juice, red pepper flakes, wine, salt and pepper to the mixture.
Once the shrimp is cooked through (it will turn pink) and all the ingredients are incorporated, remove them from the hot pan to a large bowl to cool.
Once cool, add in the fresh parsley, taste for seasoning and serve over a big bed of arugula! I like to serve mine with lemon wedges on the side.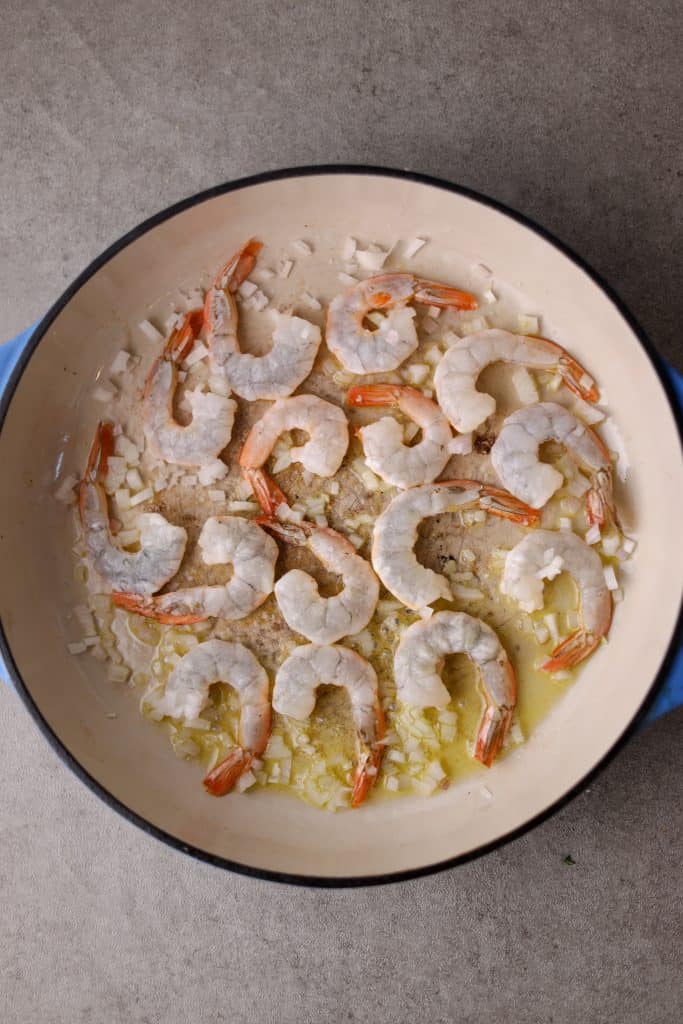 Expert tips for cooking shrimp
If you're not comfortable cooking with shrimp, here's what you need to know. You'll be a master in no time!
If you're working with frozen shrimp, make sure they are fully thawed before hand. I like to thaw mine in a bowl of cold water which usually takes about 15 minutes.
You'll also want to pat the shrimp completely dry with a paper towel.
If the shrimp have not been deveined, you may want to take the time to do that as well. This is a great tutorial to learn how! If the shrimp isn't butterflied already, it probably hasn't been deveined (FYI this is the gritty digestive tract of the shrimp)
Shrimp cooks quickly at medium heat. You'll see the bodies start to curl up and the color will change from gray to pink. You'll need to move quickly to flip them over to the other side and add the other ingredients. They will cook in just about 2-3 minutes per side.
As soon as they're fully pink, remove them from the heat to another bowl to ensure that they doesn't overcook and get tough.
Shrimp, like a lot of seafood, can be inherently salty. Therefore, take care not to oversalt this dish. Like with any recipe, the best thing you can do is taste as you go. It's much easier to add more salt than it is to take it away!
I cook mine with the tail on but that's mostly for presentation purposes. They can be a pain to eat this way though so feel free to remove the tail shell before cooking. If you gently squeeze the tail between two fingers, the shrimp should pop right out of the shell.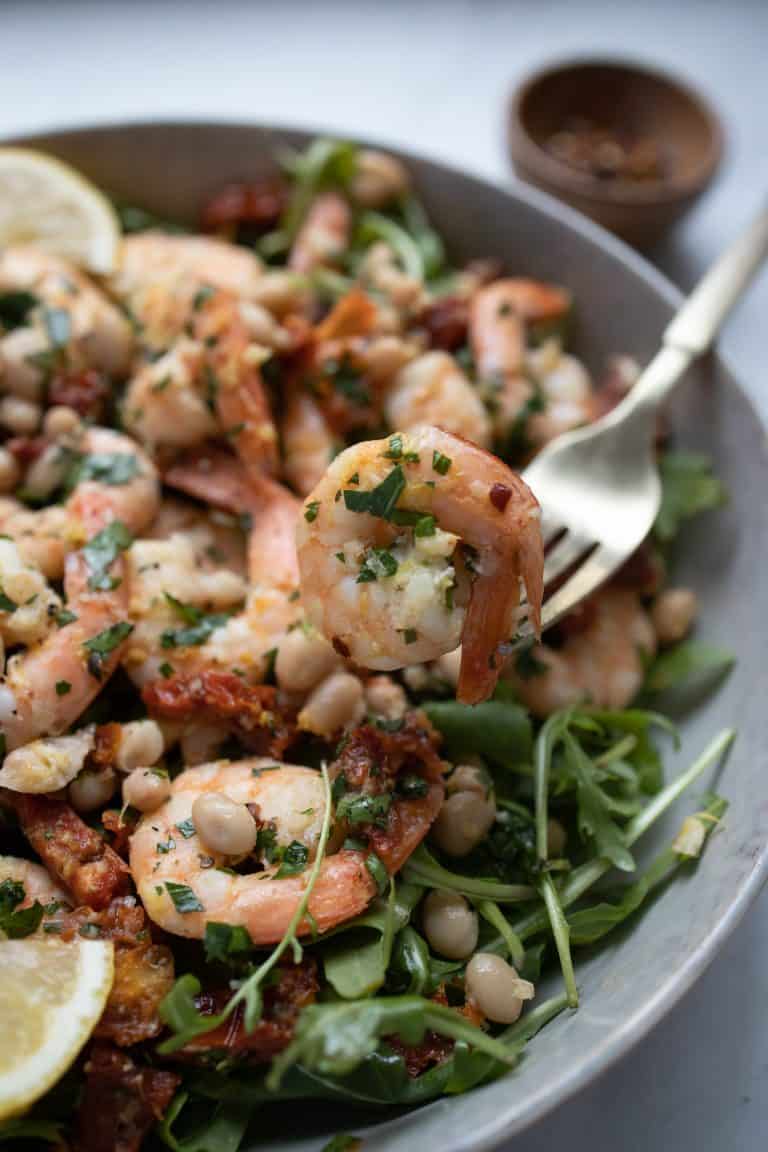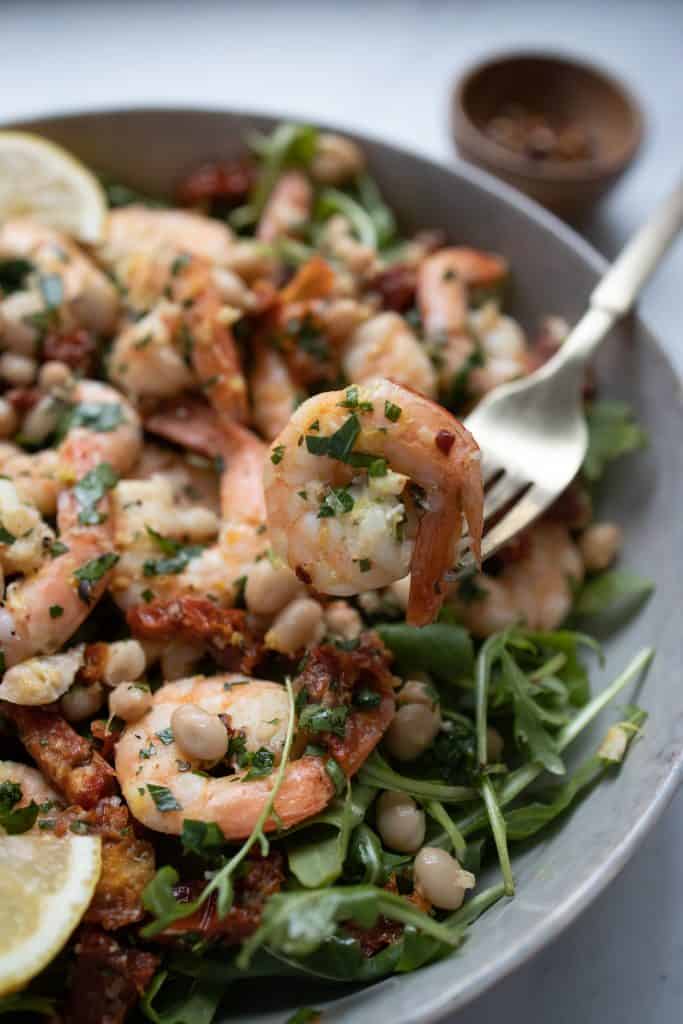 Frequently asked questions
Here are some tips in case you still have still have questions about substitutions and how to best make this mediterranean shrimp and bean salad!
Is frozen or fresh shrimp better? Unless you live in an area where they are pulling fresh shrimp out of the harbor, your best bet is to use frozen shrimp. If you see "fresh" shrimp at your grocery store, it's just shrimp that was shipped to the store frozen, defrosted, and sitting in a display case. So frozen shrimp will give you the freshest taste since you'll wait until just before cooking to defrost.
What is the best way to defrost the shrimp? For food safety purposes, you can either let the shrimp defrost in the fridge for 4-6 hours, or defrost in a bowl of cold water for 15-30 minutes.
What can I substitute for the cannellini beans? If you don't have cannellini beans, you can use garbanzo beans instead. I wouldn't recommend black beans or kidney beans. You can also leave them out entirely and it would still be delicious!
How could I make this dish vegetarian or vegan? You can swap out the shrimp for some briny artichoke hearts to keep the bulk of the dish without the meat.
Is this salad served hot or cold? Honestly, it works both ways! In the summertime, I love to serve it cold and take it to picnics. I recommend letting the shrimp cool before adding the parsley so it stays a vibrant green but you can spoon the hot shrimp mixture directly over your greens if you'd like a nice warm meal.
What can I use instead of arugula? I love how the bitterness of arugula cuts through the rich flavors of the dish. However, it's also delicious with kale, raddichio, frisee or spinach! I would only recommend using spring greens if you're serving the shrimp and bean mixture cold otherwise the greens will wilt too much.
Meal prepping this recipe
Because of the shrimp, I try not to meal prep this mix too far in advance. Shrimp can spoil quickly so I try not to prep it more than a day in advance. However, I do have one trick up my sleeve!
I like to serve half of the shrimp mix over the arugula to make a salad. Served with some crusty bed, it's a nice and light meal. Then the following day, I will toss the remaining shrimp and white bean mixture with linguine and a heavy showering of parmesan cheese.
Pro Tip: Take care when you're reheating the shrimp mixture that it doesn't overcook and get tough. The best way to do this is to cook over low heat until the shrimp are just warm and then add the warm pasta to the skillet to combine it all together.
I know beans mixed with pasta may sound unconventional, but cannellini beans have a very delicate and mild flavor. They're also very small. The result is that they add a faint creaminess ( and extra protein!) without overpowering the dish.
If you're a fan of Mediterranean recipes, you'll also love my healthy tuna salad!
Other Delicious Seafood Recipes!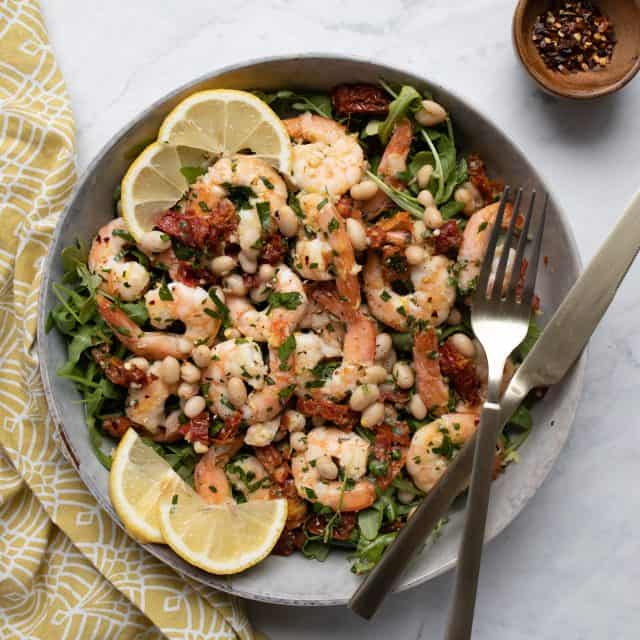 Mediterranean Shrimp and White Bean Salad
This Mediterranean shrimp and bean salad recipe is loaded with fresh lemon, garlic and sundried tomatoes and then served over a bed of vibrant arugula. It's a beautiful melody of flavors that happens to be quick enough for a weeknight meal!
Ingredients
1

lb

frozen shrimp, defrosted

3

tbsp

extra virgin olive oil, or avocado oil

1

cup

cannellini beans, drained and rinsed

2/3

cup

julienned sun dried tomatoes

4

cloves

garlic, minced

2

shallots, diced or sliced

2

tbsp

lemon zest

1/4

cup

fresh lemon juice

1/4

cup

dry white wine

1/4

tsp

red pepper flakes

1/2

tsp

sea salt

1/4

tsp

black pepper

3

tbsp

chopped fresh parsley

4

cups

fresh arugula
Instructions
In a bowl of cool water, full submerge the frozen shrimp to defrost. It should take 15-20 minutes. Then thoroughly pat them dry.

Heat a large skillet to medium low heat with 3 tbsp of extra virgin olive oil. Once the oil and the pan are hot, add the shallot and cook for about three minutes until softened. Then add your shrimp.

Cook until the shrimp turn pink on one side and start to curl up, about 2-3 minutes Then quickly flip to the other side. Immediately add the minced garlic, drained and rinsed white beans, julienned sun dried tomatoes, the zest and juice of two lemons and white wine.

Cook until the shrimp is opaque and slightly pink on both sides, and the sauce has reduced by half, about 3-5 more minutes. Remove the shrimp and bean mixture from the hot pan to a bowl so that it can cool. Once cool, toss with the fresh chopped parsley and serve over fresh arugula.