This lightened up and mayo-free Mediterranean tuna salad will elevate your lunch game to the next level! The bright flavors of capers, roasted red peppers, cucumber and shallots bring this salad to life while tuna and chickpeas add the protein you need to fuel you through your day.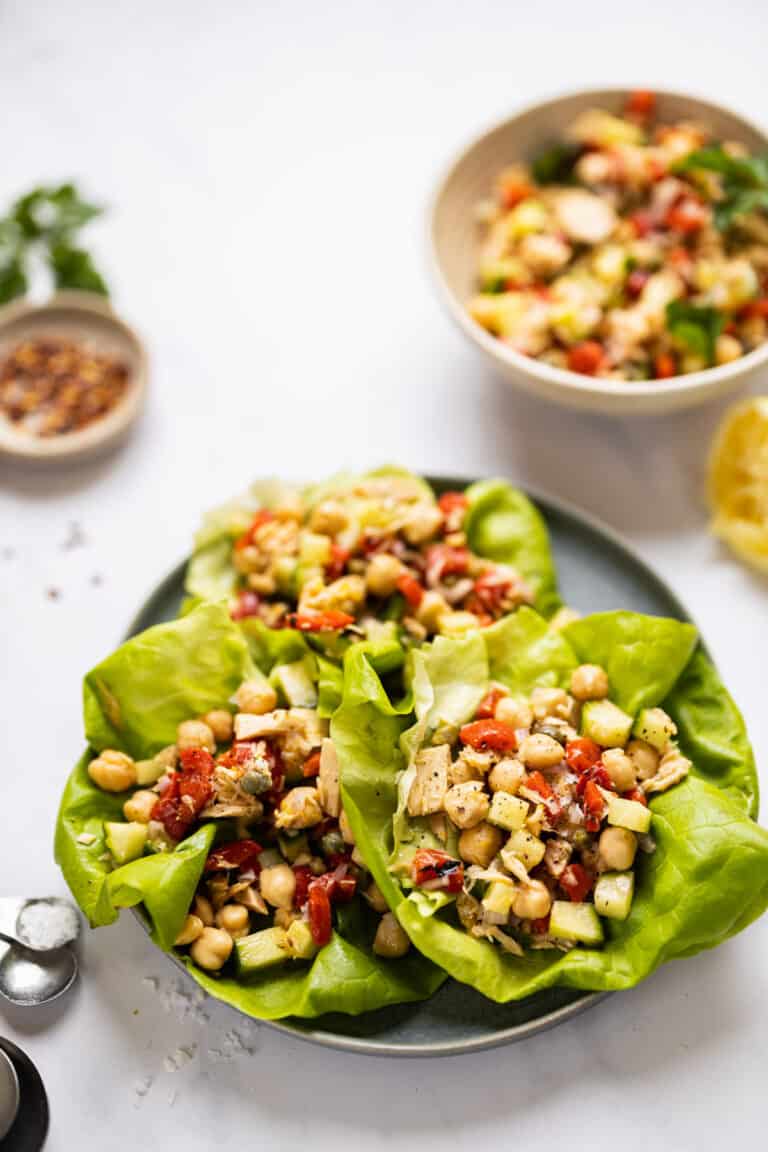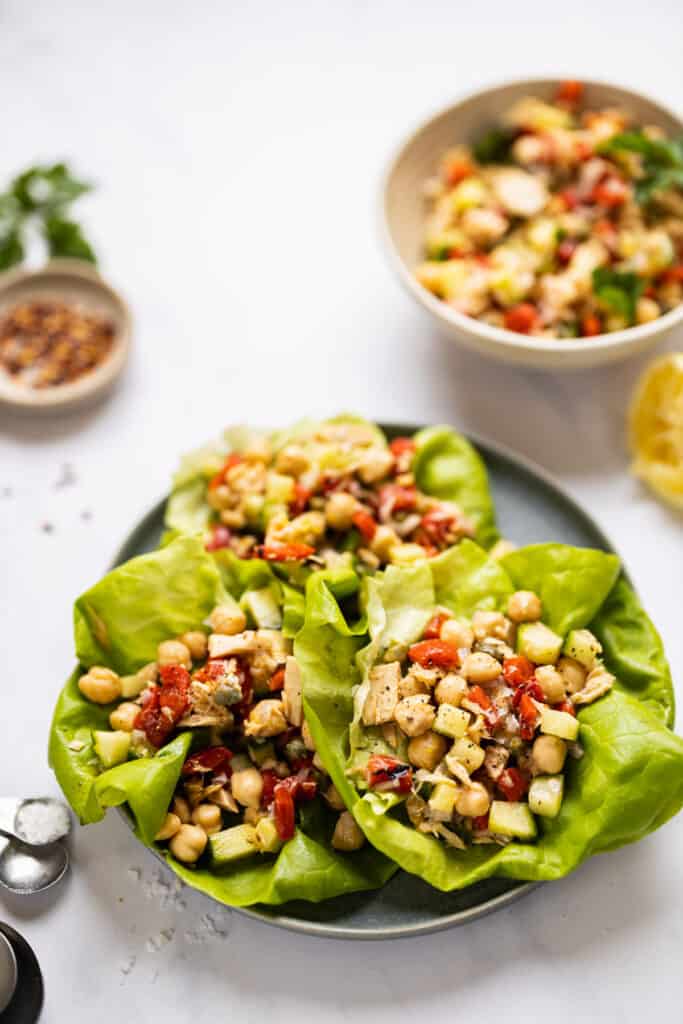 Why You'll Love This Mediterranean Tuna Salad
When it comes to lunch time, it's hard to find a good balance. Either you find yourself completely rushed and grabbing something on the go that's less than healthy, or indulging in something over the top that leaves you feeling stuffed and sluggish.
I have challenged myself to come up with healthy lunch options that fit the following criteria and this Mediterranean tuna salad recipe checks all the boxes.
Meal prep friendly-the flavors get better with time to marinate!
Takes just 10 minutes with no cooking necessary
Packed with lots of protein-a healthy lunch option that doesn't feel like diet food.
Pescatarian and gluten free friendly
Easily customizable- utilize what you have on hand in your fridge and pantry.
Features an addictively delicious lemon garlic dressing that you'll want to drizzle on all of your salads!
Heart healthy-Mediterranean flavors are renowned for being extra healthy for your heart, bonus!
Ingredients and Substitutions
While I think this recipe is pretty perfect as it is, there's lots of different ways you can customize it to fit your own tastebuds or what you have on hand! Try these ideas to switch it up:
Tuna-I like to use albacore tuna for it's mild flavor. Make sure to grab a can that says "no salt added" so you can control the salt content yourself
Chickpeas-These add even more protein to the salad and some nice creaminess. White beans make a great substitution.
Arugula-I always have arugula on hand because it's my favorite! However, spinach, kale, watercress or even spring greens would be excellent. Or, serve it in a romaine leaf to make a lettuce wrap out of it!
Capers-If you don't have capers or don't enjoy their intense briny flavor, pickles or green olives are a delicious option.
Roasted red peppers-These are a great pantry staple but tomatoes or artichoke hearts make for a great variation. Or you can dice up fresh red bell pepper for a little extra crunch.
Shallot-I love the sharp bite of shallot but red onion is an easy substitute in a pinch.
Cucumber-I love the fresh crunch of cucumber in this tuna salad but feel free to leave it out!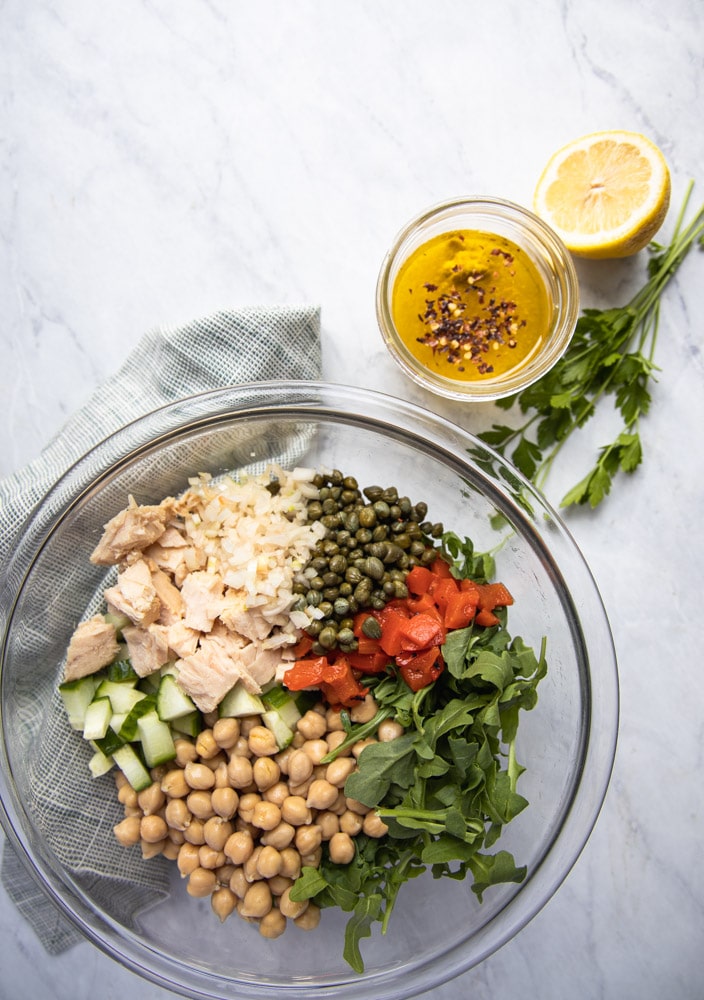 How to Make This Healthy Lunch
Well, the good news is that if you own a can opener you can make this recipe! The fact that it's a no cook dish and simply involves opening a few cans of pantry staples and chopping up some fresh ingredients, means you can make it in just 10 minutes!
In no particular order, add all your ingredients, minus the lettuce, to a bowl and combine. In a mason jar, or other container with a tight fitting lid, add all the dressing ingredients and shake well to mix and emulsify. Just before serving, add your greens to the tuna mixture and dress with the lemon garlic vinaigrette. Taste for seasoning as always!
I like to mix things up by either serving the tuna mix in butter lettuce cups, or stirring in fresh greens like arugula or kale and enjoying it salad style.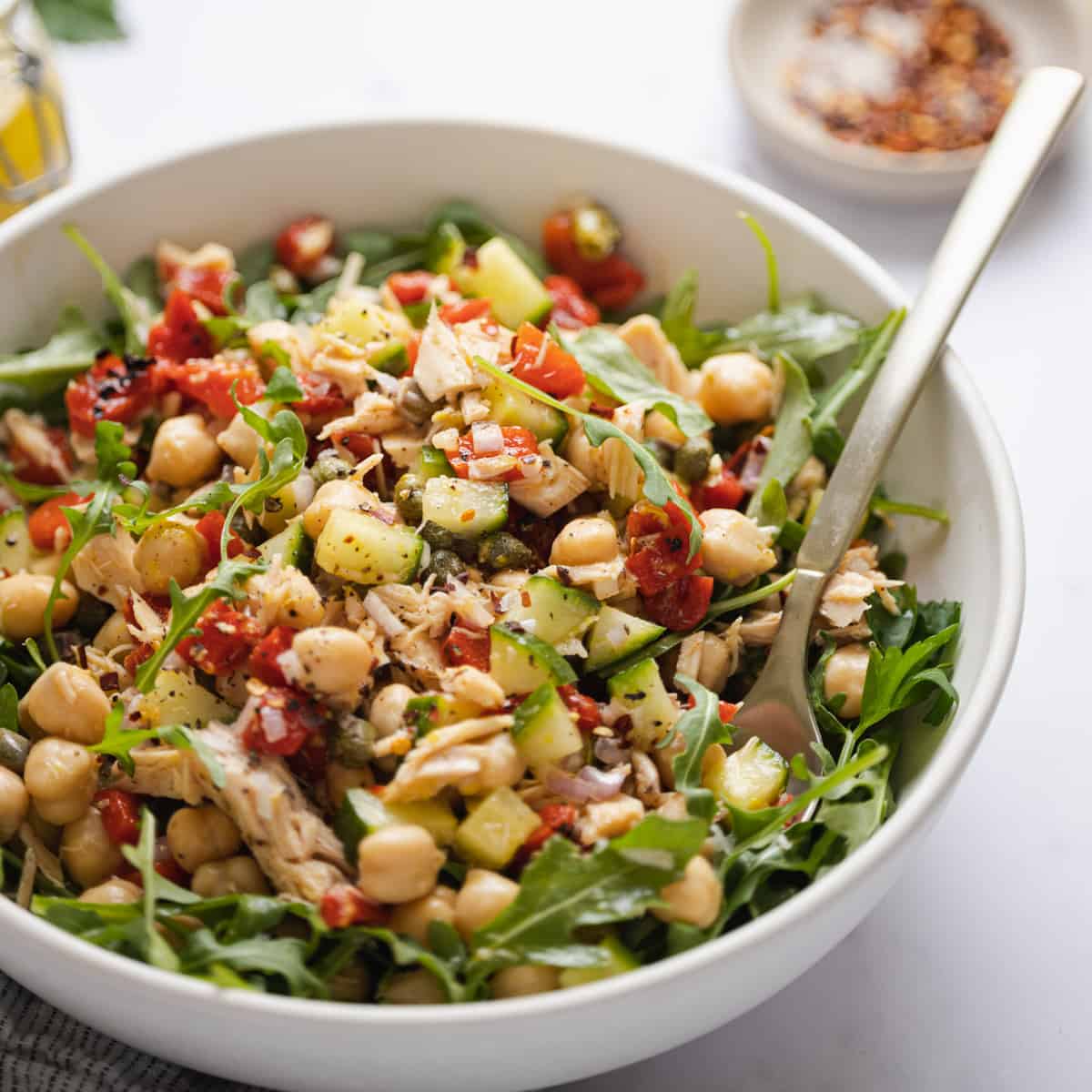 Ways to Dress Up Your Tuna Salad
I'm all for finding fun ways to dress up something as simple as tuna salad. If you meal prep this recipe, then I highly suggest finding ways to switch it up each day so you don't get tired of eating the same thing.
Try topping with a little feta cheese or parmesan shavings
Add a dollop of hummus on top and a few triangles of pita bread, or tuck it into a pita pocket!
I love this garlicky lemon dressing but this is another great lemon chive vinaigrette.
A creamy balsamic vinaigrette or Italian vinaigrette would also be delicious.
Fresh herbs make a great addition! Try a handful of chopped parsley, dill or chives.
Stuff this tuna inside a hollowed out tomato, halved avocado or romaine leaf.
Tips for Meal Prepping This Healthy Tuna Salad
The thing I love most about this healthy tuna salad is that you can meal prep it in advance and the flavors just get better and better!
Lately, I've been loving these metal bento box style containers. They have a nice, tight seal to prevent any leaks. Plus, the extra compartments keep other items, like pita bread, from getting soggy from the salad. They're especially great for kids lunches too!
You can add all of the ingredients together, except for the lettuce, and it will keep for up to 3 days in the fridge. Pack the arugula or butter lettuce cups separately so that it doesn't get soggy from the dressing and assemble just before eating.
I recommend tossing the tuna mix with a little bit of the lemon garlic dressing to get it marinating in advance. Then, pack the rest of the dressing to add as much as you'd like when you're ready to serve.
As a die hard meal prepper, I'm always thinking about ways that I can prep a little extra for use in other dishes. With this recipe, I recommend making a double batch of the salad dressing to have on hand, and chop extra cucumber to toss in with other salads throughout the week.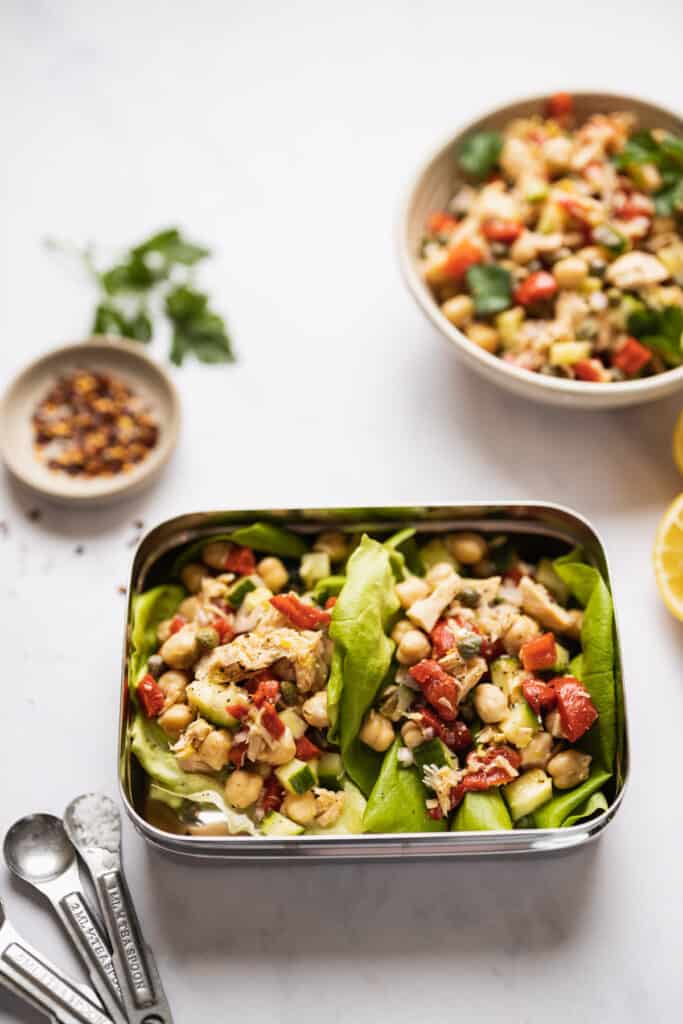 Frequently Asked Questions
What's the best tuna to use in tuna salad? Look for canned tuna that is in olive oil or water with no salt added.
How often can you safely eat canned tuna? Because of concern regarding Mercury levels, the FDA recommends no more than a 6 oz portion of albacore tuna per week, or 4 oz if you're pregnant or breastfeeding.
Can you meal prep this tuna salad? Yes! Just leave any greens out until you're ready to eat so they don't get soggy or wilted.
Can I eat this tuna salad on a sandwich? You can sure try! However I have found that with all the small pieces and without mayo as a binder, it tends to fall out of the sandwich and get super messy. If you want the carbs, try stuffing it into a pita pocket that will help keep it contained, or wrap it in a tortilla. For easy snacking, I like to scoop it up with my favorite crackers!
What greens work well in this recipe? To eat as a salad, I like to mix in arugula, kale or raddichio because they will hold up well without getting soggy. To serve as a lettuce cup, use butter lettuce, iceberg leaves or romaine hearts.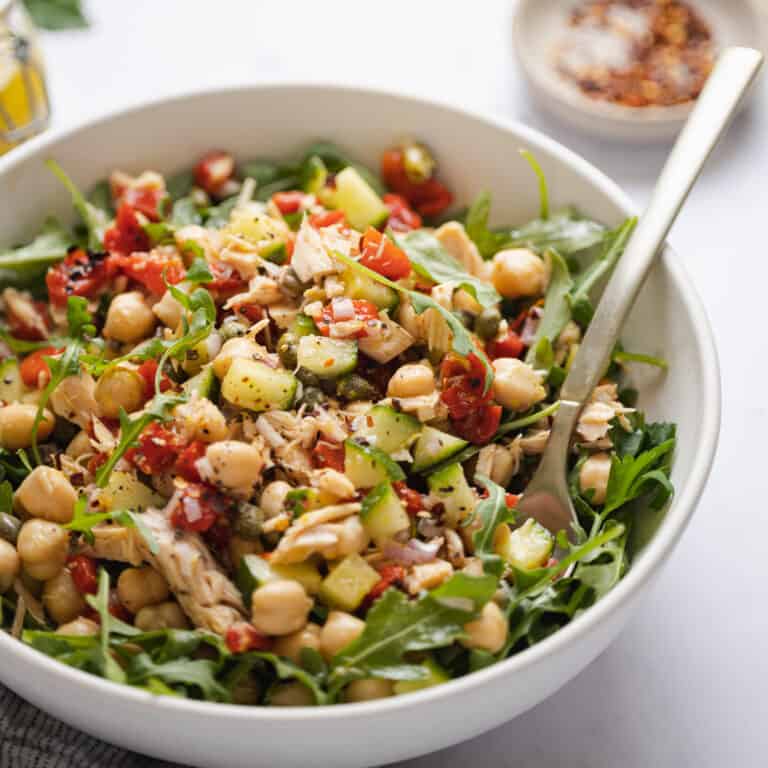 Mediterranean Tuna Salad with Lemon Garlic Dressing
This healthy Mediterranean tuna salad is packed full of bright and zippy flavors and is tossed with a light lemon garlic dressing. Loaded with protein, this recipe makes for a great meal prep lunch option or picnic dish!
Ingredients
Tuna Salad
1

can

tuna packed in olive oil, drained

1

14oz can

chickpeas, drained and rinsed well

4

cups

loosely packed fresh arugula or butter lettuce cups

1

cup

roasted red peppers, diced

1

cup

cucumber, diced

1/4

cup

capers

1/4

cup

minced shallot or red onion
Lemon Garlic Dressing
1

whole

lemon, zested and juiced

1

tsp

dijon mustard

2

cloves

garlic, minced

1/2

tsp

kosher salt

1/4

tsp

white sugar

1

pinch

red pepper flakes

1/3

cup

olive oil
Instructions
In a jar, combine the lemon zest, lemon juice, minced garlic, 1 tsp dijon, 1/2 tsp salt, 1/4 tsp sugar, pinch of red pepper flakes and 1/3 cup olive oil. Shake well.

In a bowl, combine the tuna, chickpeas, roasted red peppers, cucumber, capers, and shallot. Drizzle on the lemon garlic vinaigrette and toss well. Stir in fresh arugula or serve in butter lettuce cups.
Notes
See the "Ingredients and Substitutions" notes above for a variety of ways to customize this tuna salad with different flavors. 
You can meal prep this salad ahead of time and it will keep in the fridge for up to three days.  Pack the lettuce separately so that it doesn't get soggy.