This incredible nectarine crumble takes advantage of the summery stone fruit and lets it shine with minimal sugar. Extra almonds in the topping make for an irresistible crunch factor! Make this on warm summer nights and your family and friends will thank you!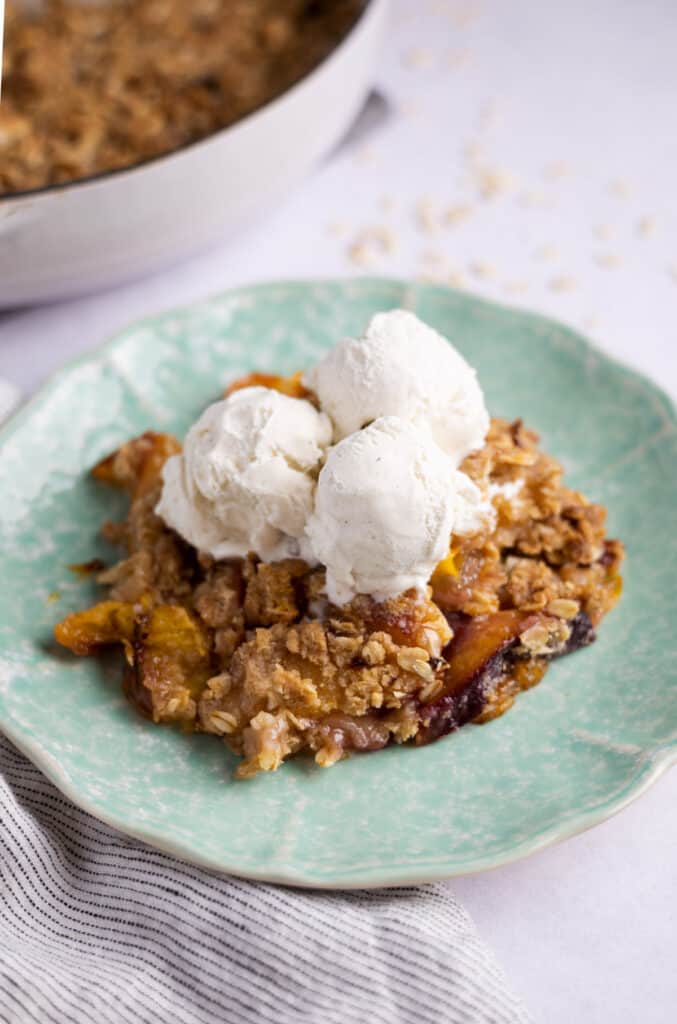 WHY YOU'LL LOVE THIS RECIPE
This insanely delicious dish is sure to make it into your rotation of family favorites! I know you'll love it because:
This recipe is like summer in a bowl!
You can easily add in other fruits that you have on hand such as blueberries or blackberries.
This recipe uses less sugar than most so that the natural sweetness of the nectarine's can shine.
It's extremely customizable! Try it with peaches, plums or even apples.
The crumble topping is loaded with lots of almonds to make for an irresistible crunch.
Leftovers are just as delicious the next day.
This nectarine crumble travels well making it an ideal dish to contribute as a dessert at your next gathering!
You can use a butter substitute to keep it dairy free.
You can swap out the flour for almond flour and make sure you grab gluten free oats if you want to keep it gluten free.
INGREDIENTS AND SUBSTITUTIONS
Luckily, this recipe uses only a handful of ingredients, most of which you are likely to already have in your pantry! Here's what you'll need along with some substitutions you can try out.
Nectarines-These are the highlight of the dish but peaches are an easy swap out. Make sure they aren't too ripe because they will soften as they cook. You want to find stone fruit that isn't rock hard and just barely gives under slight pressure.
Fresh lemon juice and zest-The acid from the lemon juice brings the flavors to life and helps balance the sweetness and richness of the dish.
All purpose flour-I used what I always have on hand which is AP flour but you can easily make a 1:1 swap for any of your favorite flour alternatives such as almond flour (which would go great with the almonds in the topping).
Oats-Make sure you grab old fashioned oats and not the instant kind which will turn too mushy as it cooks.
Sugars-We will use white sugar to lightly sweeten the nectarines and brown sugar to make the golden brown crumble topping.
Vanilla extract-Be sure and use the real vanilla extract and not the imitation flavoring for the best flavor.
Cinnamon-A touch of cinnamon adds incredible depth of flavor and warmth to the dish without overpowering.
Almonds-I adore almonds in this dish but if you don't have any on hand you can substitute chopped hazelnuts, pecans or walnuts.
Cornstarch-This is what will help thicken the nectarines juices as it bakes so it doesn't become a runny mess.
Butter-You can substitute a dairy free butter alternative but I love the flavor that real butter adds to this crumble.
HOW TO MAKE THE NECTARINE FILLING
This nectarine filling is only five ingredients, making it a breeze to put together! One of the biggest pro tips for making it is to pick out fruit that's the perfect amount of ripeness. Not for *eating* but for *baking*. So what the heck does that mean?
Look for nectarines that are not completely rock hard, but have only the slightest give if you squeeze them a tiny bit. They would still be too hard to enjoy if you bit into them. Remember, they will continue to soften as they cook so if you start with ripe fruit, it will turn to complete mush by the end.
Hard stone fruit can be really difficult to remove the pit from. If that's the case for you, just cut around the pit and no one will ever know. You'll lose a tiny bit of fruit but it will save you the headache in the long run.
Simply add your sliced nectarine, cornstarch, white sugar, lemon zest and juice, and vanilla extract to a large mixing bowl. Use your hands or a spatula to gently stir. All of the slices should be well coated with the mixture without any excess leftover in the bottom of the bowl.
Transfer mix to a very well buttered baking dish while you make the crumble.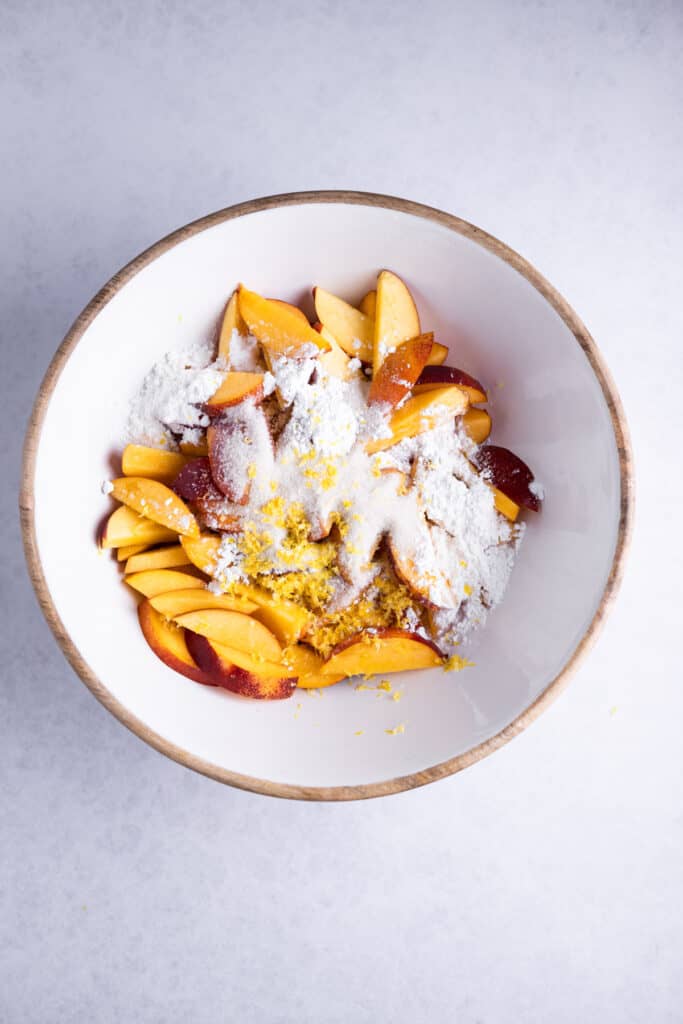 HOW TO MAKE THE CRUMBLE TOPPING
When it comes time to make the incredible crunchy topping for this nectarine crumble, you can either use a food processor, a pastry cutter, or your two hands!
If you're using a food processor, add the flour, almonds, brown sugar, cinnamon and salt to the bowl. Pulse for about 5 seconds to combine the ingredients together. Then add the oats and very cold, cubed butter (I pop it into the freezer for about 30 minutes prior to use) to the mix. Pulse the machine until the butter is incorporated into the mix and is the size of small peas. You want to blitz it up in there so it's still crumbly and not a spreadable mix.
If you're not using a food processor, you can use a pastry cutter like this (also known as a dough blender). Or using your hands, squeeze the butter and oat mix together until the butter is incorporated and pea sized.
FREQUENTLY ASKED QUESTIONS
How do I get the butter as cold as possible for the crumble topping?
–You can cube the butter and place it in a bowl covered with plastic wrap. Pop in the freezer for 30 minutes, or at least while you're preparing the nectarine filling.
Whats the best way to get a pit out of your nectarines when they're not ripe?
First, cut the nectarine in half, around the pit. Twist to free each half. On the side with the pit, if it doesn't pop out easily, you can cut a few wedges off so that more of the pit is exposed, until it comes out. If that still doesn't work with your stone fruits, you can sit your nectarine upright on your cutting board. Make vertical cuts down the fruit around the pit. You'll lose some of the fruit but save your sanity, and fingertips, from trying to get the pit out.
If I don't have almonds, what other nuts would work well?
If you'd like to substitute the almonds I highly suggest hazelnuts, pecans or walnuts as an alternative.
Can you make this nectarine crumble ahead of time and freeze it?
Yes! You can assemble to completion without baking and store in your most airtight container. It will last for up to 3 months in the freezer if airtight. When the time comes to bake, you can put it directly from frozen into a 350 degree oven. Bake for 45 minutes with foil over the top. Remove the foil after 45 minutes and bake for another 20-30 minutes, or until the juices are bubbling and the top is golden brown.
Should my nectarines be ripe for this recipe?
No! If your fruit is already ripe, by the time you bake it for 40 minutes it will turn to complete mush. This is the perfect recipe when you have a bounty of fruit that's not ripe enough to eat fresh. You want nectarines that have just a tiny bit of softness to them when you give a gentle squeeze.
Should I use unsalted or salted butter?
I prefer to use unsalted butter when it comes to baking so that I can control the salt content. However, if you only have salted butter on hand, just omit adding a pinch of salt to the mixture.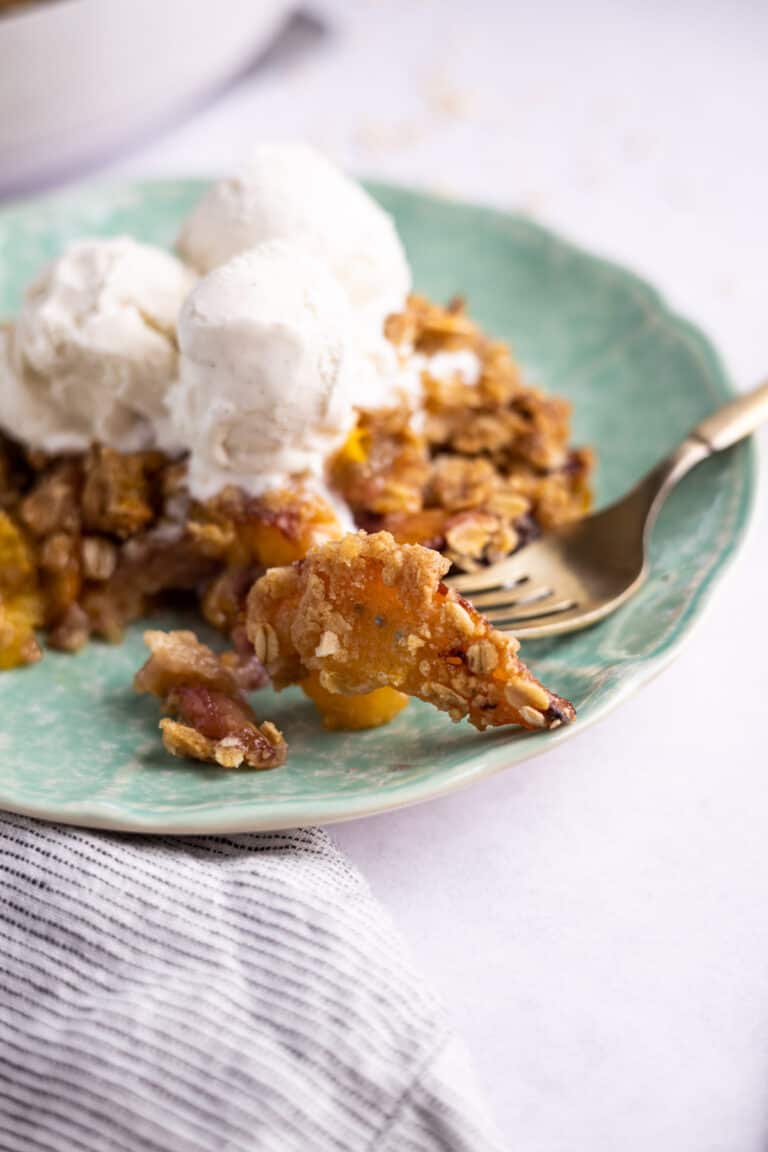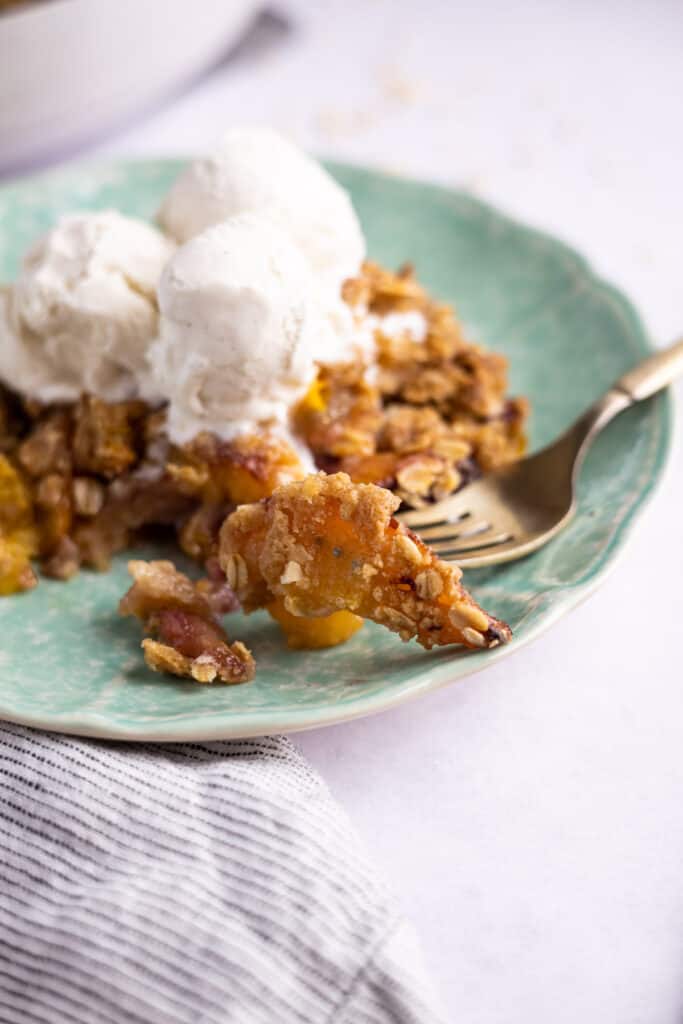 WHAT OTHER FRUITS WORK WELL WITH THIS CRUMBLE
If nothing else, make sure you save this recipe for the crumble topping! Then you can use it on whatever fruit is in season! During the summer, I love plain old nectarines but if I don't have enough on hand I'll often add blackberries, blueberries or raspberries to the mixture.
Peaches and plums are classic crumble stone fruits as well. In the fall and winter, you can switch it up with apples! That way you can enjoy this incredible dessert all year around by swapping out the fruit. Win!
If you're looking for other recipes that celebrate the fresh fruit of summer, try this peach salmon bowl or strawberry quinoa salad.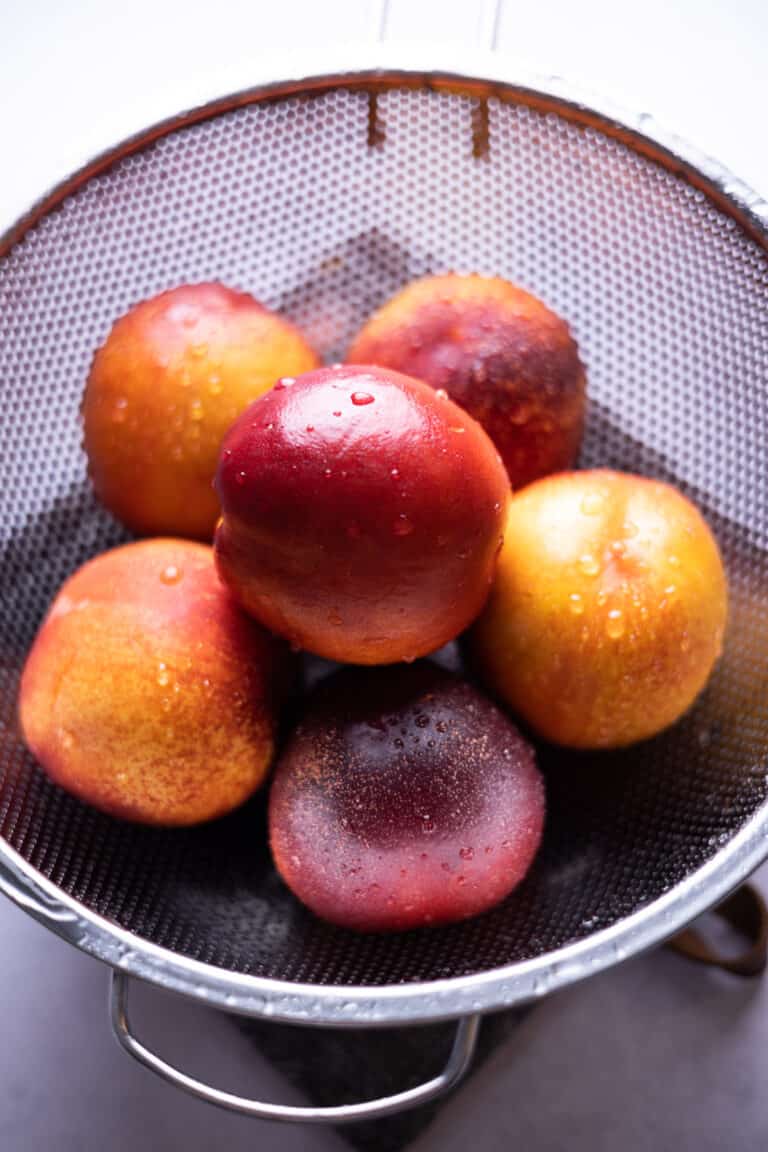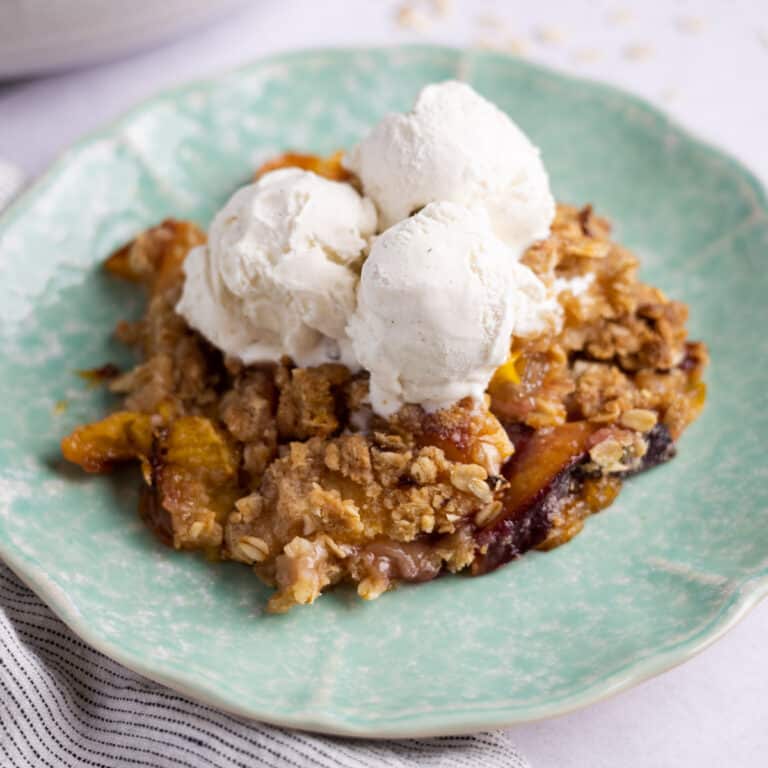 Nectarine Crumble
This not-too-sweet summery nectarine crumble has the most addictively crunchy oat topping thanks to a healthy dose of almonds. With minimal added sugar, the flavor of the nectarines shines through for a standout summer dessert!
Ingredients
8

underripe nectarines

1/3

cup

granulated sugar

1

lemon

zested and juiced

1

teaspoon

pure vanilla extract

2

tablespoons

cornstarch

1 1/4

cup

all purpose flour

2/3

cup

old fashioned rolled oats

2/3

cup

brown sugar

1/2

teaspoon

ground cinnamon

3/4

cup

chopped almonds

pinch

kosher salt

1 1/2

sticks

cold unsalted butter
Instructions
Preheat your oven to 350 degrees.

Cube your unsalted butter and place in a bowl. Cover with plastic wrap and place in the freezer while you prep the rest of your ingredients.

Slice your nectarines into 1/4" thickness, leaving the skin on.

In a mixing bowl, combine the nectarine slices with 1/3 cup granulated sugar, lemon zest, lemon juice, vanilla extract, and cornstarch. Gently stir until the fruit is coated in the mixture and there's no excess mixture in the bottom of the bowl.

Transfer fruit to a well buttered 9×13" baking dish or enamel braiser.

Using a food processor, add the flour, brown sugar, cinnamon, almonds and salt. Pulse for 5 seconds to combine. Then add old fashioned rolled oats and cubed butter. Pulse quickly until the butter is incorporated into the flour mix and resembles the size of peas.

Evenly scatter the crumble mix over the nectarines. Bake at 350 degrees, uncovered, for 35-40 minutes, or until juices are bubbling and crumble topping is golden brown. Let sit for 15 miuntes to cool before digging in.
Notes
Expert Tip
Start with underripe nectarines.  You don't want them to be rock hard though.  They should have the slightest give to them when gently squished, but still too hard to take a bite out of and enjoy fresh.
Make sure your butter is extra cold when you incorporate it into your oat mix.
If you don't have almonds, try hazelnuts, walnuts or pecans.
Double your batch of crumble topping and keep in the freezer so you can easily whip up another batch later on.  Your future self will thank you!
This crumble is infinitely better with vanilla ice cream on top.