Breakfast is the easiest meal of the day to throw by the wayside when life gets busy. That's why I love to meal prep these pb&j quinoa overnight oats at the beginning of the week. I snag one on my way out the door in the morning and they keep me fueled up for hours. Now you have no excuses for skipping breakfast!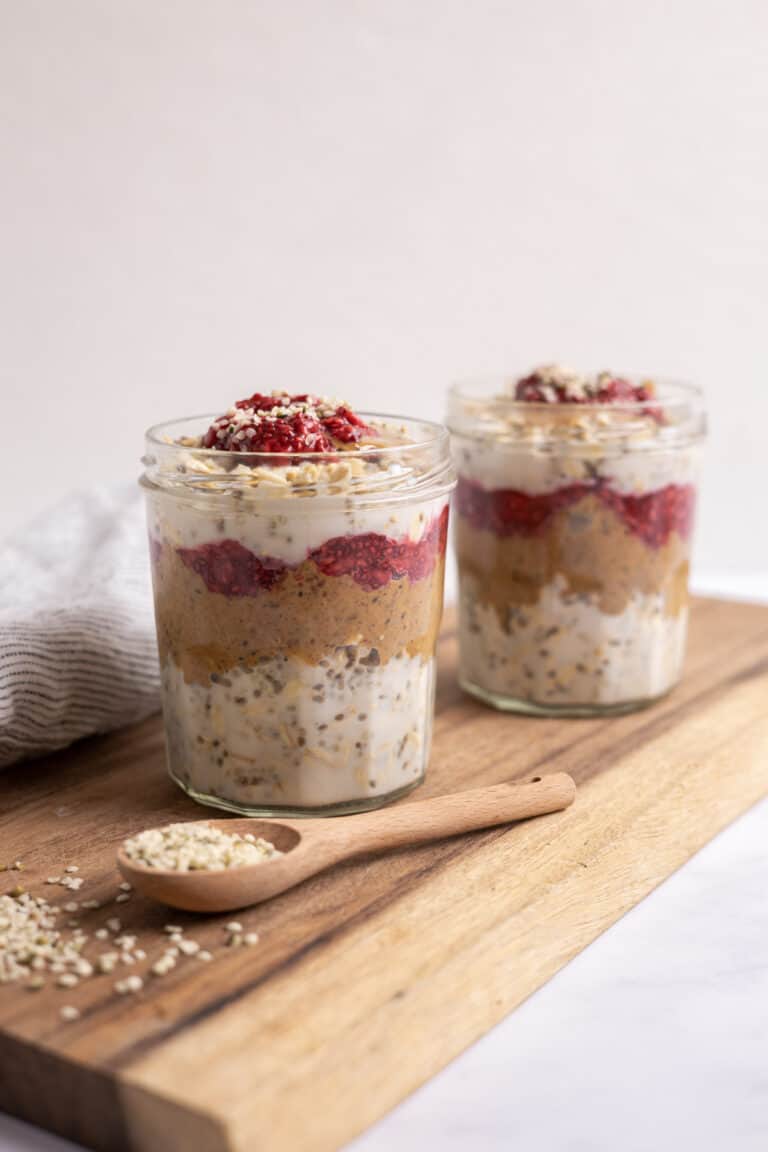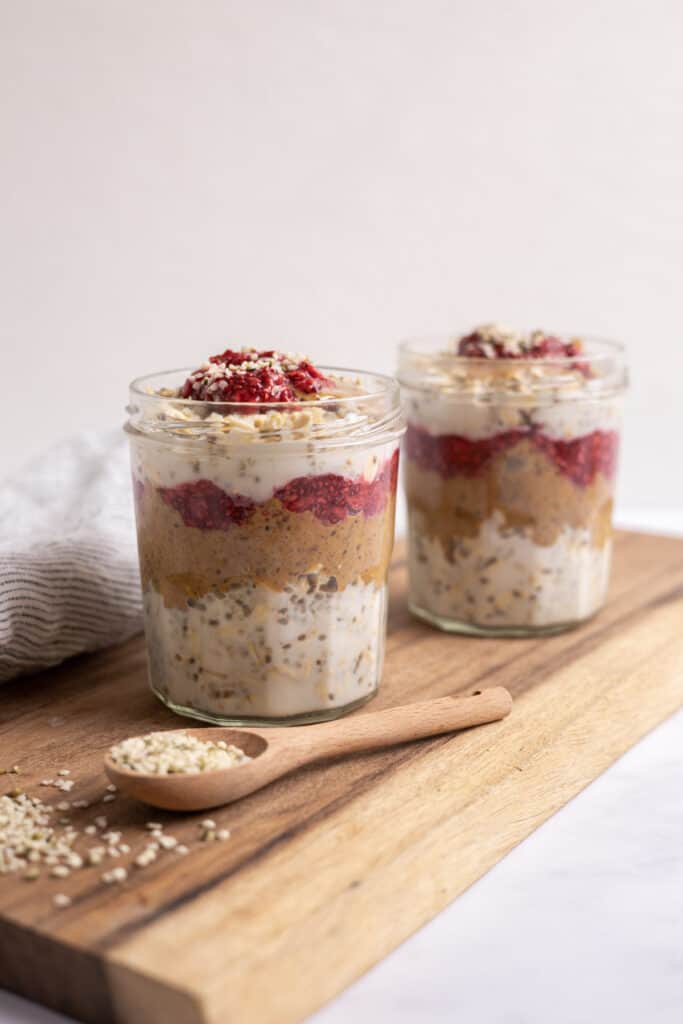 Meal Prepping Overnight Oats
Quinoa overnight oats are made for meal prep! Here are a few of the reasons why I'm absolutely in love with this recipe:
The recipe takes five minutes to pull together
It's gluten-free if you make sure to use GF oats
Oats are high in fiber and lowers your blood sugar levels
Oats help you feel full so you're less likely to snack
The quinoa keeps it light so you don't feel weighed down by the oats
By using almond butter and homemade chia jam you can keep the sugar levels to a minimum
Personally, I prefer mason jars because the lids screw on tightly, they can stack in the fridge, and are more eco-friendly than plastic containers. I like to layer the oats, almond butter, and chia jam in the jars so that I can choose if I want a bite that's full of almond butter, or jam, or all of the above!
How to Freeze Quinoa Overnight Oats
If you really want to prep your oats in advance you can even freeze them. There's just a few easy steps and tips you want to follow if doing so.
Make sure your containers are freezer proof. Plastic and glass work best for this.
Wait to add your add-ins until serving. It's best if you only freeze the oat mixture without the jam and peanut butter layered in.
Make sure you leave space for expansion in the jar. Don't fill your container all the way full with the oat mixture or it could expand and break the container leaving you with a HUGE mess.
After you make your oat mixture, immediately freeze your individual containers. If you put them in the freezer immediately instead of into the fridge, it will keep the oats from absorbing all the liquid and swelling up.
When you're ready to eat your oats, you can either defrost your jar in the fridge overnight, or leave them on the counter at room temp for 4 hours (best if you aren't a fan of cold oats)
One your oats have thawed you can add in your nut butter and jam, or whatever fresh fruit and toppings you prefer!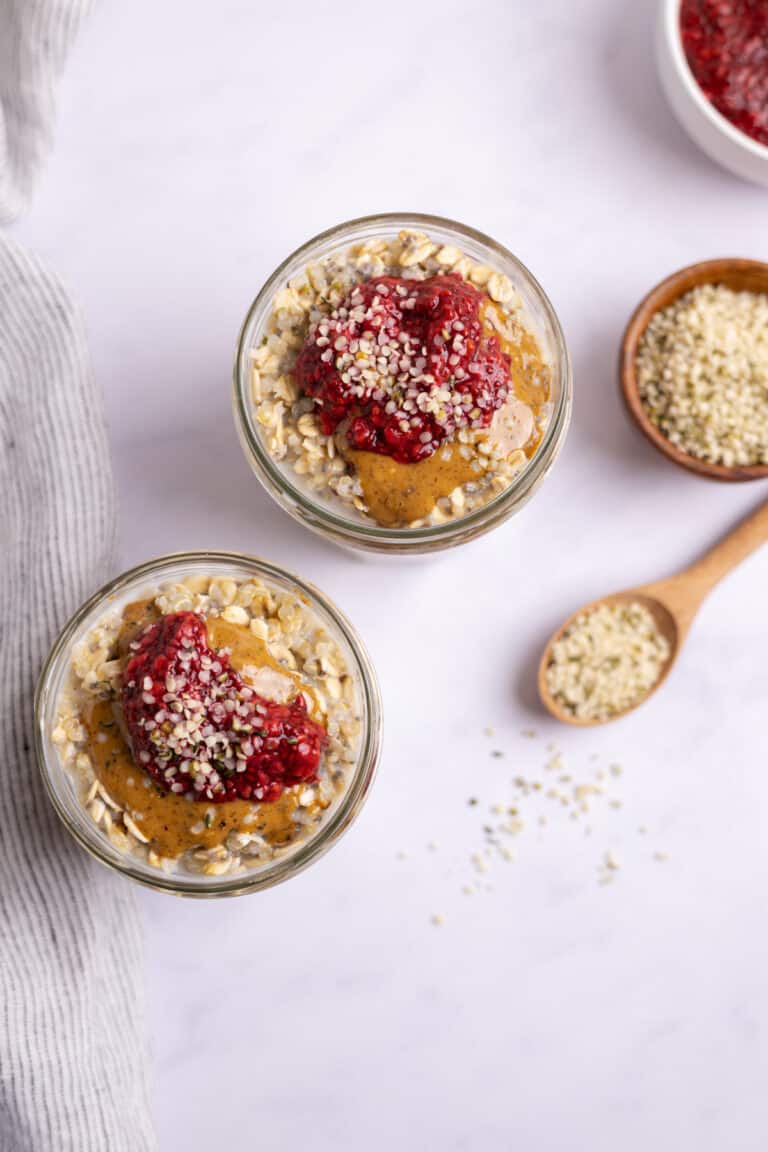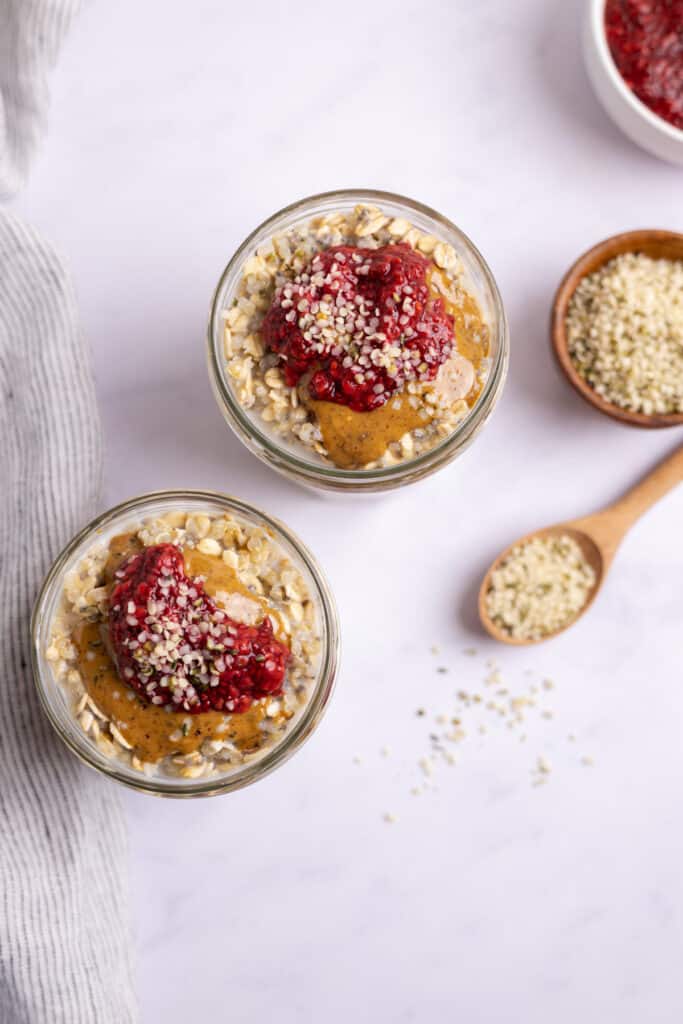 Ingredients & Substitutions
I probably sound like a broken record at this point, but I try extremely hard to make sure that all my recipes are super customizable to your diet and tastebuds. This pb&j quinoa overnight oats recipe is no different! Here's what you'll need and how you can switch things up:
Oats-Obviously! They are the main ingredient! Oats are naturally gluten free but sometimes get trace amounts of gluten during processing so if you're sensitive to that, make sure you look for GF oats. You'll want standard rolled oats and not instant or steel cut.
Quinoa-I know it sounds super weird but the quinoa helps keep the overall mixture light and fluffy! You can of course use solely oats, but the texture will be a little heavier.
Chia Seeds-These are also optional but I suggest you give them a try because chia seeds are full of fiber and omega 3 fatty acids. If you don't have them, feel free to just leave them out all together.
Maple Syrup-I love the flavor that maple adds to the mix but honey or agave would also work just fine.
Oat Milk-Oat milk just enhances the overall oat flavor in this recipe. Almond, hemp, soy and dairy milk would also swap out beautifully.
Almond Butter-I like to use unsalted, unsweetened almond butter to keep the sugar low but you can use any nut butter you prefer and it will still be delicious!
Raspberry Jam-Making your own chia jam lets you reap the extra health benefits of the chia seeds while also keeping the sugar levels much lower than keeping store-bought jam. But if all you have is store-bought, then go for it!
Benefits of Adding Quinoa to Your Overnight Oats
It may seem strange to add quinoa to an overnight oats recipe, but don't knock it til you try it! By cutting through the oats with quinoa, you get a light and fluffy texture with just the tiniest bit of crunch thanks to the chia seeds. You can use solely oats, but then you won't get the major protein boost that quinoa provides.
Making a huge quantity of a grain like quinoa at the start of the week is one of my pillars to batch cooking! If you get into the habit of doing that, then you'll have quinoa on hand to add to your overnight oat recipes too! Using my 1 minute instant pot quinoa recipe couldn't be easier.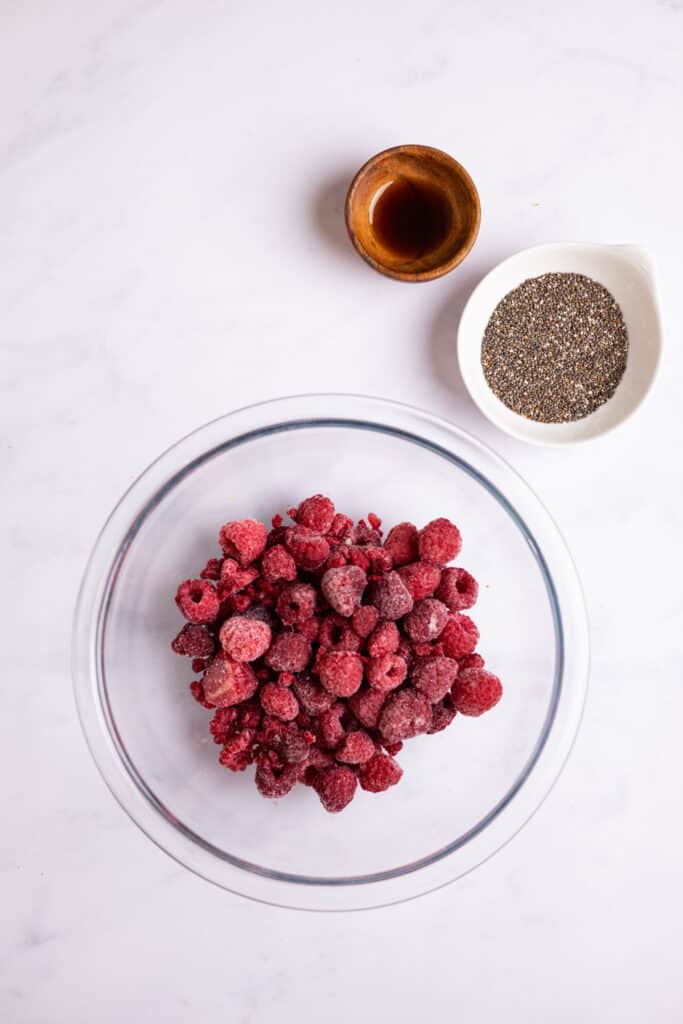 How to Make Chia Seed Jam
Sure you *could* just use store-bought jam in a pinch, but if you want to go the extra mile you should really give this chia seed jam a try! Plus you can control the amount of sugar much better by making your own. Chia seeds are great because they are:
a true complete source of protein! (often found only in animal protein)
packed with omega 3 fatty acids
one tablespoon contains 5 grams of fiber
can be used as an egg substitute for vegans
You don't even need fresh fruit to make a your own chia seed jam! Since it's almost November now, I rely heavily on frozen fruit. I defrosted two cups of frozen raspberries and then mashed them up with a fork. Then, I added the chia seeds and let it sit for about 5 minutes. The chia seeds will give the same effect as pectin and help the "jam" set up and thicken.
In just about 5 minutes, you have homemade jam! I didn't add any additional sugar to this jam since I was already sweetening up the oat mixture with maple syrup, and I didn't want the recipe to be overly sweet.
Frequently Asked Questions
Why do you add quinoa to your overnight oats?
Adding quinoa to the mix helps add a lightness to the texture of the oats. For those people who find that overnight oats made purely with oats is too much fiber or too heavy in their stomach, adding quinoa solves that problem! Plus it adds extra protein!
What milks work well in overnight oats?
Aside from cow milk, alternative milks that work great are: soy, hemp, almond, coconut, rice and oat milk!
What nut butters work well in overnight oats?
My favorites are peanut and almond butter but you can also use sunflower butter or cashew butter with great success. Whatever works best with your dietary restrictions and taste preferences. This recipe is endlessly customizable!
How long will these peanut butter and jelly quinoa overnight oats last in the fridge?
Technically these meal prepped mason jars with the overnight oats will last up to five days easily in the fridge. However, I think they are best when eaten within the first three days of making them.
Can you freeze overnight oats?
Yes! You just need to make sure your mason jars, or whatever container you're using, are freezer safe. They will last up to three months in the freezer.
Do you eat these warm or cold?
Most people eat them cold or at room temperature. You can warm them up but that will make your nut butter and jam have a runny texture. If you prefer them warm, I would prep the jars without your layered nut butter and jam and instead add those to the top after the oats have been warmed up.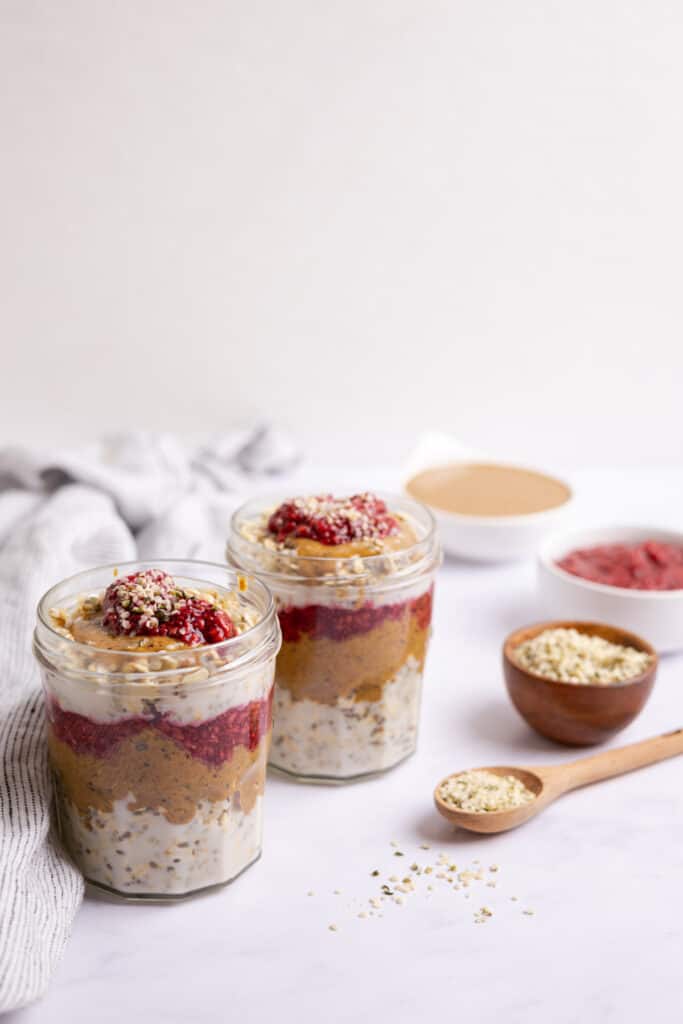 Other Overnight Oats Recipes to Try
The beauty of overnight oats is that once you have your base recipe, you can sub out for a wide variety of different flavor combinations. Here are some that I think you should try!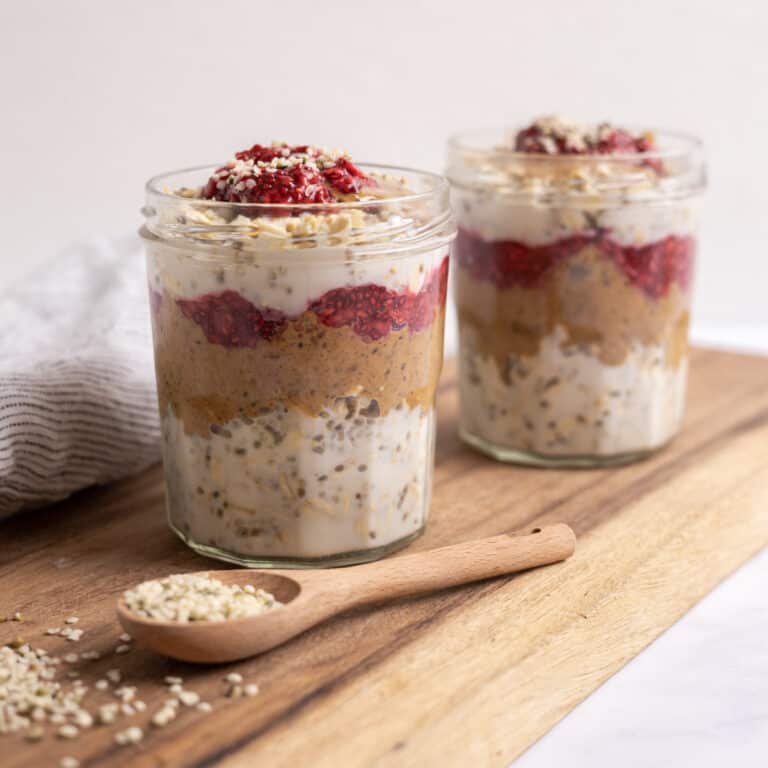 Quinoa Overnight Oats
These PB&J quinoa overnight oats are the perfect grab and go breakfast option that you can meal prep and snag on your way out the door in the morning!
Ingredients
2

cups

cooked quinoa

1 1/2

cup

old fashioned oats

2

tbsp

chia seeds

1/3

cup

maple syrup

3

cups

oat milk

1

cup

almond butter or peanut butter
2

cups

frozen raspberries

2

tbsp

chia seeds

1/2

tsp

vanilla extract
Instructions
In a mixing bowl, combine 2 cups cooked quinoa, 1 1/2 cups old fashioned oats, 2 tbsp chia seeds, 3 cups oat milk and 1/3 cup of maple syrup. Stir well to combine.

Cover mixture with a lid and refrigerate for at least 2 hours, but preferrably overnight.

In a small bowl, defrost the raspberries in the microwave until soft. Add the chia seeds and vanilla extract and stir to combine. Let sit for 5 minutes and it will thicken.

To assemble layer oat mixture with almond butter and chia seed jam. Top with hemp hearts or crushed nuts.
Notes
Make sure and use old fashioned oats and not instant oats in this recipe.
You can substitute regular milk, or any other milk alternatives that you have on hand. 
These will keep assembled in the fridge for 4 days.  
This recipe will fill four mason jars approximately 12-16oz..