It's hard to beat fresh corn in the summertime, and this recipe celebrates it's natural sweetness with a vibrant salad. You will absolutely love the rainbow of colors and punch of flavor. Take this raw corn salad to any summer bbq or potluck and watch your guests ooh and ahh.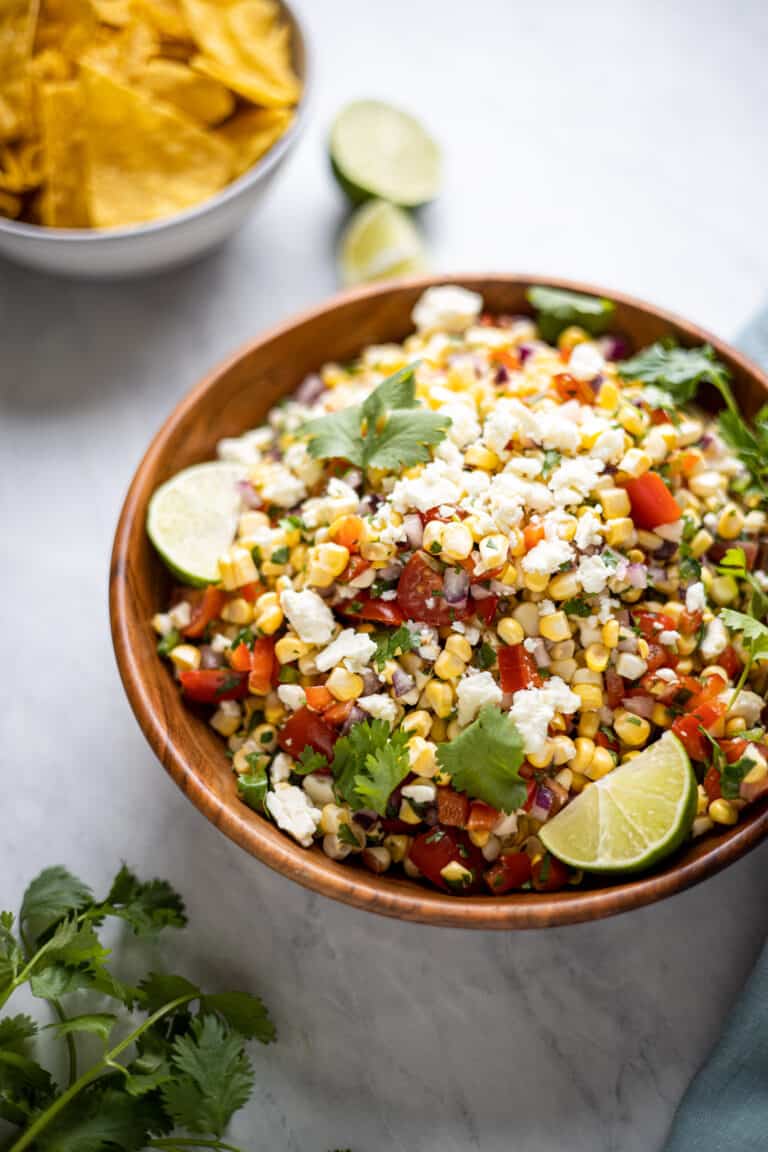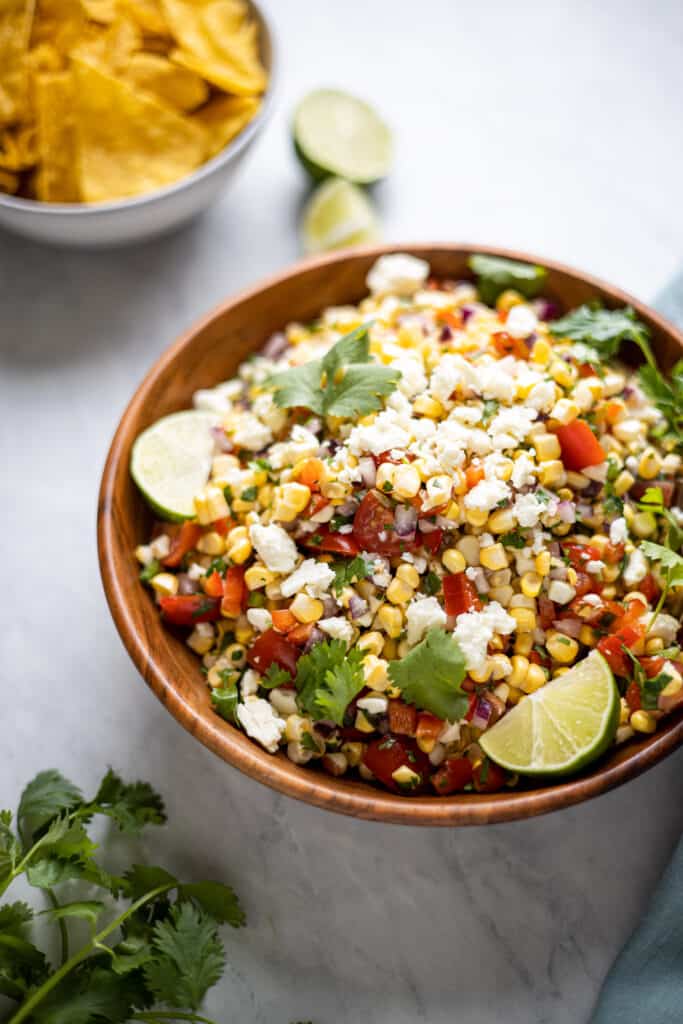 There's so many things to love about this salad! Once you give it a try, you'll find out why it's one of my most requested recipes from friends and family whenever I bring it to a gathering.
Super fresh!-Nothing beats raw, summer produce when it's at it's absolute best!
Crunchy-All those raw corn kernels, red onion, bell pepper make for an irresistible crunch.
Tangy-Loaded with lime juice and a splash of tequila, the tang factor is unreal in this corn salad
Quick and Easy-There's literally no cooking involved in making this salad so you can whip it up in just 10 minutes without ever turning the stove on.
Vegetarian and Gluten Free-If you're bringing a dish to a party where you don't know the guests dietary restrictions, this dish is a no brainer! It checks all the boxes of being vegetarian, gluten free, and nut free.
Customizable-You can throw in lots of different veggies to make this salad your own. Avocado is one of my favorite additions. Or use a vegan cheese alternative to make it vegan and dairy free!
Meal prep friendly-You know if it's from my, it's going to be meal prep friendly! You can prep this salad a day in advance and the flavors will get better and better! No last minute assembly while you're trying to have fun and party.
INGREDIENTS AND SUBSTITUTIONS
The list of ingredients for this raw corn salad is pretty short and the most important thing is using this produce when it's at peak freshness and sweetness during the summer months. However, here are some easy swaps in case you can't find one of the items or just want to play around and have fun with other flavor combos!
Corn-Since raw corn is the shining star of this recipe, it's important to find the freshest corn available. You can skip to the section below on how to shop for corn. I don't recommend using frozen corn in this recipe as it drastically changes the flavor and texture of the salad
Bell Pepper-You can swap red bell pepper for orange or yellow bell peppers, but I'd stay away from the green ones as the flavor isn't sweet like its counterparts and will change the flavor profile.
Cherry Tomatoes-I love the sweetness of cherry tomatoes but you can absolutely swap out for some beautiful heirloom, roma, or on the vine tomatoes.
Red Onion-I often switch between red onion and shallot for this recipe so feel free to play around with that. White onion doesn't add the same color contrast, potency or sweetness but can be subbed out in a pinch with success.
Cilantro-There's no perfect substitute for cilantro but if you're one of the unfortunately few who has the gene that makes it taste like soap, you can leave it out completely. For a pop of green color, try some minced chives on top.
Feta Cheese-I love that feta holds it's shape in this summery salad and adds some nice tang but if you can find Cotija then that's even better! Goat cheese won't hold up in this salad unfortunately.
Tequila-You can use mezcal in a pinch or omit the tequila entirely.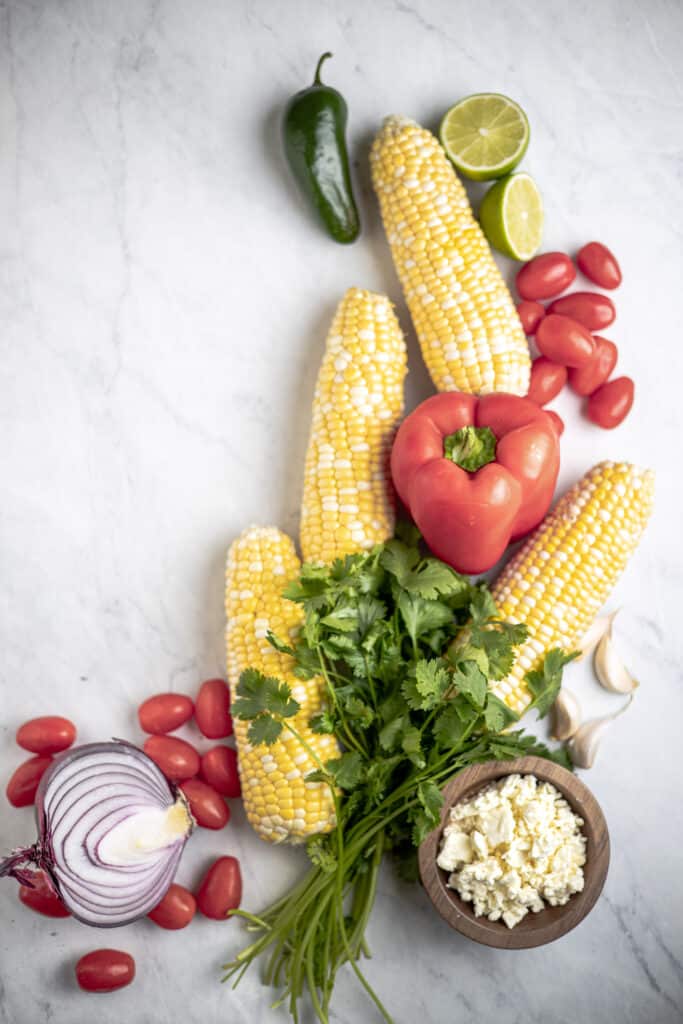 HOW TO MAKE THIS CORN SALAD
Luckily, this salad doesn't involve any actual cooking! That's the beauty of using the raw corn kernels which are extra juicy and sweet when you eat them raw. If you've never tried raw corn before, you're in for a treat!
Sharpen your knife because this salad relies on a lot of chopping, dicing, and mincing to come together. You're going to make the dressing right in the bowl too so no separate container required for that. I wasn't lying when I said this is one of the easiest salads you can throw together!
Let me show you just how easy it is!
FREQUENTLY ASKED QUESTIONS
Can you use frozen corn?
Technically you could use frozen corn in a pinch, but I wouldn't recommend it. The texture of frozen corn is more mushy and it doesn't offer the same crunch and sweetness. If you insist though, the Trader Joe's fire roasted frozen corn is my favorite.
Is there a particular type of fresh corn that works better?
You can use yellow, white or bicolor corn on the cob. The important thing is that it's in season and at its optimum freshness for the most sweetness and juiciness.
How far in advance can you make this raw corn salad?
I like to prep it just one day in advance at the most. If you make it too far in advance, you'll lose some of the crunch in the fresh veggies. I wait until just before serving to add the feta so it keeps it's shape and sharp white color.
How much does this recipe yield?
You'll end up with about 6 cups of corn salad.
How do I make this recipe vegan or dairy free?
All you have to do is leave out the feta completely, or use a dairy free cheese alternative.
When is corn in season?
Corn is in season from Jun-August.
Is this salad meant to be eaten warm or cold?
This corn salad is best when eaten cold or at room temp. You do not need to heat it up.
What tequila is best to use in this salad?
You can't to use a really good quality tequila for this salad. My recommendations are Espolon and Casamigos.
WHY ADD TEQUILA TO THIS SALAD?
You may be thinking, why add tequila to this corn salad? Well, it's my sneaky little trick to add a splash of flavor. It's that hint of something that makes people ask "What's that flavor I can't quite put my finger on?"
Plus it makes this salad taste UH-MAZING when paired with a big ol' margarita!!!
Does it make this raw corn salad not kid-friendly? Well, technically, yes… BUT there's only one tablespoon for a total of 6 cups worth of salad. So that's only half a teaspoon per cup of salad which is super minimal. But use your own parental discretion!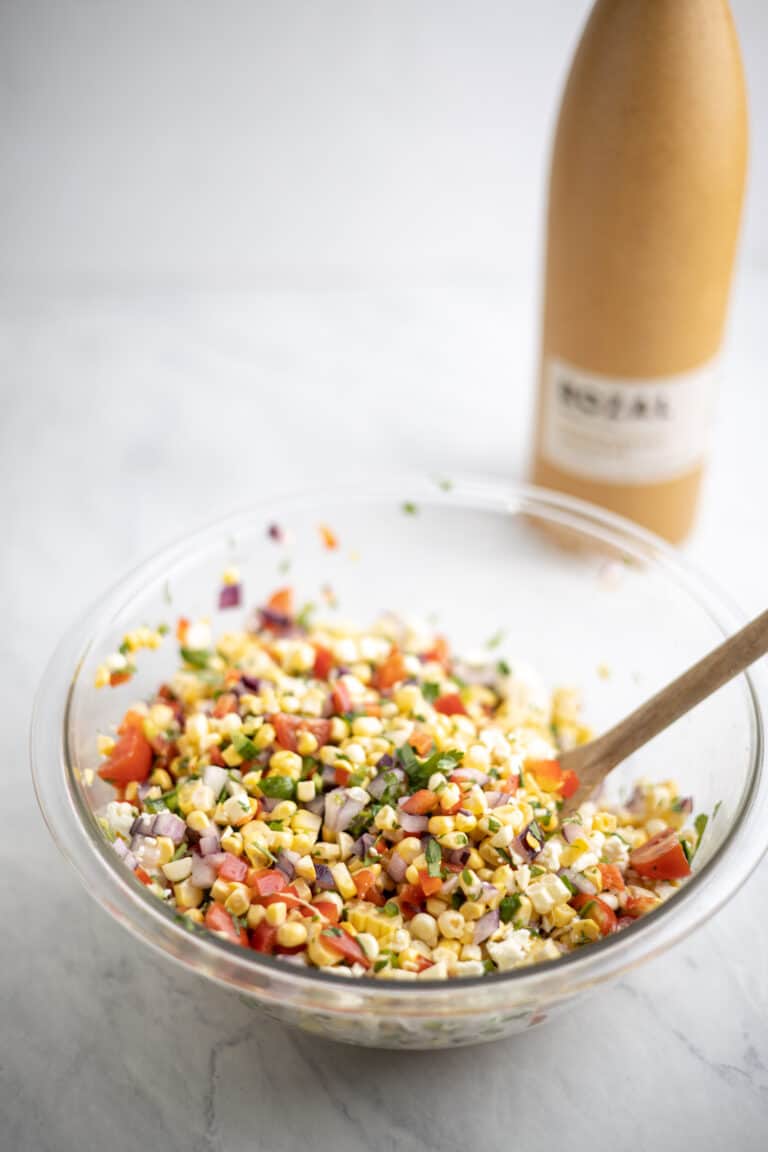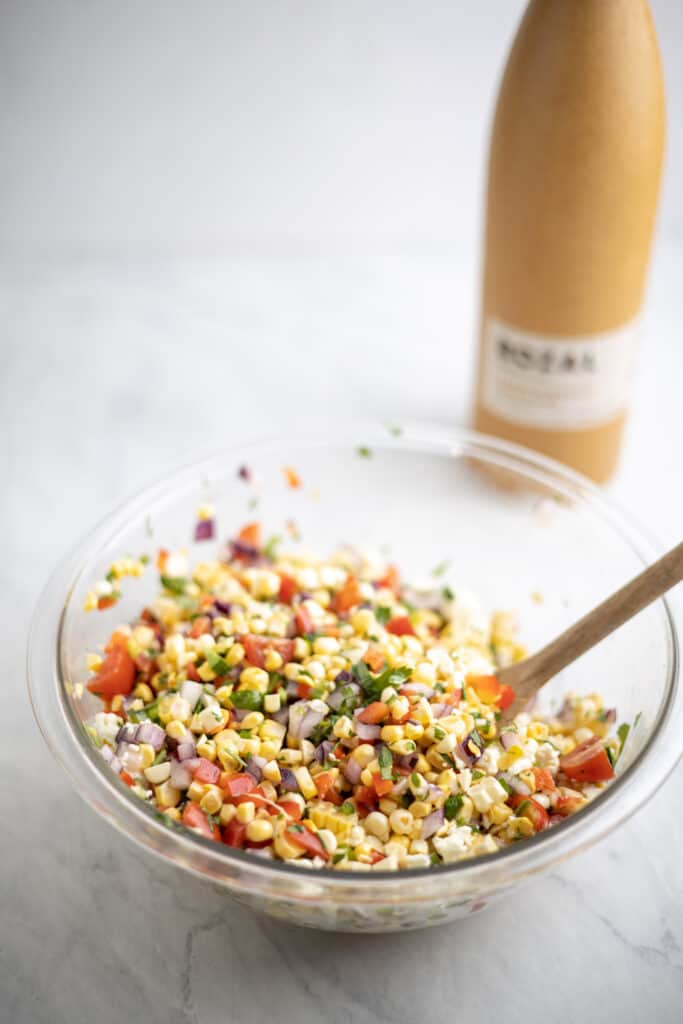 WHAT TO SERVE WITH THIS RAW CORN SALAD
My favorite thing about this raw corn salad recipe is that it makes a huge batch, which is perfect for packing up for bbq's picnics, parties or any gathering with lots of hungry bellies. But even if I don't have a party to take this too, I'll still make the full batch and spoon it over all sorts of dishes. I love it on:
Tacos-obviously! My favorite is to spoon it over pulled pork tacos to cut through the richness of the meat.
Over grilled shrimp skewers!
On cauliflower rice burrito bowls
Spooned over grilled flank steak
With a big bag of Juanitas tortilla chips! (my all-time favorite brand of chips)
Stuff avocado halves with the corn salad for a delish and pretty appetizer
CAN YOU GRILL THE CORN ON THE COB
Absolutely! I love grilling the corn ahead of time to add some nice char and a smokey element to the salad. It takes a little extra time, roughly 10 minutes of babysitting it on the grill, but that extra effort is rewarded with pure deliciousness!
I make this recipe with raw corn for the extra simplicity and time saving element. In addition, raw corn has a pop of unexpected sweetness that can't be replicated with grilled or boiled corn. But either way you decide to go about it, you'll end up with an incredible dish to share with your loved ones.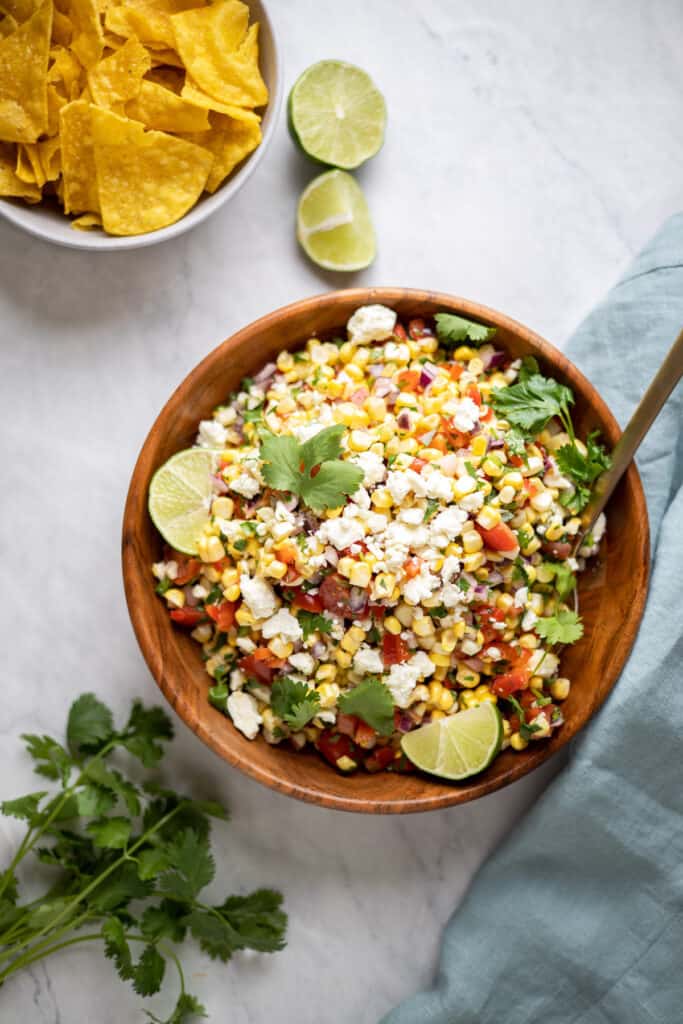 HOW TO MAKE THIS SALAD VEGAN
As it is written, this recipe is naturally vegetarian and gluten free. The feta cheese is what keeps it from being vegan or dairy free. You can leave the feta out completely, or you can find a dairy free and vegan cheese substitute to use.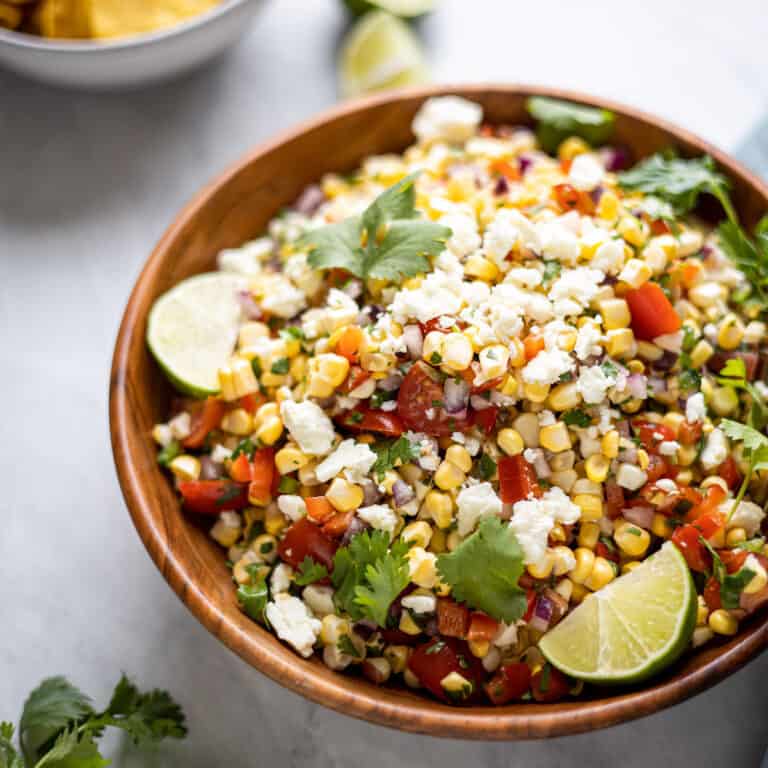 Raw Corn Salad with Tequila Lime Dressing
Ingredients
4

ears

fresh corn

1/2

red onion, small diced

1

medium red bell pepper, small diced

1

jalapeno, seeded and minced

1

pint

cherry tomatoes, halved or quartered depending on size

4

cloves garlic, minced

1/3

cup

fresh cilantro, roughly chopped

2

limes, zested and juiced

1

tbsp

good quality tequila

2

tbsp

extra virgin olive oil

3/4

tsp

ground cumin

1 1/2

tsp

kosher salt

1/2

cup

crumbled feta cheese
Instructions
In a bowl, using a sharp knife cut the kernels off of the cob by holding the cob vertically and running your knife down towards the bowl so it collects all the kernels.

Add the diced red onion, diced red bell pepper, halved cherry tomato, minced jalapeno, minced garlic and chopped cilantro to the bowl. Add the lime zest and juice, tequila (if using), olive oil, and season with the salt and cumin. Mix well.

When read to serve, stir in half of the feta and sprinkle the remaining half of the feta over the top. Enjoy cold!
Notes
EXPERT TIPS
You can make the corn salad 1-2 days in advance but refrain from adding the feta cheese until just before serving.
You can omit the tequila all together to keep it kid friendly.  
Frozen corn won't work well in this recipe, but you can grill the corn ahead of time for a smokier flavor!
As is, this recipe is vegetarian and gluten free.  To make it vegan and dairy free you can leave the feta cheese out all together, or use a dairy free feta substitute.