This root vegetable hash taps into the best of fall's flavors with beets, potatoes, shallots and sweet potatoes. Add some nutrient rich kale, fresh herbs and a fried egg on top and you've got yourself a delicious breakfast!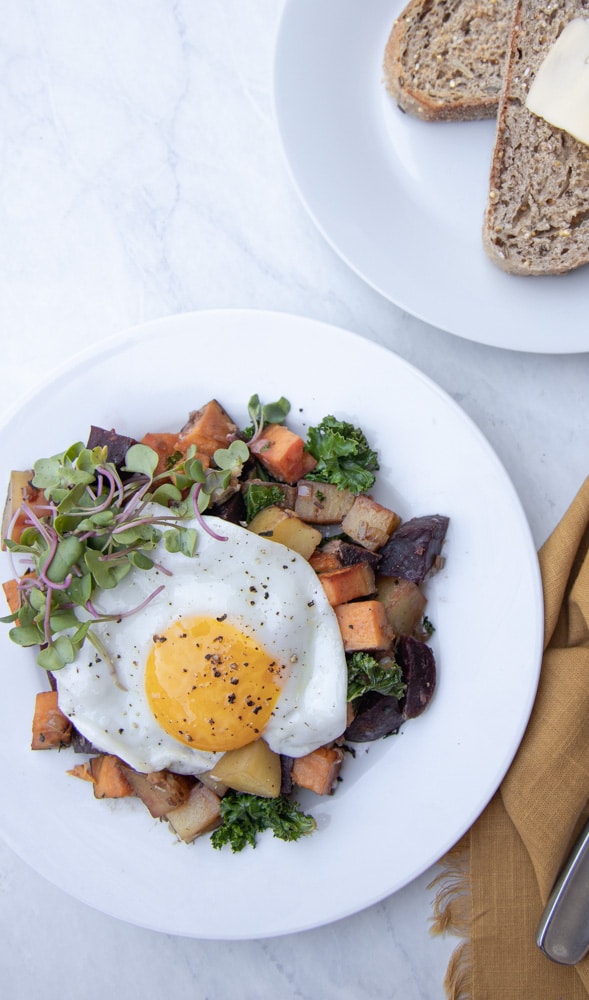 Meal Prepping your Veggie hash
Back when I owned a cafe, we had some epic breakfasts, like this one! With a restaurant, you always have to think about how you can prep a dish ahead of time so it can be sent out to a customer within 10 or so minutes of them ordering it. It was always a logistical juggle and not every recipe was destined for the menu because of that factor.
Recipes like this root veggie hash were perfect because you can cook the mix ahead of time and toss it in a hot skillet to reheat and get those crusty edges before serving. That's also what makes it so great for breakfast meal prep! Root vegetables are nice and hearty and will stand up well after a few days in the fridge. You can either serve it up with a hardboiled egg, or fry up a fresh one when you're ready to eat.
Breakfast Hash ingredients and substitutions
Sweet Potatoes: I love the sweetness they add to this dish! If you're not a fan you can just substitute all Yukon gold potatoes or try another one of my favorites, parsnips!
Potatoes: I love Yukon golds in this recipe but if you don't have them, russets or baby reds will also stand in just fine.
Beets: You can always roast them yourself from scratch but that's going to add some serious cook time. Instead, I opt for pre-steamed and peeled beets (like these ones from Trader Joes that I use in my lemon beet hummus recipe) because they will make your life SO much easier.
Onions and Garlic: Shallots or yellow onions work best in this recipe. You want them to get nice and caramelized to add to the sweetness. Garlic because duh.
Kale: I love nutrient rich kale and it's hearty enough to hold up in this recipe. Spinach wilts down too much, but swiss chard is an excellent alternative. Or use the beet greens if you bought them fresh!
Thyme: I opt for fresh thyme as the flavor is unparalleled. In a pinch, you can use dried thyme. Parsley or fresh rosemary would also be good substitutes.
This root veggie hash happens to be vegetarian, but if you're a meat lover (no judgement here!) then by all means add some bacon or deliciously salty corned beef to the party.
tips for Making this root vegetable hash
Here are some pointers for making sure your hash turns out truly incredible!
Cut all the root vegetables roughly the same size so that they cook evenly
Add your ingredients in stages since they will have different cook times. Start with the root vegetables and onions. I will often add a splash of water to the pan and cover it with foil so that the steam makes sure they cook all the way through without getting burned on the outside. It takes about 15 minutes for them to get "al dente" so that they are fork tender without being mushy.
Then add the kale, garlic and fresh thyme. Give it a good stir. It should take about 5 more minutes to wilt the kale a little bit and toast the garlic.
Nestle your eggs into the mix if you have a good non stick pan. They will take about 8 minutes on medium low heat for the whites to cook through. Otherwise fry them separately so they don't stick.
I like a cast iron skillet because you'll get a nice charred crust on the vegetables, but any deep and heavy skillet will work.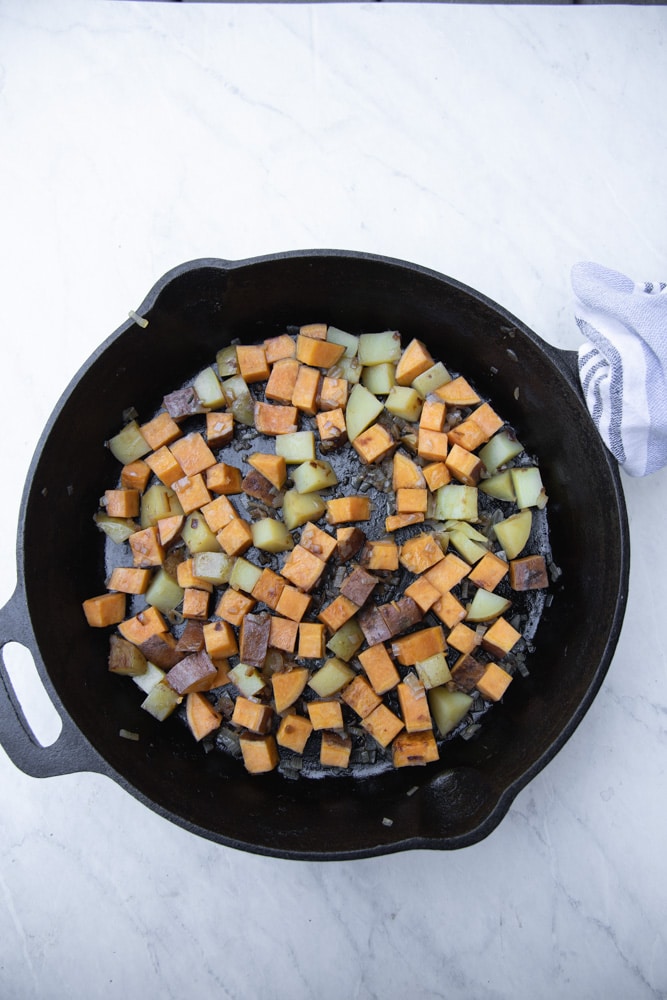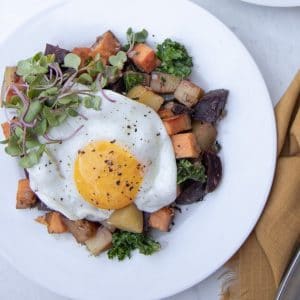 Root Vegetable Hash
This root vegetable hash taps into the best of fall's flavors with beets, potatoes, shallots and sweet potatoes to make for a delicious breakfast!
Ingredients
2

cups

sweet potato, diced 1/2" thick

1.5

cups

yukon gold potato, diced 1/2" thick

1.5

cups

pre-cooked beets, diced 1/2" thick

2

tbsp

avocado oil

1

whole

shallot, sliced or diced

about 1/3 cup

2

whole

garlic cloves, minced

2

cups

chopped kale, thick stems removed

1

tsp

fresh thyme, minced

4

whole

eggs

3/4

tsp

kosher salt

1/2

tsp

cracked black pepper
Instructions
Heat a deep skillet to medium heat with 2 tbsp avocado oil. Add the diced sweet potato, potato, beets, shallots and 1/4 cup of water. Cover with foil or a lid for 10 minutes.

Remove the lid and saute until all the water has evaporated and the root vegetables are fork tender but not mushy.

Add in the 2 cups of chopped kale, 2 cloves of minced garlic, 1 tsp of minced fresh thyme, 3/4 tsp of kosher sale and 1/2 tsp black pepper. Stir to combine and cook for roughly 5 minutes, taking care that the garlic doesn't burn.

Make 4 little wells in the mixutre and crack 1 egg into each. Cover with the foil or lid again and cook for 6-8 minutes, or until the egg whites are set and the yolks are cooked to your liking. Serve hot.
Notes
If you like a little heat, I recommend adding a pinch of red pepper flakes to the mixture.  
Make sure to sprinkle your eggs with a little extra salt and pepper so they are seasoned as well.
See suggestions in post for substitutions and alternatives.
If meal prepping, root vegetable mix will keep in fridge for 3-4 days.