Looking for an incredibly flavorful and juicy turkey burger recipe? Well look no further than my rosemary garlic turkey sliders with creamy gorgonzola and caramelized shallots! I like to make these turkey burgers slider sized so that I can use them in other recipes as well. Plus, isn't everything better miniaturized?!?
how to make the juiciest turkey Sliders
Turkey has it's pros and cons, but I cook with it A TON. In fact, I always have a pound on hand in my freezer because it's so incredibly versatile. Think: sweet potato and turkey chili, enchiladas, and these adorable patties. And as far as meat goes, it's definitely a healthier option than beef!
The downside? It dries out easily. I tend to opt for ground turkey, and not ground turkey breast, since it has a little extra fat to keep the patties moist. If you're looking to really cut down on calories though, by all means use ground turkey breast. Ground turkey thighs will yield the juiciest turkey burger, but I personally have a harder time finding them.
Lastly, you'll want to cook them in a skillet on the stove. When you grill burgers (even beef), all those delicious meat juices are lost as they drip down into the abyss of your bbq. Where as in a skillet, they will continue to bathe in their own juices, along with some cooking oil, or dare I say a dab of butter *gasp*!
what temperature should your turkey burger be?
Want to know what your real secret weapon in kitchen is? A meat thermometer! Honestly, the best way to get the juiciest turkey burger possible is to use a digital instant-read thermometer to make sure you don't overcook the patties. Like chicken, you want an internal temperature of 165 degrees. Remember though, the temperature will keep rising after you've taken them off the heat source. So, you'll want to pull them out of the pan once they hit 155 degrees, cover with foil and let them rest for 5 minutes. The internal should reach 165 at that point.
In order to make sure they all cook evenly, I form them into equal sized patties using a 1/4 cup measuring scoop. I spray the measuring cup lightly with non-stick spray and then pack the mixture in. Give it a little tap on the bottom and it should release easily. From there I will flatten them in my hands to about 1/2″ thickness.
Meal prepping this recipe
If you're a meal prepper like me, make double batches of the turkey sliders, caramelized onion and gorgonzola sauce. That way, you'll have them on hand for other meals throughout the week. Score!
For a filling meal, I like to wrap these juicy turkey burgers in pita bread for a delicious gyro. As a bonus, it travels super well! Looking for a tasty sandwich? The gorgonzola mayo is perfect smeared onto toasted bread bread and topped with caramelized onions, shredded chicken, arugula, and a little cranberry sauce for good measure.
Assembling your turkey sliders
My recipes calls for caramelized shallots, arugula, and a funky gorgonzola mayo. I start the caramelized shallots first since they take the longest.
Start with a skillet and about 2 tbsp of avocado oil. You want a big enough skillet that the onions aren't stacked on top of themselves because that will cause them to steam and not caramelize properly
Heat to medium-low
Slice shallots to 1/8″ thickness and spread evenly in the pan
Every few minutes give them a little nudge with your spatula so they don't stick
If they do start to stick or get too dark, lower the heat further (on my stove I have to use the lowest setting because it runs hot) and add a tbsp or two of water if they are sticking
You'll start to see the colors caramelizing after about 15 minutes but you'll want to keep cooking until they are deeply, and uniformly caramel colored.
All in all, it will take about 30 minutes if done right. But at that point, your burgers will be ready to eat and you'll have leftover caramelized onions for the week!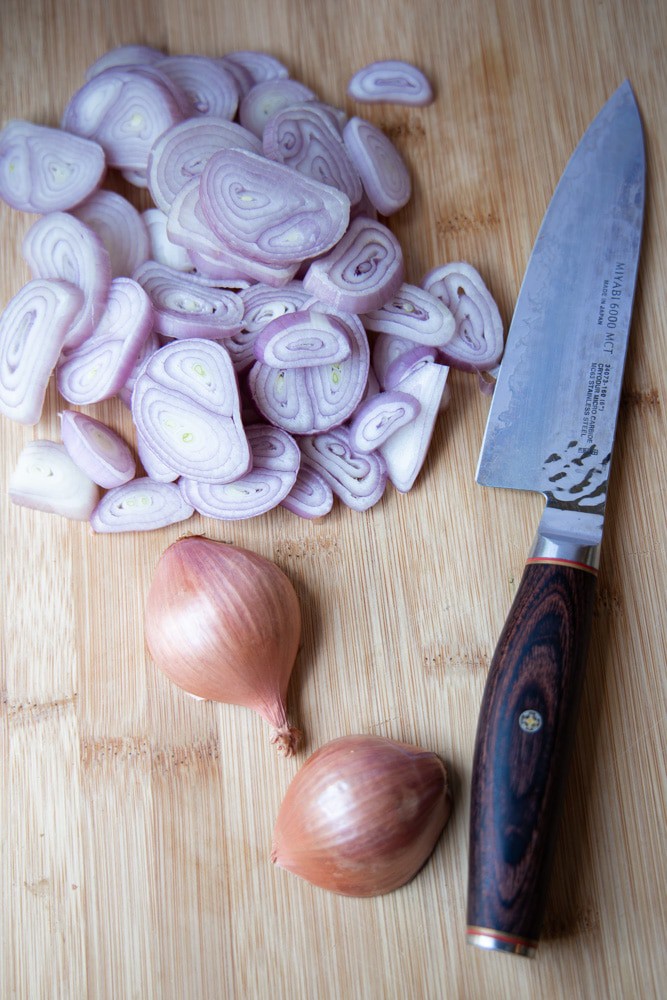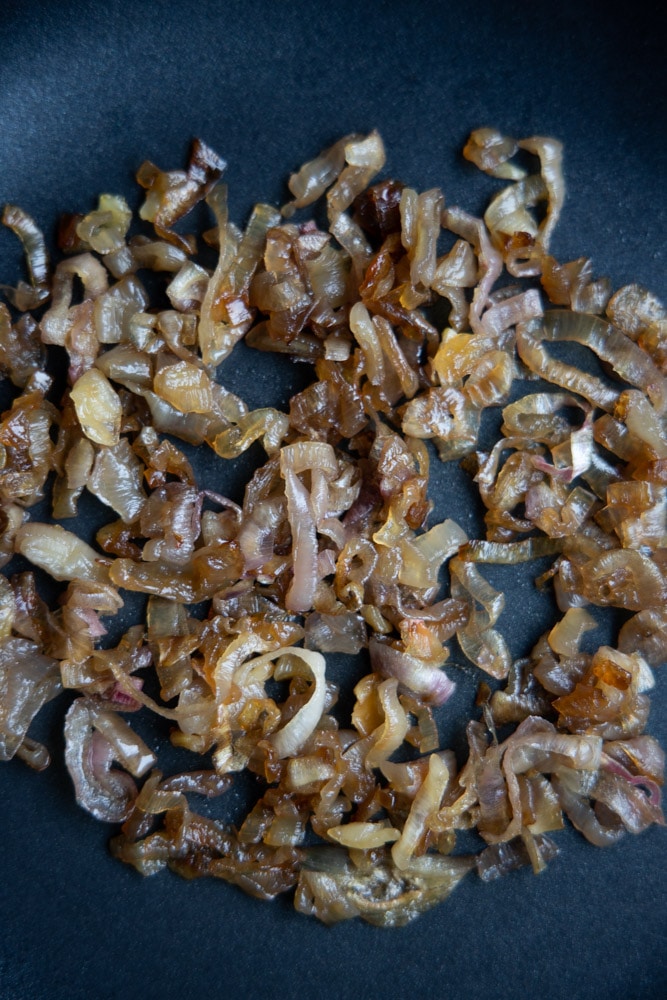 I love to use brioche rolls when I can find them but Kings Hawaiian rolls or any other slider rolls work great. Hell, even sliced and toasted ciabatta bread would be delicious!
For the mayo, I use a 2:1 ratio of mayo to crumbled gorgonzola and give it a stir. Honestly, it couldn't be easier. Add a few cracks of black pepper if you're feeling fancy.
I like to use arugula as the greens in these turkey sliders but watercress would also be great. I would suggest some sort of bitter green that can counteract the richness from the gorgonzola.
Rosemary Garlic Turkey Sliders
These rosemary garlic turkey sliders with caramelized onions and gorgonzola mayo are a delicious meal you'll want to make on repeat all summer long.
Ingredients
1

lb

ground turkey

1 1/2

tbsp

minced fresh rosemary

4

whole

cloves garlic, minced

2

tsp

kosher salt, divided

1/2

tsp

cracked black pepper

1/4

tsp

red pepper flakes

2

cups

shallots sliced 1/8" thick

4

tbsp

avocado oil, divided

1

cup

mayonaise

1/2

cup

crumbled gorgonzola

1

cup

fresh arugula

8

whole

slider buns
Instructions
Caramelized Onions
In a deep skillet, heat 2 tbsp avocado oil over medium low heat

Add sliced shallots and cook for 15 minutes, stirring every few minutes

Add 1/2 tsp of kosher salt and continue cooking until deeply caramelized, about 10-15 minutes more.
Gorgonzola Mayonaise
In a small bowl, combine mayonaise and crumbled gorgonzola. Stir until well combined.
Rosemary Garlic Turkey Sliders
In a bowl combine ground turkey, minced fresh rosemary, minced garlic, 1.5 teaspoons of salt, black pepper and red pepper flakes. Mix until just combined.

Using a 1/4 cup measuring cup, scoop out the turkey mix and then flatten into 1/2" thick patties.

Heat a large skillet over medium high heat with 2tbsp of avocado oil

Working in batches, fry each patty for about 5-7 minutes on each side, until golden brown and internal temperature reaches 155.

Remove from heat and cover with foil for 5 minutes so internal temperature can reach 165.

Assemble by smearing the gorgonzola mayo on the slider bun, top with a turkey patty, caramelized onions and fresh arugula. Enjoy!
Notes
*Ground turkey thighs will be juiciest if you can find them.
*The caramelized onions will yield only 1/2 cup from the 2 cups you start with so if you want leftovers, start with 4 cups worth.