Salmon with pistachio crust is a super delicious dish that's still elegant enough to impress your friends and family! The pistachios create a rich and nutty crust that perfectly compliments the buttery salmon. All you'll need is a glass of white wine to enjoy it with!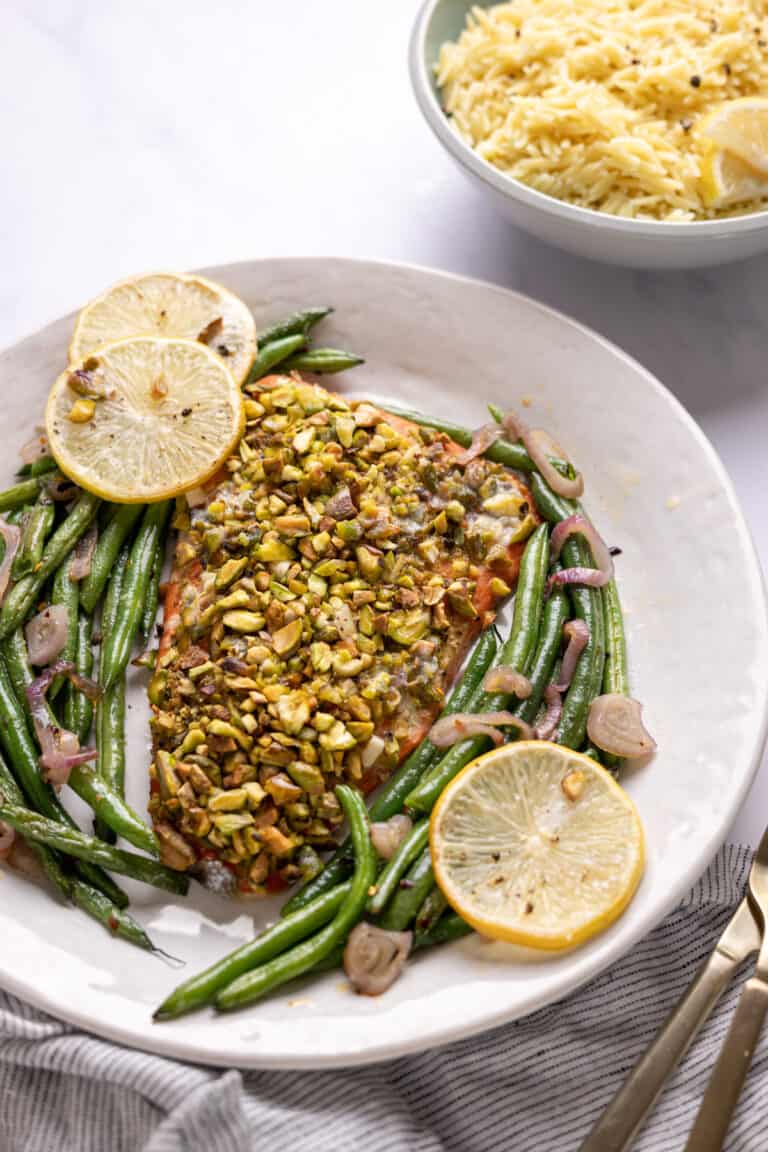 Why You'll Love This Recipe
This is by far the most requested recipe for our family gatherings and I know your family will love it too! Here's a few reasons why this healthy pistachio salmon is such a home run:
It has less than 10 ingredients, most of which you likely already have on hand!
Prep time takes less than 10 minutes.
Minimal cleanup and mess thanks to the parchment paper.
It's gluten free and keto as-is!
This tender salmon will melt in your mouth.
It's a great dish for all times of year, just switch up your sides to keep things seasonal!
It's an easy recipe perfect for a busy weeknights but still feels like a date night treat.
I can't wait for you to give this a try so it can become a family favorite of yours as well! Trust me when I say you'll want to add it to your regular dinner rotation.
Ingredients & Substitutions
Here's what you'll need to make this delicious recipe along with some substitutions you can try.
Salmon-Aim for wild caught fresh or frozen salmon fillets. Stay away from the farmed stuff if it at all possible.
Pistachios-Roasted, unsalted shelled pistachios are best. If you use salted pistachios, then you'll only need a small pinch of salt to season your salmon. If you don't have pistachios, you can use almonds, hazelnuts, walnuts or pecans!
Dijon Mustard-I always have dijon in my fridge but you can also use stone ground mustard if that's what you have on hand. Anything but the yellow French's mustard!
Garlic-I've had success with both minced fresh garlic and granulated garlic, so just use what you have.
Lemon-You can leave the lemon slices off entirely but they add a nice acid that cuts through the rich, buttery taste to balance out the flavors. Alternatively, you could grate lemon zest over the top the salmon fillet instead of using slices.
Butter-You can use a drizzle of olive oil on top or use cooking spray if you're calorie conscious. However, the first time I made this with butter though there was no turning back. It kept the salmon deliciously moist and it tasted luxurious as a result!
Salt & Pepper-Kosher or sea salt and fresh ground black pepper, always and forever!
In order to keep this recipe keto-friendly, I left out any maple syrup, brown sugar or honey that you may see in other recipes out there. However, if you're serving this to young kids or picky eaters, they will really enjoy the slight sweetness from adding a teaspoon of one or the other to the dijon mix.
How To Make This Baked Salmon Dish
Luckily, this pistachio crusted salmon dish is a breeze to prep and cooks quickly! Even beginner cooks will find this recipe easy to conquer and impress their friends and family.
Prep Your Pistachios for the Crust
If you bought pistachios that are still in the shell, you'll need to start by cracking those open until you have 1/3 cup worth. Then you can pulse them in a food processor until they are in small, gravel sized chunks. You don't want them to turn into powder which will result in a mushy crust instead of a crunchy one.
I try to avoid having to clean all the parts of my food processor if I don't have to, so I opt for a heavy duty ziplock bag and a mallet to crush them up by hand. If you don't use all of the chopped pistachios you can keep them in the baggie, a small bowl or airtight container for next time.
If you don't have a meat mallet, you can use a rolling pin or wine bottle to roll over and crush them up.
Assembling the Salmon
All you have to do is follow these easy steps to prep your salmon once your pistachios are ready. I like to line my baking tray with parchment paper for easy clean up. You can use aluminum foil in a pinch but parchment paper has better non-stick qualities. Foil is a better option if you opt to cook this on your bbq though!
Start by placing your salmon skin side down and patting your salmon fillet dry with a paper towel to soak up any excess moisture. Brush with dijon mustard and top with minced garlic. Pat down the chopped pistachio mixture to stick to the top of the salmon. Top with lemon slices and the cubed butter.
How Long to Cook Your Salmon
For perfectly flaky salmon, all you have to do is pop it in a preheated oven at 375 degrees for 8-12 minutes depending on the thickness of your fish, efficiency of your oven and whether you have a large or smaller fillet. With a thinner, tail piece of fish in an efficient convection oven, it should only took 8 minutes. If you have a thick, center cut salmon filet it could take 12 minutes to reach an internal temperature of 145 degrees.
A meat thermometer is great to test the temperature without having to cut into your pretty presentation. I also happen to love the Yummly thermometer which stays in the fish and alerts my phone when it's reached the desired temperature. Game changer!
You'll want to pull your salmon out of the oven when it's closer to 135 or 140 degrees because the carry over cooking will still reach 145 degrees even when it's out of the oven.
If you like your salmon more on the medium rare side, stick with 8 minutes and if you like your salmon well-done, aim for 12 minutes for a tail piece or 14-15 minutes for a center cut filet.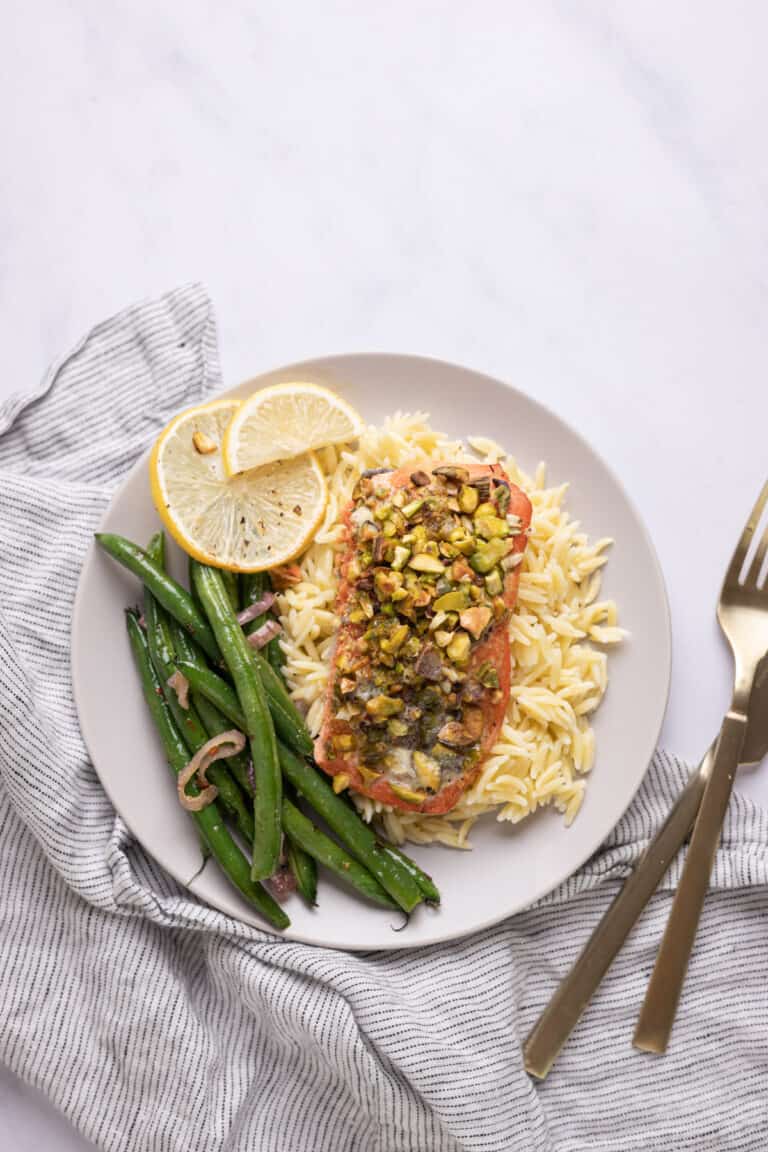 How To Cook This Salmon on the BBQ
Cooking this pistachio crusted salmon on the bbq is one of my favorite summer cookout recipes! Instead of cooking on a baking sheet, you'll assemble your salmon on a large piece of aluminum foil. Prepare the salmon as usual and place foil directly onto the grill grates and cook with the bbq lid closed.
Keep an eye on it and if your pistachio crust starts to get too brown before the salmon is cooked through then just wrap it up tightly with the foil and seal. That way, it can finish cooking without burning the top.
BBQ'ing fish and meat is one of the instances where I especially love having the Yummly thermometer (not sponsored!) inserted to alert my phone when it's perfectly cooked to temp. There's nothing worse than a dry piece of fish or meat!
Frequently Asked Questions
Should I use wild or farm raised salmon for this dish?
Whenever possible, consume wild caught salmon, even if you can only find it frozen. Farmed salmon is often pumped full of antibiotics and wild salmon is actually a carefully monitored and sustainable fishery.
What nuts work well in this dish if I don't have pistachios?
You can easily substitute pecans, walnuts, hazelnuts or almonds in this dish! Just make sure they are roasted and preferably unsalted.
Can you eat the salmon skin?
Yes! Salmon skin is actually super delicious when it's crispy! It tastes similar to crispy chicken skin. If you can only find skin-on salmon, don't worry. Once it's cooked, the fish will easily slide right off of the skin.
What happens if the nuts start to burn during cooking?
If that's the case your oven may run on the hot side. No problem though! Just cover your salmon with foil until the fish reaches 135-140 degrees and remove from the oven. The foil will prevent the nuts from browning further.
Which cut of salmon works best?
The nice thing about a center cut piece of fish is that it will cook really evenly, but it often has more bones you have to watch out for. Tail pieces are nice because there are fewer bones but the very end of the tail will cook faster than the opposite side so you end up with uneven cooking. It's your call!
Side Dishes for Salmon
Here are some of my favorite side dishes to go along this easy baked salmon, as well as any simple baked salmon recipe for that matter! As you can see the possibilities are endless!
Fresh Green Beans with Lemon and Garlic
Cauliflower Rice
Roasted Brussel Sprouts
Risotto
Wild Rice Pilaf
A Simple Side Salad
Other Fish Recipes You'll Love
Whether you're a pescatarian or just want to eat more fresh seafood, you'll love these fish and seafood recipes: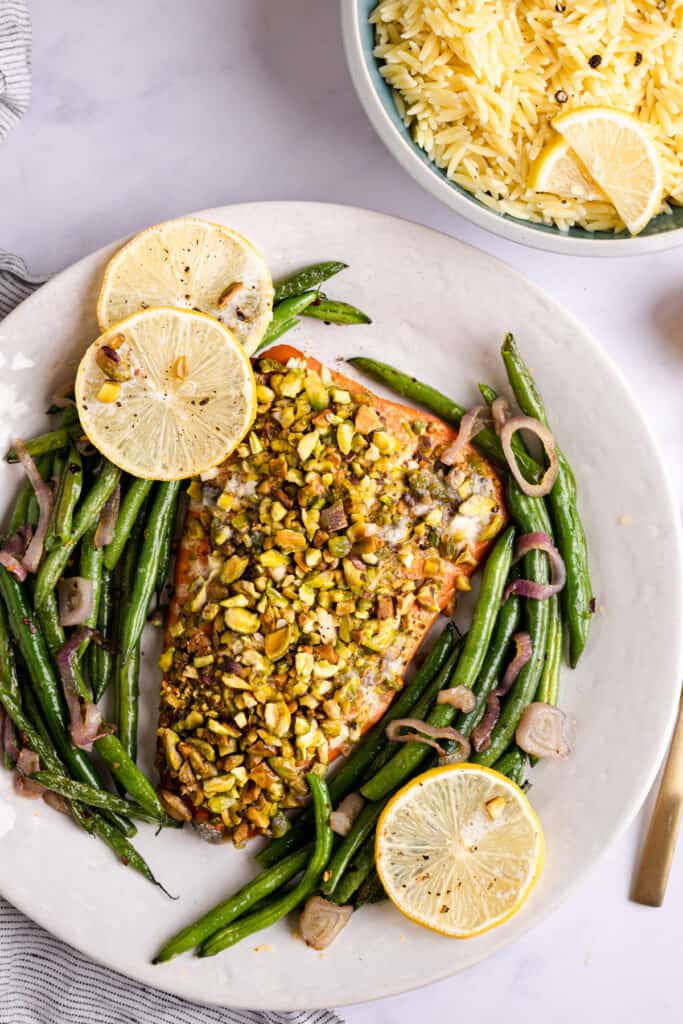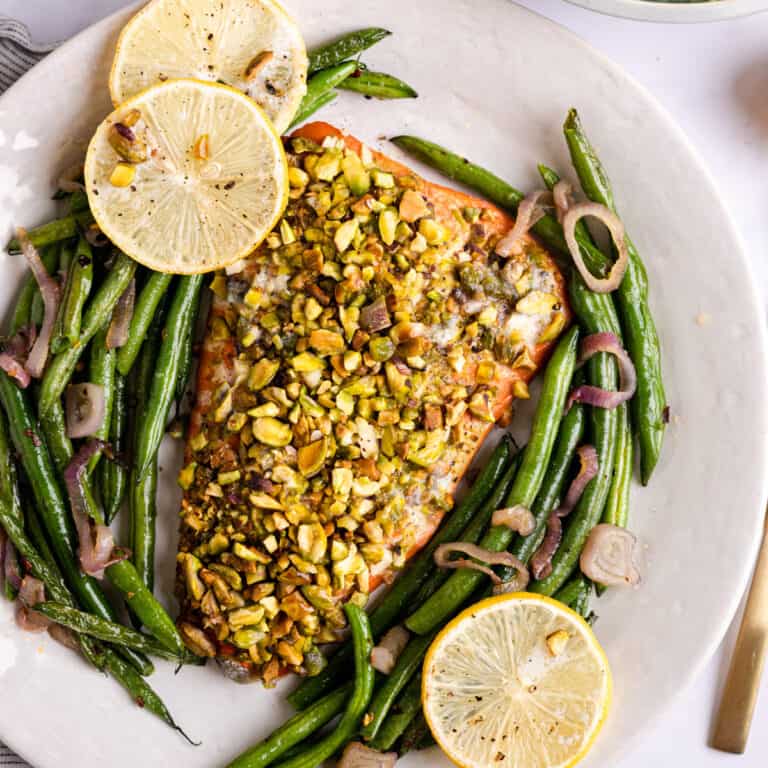 Salmon with Pistachio Crust
Salmon with pistachio crust is a super simple dish that's still elegant enough to impress your friends and family! The pistachios create a rich and nutty crust that perfectly compliments the buttery salmon. All you'll need is a glass of crisp white wine to enjoy it with!
Ingredients
1

lb

wild caught salmon filet

1

tbsp

dijon mustard

1/3

cup

crushed pistachios

1

clove

garlic, minced, OR 1/2 tsp granulated garlic

1/4

tsp

kosher salt

1/4

tsp

fresh cracked black pepper

2

tbsp

unsalted butter, cubed

1

lemon, sliced
Instructions
Preheat your oven to 375F

Crush up your pistachios into small pieces. You can use a food processor or put the nuts into a ziplock baggie and crush with a rolling pin.

Place salmon on a baking sheet lined with parchment paper. Brush with dijon mustard and sprinkle with the minced garlic, salt and pepper. Pat down the pistachio pieces on top.

Place lemon slices on top of the pistachio crust and top with butter cubes.

Cook uncovered in the oven for 8-12 minutes depending on the thickness of the fish. Remove when temp is 135-140 in order for carry over cooking to reach target temperature of 145F.
Notes
You can substitute olive oil for butter.
If you don't have pistachios, you can substitute almonds, walnuts, pecans or hazelnuts. 
If you want to cook this on a grill, assemble your salmon on aluminum foil to cook directly on the grill.  Cover with more foil if nuts start to get too dark before cooking is complete.
This dish is gluten free, dairy free, and keto!