This delicious smoked salmon frittata is the perfect addition to any weekend brunch, and is sure to impress with its beautiful presentation and incredible flavor. Your guests will love the salty bite of smoked salmon and capers with pockets of creamy goat cheese and pops of green spinach. A generous handfull of fresh dill and everything but the bagel seasoning after it bakes adds a punch of flavor that will have people coming back for seconds!
Why you'll love this smoked salmon frittata
There's a lot to love about this smoked salmon frittata but here are a few of our favorite reasons!
Other than sauteeing some shallots of spinach, the oven does most of the work for you, making for a fairly hands-off recipe.
Frittatas are great for feeding a crowd! This will feed 8 people no problem.
I love frittatas because they are endlessly customizable! Stick with the 12 eggs to 1/2 cup dairy ratio and the rest is up to you!
You can easily swap out smoked salmon for spring veggies like asparagus to keep this frittata vegetarian-friendly.
Smoked salmon, shallots, garlic and capers add a TON of flavor so you can go easy on the salt in this recipe.
Everything is ready in just 30 min!
No fancy cooking equipment needed.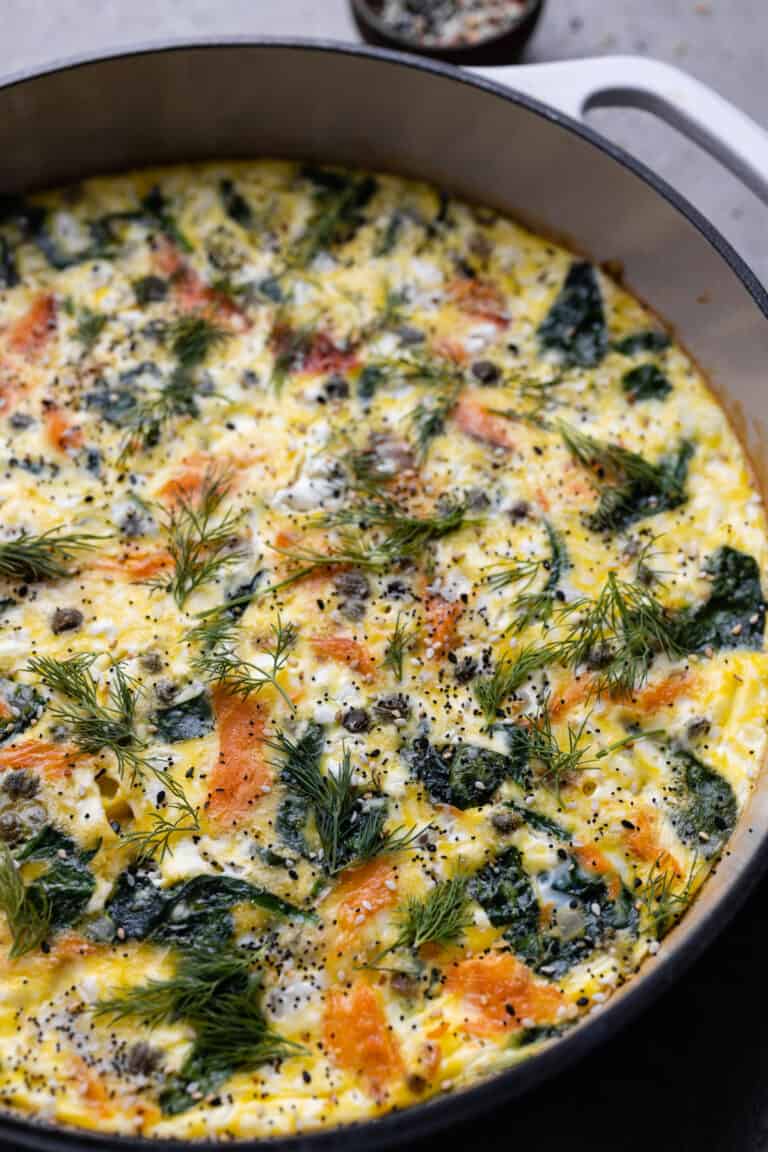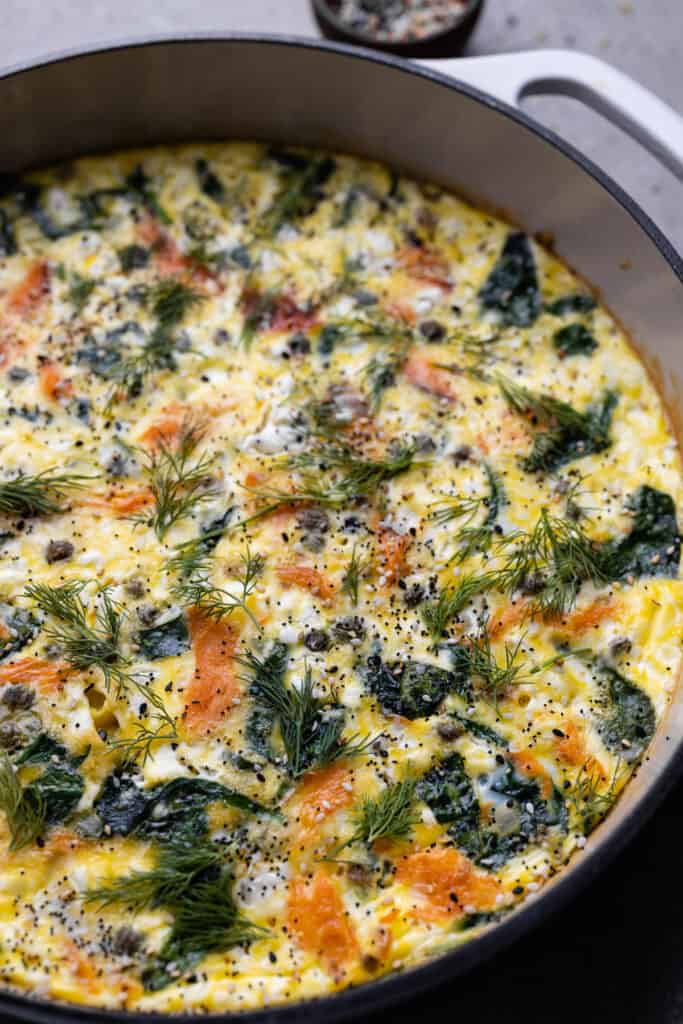 Tips for making this smoked salmon frittata
Luckily, once you master the principals of making a basic frittata, the sky is the limit! There's only a few key things you need to know in order to nail this brunch staple so you can wow your guests everytime with an endlessly customizable frittata recipe.
Use a non stick cast iron or enamel pan. The best size is a 10″ diameter so it gets tall and fluffy. A smaller pan will yield a flatter frittata that will cook faster so keep an eye on the cook time.
Go easy on the salt! The smoked salmon and salty flavors will add a boost of briny, mediterranean flavor so you can dial back on how much salt you would normally add. It's easier to add more salt than to take it away!
Stick to the tried and true 12 egg to 1/2 cream ratio. You can substitute heavy cream for half and half, sour cream, creme fraiche, or full fat plain greek yogurt. Steer clear of milk as you need a higher fat content for the best results.
Check for doneness often by giving the pan a shake to see if the filling still has a jiggle to it in the center. You want the top to still have a slight glossiness to it but a toothpick should come out pretty clean. Pull it out of the oven a few minutes before you think it's done since it will continue cooking even after it's removed.
Top with a generous amount of fresh herbs like dill, parsley, chervil or chives for a beautiful finish and a pop of herby goodness.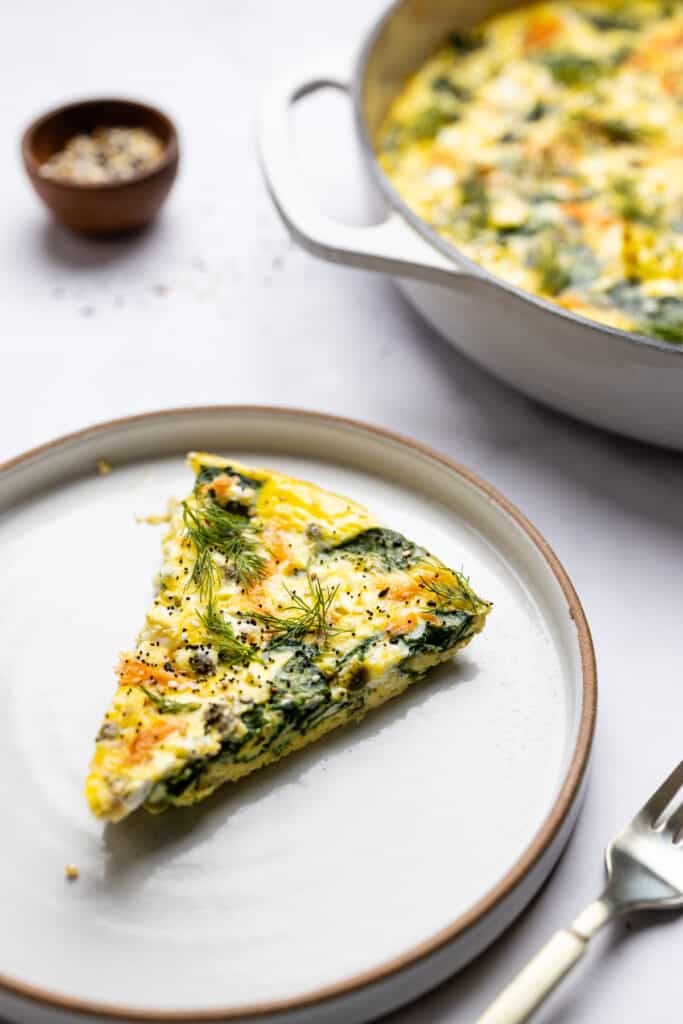 Other brunch recipes to enjoy
Smoked Salmon Frittata
This super flavorful smoked salmon frittata is incredibly easy to whip up and has a beautiful presentation that will wow your guests and have them asking for seconds!
Ingredients
2

tablespoons

butter

12

eggs

1/2

cup

heavy cream

1

shallot, small diced

2

cloves

garlic, minced

4

cups

spinach

3/4

cup

goat cheese

2

tablespoons

capers

1/2

cup

smoked salmon

1/4

teaspoon

sea salt

1/4

teaspoon

cracked black pepper

2

tablespoons

fresh dill, rough chopped

2

teaspoons

everything but the bagel seasoning
Instructions
Preheat your oven to 350 degrees F.

In a mixing bowl, whisk together 12 cracked eggs and 1/2 cup of heavy cream. Season with sea salt and cracked black pepper.

In a 10" cast iron pan, melt your butter on medium low heat. Once melted add in your shallot and cook 3-5 minutes, until softened and translucent. Add in the spinach and stir until wilted, about 2 minutes. Then add in your minced garlic and cook for 1 more minute, or until fragrant.

Add the egg and cream mixture to the pan but don't stir the eggs once they are in the pan. Then evenly sprinkle the smoked salmon, dollops of goat cheese and capers over the top of the egg mix. Place on the middle rack of your oven and bake for about 20-25 minutes, or until a toothpick comes out clean when inserted in the center. You want it to be just set and slightly glossy as it will still continue baking after removing from the oven. Bake time will depend on the diameter of the pan you use.

Once slightly cooled, top with fresh dill and everything but the bagel seasoning.
Notes
For the heavy cream, you can substitute half and half, sour cream, full fat plain greek yogurt, or creme fraiche.  
Cast iron and non stick enamel pans work best in this recipe since they are oven safe and the frittata will slide out easily after baking.