Where I live, the farmer's markets are in full swing with the season's bounty of tomatoes, berries, herbs, and greens. I wanted to create a summer grain bowl that paid homage to the best of summer's crops. Sweet corn, blueberries and cherry tomatoes take center stage while a zippy lemon basil vinaigrette makes the flavors dance.
How to meal prep this bowl
Every week, I pick a grain to batch cook and have on hand. It's really easy to get tired of having quinoa and brown rice in regular rotation, so barley is one of my favorite grains to get me out of that rut. I love it's nutty flavor and slightly chewy texture. BONUS: it's incredibly nutritious and high in fiber so you can chalk it up as a win-win. I like to stock up on my grains in the bulk section of my grocery store which saves me money and cuts down on wasteful plastic packaging. Another win.
In this recipe you'll want to look for pearl barley versus pot barley, which luckily is more readily available anyways. Then just cook according to the directions on your package. For mine, I had a quick cooking barley on hand which I only had to simmer in a pot full of water for about 12-15 minutes.
Once you've meal prepped your barley for the week, you'll have it on hand to toss in soups, salads, or use as a yummy side dish with roasted vegetables. The lemon basil vinaigrette also happens to be delicious drizzled over a filet of salmon or chicken skewers to name a few.
How to build your grain bowl
Like any salad, grain bowls (aka buddha bowls) are great because they are endlessly customizable to whatever ingredients you have on hand and the flavors you love. For me, the only real science to it is in balancing out the textures. You'll want a nice blend of crunchy, creamy, sweet, sour, bitter, nutty and herbaceous notes. If you want to take your summer grain bowl to the next level, here's what you'll want to include:
Veggies: too many to list! My favorites are corn, cucumber, snap peas, asparagus, sweet potatoes, squash, carrots, avocado…
Fruits: berries, stone fruit, tomato, citrus, dried cranberries
Nuts & Seeds: walnuts, pumpkin seeds, sunflower seeds, pecans, pistachios to name a few
Cheese: goat cheese, feta, parmesan shavings, shredded cheddar, blue cheese crumbles
Greens: spinach, spring mix, kale, arugula, romaine, and micro greens for starters
Protein: hardboiled eggs, shredded chicken, tuna, salmon
Grains: Barley, quinoa, brown rice, farro, couscous, whole wheat pasta
Fresh herbs: basil, cilantro, parsley, tarragon, dill and mint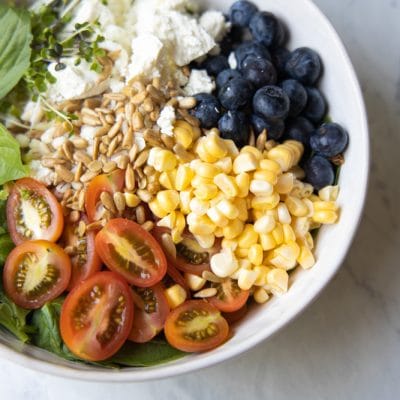 Summer Grain Bowl with Lemon Basil Vinaigrette
This grain bowl shows off the best of summer's bounty with a medley of fresh fruits and vegetables. A zippy lemon basil vinaigrette make the flavors dance.
Equipment
food processor or blender
Ingredients
Grain Bowl
1

cup

pearl barley, cooked according to directions

2

cups

spinach or arugula

1/2

cup

fresh blueberries

1/2

cup

cherry tomatoes, halved

1/2

cup

fresh corn, raw

1/4

cup

crumbled goat cheese

2

tbsp

roasted sunflower seeds
Lemon Basil Vinaigrette
2

cups

fresh basil

2

tbsp

red wine vinegar

2

cloves

garlic

1

whole

lemon, zested and juiced

1/2

tsp

kosher salt

1/2

cup

extra virgin olive oil
Instructions
Cook barley according to directions on package, drain and cool.

In a food processor, combine basil, garlic, red wine vinegar, lemon juice, lemon zest and salt. Pulse until combined. Then slowly drizzle in the olive oil with the machine on until thoroghly combined.

In a big bowl, layer barley and spinch or arugula with the tomatoes, corn and blueberries.

Top with crumbled goat cheese and sunflower seeds. Drizzle with lemon basil vinaigrette.
Notes
*The lemon basil vinaigrette will give you extra dressing leftover.  I recommend it drizzled on salmon, chicken, tossed with pasta or as a salad dressing.
*You can use thawed, frozen corn in this recipe but it won't have the same texture and sweetness as the raw corn.  
*The cooked barley will keep in your fridge for 4-5 days and you can also freeze it.