This easy Sun Dried Tomato Pasta Chicken is the luxurious chicken pasta recipe of your dreams. Angel hair pasta, crispy chicken, asparagus and fresh spinach tossed in a rich and creamy sun dried tomato pasta sauce. Have this on the table in 30 minutes!
Why You'll Love This Recipe
Family friendly. This pasta recipe is guaranteed to please everyone. It's cheesy, creamy, rich in flavor and the best way to satisfy a pasta craving.
Makes for delicious leftovers. No need to worry about preparing a separate meal to pack in lunches. This sun dried tomato chicken pasta reheats beautifully and stores well for up to 4 days.
Great for new cooks. If you are new to cooking chicken, this easy chicken pasta is a great place to start. Try The Best Grilled Chicken for Meal Prep next!
Ingredient Notes and Substitutions
chicken – To make this recipe quick and easy, use boneless skinless chicken breasts. Save the rotisserie chicken to make Instant Pot Chicken and Rice Soup or Healthy Buffalo Chicken Sliders. Similarly, bone-in chicken like wings and thighs are better suited for recipes like Paleo Chicken Wings.
pasta – We use angel hair pasta because it's quick cooking and lighter tasting. If desired, you can use another pasta like penne pasta or spaghetti. Just be sure to use the same weight.
sun dried tomatoes – There are two types of sun dried tomatoes typically found in stores: oil packed and dried. Either kind will work, but if you use oil packed sun dried tomatoes, drain them from any excess oil before adding to the sun dried tomato pasta sauce.
flour – All purpose flour is used to dredge the chicken breasts and help them develop a nice, crispy crust. This recipe has not been tested with any alternative flours. If you are looking for a gluten free pasta, try our Gluten Free Baked Mac and Cheese.
heavy cream – Heavy cream makes this pasta sauce extra creamy and indulgent. If needed, substitute the heavy cream with half and half or full fat canned coconut milk.
How to Make Creamy Sun-Dried Tomato Chicken Pasta
Cook pasta to al dente, according to directions, and drain. Set aside.
Slice chicken in half lengthwise to make thin breasts and season with salt and pepper.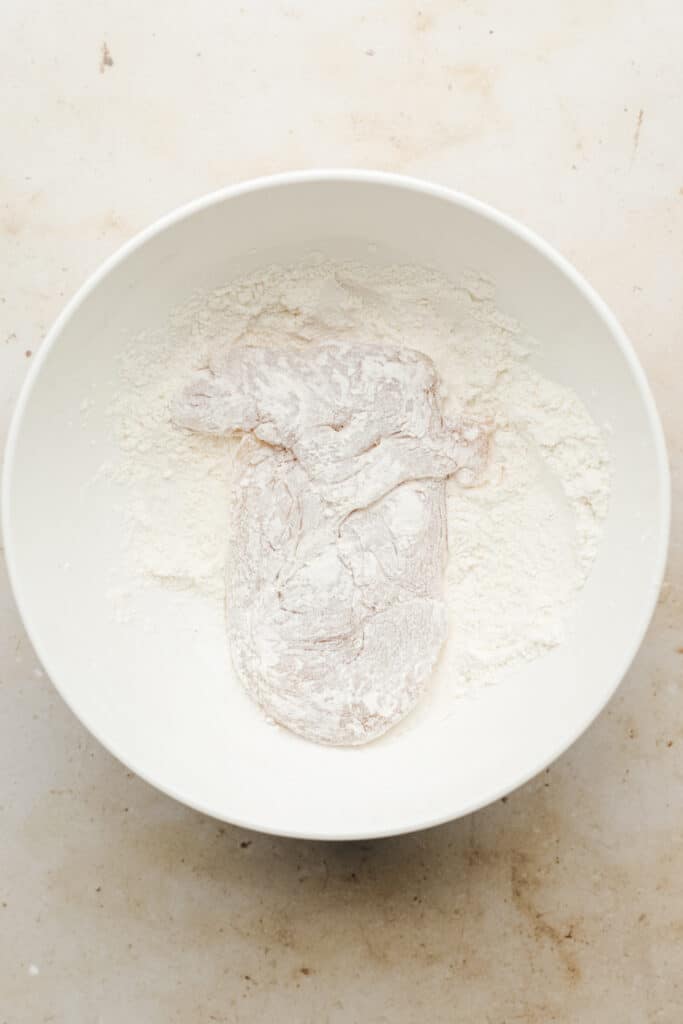 Dredge chicken cutlets in flour on both sides, shaking off any excess.
Sear chicken over medium heat in 2 tbsp of avocado oil for 3-4 min, on each side, or until 165F internally.
Remove chicken from pan and sauté shallot and asparagus for 3 minutes, then add garlic, julienned sun-dried tomato and seasonings.
Deglaze pan with chicken stock, stirring up bits stuck to the bottom of the pan. Add in heavy cream.
Reduce for 4-5 minutes or until the sauce lightly coats the back of a spoon.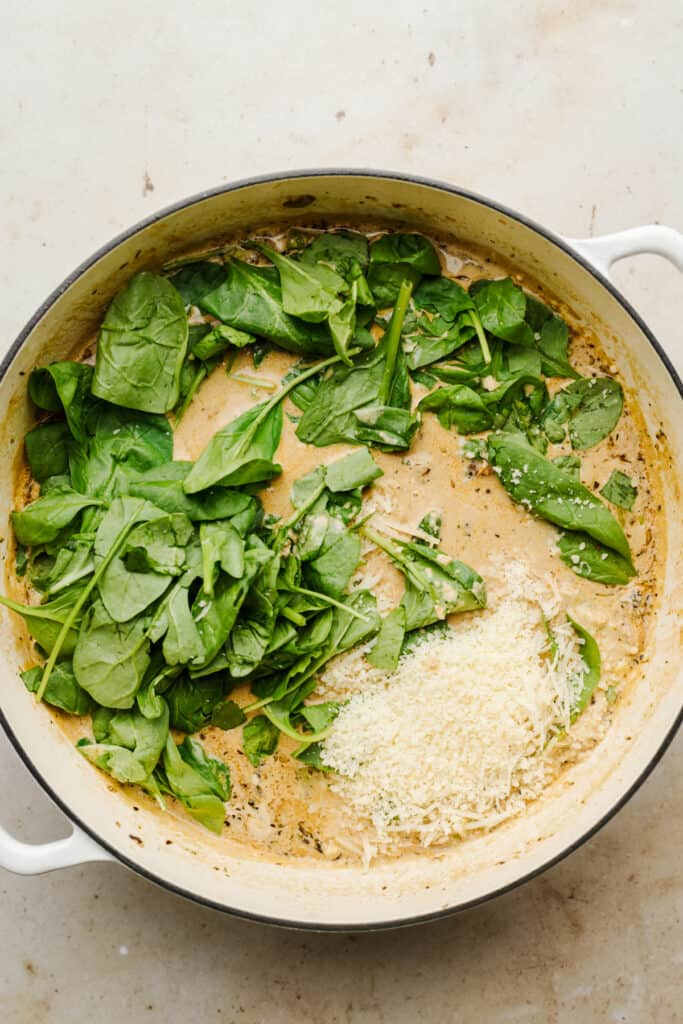 Stir in spinach and parmesan cheese and cook until spinach is wilted. Turn off heat.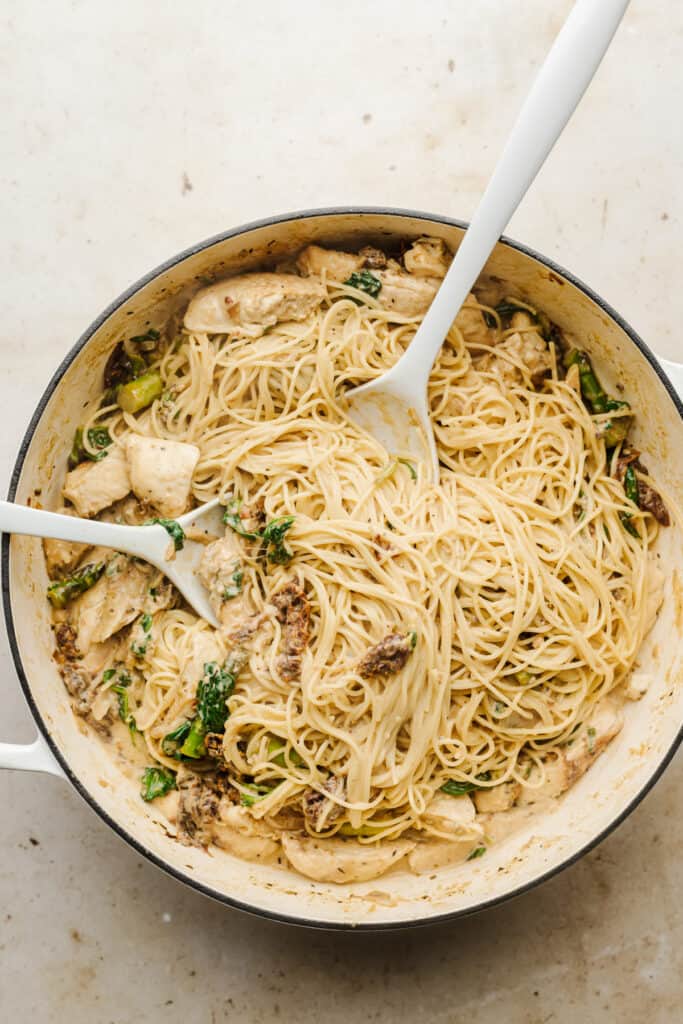 Slice chicken into small strips and add chicken and any juices back to the sauce along with the cooked angel hair pasta. Toss it all together and enjoy!
FAQs
Do sun-dried tomatoes need to be refrigerated?
It depends. If you purchased sun-dried tomatoes packed in oil, they should be refrigerated after opening. Dried sun-dried tomatoes on the other hand are shelf stable and do not need to be refrigerated.
How do you make pasta stay creamy?
If you've ever made creamy pasta before, like Pasta Alfredo, you'll know that creamy pasta sauces tend to thicken considerably once cooled.
To keep your leftover sun dried tomato pasta chicken creamy, reheat leftovers with a splash of heavy cream or chicken stock (or a combination of both). This will help loosen up the sauce and make it rich and creamy again.
Can I use frozen spinach in place of fresh?
We don't recommend using frozen spinach because it contains significantly more moisture and will water down your sun dried tomato pasta sauce.
What part of the asparagus should you not eat?
When preparing the asparagus, you want to snap the woody stems off of the bottom of the asparagus spears. This portion of the stem is very tough and unpleasant to eat.
If you need a visual, watch this quick tutorial on how to prepare asparagus. If desired, you can save the woody stems and turn them into a homemade asparagus stock.
Tips for Success
Stir very frequently when sautéing the shallots and garlic. This is going to help prevent the shallots and garlic from burning. If you notice the shallots and garlic sticking, add 1 tablespoon of additional oil and/or lower the heat.
Make sure to cut the chicken into thinner cutlets. Doing so cuts the cook time down considerably and helps prevent the chicken from being over done.
Use a meat thermometer to check the internal temp of the chicken breasts. You should take them off the heat at 160 degrees F. The temperature will continue to rise to a safe 165 degrees F while they rest. This way they'll be super juicy and not overcooked.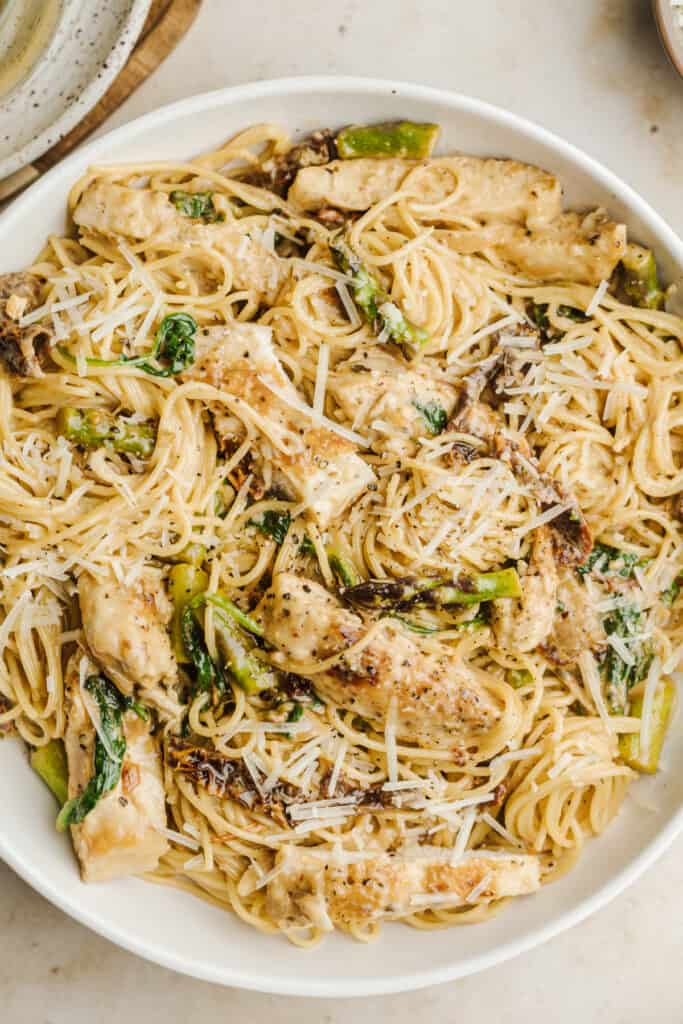 Delicious Dinners to Impress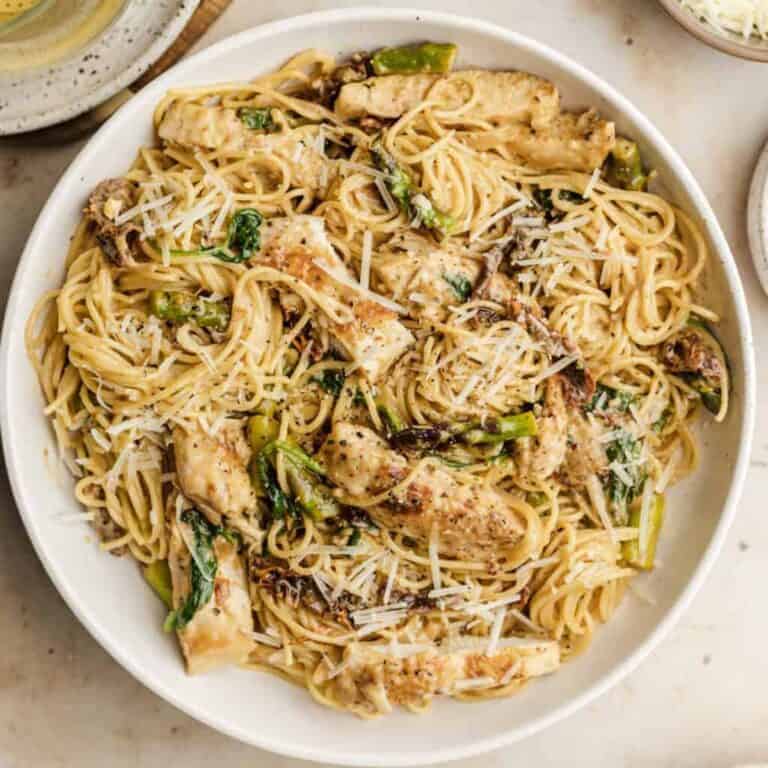 Sun Dried Tomato Pasta Chicken
This easy Sun Dried Tomato Pasta Chicken is the luxurious chicken pasta recipe of your dreams. Angel hair pasta, crispy chicken, asparagus and fresh spinach tossed in a rich and creamy sun dried tomato pasta sauce. Have this on the table in 30 minutes!
Ingredients
8

oz

uncooked angel hair pasta (1/2 a 16oz package)

1

lb

boneless, skinless chicken breasts, about 2 breasts

1/4

teaspoon

each salt and cracked black pepper

1/2

cup

all purpose flour

3

tablespoons

avocado or high heat oil

1

cup

sliced shallot (2 large shallots)

4

cloves

garlic, minced

1

cup

asaparagus pieces cut into 1" lengths

1/2

cup

sliced sun-dried tomatoes

1

teaspoon

dried Italian seasoning

1/8

teaspoon

crushed red pepper flakes

1 1/2

cup

low sodium chicken stock

3/4

cup

heavy cream

3/4

cup

grated parmesan cheese

2

cups

packed fresh spinach leaves
Instructions
Fill a large pot with water and bring to a boil. Once boiling, add 2 tablespoons of salt to the water and add your angel hair pasta. Cook according to the package directions so that the pasta is al dente. Drain and set aside.

While you're waiting for your water to boil, heat a large flat bottomed pan on medium heat with 2 tablespoons of avocado oil, or any high heat oil.

Slice chicken breasts in half lengthwise to yield thinner, flatter breasts. Season with salt and pepper.

Place all purpose flour in a bowl and dredge chicken breasts in the flour, shaking off any excess.

Place chicken into pan and cook for about 3-4 minutes on each side, until golden brown and cooked through to 165 degrees at the thickest part and remove from pan.

If the pan is dry, add 1 more tablespoon of olive oil before adding sliced shallots and asparagus pieces. Saute for about 3 minutes, or until the vegetables are softened slightly. Then add minced garlic, sundried tomatoes, Italian seasoning, red pepper flakes, and cook for 2 more minutes or until garlic is fragrant but not burning.

Deglaze the pan by adding 3/4 cup of chicken stock to the pan and stirring up the little bits that are stuck to the bottom of the pan. Then add the 3/4 cup of heavy cream and stir together.

Cook until the sauce is starting to bubble and thicken enough to lightly coat a spoon, about 4-5 minutes.

Add your spinach and parmesan cheese to the sauce and cook until wilted, about 1 minute. Turn off the heat.

Slice your chicken into thin strips and return chicken to the pan (along with any juices) along with the angel hair pasta. Let the chicken and pasta warm back up in the sauce

for 2 minutes before serving.