Whenever I can create a vegetarian dinner that has my family craving seconds, I know I've found a winner! We've had these sundried tomato and basil quinoa patties on repeat lately because they are endlessly customizable with whatever veggies and herbs you have on hand. Best of all, if you meal prep your quinoa ahead of time, they are an absolute breeze to put together!
how to meal prep the Quinoa Patties
These little quinoa patties have become a regular in our meal rotation. At the beginning of the week, I'll batch cook about 3 cups worth of my easy 1 minute instant pot quinoa so that it cuts down on the prep time. Then, when I do make the patties, I'll usually double the recipe so that I can freeze half of them. When you're in a pinch for lunch or dinner, you just have to pop them into the microwave for about 3 minutes and devour.
NOTE: If you love a crispy golden crust, just microwave first, then quickly pan fry them.
ways to customize your patties
I made these patties with sundried tomatoes, fresh basil, and parmesan cheese, but the sky is the limit when it comes to possible flavor combinations. What's important is that you stick with the main ratios of quinoa, egg and panko. There's a lot of wiggle room here for the rest of the ingredients you add. Wouldn't black beans, corn, peppers, and cilantro be delicious! Here are some ideas for ingredients you could sub out.
Herbs: basil, parsley, cilantro, thyme, rosemary
Cheese: parmesan, feta, manchego, sharp cheddar (stick with non-melty ones)
Veggies: frozen spinach, zucchini, squash, peas, bell pepper, kale, mushrooms, sweet potato, asparagus
Pantry: garbanzo beans, artichoke hearts, roasted red peppers, olives, black beans
Spices: cumin, paprika, turmeric… the sky is the limit here so get creative!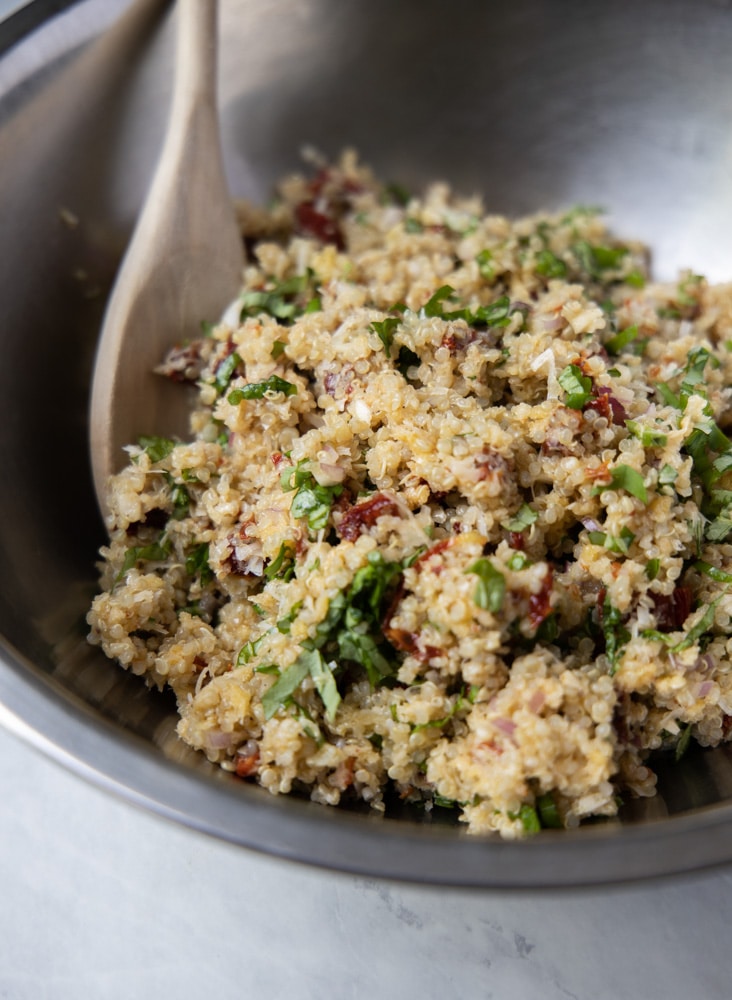 keys to success for making this recipe
There are a couple key steps to making sure these patties turn out epic every time!
I added the shallot and garlic in this recipe raw, rather than sautéing them first. Since I didn't want crunchy onions, I made sure to mince them up pretty small so they would still cook inside the patties. If you were to add a tougher veggie, like asparagus, or sweet potato, you would need to par cook them before adding them to your mix.
To form your patties in nice, uniform sizes, I lightly sprayed the inside of a 1/3 measuring cup. Then I packed the mixture into the cup, and tapped it on the bottom so it would release. If the patties fall apart, you can easily use your hands to press them back together.
If your mixture is too crumbly, you may need to add another egg to keep it moist enough to hold together.
Spread the patties out onto a cookie sheet lined with parchment or wax paper. Chill in the fridge or freezer for at least 30 minutes prior to cooking to ensure they hold their shape.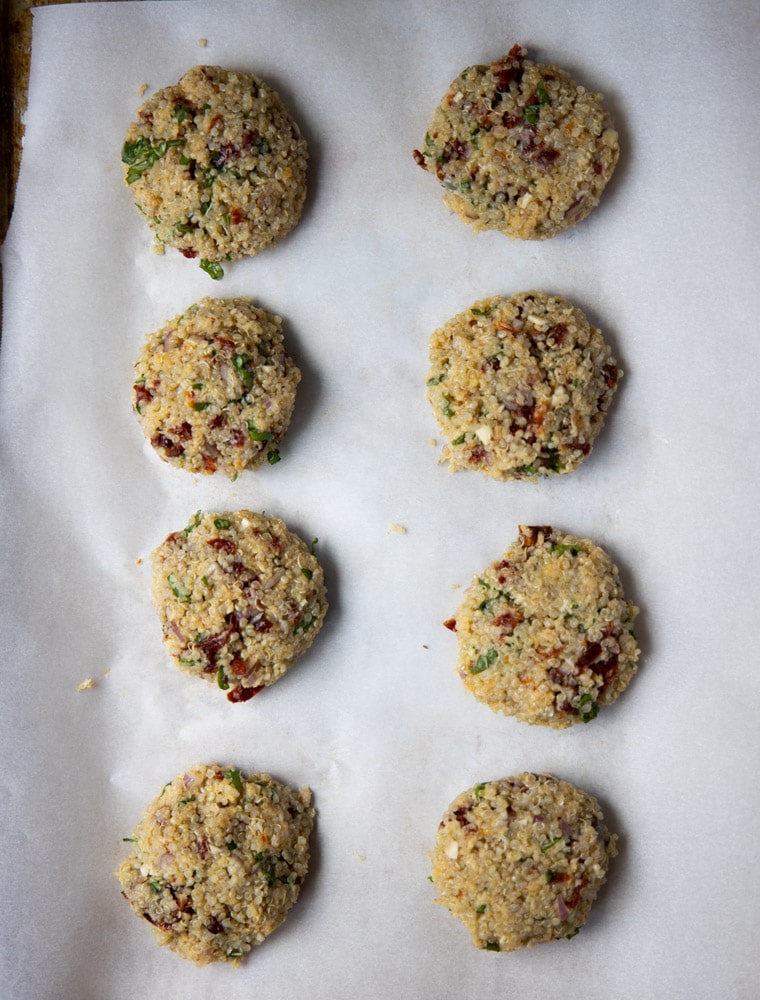 how to serve your patties
Lately I've been serving my patties over a bed of fresh arugula and hummus, drizzled with basil vinaigrette. You could substitute the arugula with kale , sautéed spinach, or spring greens. Instead of hummus, romesco or a thinned-out pesto is also delicious! If I'm feeling really wild, I'll even tuck them into a pita pocket!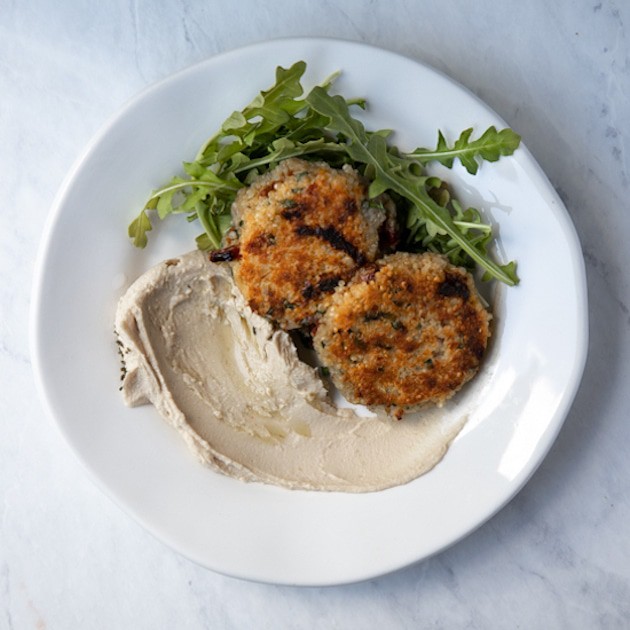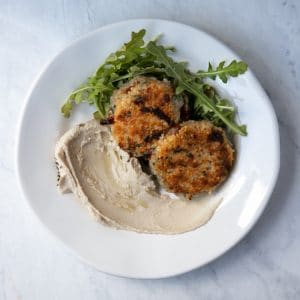 Sundried Tomato & Basil Quinoa Patties
These vegetarian quinoa patties are perfect for a quick and easy weeknight dinner!
Ingredients
1.5

cups

cooked quinoa

4

eggs

3/4

cup

panko breadcrumbs

1/3

cup

grated parmesan

1/2

cup

sundried tomatoes, chopped

1

shallot, minced

4

cloves garlic, minced

1/4

cup

fresh basil, chopped

1

tsp

kosher salt

1/2

tsp

black pepper

1/4

tsp

red pepper flakes

2

tbsp

olive oil, for frying
Instructions
Mix together all ingredients in a bowl until combined.

Lightly spray a 1/3 measuring cup with cooking spray.

Pack mixture into measuring cup and then empty onto a cookie sheet lined with parchment or wax paper.

*If you have time, chill patties in fridge or freezer for 30 minutes*

Heat a frying pan on medium high heat with 2 tbsp olive oil.

Lightly fry patties for about 5 minutes on each side, or until golden brown.
Notes
You can also bake the patties at 400 degrees for about 15 minutes, flipping half way through, but your results won't be as crispy. 
If you're going to freeze your quinoa patties, freeze them unbaked in a single layer on a cookie sheet.  Once frozen, you can transfer them to a freezer bag.  To reheat, microwave from frozen for 3 minutes.
If you're mixture is too crumbly and won't hold it's shape, add 1 more egg to the mixture.