If you're on the hunt for a quick and easy soup that's packed with veggies, then this vegetarian lasagna soup is for you! It's incredibly hearty thanks to the lasagna noodles, but lightened up with zucchini and spinach. The creamy ricotta cheese mix dolloped on top transforms this soup into something extra special!
Why You'll Love This Recipe
This vegetarian lasagna soup is one of those rare unicorn recipes that truly everyone in the family will enjoy, even the picky eaters! Trust me, I speak from experience. You'll love it because its:
vegetarian!
cooks in one pot for easy cleanup!
takes just over 30 minutes to make
endlessly customizable by swapping out for different veggies, adding meat or pesto..
creamy, cheesy goodness that the kids will love!
no heavy cream
the comforting flavors of lasagna with half the time and effort
leftovers taste even better the next day!
Ingredients
Here's what you'll need to make this deliciously creamy and satisfying soup!
lasagna noodles
diced tomatoes
tomato paste
zucchini
spinach
onion
garlic
basil
ricotta cheese
mozzarella cheese
parmesan cheese
spices-oregano, basil, salt, pepper and red pepper flakes
vegetable stock
Substitutions & Customizations
What I love most about this vegetarian lasagna soup is how endlessly customizable it is! If I'm missing something from the ingredient list, I can easily swap ingredients out for what I have on hand and it still tastes delicious every single time.
A few ingredients I recommend trying out in addition to the zucchini and spinach combo are:
mushrooms
eggplant
kale or Swiss chard
roasted red peppers
artichoke hearts
If want to convert this to a vegan lasagna soup, try swapping out the ricotta cheese mix for your favorite vegan pesto. I love the vegan kale pesto from Trader Joe's but you can also make your own with a recipe like this one.
You can also try your hand at making homemade dairy free ricotta using cashews and nut milk!
And it goes without saying that if you have meat lovers in your life, you can add a pound of ground Italian sausage, turkey or beef to the soup. Just brown the meat first and remove it from the pan before you sauté your onions and garlic. Add the meat back in and season with the spices and tomato paste as usual.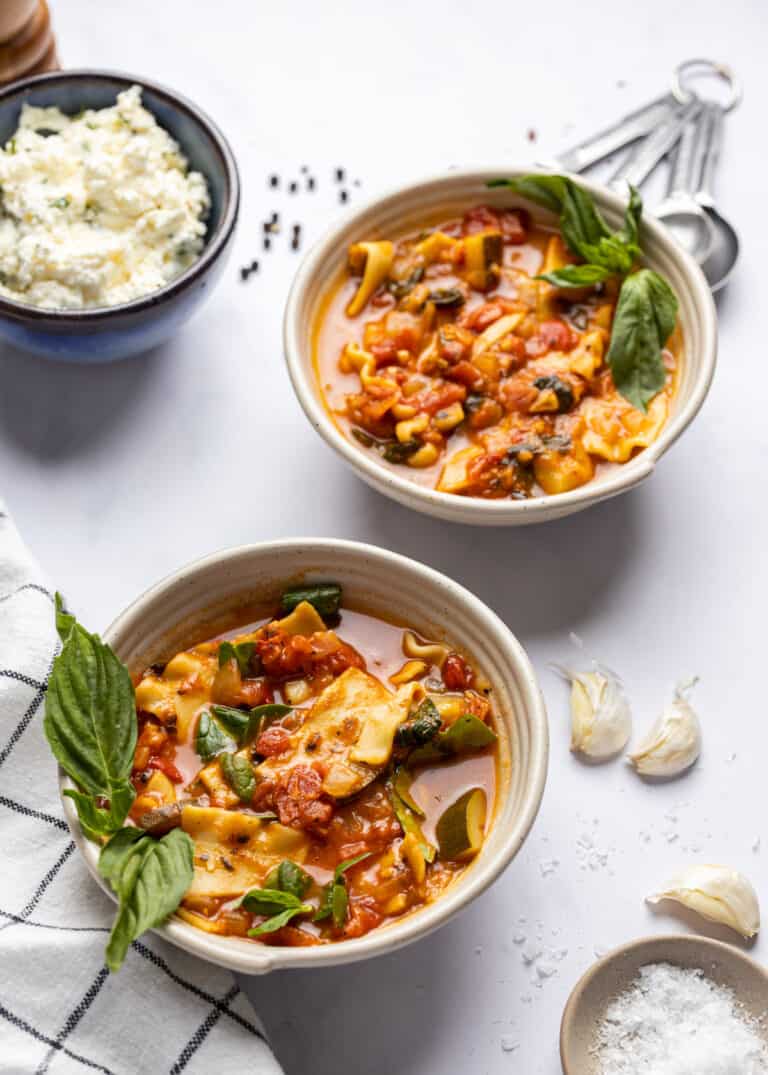 Tips For Making Vegetarian Lasagna Soup
Lucky for you, this hearty soup is incredibly beginner friendly and easy to make. Follow along with the photos below for easy step-by-step instructions. Just don't stress because this recipe is super forgiving!
Note that it may seem a little liquidy as it cooks. Just know that as it sits the noodles will continue to absorb the liquid and it will thicken up more than you expect! You'll notice that your leftovers from the night before have soaked up a ton of the broth so I just thin it out with extra vegetable stock when I reheat it.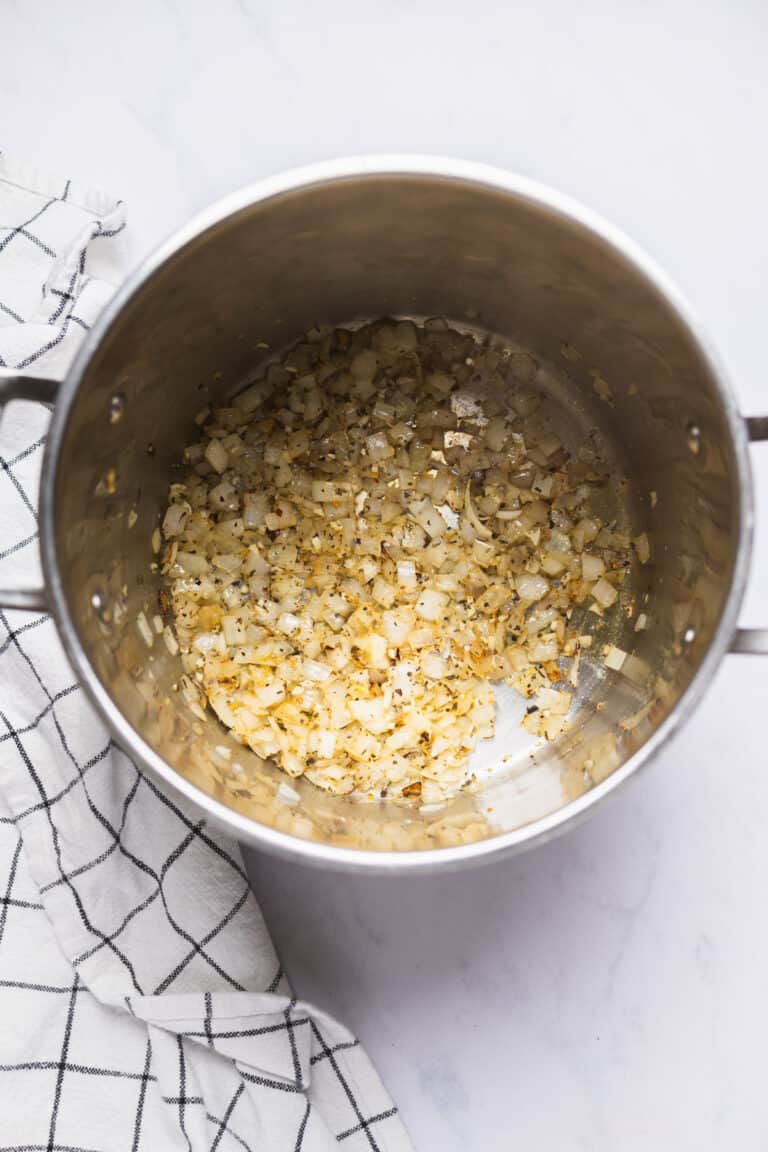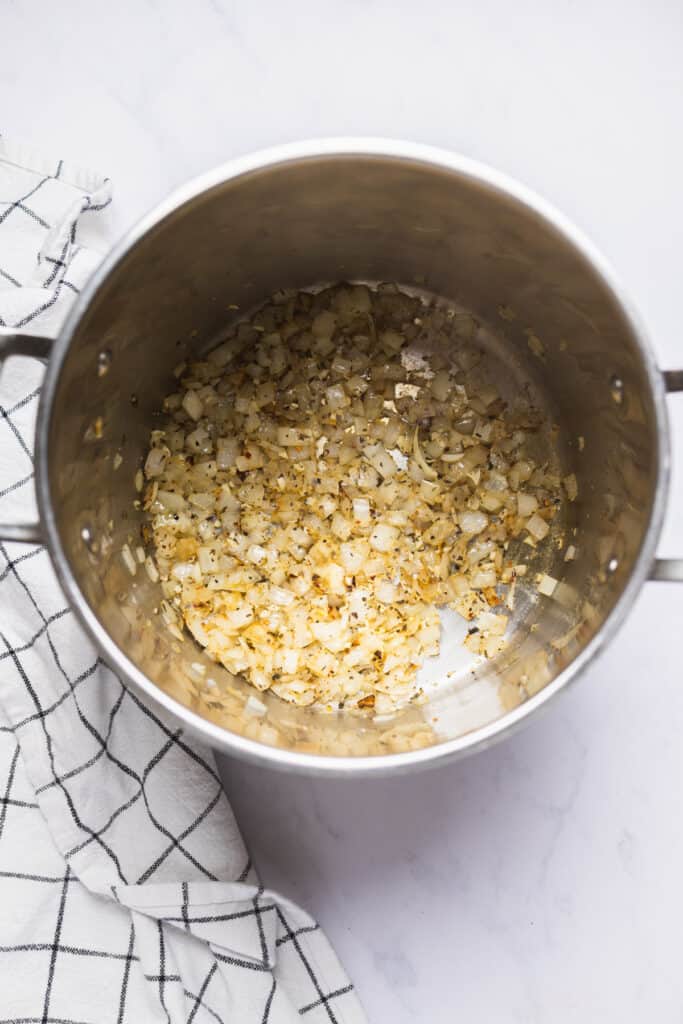 Ricotta Cheese Topping
As the soup cooks, you have plenty of time to prepare the cheesy ricotta mix that goes on top. It only takes a minute or two to stir it all together. You don't want to skip this part because it truly elevates the soup to something magical.
The mozzarella gives it that stringy cheese pull goodness that's so insta-worthy! Parmesan adds the salty umami flavor while ricotta melts beautifully into a creamy consistency without the calories of adding heavy cream.
You may want to go ahead and double the ricotta mix to be on the safe side since it seems to disappear fast in our house. : )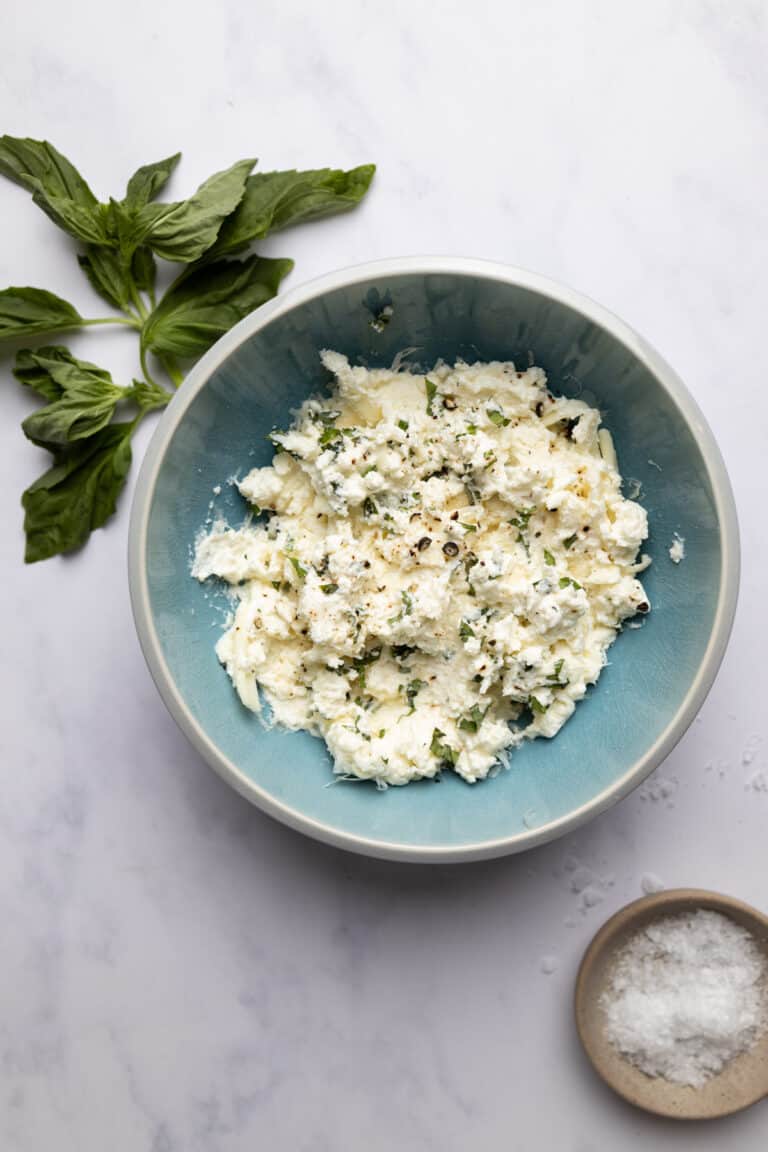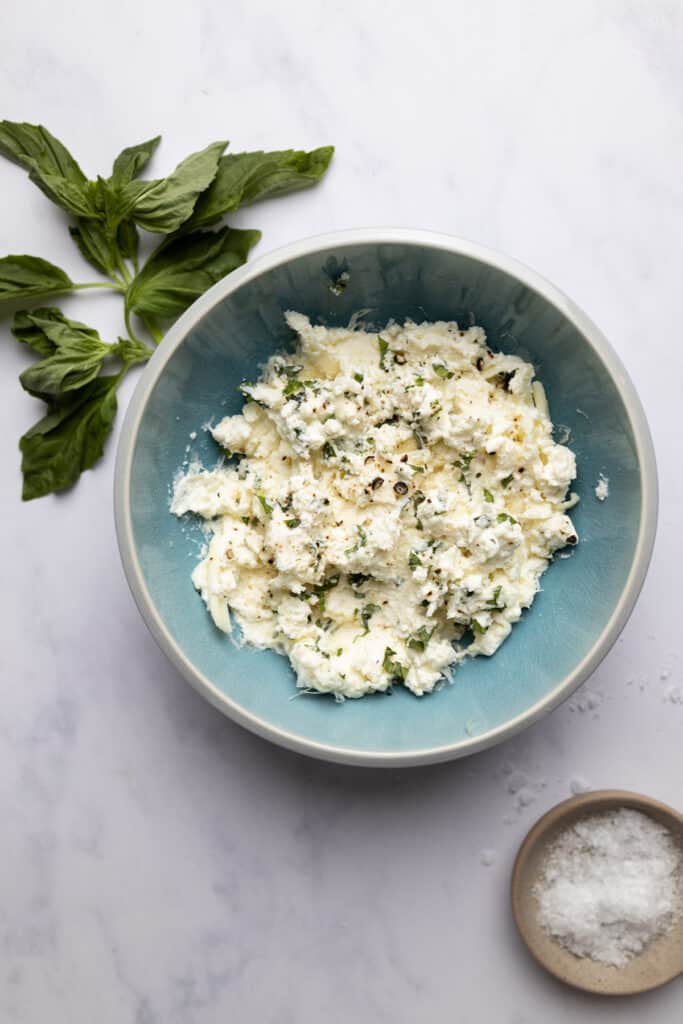 Frequently Asked Questions
How can I make this recipe gluten free?–Luckily all you have to do to make this a gluten free lasagna soup is by making sure your lasagna noodles are gluten free!
How can I make this lasagna soup vegan?–To make this soup vegan, substitute the ricotta cheese for vegan ricotta or a vegan pesto, and make sure to use a vegan broth.
What can I serve with this soup?–I like to serve it along side some crusty bread for dipping (if you're a carb lover like me), or a simple green salad with tomato, cucumber and a light balsamic dressing. Since the soup is so rich and hearty, any side dish should be super light. Honestly, it's filling enough on it's own that you really don't need a side dish!
If you're on the hunt for other delicious vegetarian recipes to cut the meat out of your diet, you HAVE to try these sun-dried tomato and basil quinoa patties!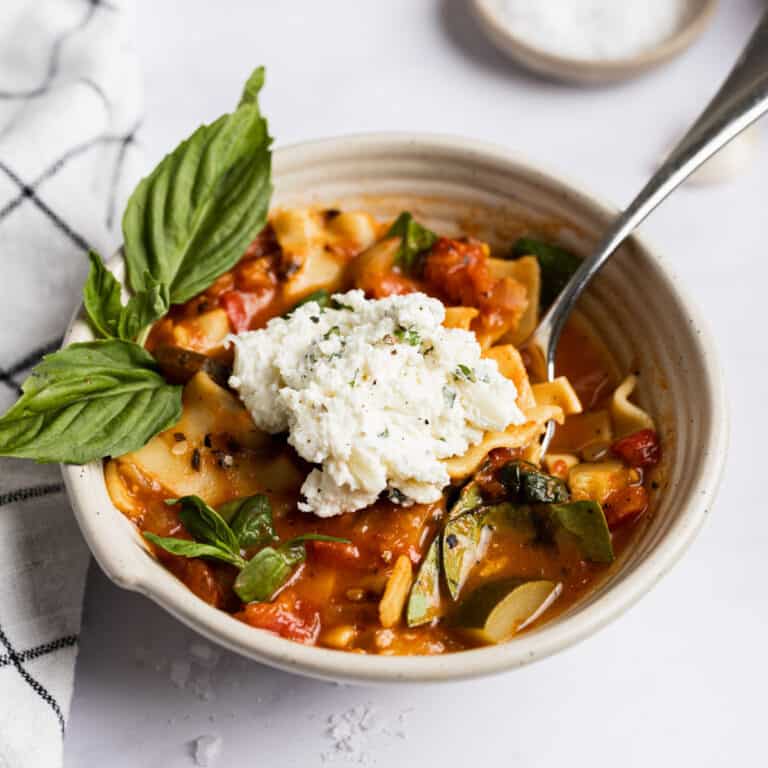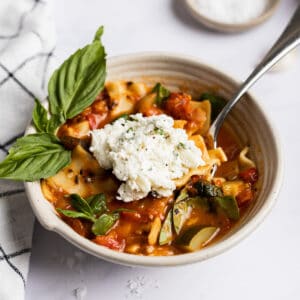 Vegetarian Lasagna Soup
This vegetarian lasagna soup is one of those rare recipes that everyone in the family will love! It's incredibly hearty thanks to the lasagna noodles, but lightened up with zucchini and spinach. The creamy ricotta cheese mix dolloped on top transforms this soup into something extra special!
Ingredients
Vegetarian Lasagna Soup
2

tbsp

olive oil

1

yellow onion, diced

5

cloves of garlic, minced

1

tsp

dried oregano

1

tsp

dried basil

1/2

tsp

red pepper flakes

1 1/2

tsp

kosher salt

1/2

tsp

cracked black pepper

4

tbsp

tomato paste

28

oz

diced tomatoes with juices

6

cups

vegetable stock

8

lasagna noodles, broken into pieces

2

cups

diced zucchini

4

cups

fresh spinach
Ricotta Cheese Mix
1

cup

whole milk ricotta cheese

1/2

cup

shredded mozzarella

1/2

cup

shredded parmesan

2

tbsp

sliced fresh basil

1/4

tsp

cracked black pepper
Instructions
Heat a large soup pot over medium heat with 2 tablespoons of olive oil.

Add your diced onion to the warm pot and saute until slightly golden, about 4 minutes. Add the minced garlic and oregano, basil, red pepper flakes, salt and pepper and saute about 1 more minute.

Add the tomato paste and stir into the onion and garlic mix and cook for another minute.

Add your diced tomatoes and chicken broth and cover with a lid to bring the liquid to a boil. Once boiling add your broken lasagna noodles and reduce to a simmer without the lid on.

After 10 minutes, add the diced zucchini and cook another ~15 minutes or until the noodles are soft. Remove from the heat and stir in the fresh spinach. As it sits, the soup will continue to thicken. Thin with additional stock to your desired consistency.

In a bowl, combine the ricotta, mozzarella, parmsan, basil and black pepper. Ladle your soup into a bowl and top with a spoonful of the ricotta mix.
Notes
NOTES
If you're going for a less rustic look, you can also add the lasagna noodles whole.  Once they've softened just a little bit, you can lift them out of the soup and cut them into thin strips with kitchen shears.  Don't wait until they are too soft otherwise they will just tear.
The soup will thicken as it sits.  For leftovers, you may choose to add a little broth when you warm it back up.  Or just enjoy it thick and chunky!
See "Substitutions and Customizations" for more ideas.