I'm so excited to bring you this week's meal plan! This plan relies on pantry staples like canned black beans, lentils, artichokes and tuna so that you can enjoy your weekend and not spend so much time cooking. Plus, that keeps thing affordable too!
In addition, frozen cauliflower prepped two ways means you can make two different meals using the same base without it feeling like deja vu. As usual, you'll made the more perishable ingredients, like salmon, fresh the night you eat it. But, since everything else is already prepped it means that dinner each night will only take 10 minutes to make!
If nothing else, you'll definitely want to make the roasted tomatillo salsa! It's the shining star in this week's meal plan and will be on heavy rotation at our house with a bag of Juanitas tortilla chips and a Topo Chico all summer long.
Let's get cookin'!
INGREDIENTS TO PREP
Hardboiled eggs (with the option to soft boil a few too)
Artichoke hearts
Brown lentils
Cilantro lime cauliflower rice
Lemon garlic cauliflower rice
Black beans
Fresh corn and red pepper salsa
Blanched green beans
Roasted tomatillo salsa
Tarragon tahini dressing
Roasted Potatoes
Estimated time spent cooking: 1.5 hours
Ingredients to be prepped fresh on the day of:
Pistachio pesto salmon
Sliced cucumber
Avocado
Cherry tomatoes
Scrambled eggs
Mix & Match Menu
Here are a few ideas of ways that you can mix and match these different ingredients. I LOVE hearing from you on creative ways you would put meals together with staples from your own fridge so please drop me a comment here on your best ideas!
Other meals I would recommend would be:
Nachos or quesadillas using the black beans, corn and red pepper salsa mix and the roasted tomatillo salsa
Dill egg salad sandwiches
Roasted chicken breast with roasted potatoes, green beans, and tarragon tahini dressing
Lemon garlic cauliflower rice with artichoke hearts, chicken, and spinach
Cilantro lime cauliflower rice with grilled flank steak, corn and red pepper salsa and tomatillo salsa drizzled over the top
The ideas are truly endless!

Time to Prep
Cauliflower Rice: One of my favorite methods for meal prepping is to take one ingredient and prep it two different ways to keep it fresh and exciting. For this recipe, I took two bags of frozen cauliflower rice and spread them onto two half sized sheet pans with a drizzle of olive oil and a pinch of salt and pepper.
I heated them on BROIL in my oven, rotating every 5 minutes and stirring every few minutes as well. When you notice they are getting toasty and golden brown (after 15ish minutes) you can pull them out of the oven and let them rest. The broiling method is awesome if you find yourself tight on stovetop space, and also because the high heat helps to dry out the excess moisture of frozen cauliflower rice.
Once cooled, you can mix in your fresh ingredients. Batch #1 will get 1 tsp fresh grated lime zest and 1-2 tbsp fresh chopped cilantro. Batch #2 will get 1 clove of minced garlic (1 is plenty since it's raw and will be super strong) and 1 tsp of lemon zest.
Hardboiled eggs: My foolproof method for hard boiling eggs is to steam them! In this case. I fill a sauce pot that has a tight fitting lid 2 inches deep with water and insert the steamer basket. When the water starts to boil, I add 8 eggs and cover with the lid.
Normally I will steam them for 10 minutes for perfect hardboiled eggs. At 10 minutes, I immediately pluck the eggs out and plunge them into an ice bath to stop them from cooking, and they will peel like a dream! I wait to peel them until I'm ready to use them.
Since I wanted softboiled eggs for my Nicoise salad, I pulled two eggs out at the 6 minute mark and plunged them into an ice bath first while the others finished steaming. I marked these eggs with a sharpie so I knew which ones were which.
Roasted Potatoes: You'll notice that with my batch cooking methods, I keep the seasoning to a minimum so that the ingredients stay as versatile as possible. Since these potatoes are used in both breakfast burritos and a nicoise salad, I needed them to be a blank slate for flavors that get add later.
I halved a bag of baby Yukon gold potatoes, and tossed them with olive oil, sea salt and pepper. They roasted at 425 degrees for about 15-20 minutes or until golden brown and soft.
Roasted Tomatillo Salsa: Fun story about this salsa is that we used to serve it at my old cafe! We were known for our breakfast burritos and the homemade salsas we offered with them were the icing on the cake. This tomatillo salsa is a great recipe to keep in your back pocket.
Prep 2lbs of tomatillos by peeling the husk off and rinsing any sticky residue left from the husks. Halve any giant ones so that they are relatively the same size. Add to a sheet pan with 1 halved and seeded jalapeno, 3 garlic cloves still in their skins, and 1 onion cut into chunks. Toss it all together with olive oil and salt and pepper and cook at 450 until deeply browned and soft, about 15 minutes.
Once cooled, drain any excess liquid from the pan and add the rest of the ingredients to a food processor or blender. Add the juice of one lime, half a cup of fresh cilantro, 1 tsp of honey and 1 tsp of ground cumin. Check for seasoning and add more salt if needed.
Green Beans: As much as I love the flavor of roasted vegetables, when it comes to meal prep they can get a little soggy as the week goes on, depending on how hearty the vegetable is. For green beans, my favorite method is to actually blanch them. That way, I have perfectly crisp tender beans for my nicoise and lentil salads. Plus, when I reheat them in a skillet with some garlic for the salmon dinner, they won't be overcooked by the time they are warmed through.
To do this, I bring a pot of salted water to a boil. Then I add the trimmed green beans and boil for 3-5 minutes, testing them periodically until they are tender, but still have a little snap to them. You want them just soft enough that they don't taste raw.
Then, using a slotted spoon or tongs, remove them from the pot to a bowl of ice water to immediately shock them and stop the cooling. This will also help them retain their vibrant green color.
Corn and Red Pepper Salsa Mix: Ok this isn't really a *salsa* but I wasn't sure what else to call it. You could certainly make it into a delicious salsa by adding fresh cilantro and lime juice though! This mix is going to be the perfect addition to the burrito bowls this week though and is also delicious spooned over flank steak if that's your thing.
Warm up a skillet to medium heat with 2 tbsp of avocado oil. While that's warming, husk 2 ears of corn and shave all the kernels off. (You can also use frozen corn here but you won't get the same sweetness as fresh corn and it will be a little more mushy).
Add the corn to the skillet along with 1 diced shallot and 1 diced red bell pepper. Sprinkle with salt and pepper. After about 5 minutes, add 2 cloves of minced garlic and lower the heat to medium low. Saute until the veggies are golden and slightly softened and then remove from the heat.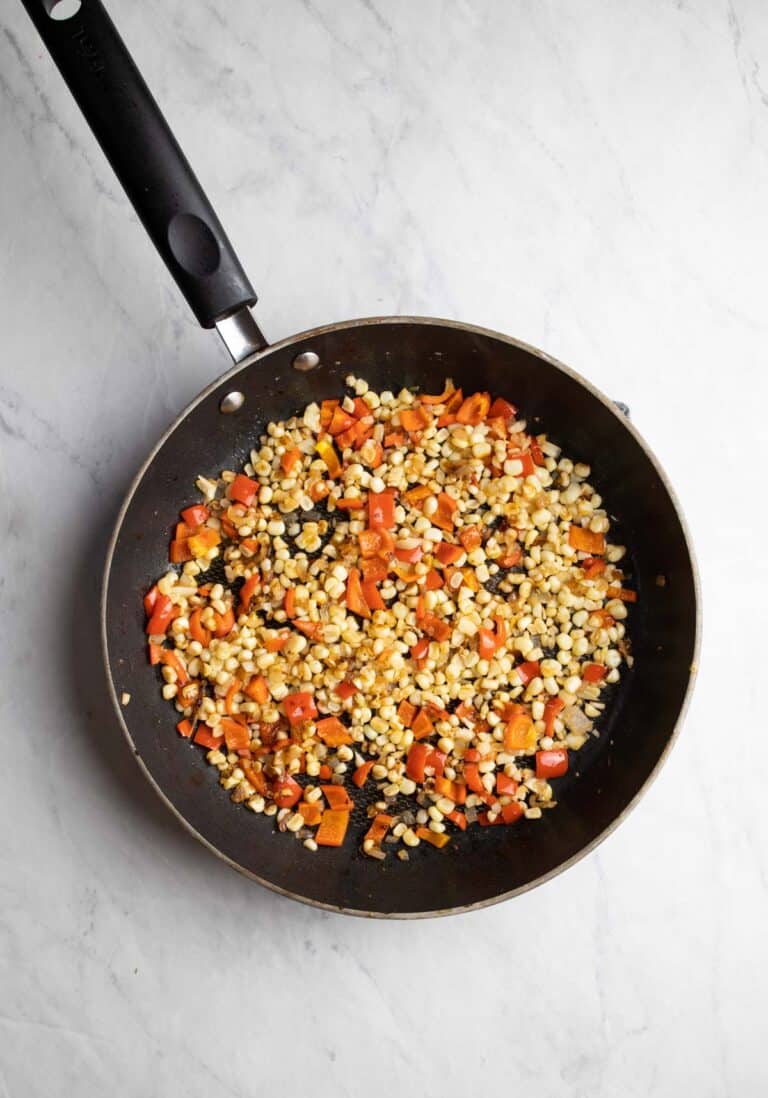 Tarragon Tahini Dressing: My friend Jamie from Dishing Out Health has a great recipe for this dressing so be sure and print it out!
Pantry Staples: Open cans or jars of black beans, artichoke hearts, and lentils. I use the pre-steamed lentils from Trader Joes because all you have to do is rinse them and they can be enjoyed hot or cold. This is my favorite cherry and goat cheese lentil salad that you can make with them too.
Breakfast Meal Prep
Breakfast Burritos: You can either assemble them fresh the morning of, or you can make them ahead of time. If you'll be eating them within 3-4 days, I would just roll them up and store them in an airtime container in the fridge so all you have to do is microwave them for 1.5 minutes that morning.
We will be using these ingredients we already prepped:
roasted potatoes
black beans
tomatillo salsa
For fresh ingredients we'll need:
flour tortillas
shredded cheddar cheese
scrambled eggs
fresh spinach
I personally like to keep my meat consumption to a minimum and I find breakfast is an easy place to cut it out of my diet. However, bacon or chorizo would be a delicious addition here as well as fresh tomato or cilantro.
Add all your ingredients into the tortilla, wrap it up into a burrito and enjoy! You can add the tomatillo salsa mixed in or served on the side depending on your preference.
Lunch Meal Prep
For lunches this week, we're making lentil bowls! Lentils pack major protein and are a totally mild flavor, making them a great base for salads.
We will be using these ingredients we already prepped:
brown lentils
green beans
hardboiled eggs
roasted potatoes
tarragon tahini dressing
For fresh ingredients we'll need:
fresh dill
crumbled bacon *optional*
feta cheese *optional*
Layer your ingredients into a bowl and sprinkle with chopped fresh dill. You can eat this naked or add the tarragon tahini dressing or your favorite honey balsamic dressing to sauce it up a little. Can be eaten cold or warm.
To mix up your lunches, I suggest making some dill egg salad sandwiches with the hardboiled eggs.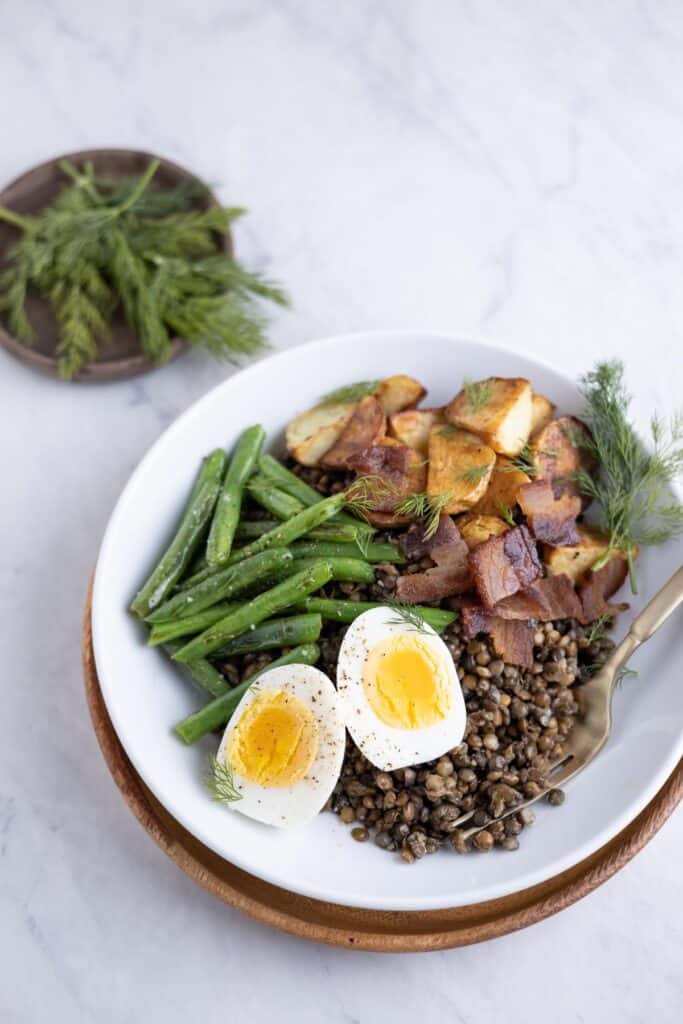 Dinner Meal Prep
Cauliflower Rice Burrito Bowls: I made these for our first meal of the week because I had some leftover shredded Mexican chicken from last week's meal prep plan that I wanted to use up. You can keep this vegetarian as your Meatless Monday dinner option, or add steak or chicken to bulk up your protein.
We will be using these ingredients we already prepped:
Cilantro lime cauliflower rice
Corn and red pepper salsa
Black beans
Tomatillo salsa
For fresh ingredients we'll need:
cherry tomatoes
avocado
shredded chicken *optional*
cheese *optional*
All you need to do is warm up your cauliflower rice, black beans and corn mix in a skillet or in the microwave and add your fresh ingredients on top. Dinner is ready in 5 minutes, boom!
Pistachio Pesto Salmon: I recommend waiting until the day of to make your salmon for two reasons. The first is obviously for freshness. The second is that when you make salmon ahead of time and then reheat it, it's going to dry out. For this reason I only recommend making salmon ahead of time if you'll be eating it cold later. Also, it only takes 8-10 minutes to bake a piece of salmon so it's not a huge time saver to make it ahead anyways.
We will be using these ingredients we already prepped:
lemon garlic cauliflower rice
green beans
For fresh ingredients we'll need:
You can smother your salmon with store bought pesto and bake for 8-10 minutes at 425 degrees OR you can make this insanely awesome pistachio herb crusted salmon if you want something extra special.
While the salmon bakes, warm the cauliflower rice up in the microwave. In a skillet over medium heat, add 2 tbsp avocado or olive oil and add a handful of green beans. Once they are warm and starting to soften, add two cloves of minced garlic to the pan and a sprinkle of sea salt. Cook 1-2 minutes more of until the garlic is soft. Enjoy yet another dinner ready in 10 minutes!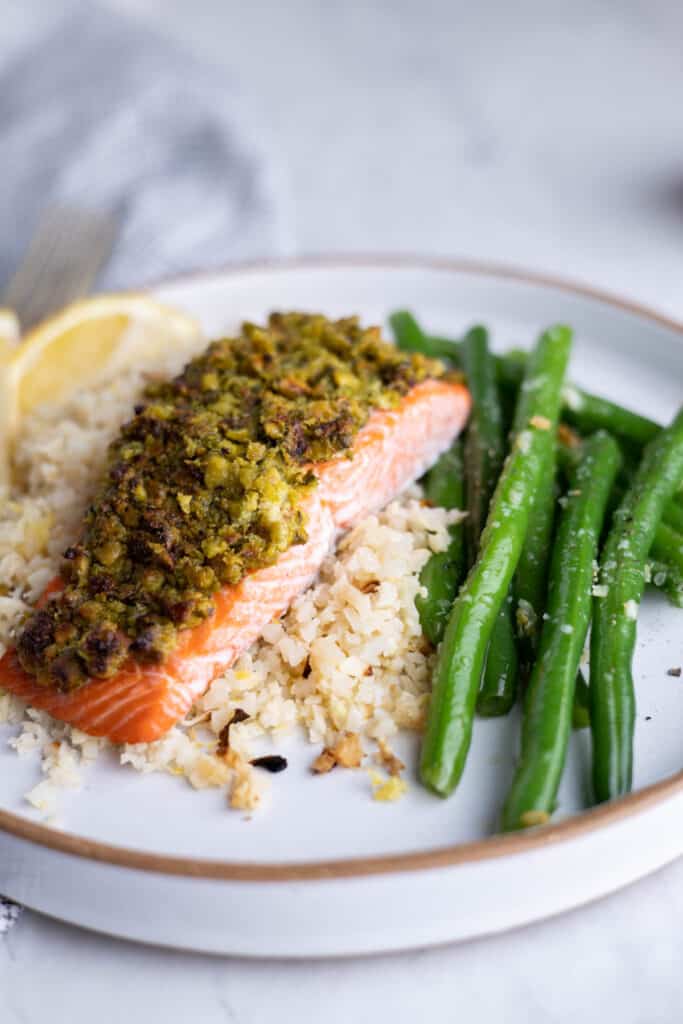 Nicoise Salad: It's hard for me to get excited about salad unless it's loaded with tons of flavorful goodies and this salad delivers big time! This nicoise salad is one of my favorite meals to take on a picnic since it tastes great served cold, and can feed a crowd. Plus, I'm a big fan of anything that can make a humble can of tuna shine!
We will be using these ingredients we already prepped:
Soft-boiled eggs
Roasted potatoes
Artichoke hearts
Green beans
Tarragon tahini dressing
For fresh ingredients we'll need:
Canned tuna
Sliced cucumber
Cherry tomatoes
Romaine lettuce
This week's meal prep plan was a homerun in our house and I hope you love it as well! I can't wait to hear how you customize it with your favorite ingredients. Please share this with your friends and family and leave me a comment to let me know how you'd mix and match these ingredients!
xoxo,
Katie