Making overnight oats with frozen fruit is our favorite way to enjoy tropical fruits like sweet frozen mango and tart frozen pineapple. Enjoy these filling, rich and creamy oats year round with less than 10 minutes of prep work.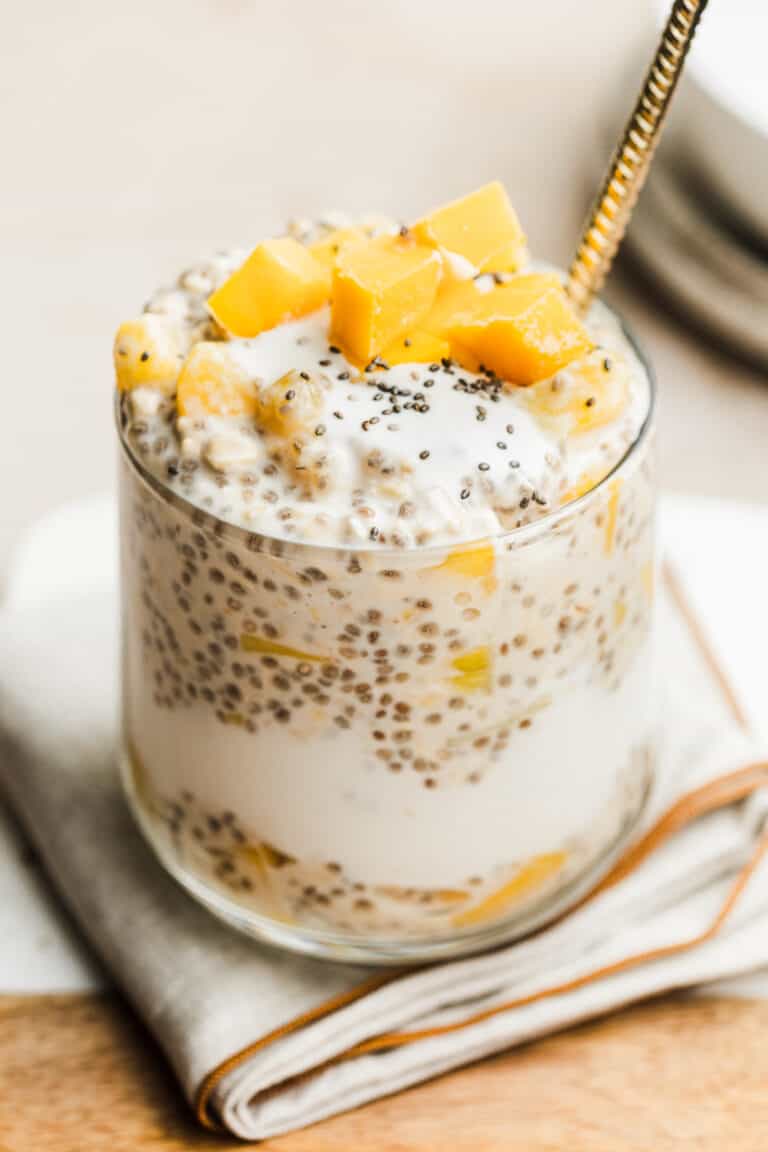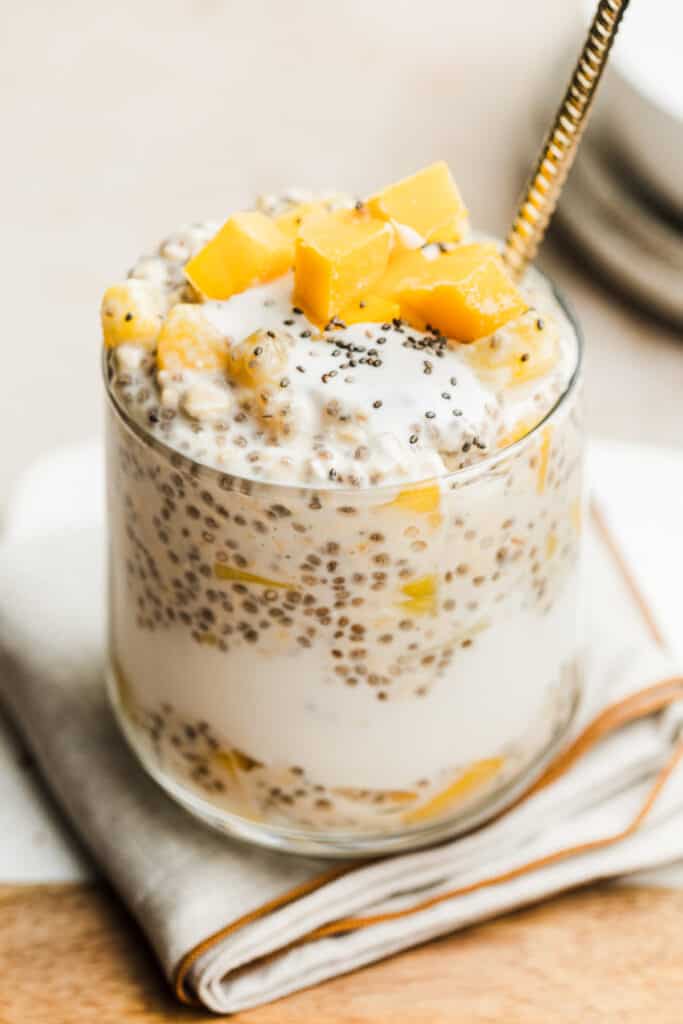 Why You'll Love Making Overnight Oats with Frozen Fruit
No extra prep work. Depending on the frozen fruit you use, you may not need to cut it into smaller bite-sized pieces. Just dump the chopped fruit in your oats and mix to combine. You may like our Protein Overnight Oats and Crave Worthy Chocolate Raspberry Overnight Oats for this same reason, too!
Affordable. Frozen fruit is significantly cheaper than fresh fruit and is widely available year round.
Keeps you full until lunch. Overnight oats is wildly popular because it's not only affordable, but extremely filling. Enjoy this cold oatmeal in the morning to hold you over until lunch without any snacking in between.
Easy to grab and go. If your mornings are hectic, prepping a breakfast the night before that you can grab on your way out the door is essential. Save the Oat Milk Pancakes, Chocolate Oat Flour Waffles and Healthy Chocolate Baked Oatmeal for slower weekends.
Ingredient Notes and Substitutions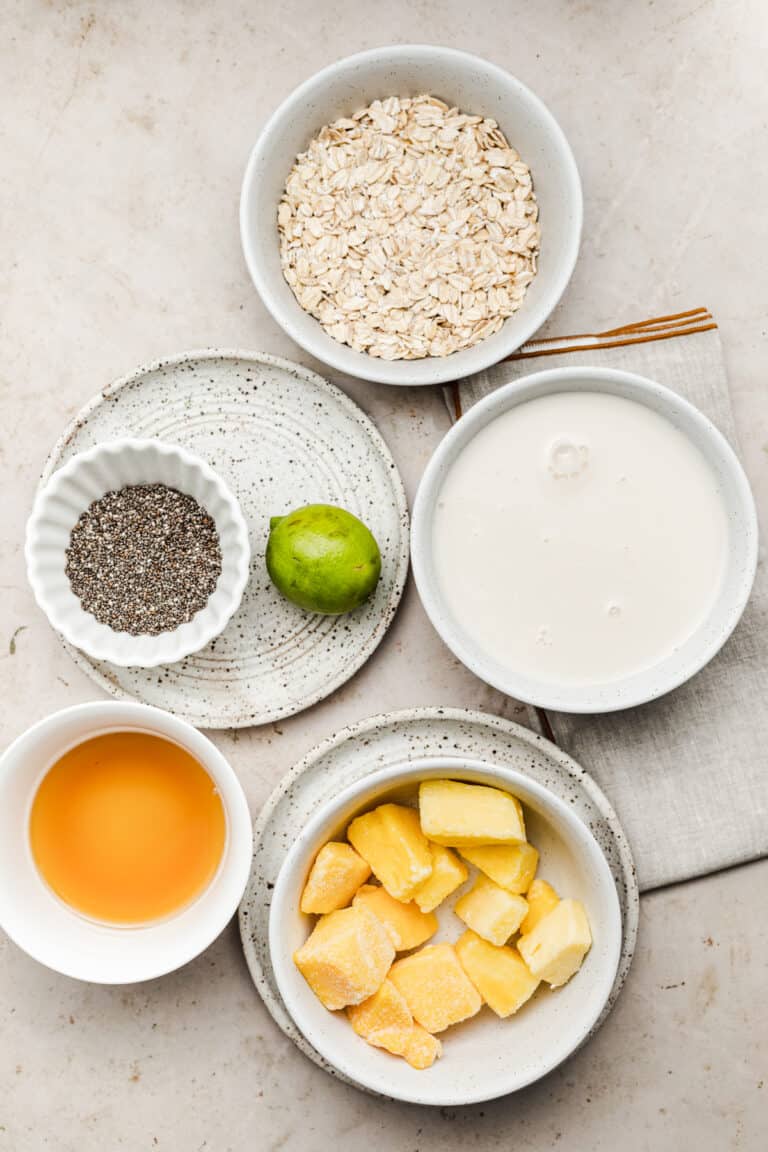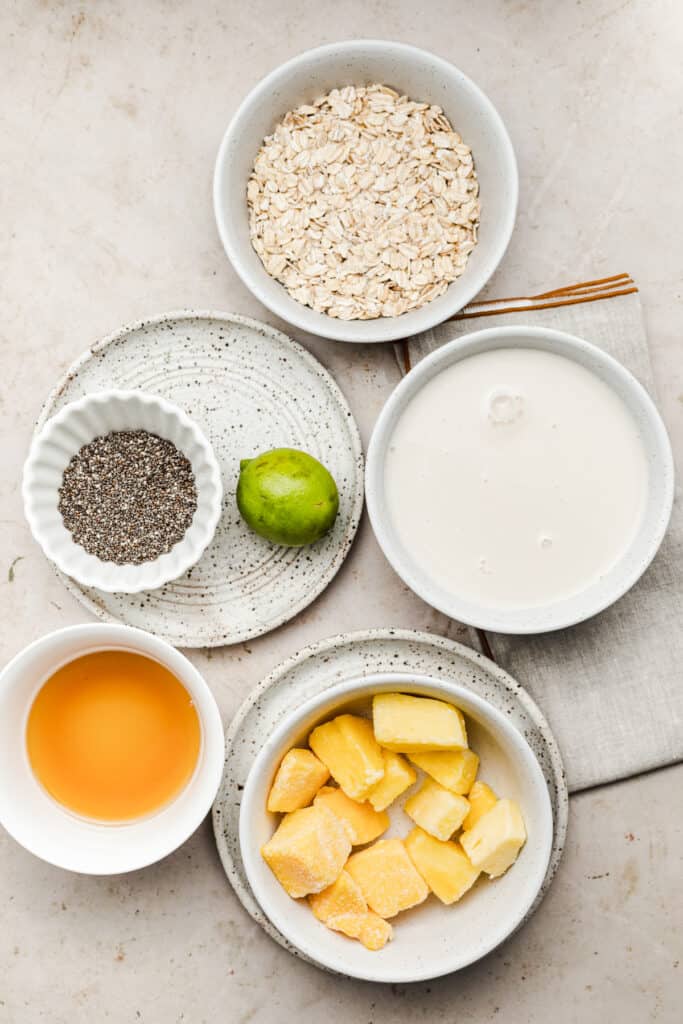 Frozen tropical fruit – We used frozen mango and frozen pineapple, but you can use any frozen fruit you have. Frozen strawberries, passionfruit, papaya, jackfruit, guava, or even frozen sliced bananas or berries work. If you choose to substitute the fruit, keep the measurement at 1 cup total.
Rolled oats – You may be wondering what oats to use for overnight oats. Rolled oats are the best oats to use when making cold oatmeal because they will soften enough overnight without losing all of their texture. Steel cut oats are too tough and will be really chewy and cold oatmeal with instant oatmeal or quick oats will be too soft and mushy. If you are gluten-free, make sure to use gluten-free certified rolled oats.
Lime juice – A small squeeze of lime juice compliments the tartness in the pineapple and makes the tropical flavors in cold oatmeal pop.
Maple syrup – We like to use a small amount of liquid sweetener to sweeten our oats to taste. Feel free to substitute your favorite liquid sweetener. Agave or raw honey would also be a good choice.
Milk – Any dairy or non dairy milk will work here, so use your favorite. We like to use coconut milk to add a creamy richness without dairy. You can make your overnight oats with water, however, they won't be nearly as flavorful or creamy!
Chia seeds – Chia seeds are used to make your cold oatmeal thick and pudding like. If you are out of chia seeds or would like to make overnight oats without chia seeds, try substituting hemp seeds or ground flaxseed in it's place.
How to Add Frozen Fruit to Overnight Oats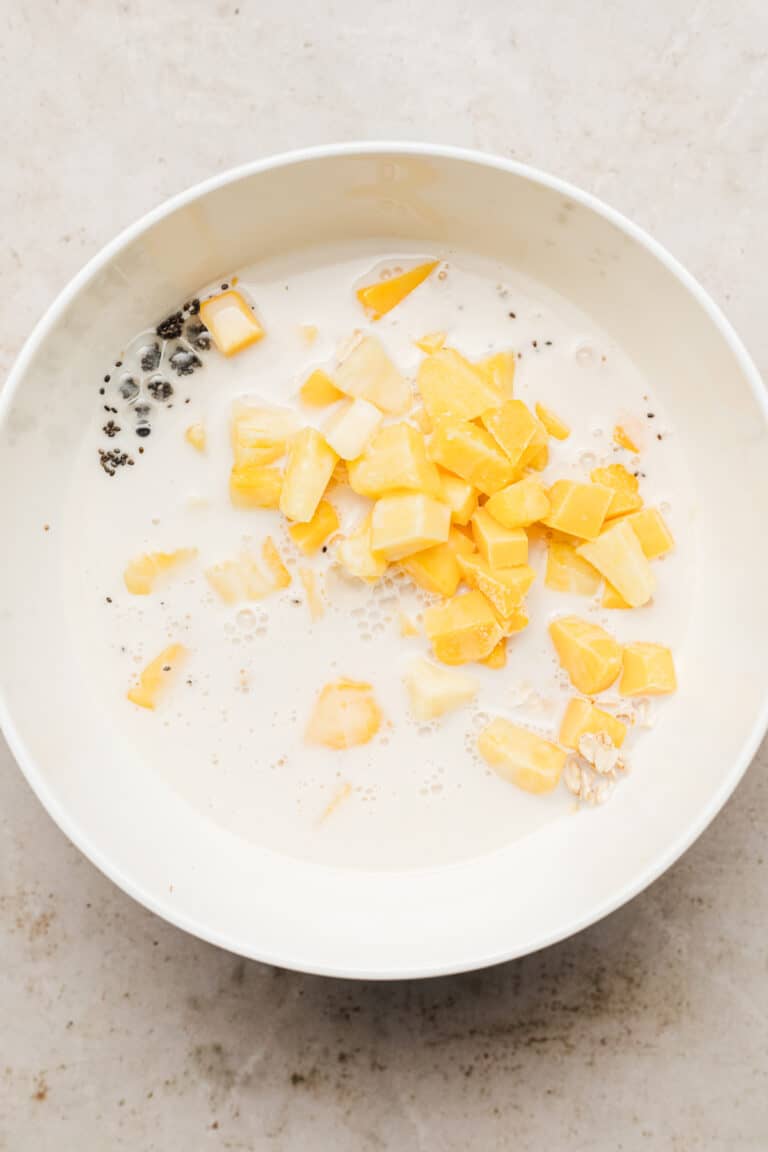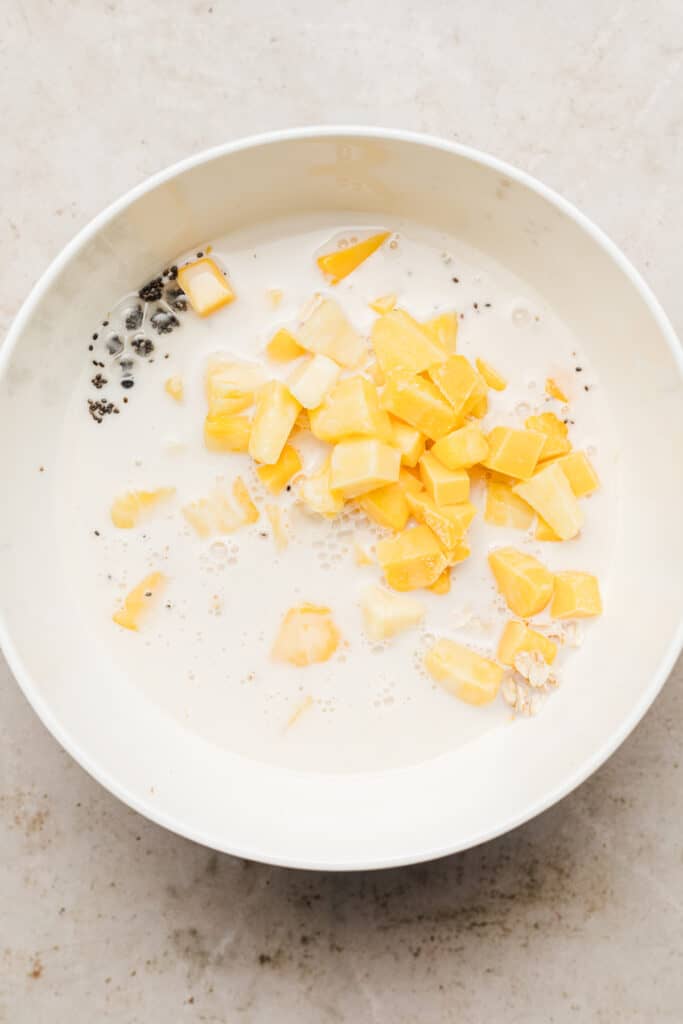 Prep the ingredients. Frozen fruit is cut into small chunks that work great for making smoothies, but we like to cut our frozen fruit into smaller, bite-sized pieces. If your frozen fruit is extra frozen and difficult to cut, allow it to thaw at room temperature for about 10 minutes before dicing.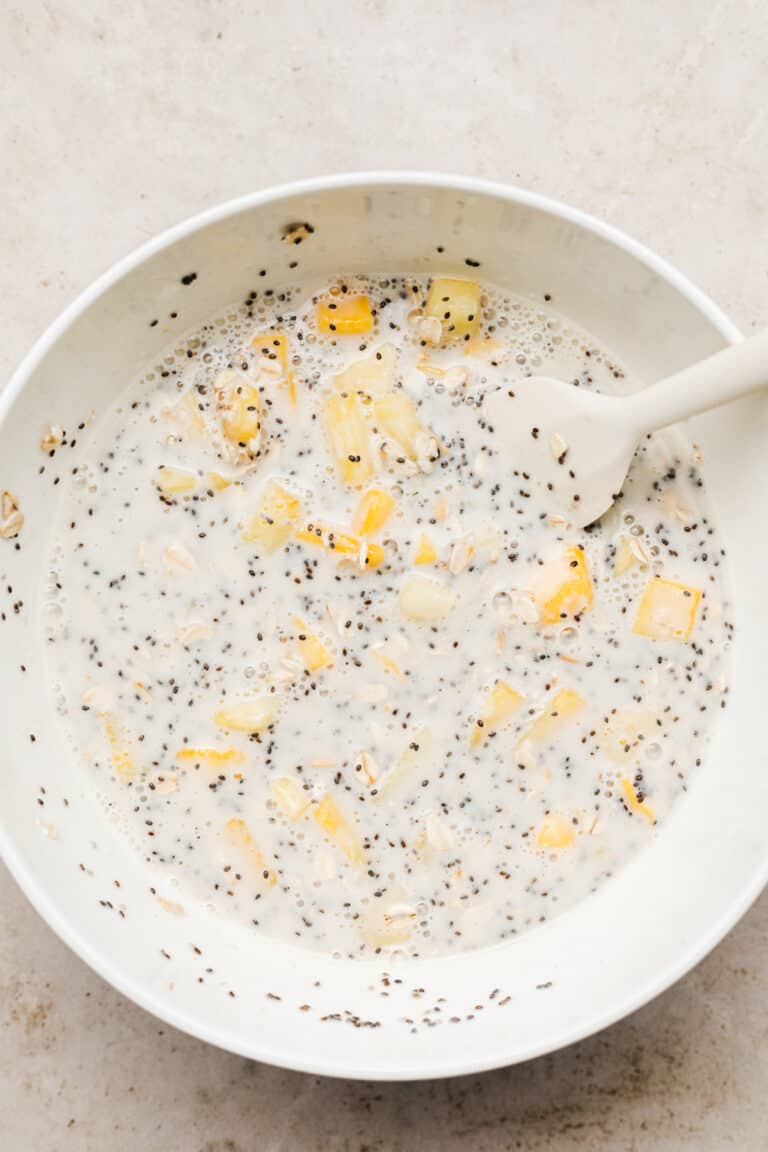 Mix to combine. In order to help the chia seeds absorb the liquid and soften the rolled oats, it is important to make sure they are both submerged in the milk.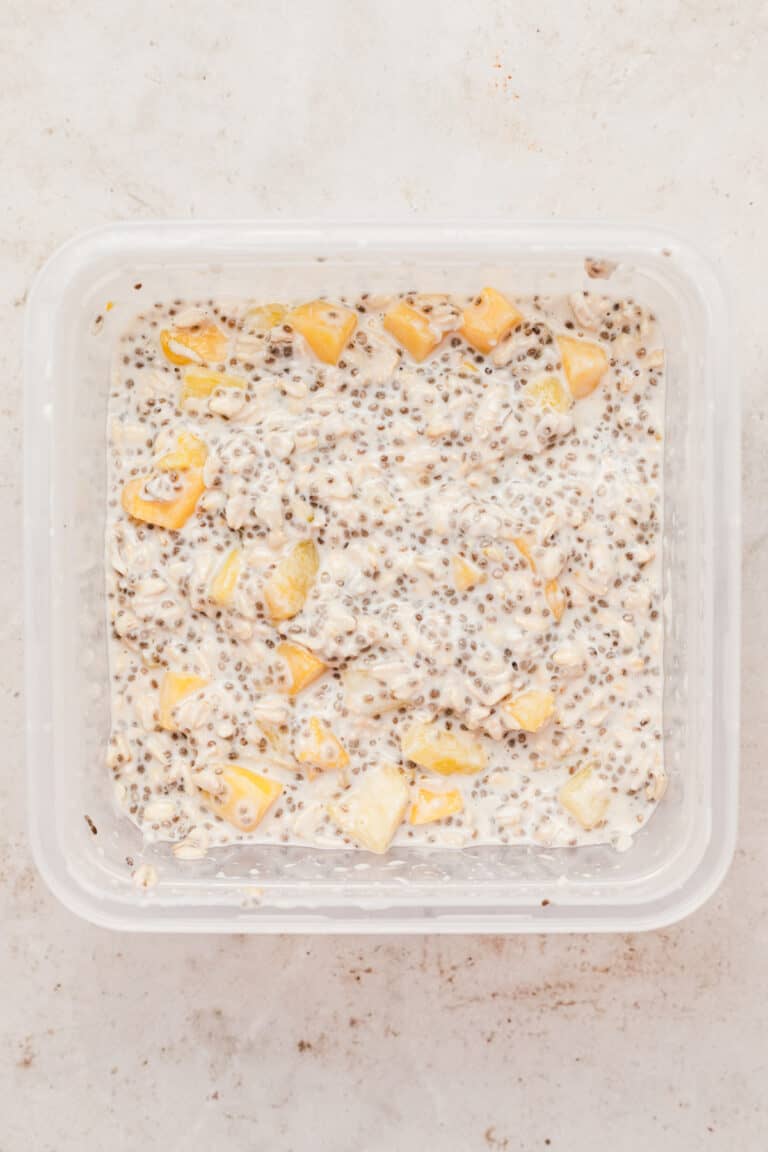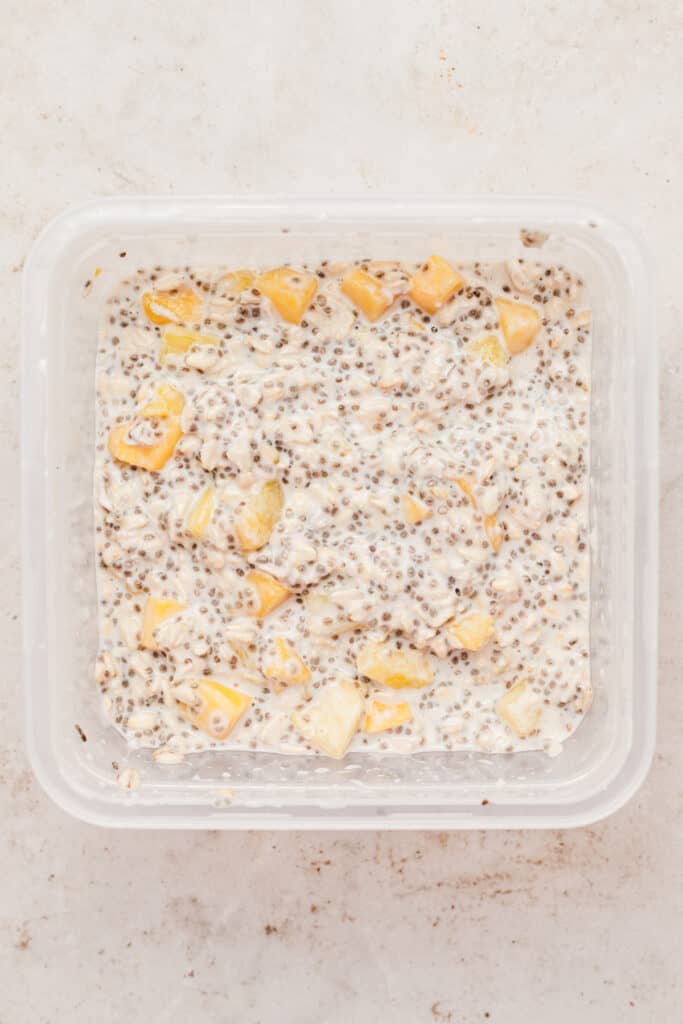 Add all ingredients to a bowl or container with a lid. This does not include the recommended toppings like yogurt, coconut flakes, chia seeds, and additional fruit of choice. If you are halving this recipe, feel free to stir all of your ingredients together in a single serve glass jar.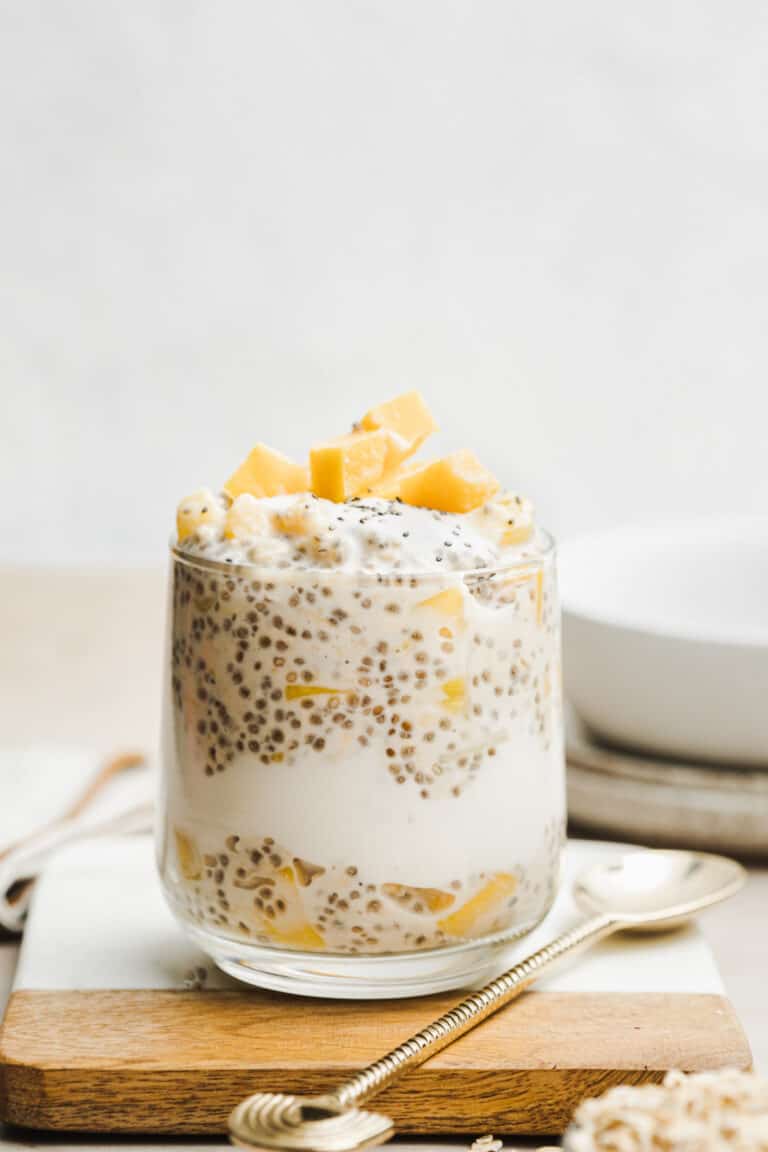 Chill overnight. It is best to soak your cold oatmeal for 8+ hours, but it can be chilled for a minimum of 4 hours. Then serve with coconut yogurt, additional frozen fruit and shredded coconut, as desired.
FAQs
Can you use frozen fruit in overnight oats?
Absolutely. Most people think of smoothies and smoothie bowls when buying frozen fruit, but it has many uses, including making cold oatmeal. While the oats are soaking overnight, the fruit will thaw and be the perfect texture to enjoy in cold oatmeal.
Can frozen fruit go bad?
Frozen fruit that remains frozen is technically safe to consume indefinitely. With that being said, it's taste and texture decreases after being frozen for significant amounts of time. Once frozen fruit has been defrosted, it should be consumed within two days. After two days, it will start to brown and become slimy.
Is frozen fruit as healthy as fresh?
Frozen fruit is equally as healthy and nutritious as fresh fruit, sometimes even more so. Frozen fruit is typically picked and frozen at optimal ripeness whereas fresh fruit is picked before optimal ripeness to account for travel time to grocery stores and consumers. This means the frozen fruit has had time to ripen properly, which helps it retain more nutrients.
Can overnight oats be heated?
Overnight oats are made to be enjoyed cold straight from the fridge, but they can be warmed up. Simply put your oats in the microwave and heat until warmed through before adding your toppings of choice.
Tips for Success
Mix thoroughly. Any chia seeds or rolled oats that aren't mixed in well are going to be more difficult to digest. For the best texture and consistency, mix well and make sure all of the oats and seeds are fully coated and submerged in the liquid.
Don't skip the toppings. The toppings are what make cold oatmeal extra delicious and can help make your oats even more filling.
Other Delicious Breakfast Recipes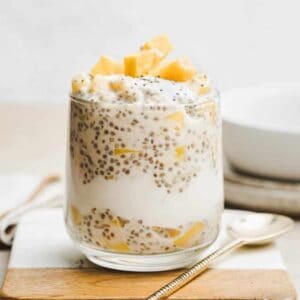 Tropical Overnight Oats with Frozen Fruit
Making overnight oats with frozen fruit is our favorite way to enjoy tropical fruits like sweet frozen mango and tart frozen pineapple. Enjoy these filling, rich and creamy oats year round with less than 10 minutes of prep work.
Ingredients
1

cup

old fashioned (rolled) oats

2

tablespoons

chia seeds

1

pinch of salt (optional)

1

teaspoon

fresh lime juice

2

tablespoons

pure maple syrup

1/2

cup

frozen mango chopped into bite-sized pieces

1/2

cup

frozen pineapple chopped into bite-sized pieces

Toppings: yogurt, coconut flakes, chia seeds, fruit of choice
Instructions
In a large glass jar, bowl or container with lid, add all of your ingredients. Mix together with a spoon until evenly combined.

Place jar or container into the fridge to chill overnight.

In the morning stir and serve by dividing into individual jars or bowls.

Top with desired toppings like yogurt, fresh fruit, chia seeds or coconut flakes. Or layer in a glass with yogurt for a beautiful and fun way to eat your overnight oats.
Notes
Do not use quick oats or steel-cut oats for this recipe.
These overnight oats with frozen fruit is best when consumed within 2 days of making. After that, the fruit isn't the best texture and may start to brown.