This lemon beet hummus is a favorite in our house because it is so vibrant and colorful with a zippy lemon flavor and impossibly creamy texture. Even the self proclaimed beet haters love it!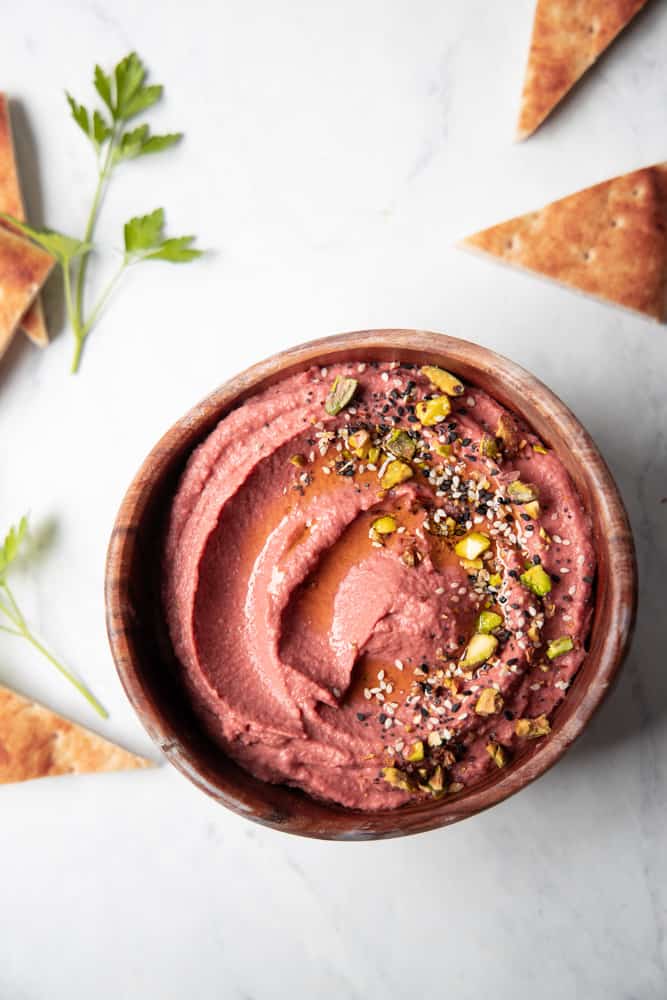 WHY YOU'LL LOVE THIS RECIPE
This lemon beet hummus checks a ton of boxes for fitting into a variety of different diet and allergy categories making it perfect to take to potlucks where you won't know everyone's food preferences. Best of all, you can meal prep it and it will last all week (unless you devour it first!)
Dairy Free
Gluten Free
Vegan and Vegetarian
You can sneak the beets in to get your kids to eat their vegetables without even knowing it
Gorgeous fuchsia pink color
Perfect for meal prepping ahead of time!
Great for potlucks and gatherings
Keeps for a week in the fridge
Delicious as a dip, in wraps or smeared onto a bun for veggie burgers
HOW TO MAKE THIS RECIPE IN 5 MINUTES
I love a good dip that I can whip together in 5 minutes or less. Sometimes, that means taking advantage of a few shortcuts. In this case, I utilize beets that are already steamed and peeled. Could you do this yourself? Of course! Does it take forever and leave your kitchen looking like a crime scene? Yup! It's well worth it in my opinion and Trader Joe's has a great option that's still affordable.
NOTE: To get the brightest and most vibrant pink color, you'll want to cook the beets fresh yourself.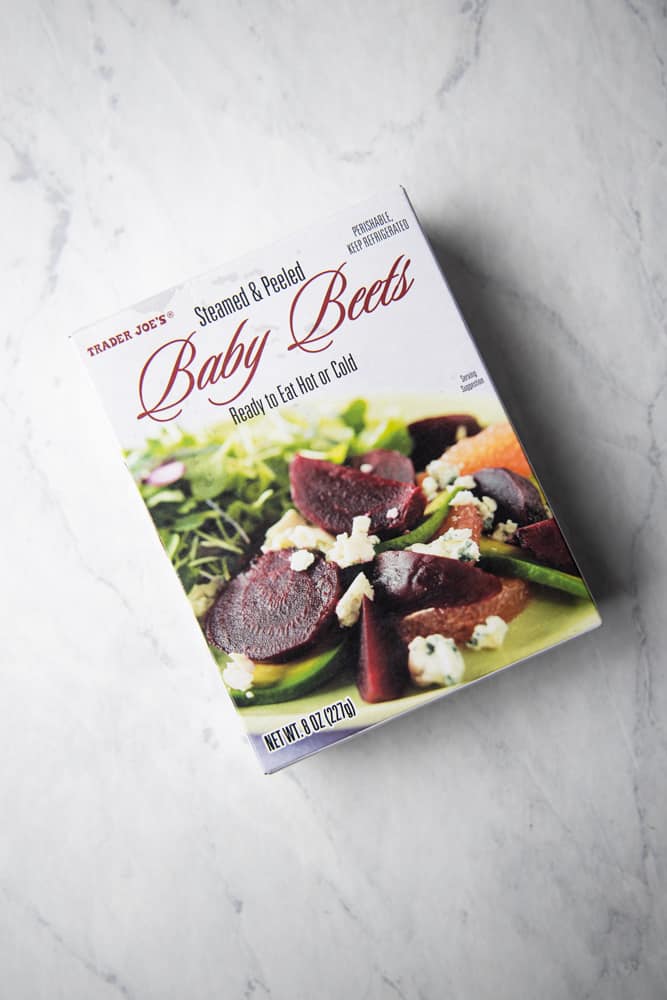 HOW TO MAKE THE SMOOTHEST HUMMUS
One key to making impossibly smooth pink hummus is to try and remove as many garbanzo bean skins as possible. It's time consuming but worth spending an extra minute to do so! After I rinse and drain the garbanzo beans in a strainer, I'll rub my hand over the top to loosen up their skins. Then it's just a matter of picking them out. You don't have to obsess over it, but you will notice a big difference in the texture if the end result.
If you really want to go the extra mile, you can soak and cook the garbanzo beans yourself, for the ultimate in flavor and texture. But then, it's not really a quick and easy 5 minute beet dip anymore.
Other than that, it's just a matter of letting the food processor do the work for you! You can also use a blender, but depending on how powerful it is, you may need to add a little water to get it to blend thoroughly.
For extra flavor, I add not only the juice of a lemon, but also the zest. A little fresh parsley adds an herbaceous touch, raw garlic brings some spicy zing, cumin adds an undertone of smokiness, and tahini lends a nutty flavor and smooth texture that can't be "beet".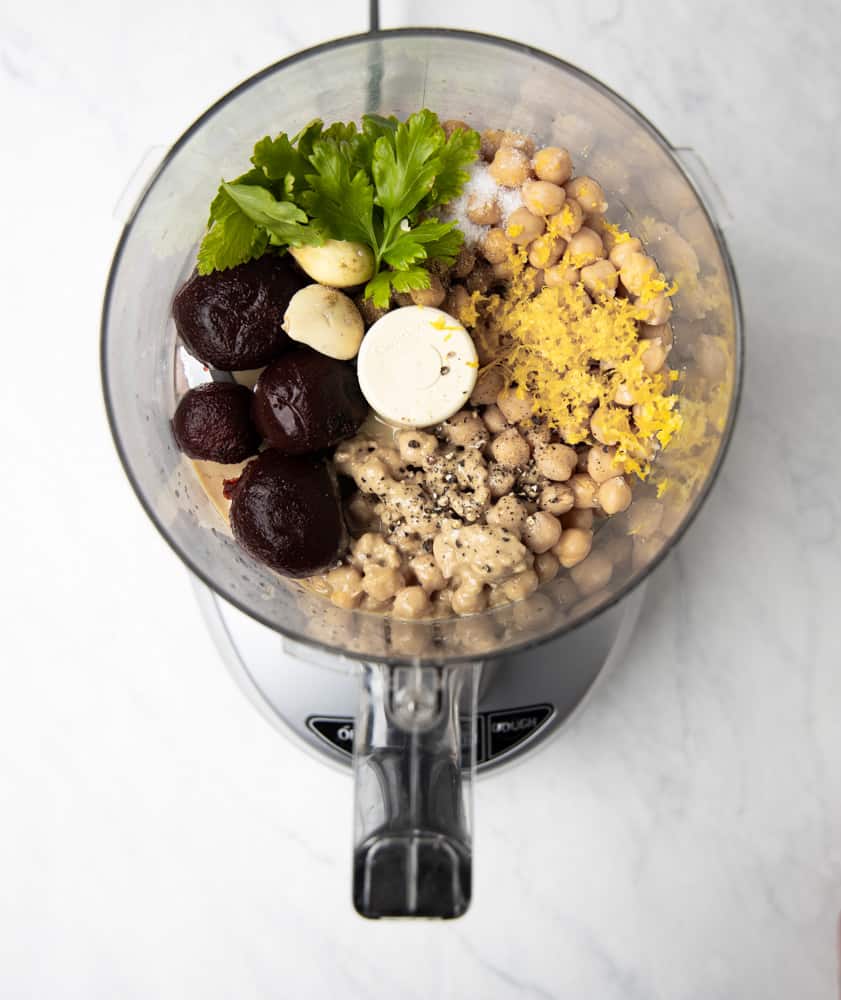 MEAL PREPPING THIS LEMON BEET HUMMUS
How often do you find yourself rushing around during your day, without a plan for food, and thinking to yourself "What I wouldn't give for a healthy drive through option right now!" I know I'm not the only one. My go-to is Starbucks since they have those little snack packs with things like hummus, chicken and veggies, or hardboiled eggs, crackers and apple slices. Those suckers get expensive though!
I decided I could easily make my own version. Not only does it save me TONS of money, but this way I could customize with the veggies that my family loves. And what do you know, what I had prepped this week was gobbled up in 24 hours!
It's amazing how much of a difference it makes when you have fresh veggies available at your fingertips. For my family, the trick to eating healthy really is just putting those prepped fruit and veggies at the forefront so we don't default to grabbing chips or something processed. If I put a platter of this lemon beet hummus out on the counter with a variety of dippers, it'll be gone in half an hour!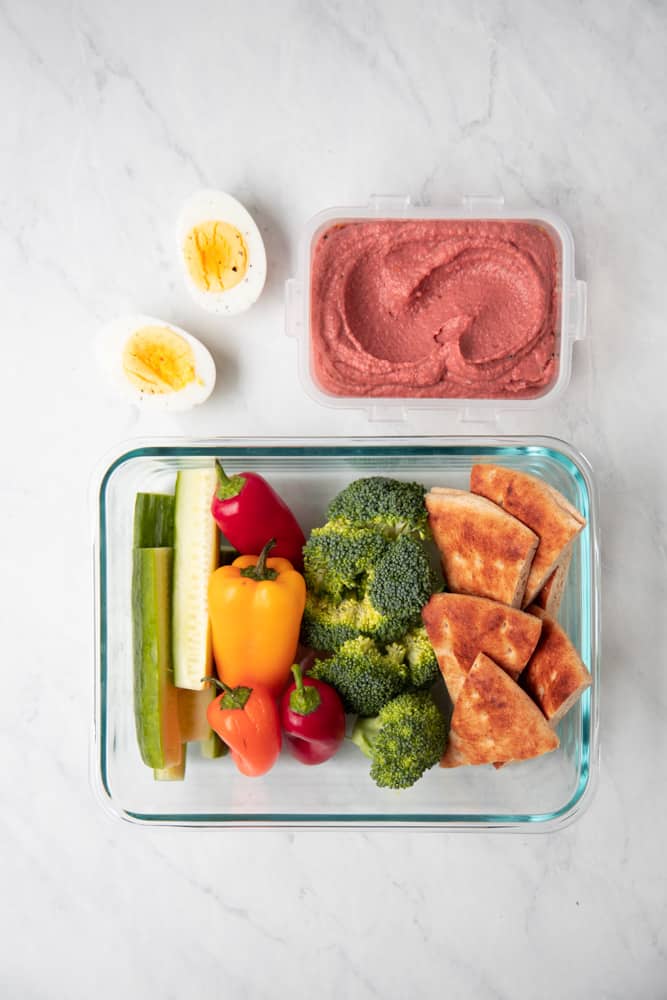 IDEAS FOR RECIPES THAT USE BEET DIP
You don't have to be a meal prepping fanatic like me to get the most out of this hummus. Here are some of my favorite ways to enjoy it:
As a spread inside of a tortilla wrap filled with romaine, shredded carrots, chicken, cucumber and sprouts
As a spread on your veggie burger bun
Inside a pita pocked stuffed with falafel
Thinned out with water and drizzled on top of a buddha bowl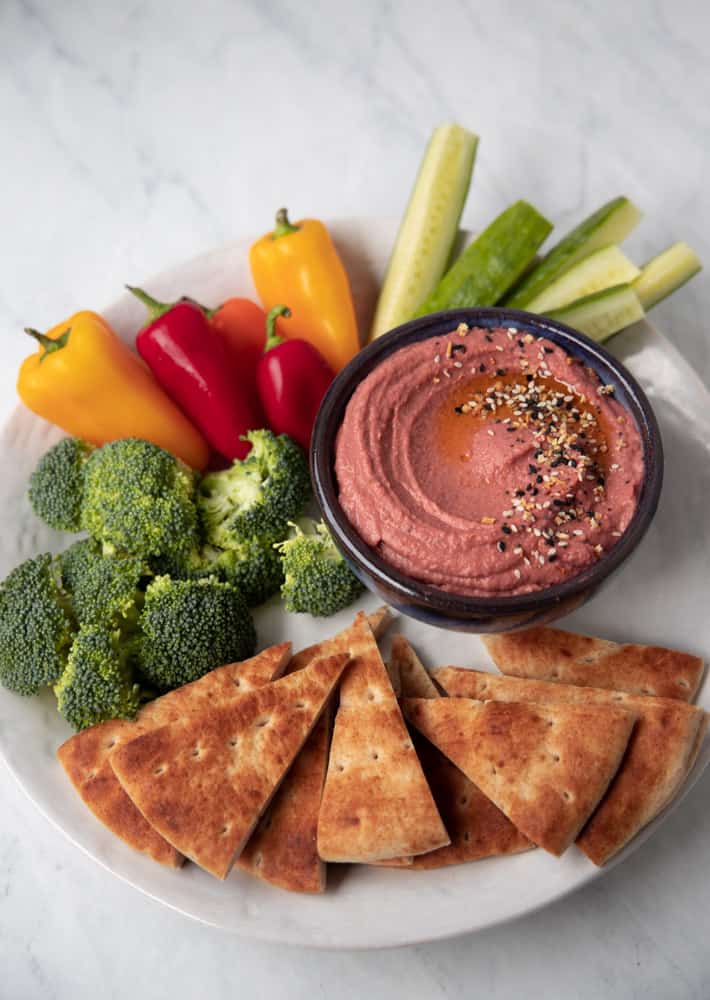 INGREDIENTS AND SUBSTITUTIONS
BEETS–I buy pre-steamed and peeled packaged beets that are vacuum packed. These are NOT the same as the kind in the can which have a metallic taste and can have a mushy texture. Avoid pickled beets too, those are not interchangeable! One substitution I have found is using ground beet powder that I find at the health food store. The color is pure magic and it doesn't have as strong of an earthy beet flavor. Much less messy too!
TAHINI–Tahini is made from ground sesame seeds and is a one of a kind flavor. I wouldn't substitute with a nut butter as those flavors would overwhelm the hummus. If you don't have it or can't find it, you can just omit.
LEMON-I use the zest AND the juice because it adds even more lemon flavor and tang to offset the creamy hummus.
PARSLEY–If you don't have parsley, I would substitute another delicate herb such as dill or chives but you can also just leave it out. It just adds a hint of herb flavor.
CUMIN–A little goes a long way so I only add a little in this recipe. It's slightly bittersweet with undertones of earthy and nuttiness. If you don't have it on hand you can omit.
GARLIC-I add two cloves and it adds a noticeable spiciness to the recipe. If you don't want to actually taste the garlic, or have garlic breath after, I'd recommend scaling back to one clove or substituting a little garlic powder instead.
GARNISH–I top it off with a glug of extra virgin olive oil, Trader Joe's Everything But the Bagel Seasoning and some crushed pistachios. Other favorites are hemp hearts, chia seeds, puffed quinoa, pine nuts, and sesame seeds.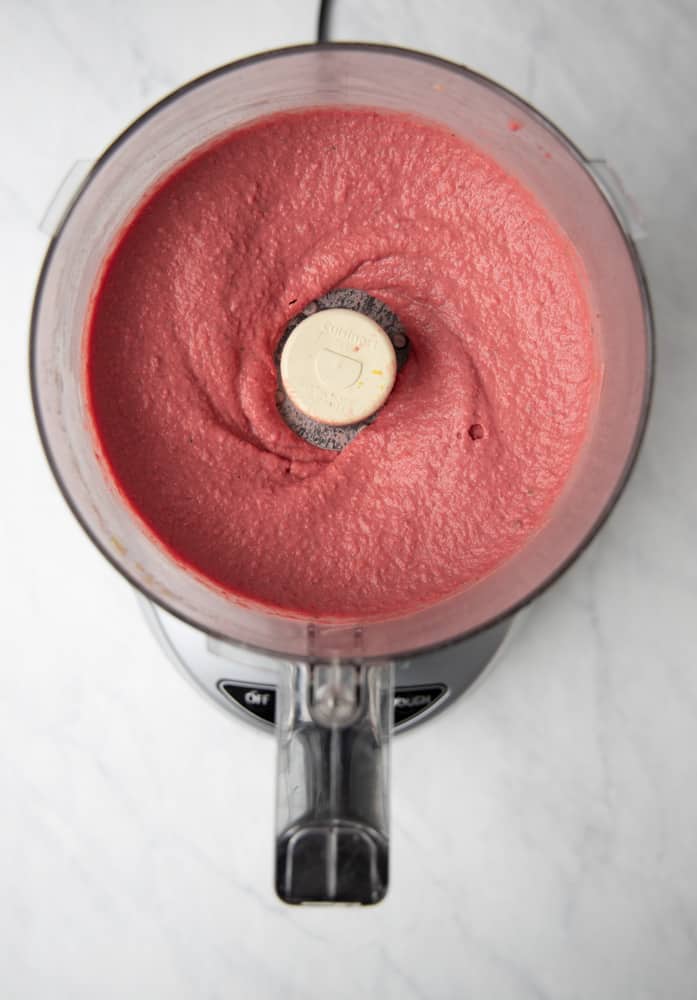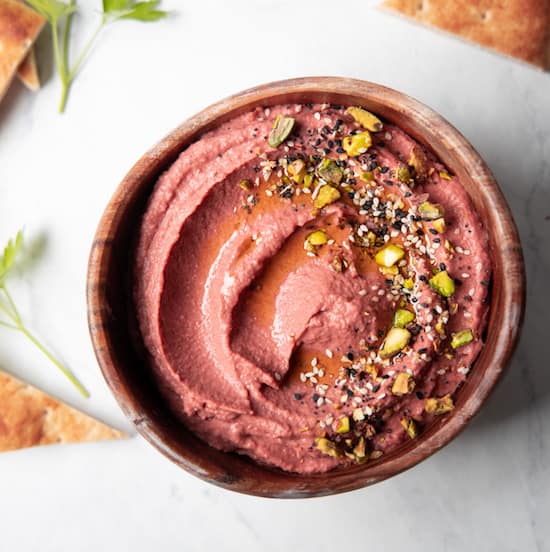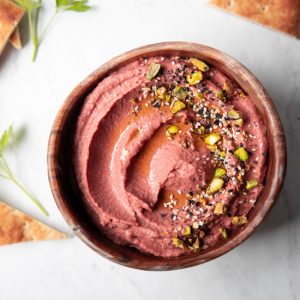 Lemon Beet Hummus
This lemo beet hummus is a show stopper with its vibrant pink color! Lemon and garlic mellow out the earthy beets to give it a complex flavor while tahini and chickpeas make this dip impossibly smooth. It's a must to have on hand for healthy snacking!
Ingredients
8

oz

steamed and peeled beets

1

12oz

can garbanzo beans

1/4

cup

tahini

1

whole

large lemon, zested and juiced

2

cloves

garlic, peeled

2

tbsp

fresh parsley

1/2

tsp

ground cumin

1

tsp

kosher salt

1/4

cup

extra virgin olive oil
Instructions
In a colander, rinse and drain the garbanzo beans thoroughly. Rub your hands over them to loosen up their skins and remove as many as possible for a smooth texture.

In a food processor, add the beets, rinsed garbanzo beans, tahini, lemon zest and juice, parsley, garlic, cumin, and salt. Pulse until combined.

With the motor running, slowly drizzle in the olive oil until very smooth and uniform in color, about 1 minute.
Notes
-Using pre-steamed and peeled beets will save you so much time!  Just look for the fresh vacuum sealed kind that are refrigerated in the produce section and not the kind in a can.
-If you don't have a food processor, you can also use a blender but you may need to add a little water to get it to blend properly.