This healthy August meal prep plan celebrates summer's bounty of veggies! You'll love these fresh and healthy ingredients you can batch cook to make mix and match lunches and dinners a breeze during the week!
INGREDIENTS TO PREP
On this week's August batch cooking meal plan we'll be making the most of summer produce and doing some grilling! Here's what ingredients we will be batching:
Fluffy couscous
Garlic cauliflower rice
Pickled red onions
Avocado lime crema
Roasted sweet potatoes
Tzatziki
Spiralized zucchini zoodles
Grilled chicken
Grilled zucchini, peppers and onions
Rosemary garlic turkey burgers
Mashed cumin black beans
Estimated prep and cook time: 1.5-2 hours
Estimated weeknight cooking and/or assembling time: 5-10 minutes
Feeds: 2 adults
SHOPPING LIST
MIX AND MATCH MENU
Here's just a few ideas I came up with for ways you can mix and match these different batch cooked ingredients to make a breakfast, 2 different lunch options, and 5 dinner ideas! Best of all, they all take just 5 (or 10 at most) minutes to assemble with some light cooking during the week.
LET'S BATCH COOK!
Garlic Cauliflower Rice
I like to broil my cauliflower rice to help dry out some of the excess moisture. Turn your broiler on. On a rimmed cookie sheet, spread out your frozen cauliflower rice into an even layer. Drizzle with olive oil and season with salt and pepper.
Broil until lightly golden brown, stirring every 5 minutes to ensure even cooking. This can take 15-20 minutes.
*If using fresh cauliflower rice, this may only take 5-10 minutes.
Once you remove it from the broiler, stir in one finely minced clove of garlic. The heat will cook the garlic through. You don't want to add the garlic during the broiling process or it will burn and overpower the cauliflower rice with the flavor or bitter, burnt garlic. Let cool completely before packing away in an airtight container.
Fluffy Couscous
Bring 2.5 cups of water or stock to a boil. In a bowl, add 2 cups of couscous and pour the hot stock over the top. Immediately cover with plastic wrap and set a timer for 5 minutes. After 5 minutes, remove the plastic wrap and fluff the couscous up with a fork. If you used water, you'll want to season with salt and pepper.
Let cool completely before packing away in an airtight container.
Pickled Red Onions
In a small pot, bring 1 cup of water and 1 cup of red wine vinegar to a simmer. Add 3 tbsp of white sugar, 1 tsp of sea salt. Stir until sugar is completely dissolved and remove from the heat.
Thinly slice 1 red onion using a knife or mandoline. In a glass, heat proof container, add the onions and 1 tsp of whole peppercorns and pour the pickling liquid over the top. Wait until the liquid is completely cooled before putting a lid on your container.
Roasted Sweet Potatoes
Preheat your oven to 400 degrees. Dice up 1 large sweet potato and toss with olive oil, salt and pepper and place on a baking sheet. Bake until fork tender, about 20-25 minutes, stirring half way through.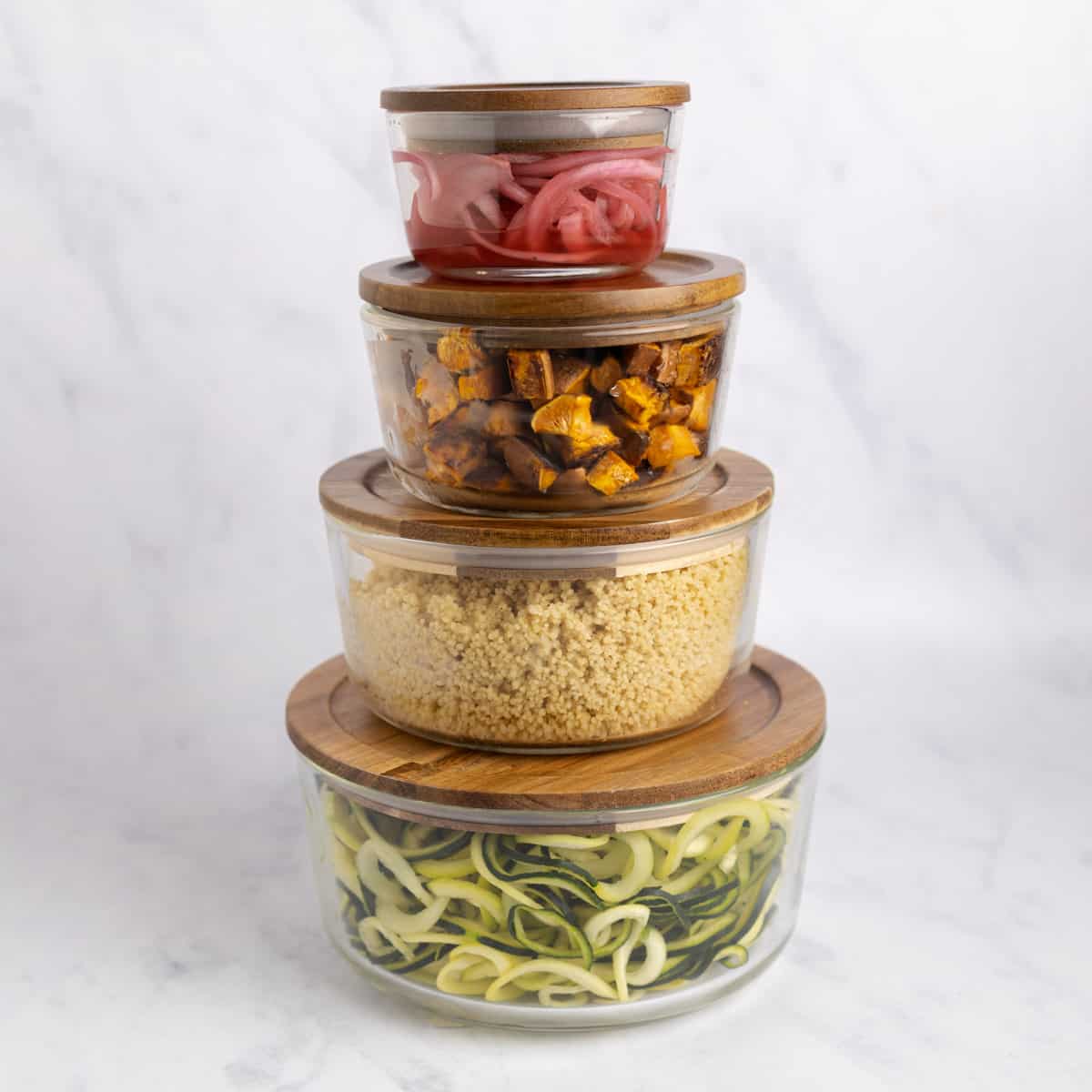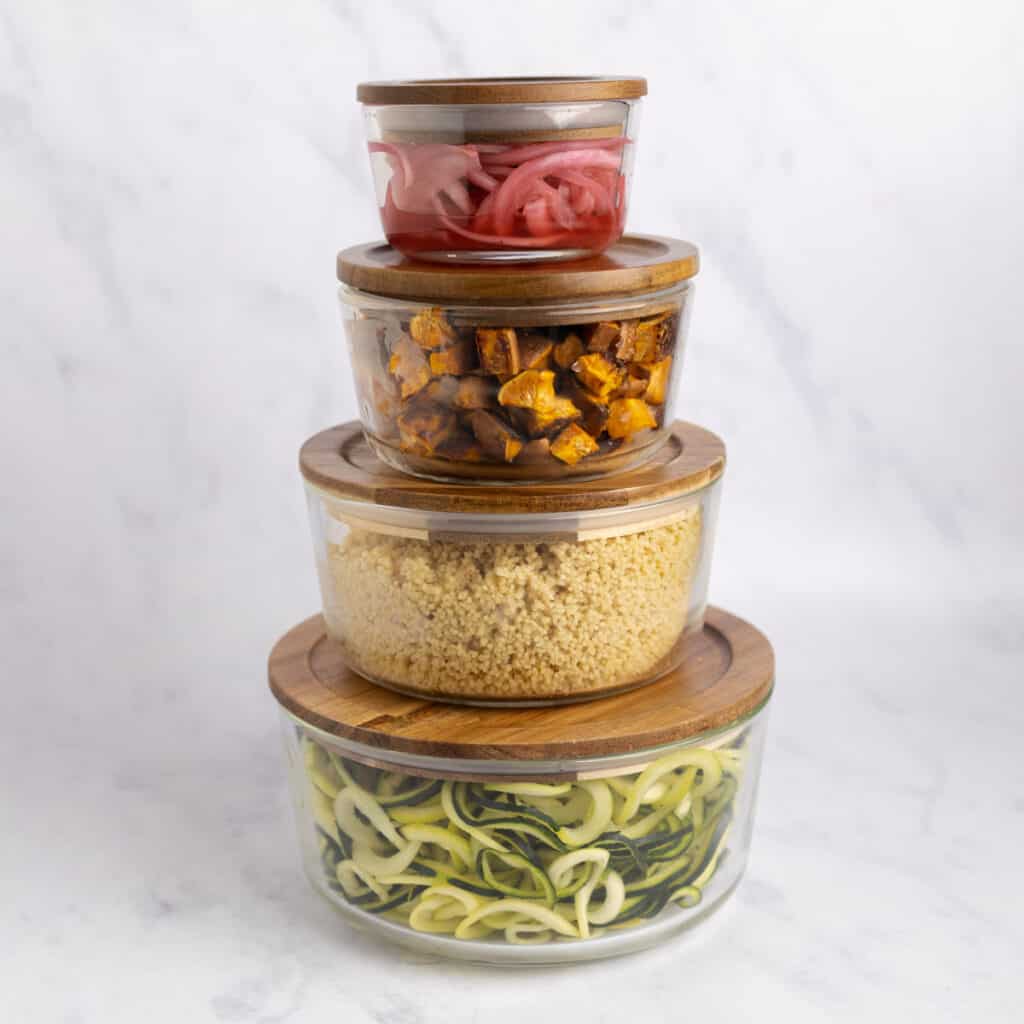 Avocado Crema
In a food processor or blender combine 1 ripe avocado, 1/4-1/2 of a seeded jalapeño depending on your spice preference, the juice of 1 lime, 2 cloves garlic, 1 green onion or 1 tbsp of cilantro, 1 tbsp olive oil, and salt and pepper. Add enough water to blend it to a smooth consistency that you can drizzle, about 1 cup worth.
Zucchini Zoodles
Using a spiralizer, spiraling 1 large or 2 small zucchinis. Store in a container with a paper towel to absorb any excess liquid from the zucchini.
Tzatziki Sauce
Grate half a seeded hot house cucumber and squeeze out the excess water. This should leave you with 1 cup worth of shredded cucumber. In a small bowl add the cucumber, 2 cups Greek yogurt, 2 cloves of minced garlic, the juice and zest of 1 lemon, 1 tablespoon of olive oil, large pinch of sea salt, black pepper, and 1 tbsp of chopped fresh dill. Stir to combine and store in an airtight container.
Grilled Chicken and Veggies
Season 1 lb of chicken breast, 1 sliced zucchini, 2 thickly sliced red bell peppers and 1 thickly sliced yellow onion with olive oil, salt and pepper. Grill over medium heat until the chicken reaches an internal temperature of 165 and the veggies are softened.
I used a grill basket like this one to keep the veggies from falling through the grates. If you don't have one, you can also use skewers.
Garlic Rosemary Turkey Burgers
I like to make these turkey burgers "slider-sized" so that they'll also work well in a pita pocket. Plus everything is better bite sized. For the full recipe, click here.
In a mixing bowl, combine 1lb ground turkey (not turkey breast), 1 1/2 tbsp minced fresh rosemary, 4 minced cloves of garlic, 1 1/2 tsp kosher salt, 1/2 tsp cracked black pepper, 1/4 tsp of red pepper flakes. Mix until just combined and use a 1/4 cup measuring scoop to make evening sized sliders.
Heat a large skillet over medium heat and add 2 tbsp of avocado oil. Working in batches, fry each patty for 5-7 minutes on each side, until golden brown and internal temp reaches 155. Remove from the heat and cover with foil for 5-10 minutes so the internal temp can continue to increase to 165.
Mashed Cumin Black Beans
In a small pot combine 2 cans of drained and rinsed black beans with 1 1/2 cups of water, 1tsp of ground cumin, 1/2 tsp of granulated garlic and a pinch of salt. Once it comes to a simmer, mash the beans up with a potato masher or the back of a spoon. Its ok if it's still on the chunky side. Cool and store in an airtight container.
Breakfast Meal Prep
Vegetarian Breakfast Burritos
I love keeping breakfast vegetarian to make sure my meat consumption is at a minimum. This week, we're going to use our mashed cumin black beans, grilled peppers, grilled onions and avocado cream to make breakfast burritos! You can either scramble your eggs fresh in the morning to combine all your ingredients, or assemble them to completion during your Sunday meal prep session.
While you scramble your eggs, warm up your beans, peppers and onions in the microwave or a skillet. In a large flour tortilla spread out a layer of the mashed black beans and top with scrambled eggs, grilled peppers, grilled onions, shredded cheddar cheese and a drizzle of avocado crema.
If you're pre-assembling your burritos ahead of time, you can reheat them for 1 1/2 minutes in the microwave before heading out the door in the morning.
Lunch Meal Prep
Greek Couscous Bowls
For one of our lunches this week, we'll be assembling these Greek couscous bowls. Layer the couscous with your prepped grilled chicken and tzatziki sauce. Add fresh chopped cucumber, tomato and kalamata olives. You can even top with feta cheese if you'd like!
Couscous with Summer Veggies and Avocado Crema
For a secondary lunch option to switch things up, add your couscous to a bowl and top with your grilled zucchini, cherry tomatoes, some frozen or raw corn, pickled red onion and avocado crema. You can even add some grilled chicken if you want the extra protein!
Dinner Meal Prep
Sweet Potato Tostadas
I love how quickly these tostadas come together since the sweet potatoes and black beans are already done. All you have to do is warm them up, top with feta cheese, pickled red onion and a drizzle of avocado crema and you're done! These tostadas are insanely flavorful and super light.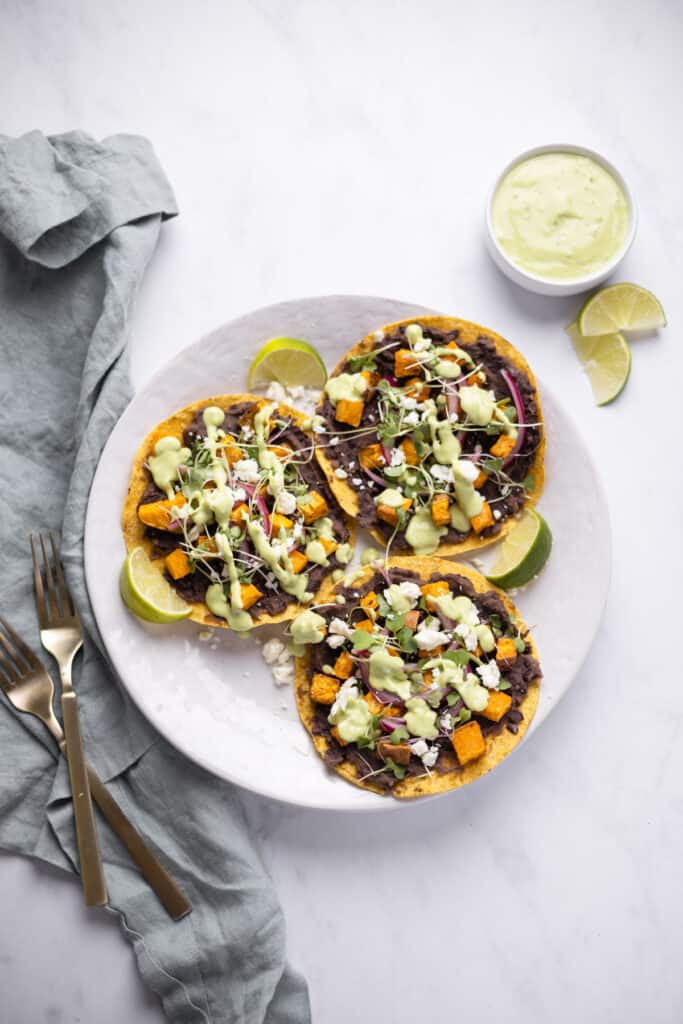 Zoodles with Cherry Tomatoes and Mozzarella
This spin on a caprese salad with noodles is one of my favorite ways to eat low carb and bump up my veggie intake.
In a large saute pan, add 2 tbsp of olive oil over medium low heat. Add 1 cup of cherry tomatoes and three cloves of minced garlic and saute until fragrant and soft, about 2-3 minutes. Add zucchini zoodles to the pan and toss it all together.. Saute until zoodles are just barely soft, or "al dente", as I like to call it. Season with sea salt and cracked black pepper.
Remove from the heat and add mozzarella balls and fresh chopped basil to taste.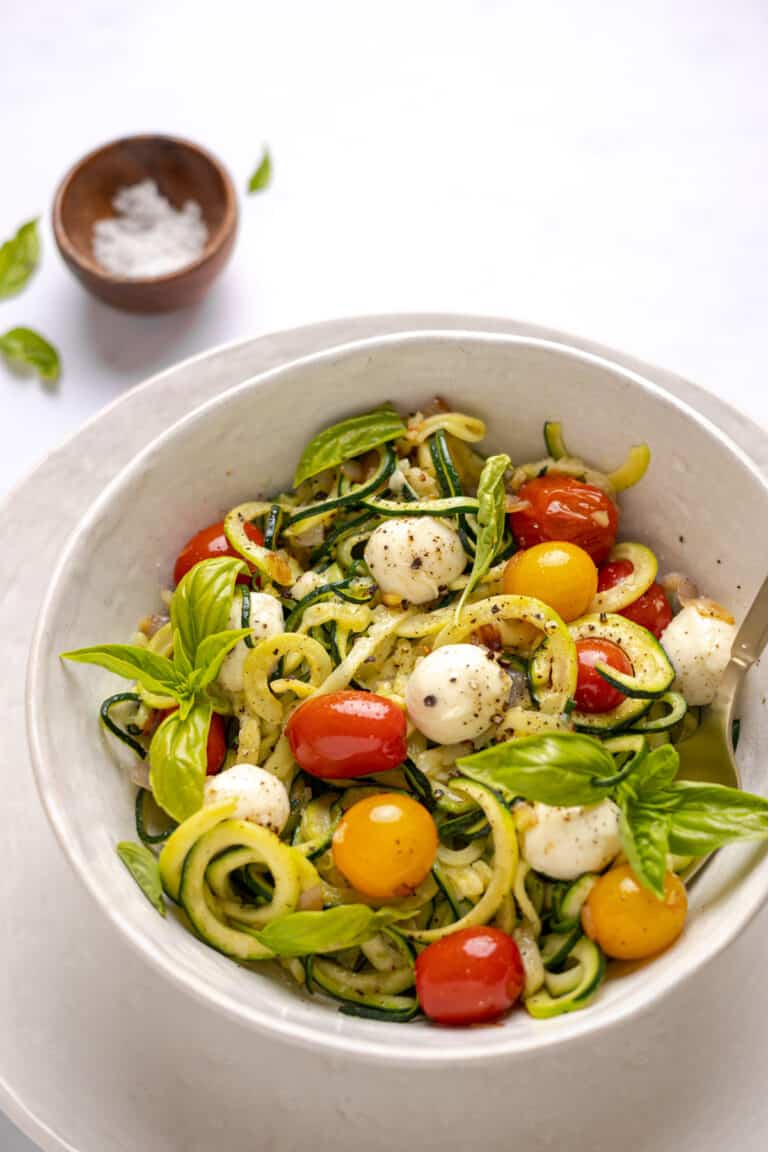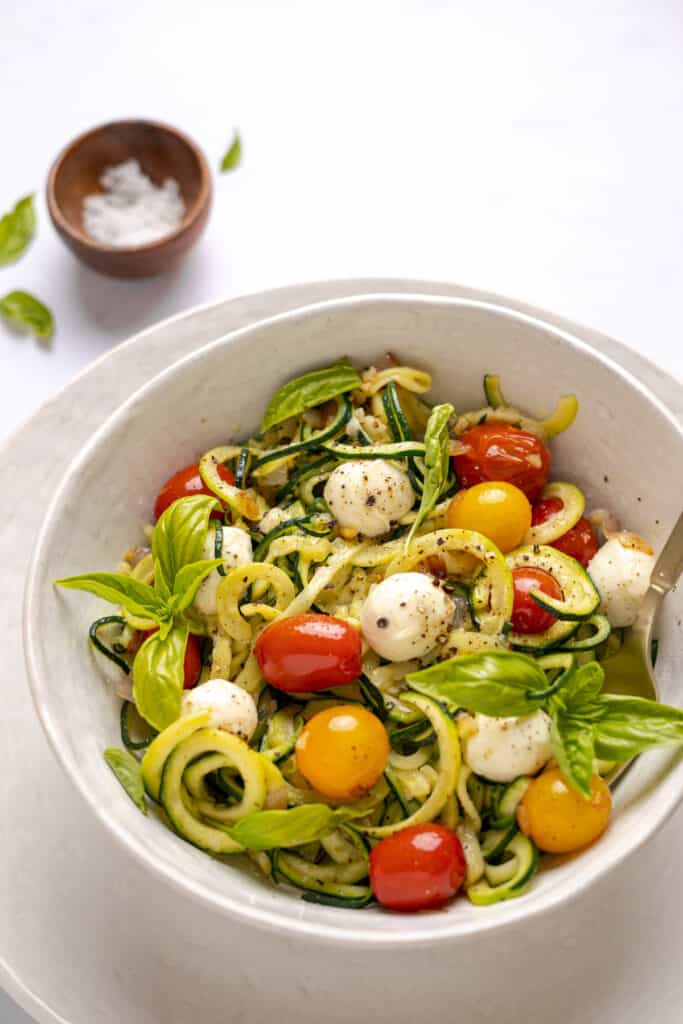 Fajita Chicken and Peppers with Cauliflower Rice
The best part of this meal is that all the work is already done! You simply have to reheat the garlic cauliflower rice, grilled chicken, peppers and onions. Then drizzle with the avocado crema and garnish with fresh cilantro and extra avocado if you'd like!
Garlic Rosemary Turkey Burgers with Feta Mayo
This dinner is another breeze to put together since the turkey burgers have already been prepped. While you reheat some of the burger patties, combine 1 cup of mayonnaise with 1/2 cup of feta cheese crumbles and fresh cracked black pepper.
On your burger or slider bun, assemble your turkey burgers with the feta mayonnaise, grilled onions and fresh arugula for a filling and flavorful meal!
Pita Pockets with Turkey Sliders and Tzatziki
This makes either a great lunch OR dinner option! In a pita pocket, just add 1 warmed garlic rosemary slider patty, fresh romaine lettuce, tomato and cucumber with a healthy dollop of tzatziki sauce. It's incredibly flavorful and filling but still light!
Summary
I hope you love this healthy August meal prep plan and find new ways to customize these meals with your own favorite ingredients. Every meal comes together in less than 10 minutes thanks to your hard work batch cooking your ingredients ahead of time.

Just remember, you don't have to make this entire meal plan. You can just pick a few key things that sound good to you and start with that! For more inspiration on meal prepping, check out my other healthy batch cooking plans!
Please leave a comment and let me know which meal was your favorite!