This fall nourish bowl brings all the best flavors of autumn together in one healthy bowl! A blend of roasted brussel sprouts, butternut squash and red onion are like a cozy blanket on a bed of fluffy quinoa. Tart pomegranate seeds add the perfect amount of crunch and pop while a dreamy, creamy, maple tahini dressing ties it all together.
What is a nourish bowl?
If you've never heard the term "nourish bowl" before, no sweat! They actually go by lots of different names including "buddha bowl" and "macro bowl." Basically, it's a bowl that includes the main macronutrients our bodies need to thrive.
Generally speaking, they include a bed of leafy greens, a carbohydrate like rice or quinoa, veggies, and a source of protein. The beauty of nourish bowls is that they are completely customizable to your taste preferences and what kinds of ingredients you have on hand!
I kept this version vegan to give you a good base to build on. If you're a meat-eater, you could easily add some shredded chicken on top.
If the idea of a nourish bowl sounds good to you, here are two other recipes of mine that you will love!
–Strawberry Summer Quinoa Salad
–Blueberry Summer Grain Bowl with Lemon Basil Vinaigrette
Ingredients and substitutions
Here's what you'll need to make this recipe as I did, with some fun ideas on substitutions you can make to switch things up!
Quinoa-Such a classic base for nourish bowls, but brown rice, farro, couscous, and barley would also be fantastic!
Kale-I love to keep kale on hand because it's so versatile and easy to use for breakfast, lunch, and dinner. If you don't have kale, try arugula, Swiss chard, spinach, or spring greens. You can choose whether to keep it raw or cooked depending on what you like best.
Butternut Squash-I love butternut squash because it's not as sweet as sweet potatoes but you could also try subbing out for sweet potatoes, delicata squash or pumpkin to keep with the seasonal theme.
Brussel Sprouts-I could eat roasted Brussel sprouts every day of the week. You'll want to trim the little stem part off the bottom and cut them in half if they're fairly large. Pull off any discolored leaves. If they're not your jam, I think asparagus, broccoli, or broccolini would be delicious as well.
Pomegranate seeds-In North America, we tend to find pomegranates in season during the late summer to early fall. If you can't find them in your grocery store, try adding some pumpkin seeds, hemp seeds or pistachios for a little crunch.
Making the maple tahini dressing
I love using tahini as a base for dressings because it's so incredibly versatile and adds such creaminess. I'll often blend it up with lemon and beets or cilantro and jalapeño. As is my philosophy when it comes to food and life, less is often more, and this dressing proves it.
There's only four ingredients that comprise this dreamy sauce! You could try adding a pinch of cinnamon for some extra fall flavor, but honestly it's perfect just the way it is. Do yourself a favor and meal prep this sauce because you'll want to drizzle it on everything!
Pour the tahini into a bowl. *Keep your tahini at room temperature for easier stirring*
Squeeze 1 whole lemon into the bowl, with your hands or a sieve to catch any seeds.
Add your maple syrup and 1 minced clove of garlic.
Add 3-4 tbsp of warm water (warm water helps loosen up the thick tahini).
Stir together until smooth, adding more water if necessary.
You can also use a mini food processor to make your life easier!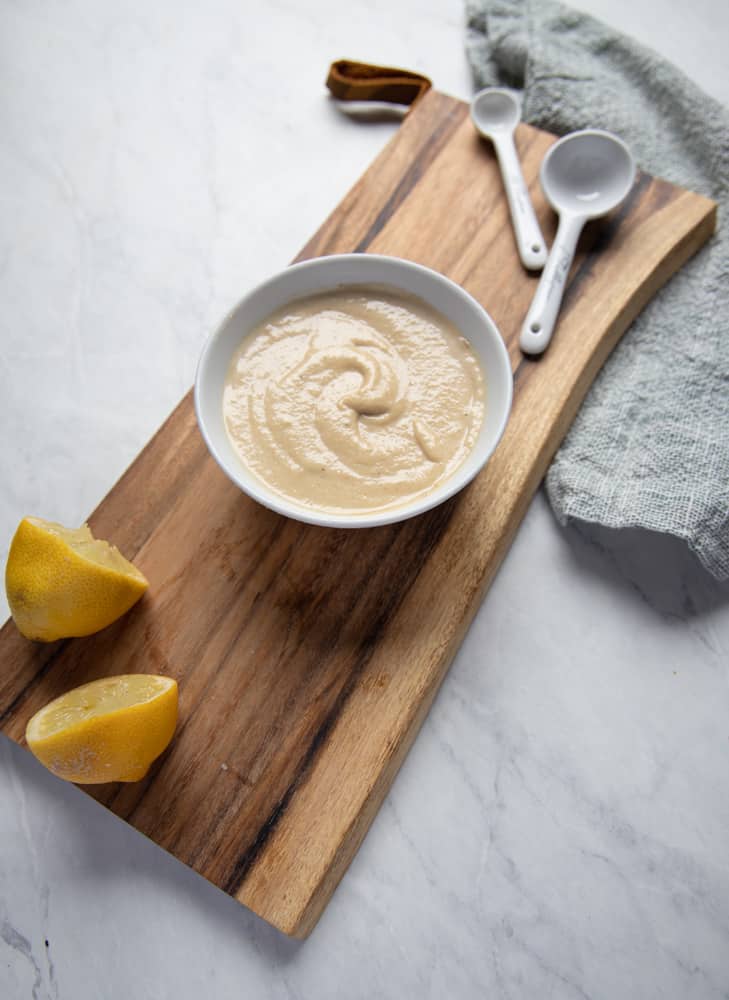 Can you meal prep this nourish bowl?
I always make a big batch of grains at the beginning of the week, such as my favorite 1 min instant pot quinoa. That way, I can use them in a variety of meals throughout the work week. You can also roast the Brussel sprouts, squash and red onion ahead of time and they will keep for 3-4 days in your fridge.
The maple tahini dressing is perfect for meal prep as it will keep in your fridge for 5-7 days, if you don't devour it first! As with most of my meal prep recipes, I highly suggest keeping all of the components separate until you're ready to pack up your lunch or heat up dinner. Not only does everything stay extra fresh this way, but it will allow you to mix and match your ingredients in other meals throughout the week as well.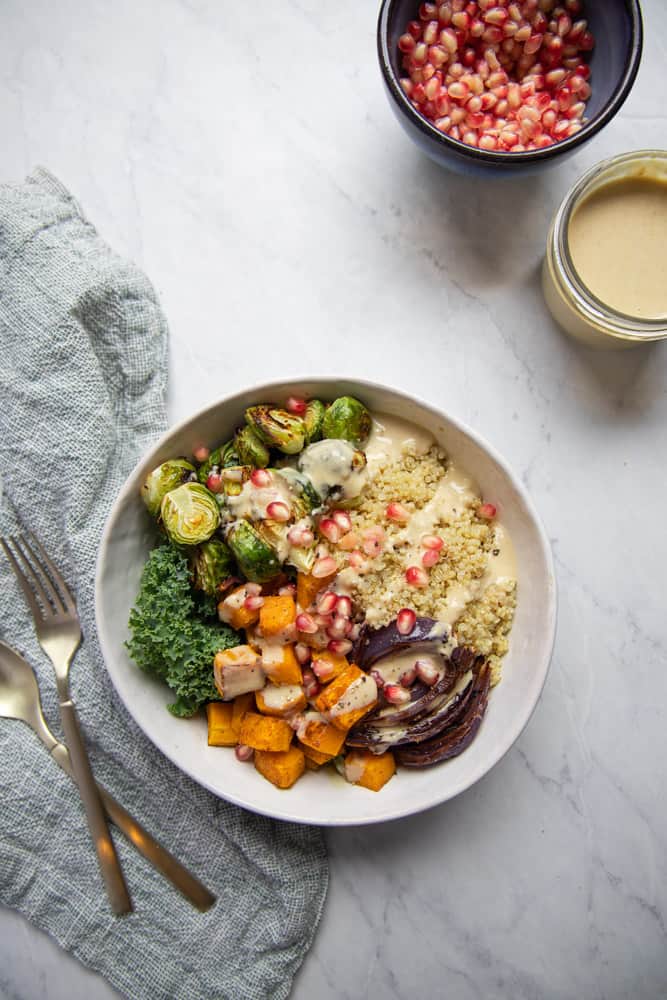 Vegan Nourish Bowl with Maple Tahini Dressing
This fall inspired nourish bowl hits the best notes of the season thanks to a bounty of roasted brussel sprouts, butternut squash and red onion. A beautifully creamy maple tahini dressing adds some richness which pomegranate seeds provide the perfect amount of pop! This vegan bowl is perfect for meal prep too!
Ingredients
Vegan Nourish Bowls
1.5

cups

quinoa

1.5

cups

vegetable stock

4

cups

kale

1

butternut squash, peeled, seeded and cubed

1

lb

brussel sprouts, trimmed and halved

1

red onion, peeled and cut into wedges

1.5

tsp

kosher salt, divided

1/4

tsp

ground caramom

1/4

tsp

ground cinnamon

1

cup

pomegranate seeds
Maple Tahini Dressing
1/2

cup

tahini

2

tbsp

maple syrup

1

lemon, juiced

1

clove

garlic, minced

1/4

tsp

kosher salt
Instructions
Vegan Nourish Bowls
Rinse your quinoa well under cold water to help remove some of the bitterness.

Spray the inside of your pressure cooker lightly with cooking spray. Then add the quinoa, vegetable stock, and 1 teaspoon of salt. Turn the lid to the locking position and make sure that the top vent is set to "Seal" and not "Vent" in order to build pressure. Turn the pressure cooker function on and set the timer to 1 minute.

After the pressure has built and the 1 minute timer has elapsed, let the quinoa sit inside the pressure cooker for 7 minutes. Then release the pressure manually on top. Fluff with a fork and remove the quinoa and spread it onto a cookie sheet in order to let it cool so it doesn't get mushy.

While the quinoa is cooking, preheat your oven to 400 degrees. On a sheet pan, add your cubed butternut squash, halved brussel sprouts and red onion wedges. Drizzle them with 1-2 tbsp of olive oil and 1/2 tsp of kosher salt. Sprinkle 1/4 tsp each of ground cinnamon and cardamom over the butternut squash. Massage the oil and spices into the veggies. Roast in the oven for about 20 minutes, or until the veggies are fork tender and nicely caramelized.

You can leave the kale raw, or lightly saute it in a frying pan over medium-low heat with 1 tbsp of avocado oil and a pinch of kosher salt until slightly wilted.

Combine kale, quinoa, and roasted veggies into a bowl. Top with pomegranate seeds and serve with maple tahini dressing.
Maple Tahini Dressing
In a bowl or small food processor, combine 1/2 cup of tahini, 2 tbsp maple syrup, juice of 1 lemon, 1/4 cup water, minced clove of garlic and pinch of salt. Stir or blend to combine. Add more water to thin if desired.
Notes
If you don't have a pressure cooker, you can cook the quinoa on the stove top.  In a small pot bring 1 1/2 cups of water and a pinch of salt to a simmer over medium heat.  Add 1 cup of rinsed quinoa and continue to simmer with a lid on until tender and water has been absorbed, about 10-15 minutes.  Move off of the heat and let sit for 10 minutes with the lid on.  Then fluff with a work and serve!