Once you make this avocado tahini sauce, you'll find yourself drizzling it over everything from grain bowls to grilled chicken skewers! Do yourself a favor and meal prep a double batch because this beautiful sauce will keep for a week in the fridge!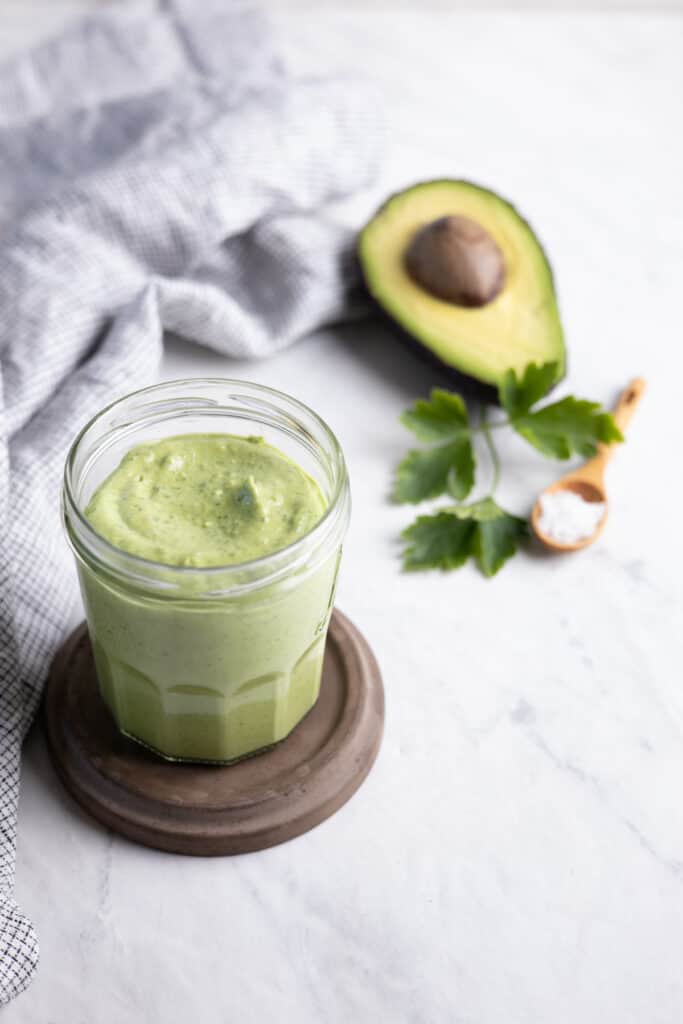 I can't stress how important it is to have an arsenal of tasty sauces at your disposal, especially when it comes to meal prep. That way, you can keep your proteins and vegetables as a blank slate for mixing and matching throughout the week while jazzing them up at the end with a delicious sauce such as this one! Here's while you'll love this gorgeous avocado tahini dressing:
Vegan and gluten free
Dairy free
Smooth and creamy
Vibrant green color
Bright and citrusy
Herbaceous and garlicky
Incredibly quick and easy
Ingredients & Substitutions
AVOCADO
TAHINI
LEMON JUICE
SPINACH
PARSLEY
GARLIC
HONEY
SEA SALT
While this base recipe calls for parsley, you can easily substitute any tender leaved herb such as chive, cilantro or tarragon. Another delicious swap is to trade lemon juice for lime. Try cilantro and lime in this recipe drizzled over tacos!
You can leave out the tahini if it's not your fave and try greek yogurt for the same creaminess. Just omit the water in that case.
There's no perfect substitute for avocado as it's the star of this tahini dressing. However, if you find your avocados are rock hard or gross and brown, you may want to try this cilantro jalapeño salad dressing instead! It uses garbanzo beans to achieve it's delicious creaminess.
The spinach in this avocado tahini dressing doesn't add much flavor to the sauce. Instead, it helps achieve a bright green color so it doesn't end up looking more like baby food! In addition, it adds some bulk and a one-two punch of vitamins and minerals so you can feel good about having a second helping!
Using a Blender vs. a Food Processor
You can use either a food processor or high speed blender. Typically, a blender is going to yield a creamier texture. However, it works best with thinner sauces. If they are too thick, most blenders have a hard time doing it's job and you end up needing to add too much liquid to it in order to blend properly.
For this avocado tahini dressing, I prefer a food processor. You'll still need to add some water at the end in order to thin this sauce to your desired consistency. If I'm going to use it as a dip for veggies, then I will keep it on the thicker side. For drizzling over grain bowls I like it to be a medium thickness that can coat the back of a spoon.
Instructions
Luckily, this avocado tahini sauce couldn't be any easier! You can blitz it all together in less than 5 minutes. You'll put all the ingredients except for the water into the blender and pulse until well combined.
Slowly drizzle in the water until you achieve the desired consistency. You may not need the full amount.
Pour into an airtight container and refrigerate for up to 1 week.
Expert Tips
With any form of cooking, it's so important to get comfortable tasting as you go and making adjustments, and that's especially true with sauces.
There's going to be variability in the size of your avocado, pungency of your garlic, or acidity of your lemons each time you make this recipe. Because of that, you'll have to taste and tweak as you go.
I find I often need an extra pinch of salt, a touch more spinach, or an extra clove of garlic to get that bold but perfectly balanced flavor profile.
Just have fun with it though and get creative to 'make it yours'!
Frequently Asked Questions
What works better, a blender or food processor?
For this recipe, I prefer using a food processor.
Can you swap out lime for the lemon juice?
Absolutely! The flavor is just as delicious and works so well with things like tacos and grilled meats.
How long does this sauce last in the fridge?
I think it's best in the 3-5 day range but I've had success keeping it up to a week in my fridge with no spoilage issues.
Can you meal prep this sauce?
I highly recommend meal prepping this sauce on a Sunday and using it in a multitude of ways throughout the week.
Can I use frozen spinach?
Unfortunately frozen spinach won't work in this recipe. The point of the spinach is to add a vibrant green color and grassy freshness which frozen spinach won't achieve.
Will the avocado make the sauce turn brown over time?
Nope! That's why we add the fresh spinach to the mix and the citrus juice from the lemon will also keep it from browning.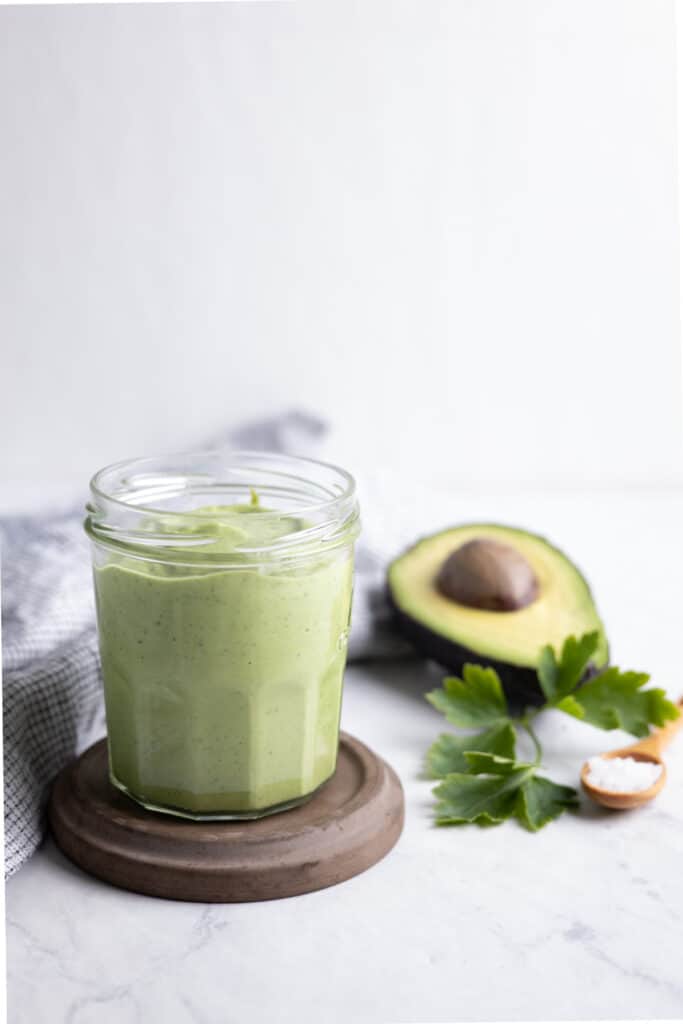 What Dishes Go Well With This Sauce
The versatility of this sauce is unparalleled! My favorite ways to use this recipe is:
When thick:
As a dip for crudités and pita triangles
As a spread inside tortilla wraps
As a spread on sandwiches and burgers
When thinned:
Drizzled over buddha bowls
With grilled chicken or steak skewers
Tossed with a hearty kale salad
I speak from experience when I say this sauce is delicious smeared on a brioche bun with these delicious rosemary garlic turkey burgers. OR, try it with these mediterranean quinoa patties.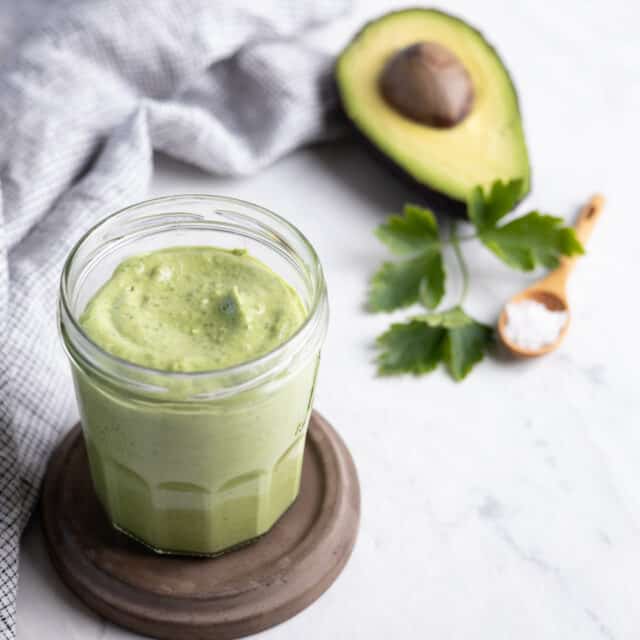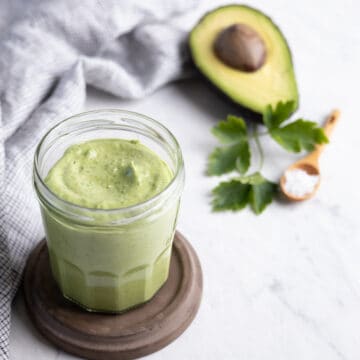 Avocado Tahini Sauce
Once you make this creamy, dreamy avocado tahini sauce, you'll find yourself drizzling it over everything from grain bowls to grilled chicken skewers! Do yourself a favor and meal prep a double batch because this beautiful sauce will keep for a week in the fridge!
Equipment
food processor or blender
Ingredients
1

large avocado

3

tbsp

tahini

1

cup

fresh spinach

1

large clove of garlic (or 2 small)

1

lemon, juiced (about 3 tablespoons lemon juice)

1/2

tsp

kosher salt

2

tbsp

fresh parsley (see notes)

2

tbsp

water
Instructions
Scoop out your avocado half into the food processor and add the tahini, spinach, garlic, lemon juice, salt and parsley. Pulse until well combined.

With the motor running, drizzle in the water. If you like a thinner consistency, add more water 1 tbsp at a time.

Store in an airtight container in the refrigerator.
Notes
This sauce will keep up to a week in the fridge.
You can substitute chives or cilantro for the fresh parsley.
If your lemon isn't very juice, you may need to use the juice of two lemons.  Taste as you go!